Abraham Lincoln: A work of art or a mockery? / Abraham Lincoln: Una obra de arte o una mofa?. (2012) 🎬 [Eng-Esp]
A few months ago in Hive Blog, I talked about the film Abraham Lincoln: Vampire Hunter, but this time I want to give my opinion from a more personal perspective and at the same time make a general analysis of the film.
Hace algunos meses en Hive Blog, hable sobre la película de Abraham Lincoln: Cazador de vampiros, pero en esta ocasión quiero opinar desde una perspectiva más personal y al mismo tiempo realizar un análisis general de la película.
For those who have not seen the movie, it refers to historical and memorable times in the United States, since it tells us how it was the beginning and the conformation of a powerful country, but it is not only a history movie, since vampires are added to the drama.
Para quien no ha visto la película, esta hace referencia a tiempos históricos y memorables de Estados Unidos, ya que nos cuenta cómo fue el inicio y la conformación de un país potencia, pero no solo es una película de historia, puesto que al drama se anexan los vampiros.
Perhaps it may seem unrealistic, but the way in which the story was told and the fantasy created an ideal scenario, due to the fact that situations that really happened are mentioned, for example the early death of Lincoln's son, but this time it is because he was bitten by a vampire.
Quizás puede parecer poco realistas, pero la manera en que fue contada la historia y la fantasía crearon un panorama ideal, por el hecho de que se mencionan situaciones que realmente ocurrieron, por ejemplo la muerte a temprana edad del hijo de Lincoln, pero en esta ocasión es debido a que fue mordido un vampiro.
Also the way in which the territories were divided and the role played by the slaves, was one of the main ingredients of the film and actually this has some truth, but in the film the vampires enter the game and give support to the idea of why Lincoln's enemies wanted to take over the whole territory, that is, to keep slavery was synonymous with having fed the inhuman beings.
También la forma en que se dividían los territorios y el papel que jugaron los esclavos, era uno de los ingredientes principales de la película y en realidad esto tiene algo de cierto, pero en la película los vampiros entran en el juego y dan respaldo a la idea de porque los enemigos de Lincoln querían apoderarse de todo el territorio, es decir, mantener la esclavitud era sinónimo de tener alimentados a los seres inhumanos.
Probably, this did not please straight and serious people who consider this as a mockery of history, since we are talking about an important stage in the construction of a country, but from my point of view, it is incredible how they give real and logical arguments, but at the same time they justify each situation with the secondary theme of the film which are the vampires.
Probablemente, esto no le gustó a personas rectas y serías que consideran esto como una burla a la historia, ya que hablamos de una etapa importante en la construcción de un país, pero desde mi punto de vista, es increíble cómo dan argumentos reales y lógicos, pero al mismo tiempo justifican cada situación con el tema secundario de la película que son los vampiros.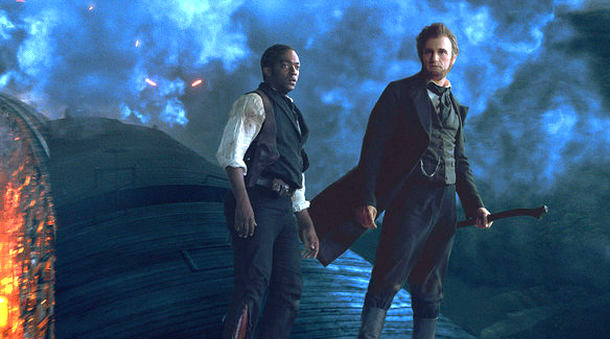 Source / Fuente: Desdehollywood
As I already mentioned for me everything has a perfect fit and I liked the movie, although the rating of the movie is half way in the main rating pages, but without a doubt, it is an exciting and very complete movie, another factor that could play against it is that in that same year 2012, there was another movie based on Abraham Lincoln, which could make Abraham Lincoln: Vampire Hunter, lose ground in the eyes of movie lovers and critics.
Cómo ya mencioné para mí todo tiene un encaje perfecto y me gustó la película, aunque la calificación de la película está a la mitad en las principales páginas de calificación, pero sin duda, es una película emocionante y muy completa, otro factor que pudo jugar en contra es que en ese mismo año 2012, había otra película basada en Abraham Lincoln, lo cual pudo hacer que Abraham Lincoln: Cazador de vampiros, perdiera terreno ante los ojos de los amantes y críticos del cine.
---
In this way I say goodbye, I hope to meet the expectations and be to the liking of those who read this publication.
De esta manera me despido, espero cumplir con las expectativas y ser del agrado de quienes lean esta publicación.
---
---
Written in Spanish and translated with www.DeepL.com/Translator (free version)

---
---