A Cry for Help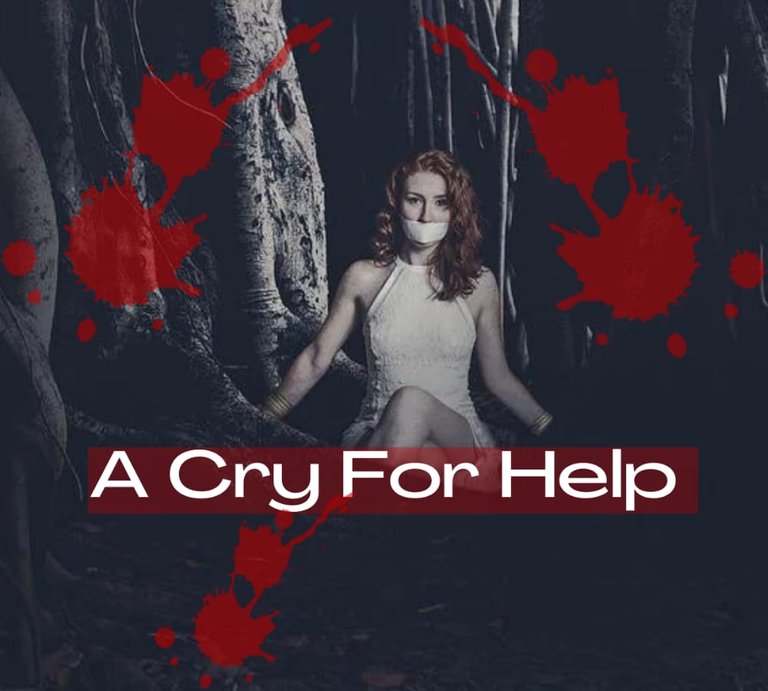 Image source designed with Canva
Racing through the woods that seemed endless after a life threatening encounter with a pack of wolves, Selene barely escaped with her life. Barefooted, she came across a stream. Parched with lips cracked, she quickly knelt with both hands cupped and drank from the stream. She closed her eyes, cherishing every drop of the water as it cooled her dried throat and splashed some on her face.
Every splash reminded her of her home which was now a distant memory. She tried hard to remember the faces of her daughter and husband but sadly she couldn't recollect. She broke down in tears and gradually took off her dirty clothes. Every part of her body ached from the scratches and bites from the wolves.
She squeezed her eyes shut and jumped in for a bath. As she gingerly scrubbed the dirt off her body, she gritted her teeth in pain as water touched the parts where she'd been bitten and scratched by the wolves, a reminder of her narrow escape from the jaws of death.
Then the rustling of leaves and dry twigs breaking alerted her to another presence in the woods. An angry voice called out her name. She froze and the all too familiar fear gripped her when she sighted an old man scouring through the woods towards her.
Though Gary looked frail, Selene knew too well not to underestimate him. The old man had a mean look on his face and a deep scar across his left cheek which she gave him on one of her numerous attempts to escape from him.
The thought of being caught again sent cold tremors down her spine. She was exposed in the middle of the stream and had nowhere to hide. Any attempt to run will alert Gary to her position. She took a deep breath and plunged silently into the water.
Gary looked angry with wild eyes screaming out her name in the woods. "You can't run from me, you know? I know these woods like the back of my palms. Surrender and I might consider taking it easy on you," he shouted.
After a moment of silence, Selene believed Gary had gone so she emerged from the water gasping for air. She went to where she had hidden her clothes but they were not there.
"Looking for this?" Gary asked from behind her. "I told you, you cannot run from me."
Selene sprinted away as fast as she could, naked, but not fast enough. Gary caught up and pulled her by her ginger, overgrown hair and she fell to the ground. He dragged her by her hair. Selene cried out in pain and instinctively took a handful of sand and threw it in his face. Gary screamed in pain, cursed and released her.
Immediately Selene took hold of a broken tree branch and smacked him across the face hard enough that he fell unconscious to the ground and blood trickled down his temple. Seeing he was unconscious, she quickly took her clothes and ran away into the woods.
Selene burst out onto a tarred road. She saw a hiker coming toward her. She quickly approached her in the hope of getting help. The hiker was the first person she had seen in months aside from Gary. Selene's dishevelled appearance made the hiker grab her frying pan as a weapon from her backpack and swung it in her direction.
"Stay back!" The hiker blurted. "Don't come any closer."
"Please I need your help. A m-man is trying to kill me," Selene said.
The hiker stared at her for a moment, gauging whether to help her or not. "What year is this?" Selene asked.
The hiker's eyes widened in confusion. "Uh, – 2022."
Shock was written all over Selene's face. Then she heard a familiar, dread voice. "There you are! I have been looking for you everywhere". It was Gary!
"Who are you?" the hiker asked, glancing between Selene and Gary.
"Oh! My apologies, I hope she hasn't caused you trouble. This is my daughter. She needs to go take her pills because of her mental condition," Gary made a circular motion with his index finger pointing to his temple and gave the most convincing smile to the hiker.
Selene collapsed to the ground deflated of hope. Gary came close to her and assumed the position of a loving father and whispered into her ear, "don't even think of trying anything funny because if you do, this sweet hiker's blood will be on your hands."
He pulled Selene up by the arms and began to walk away when the hiker called out to them. "Hold on, you look familiar."
They slowly turned to face her. The hiker pointed at Selene. "It seems I have seen you before or we've met somewhere?"
The hiker drew closer. "I can almost swear you look like that pop star....hmmm..." Selene was scared for the hiker as Gary's grip on her arm tightened. She could see the rage building in his eyes.
"You m-must be mistaken," said Selene. "I need to go home with my dad now."
But the hiker kept on talking and from nowhere Gary took out his hunter's blade, shoved Selene to the ground and attacked the hiker.
"You should just have minded your fucking business," an angry Gary said. He pinned the hiker down and stabbed her in the stomach and was going to slit her throat when Selene hit him as hard as she could on his head with the hiker's frying pan.
Gary groaned and collapsed on the hiker unconscious. Selene kicked the knife away, pushed Gary off the hiker and helped the hiker to her feet.
"How do we get out of here?"
The hiker nodded and muttered a few incoherent words still suffering from shock. She pointed to a direction north from where they were standing, "my car….there."
Selene assisted the hiker to where she parked her car and into the back seat. She got into the driver's seat, and started the car but struggled to recall how to drive at first. Gradually she got the hang of it as it all began to come back to her.
She reversed a bit and as she pushed the gear to get the car on the tarred road, a bloodied hand from outside grabbed her hand. The ladies in the car screamed. Gary, one of his eyes swollen shut, blood smeared all over his face, pushed both hands through the car window and tried to take the steering wheel from Selene.
Instinctively, she floored the accelerating pad. Gary slipped and fell as the car sped off. From her rear view mirror, Selene could see Gary running and yelling after them.
Finally, they made it to the hospital following the hiker's direction. Selene got out of the car and called for the nurses to assist her. The hiker had lost a lot of blood and was quickly wheeled into the O.R. Selene held her hand as the nurses wheeled her away, thanked her and promised to wait for her.
She asked a young nurse for a phone. The nurse took a second look at her and screamed, "OMG! Kim? How come you are alive? Where have you been?"
Selene thought. Kim? First, it was the hiker calling me a pop star, now this? The nurse went behind her desk and brought out a magazine. "Here. You were involved in an accident with your husband on a deserted road but when help came, you were nowhere to be found. Your husband survived and was charged with your abduction and possible murder as your body was never found. He has since been imprisoned."
Selene's jaw dropped open at the magazine dated 2019. And everything began to come back to her at that moment. She quickly grabbed hold of a chair and sat down as she was dizzy. The nurse called for her to be admitted, checked for concussion, have her wounds cleaned and dressed especially the wolf bites.
The police came in later on to take her statement but had to struggle with the media vans and fans outside the hospital before they could get in.
"Gary took me in and told me I'm his daughter, Selene Knowles. He took good care of me but after I started to have flashes of what happened to me and ask questions, he got furious and started to maltreat me. I tried to escape on several occasions but failed." She told the detective taking notes.
She could hear the crowd building outside the hospital, singing one of her hit songs. This brought her to tears. She heard a bit of commotion outside her room and the door suddenly burst open. She sat up and saw her once 5 year old daughter now older and more beautiful by her husband's side. They both rushed over to her side and gave her a big hug.
After two weeks of further investigations, Gary was found and arrested.

This is my entry to the Scholar And Scribe Monthly Fiction. To participate in this monthly contest check out this post
Thank you for visiting my post.
---
---