Cocktail of Emotions || Cóctel de emociones
She couldn't move, couldn't breathe. She tried shouting but no sound came out. Her throat had dried up. She could have drank the water given by him, but she didn't. She was sure it was poisoned. She missed her son. The time she spent with her son, no matter how brief was filled with wonderful moments. The same moments are the memories that torture her now.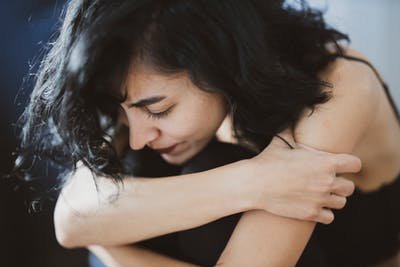 source
How could she have been so stupid? She was blinded by love. He had come into her life some few years ago. She still remembered the first time her gaze fell upon him. He had shabby clothes with disheveled hair and a lopsided smile. Little did she know that the smile which had captivated her would one day snuff out the light in her life.
They had a tantalising romance which made them decide to elope and get married. She never, for once thought that he had his eyes on her wealth. Being the only daughter of a shipping magnate, she has had a fair share of gold diggers try and impress her but in vain. But he was different. After a couple of wonderful years, she conceived and her son, with blond hair and blue eyes was born.


source
They moved into a new house which had a huge nursery and a park nearby so their son would be comfortable. That was when the problems started. At first, he was irritated that she spent all her time with the child. Feeling guilty, she asked him to hire a babysitter so they could go out, but he refused. The level of his jealousy increased to such a point that one day he snatched her son from her hands and locked her in a room. She spent two days shouting and begging him to open the door.
The next day, he just snapped. She was peering through the key hole, begging him to let her out when, In a fit of anger, he took her son to the balcony. She rushed to the window to see what he was up to. He saw her and gave her a devilish smile. She watched in shock as he flung her son from the 18th floor balcony into open air.
It had been a week since her son had been killed by her husband. She was helpless. She had withdrawn herself to a magical world where she and her son were happy, with no sign of her husband. She was shaken out of her reverie by her husband, who had come to give her food. In the beginning she had refused to eat because she feared it was poisoned. So he made a habit to take the first bite to prove it to her that the food was safe to eat.
After giving her the food, He tried to talk to her but she ignored his words. He stood up and went out. It took her some time to realize that he had forgotten to lock the door. She crept out slowly. He could not be seen anywhere but she found his phone. She ran towards it and called 911. As she was giving the address, her husband came out of another room and saw her. He looked at her for a minute and then walked towards her slowly, held her hand softly but firmly and pushed her into the room. Before he could lock her in, there was a knock on the door. The cops had arrived.
He left her in the room and went to answer the door. She ran towards the police and asked them to save her. She was finally happy that her husband was finally going to be punished for his cruel actions. But what she saw next puzzled her. Her husband walked over to the cops and gave them a file. They read the file, looked at him with sympathy and left. She couldn't believe her eyes.
Her husband had managed to buy out the cops. He closed the door and walked towards her. She ran to the balcony and locked the doors. You can't keep me away from my son any more, she said as she took one last look at him before jumping; hoping to see his satisfaction but all she saw was horror and pain.
Thanks for visiting my blog.
---
---