THE MYSTERIOUS LAUGH || LA RISA MISTERIOSA

A few months ago, Roland got married to his wife. Even though it was an arranged marriage, she was way more beautiful than he is. Roland is yet to really understand why she accepted to marry him, but he was glad she did.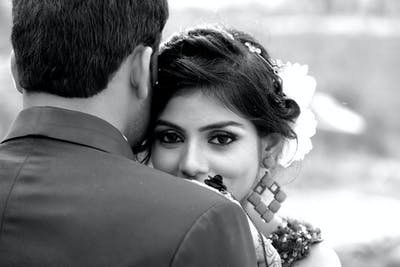 source
Soon, Roland got a great job offer from the City. The company was to give him a great salary, a car and an apartment as well. Unfortunately, the apartment was a bit far from the city and in a deserted area. Roland thought of not taking the job, but his wife convinced him that she would be safe and happy there.
So he took the job and moved into the city the following week. Roland took up the role of a project manager and this made him had a couple of late nights each week. The first few weeks were great for Roland and his wife. They were happy in their life but he still don't understood what she loved in him and everytime he asked her this question, she would always find a way to evade the question.
It was an exhausting long day at the site for Roland one particular day. He parked his car late night in the building and after he got out of his car, he saw 2 kids in their early 20s laughing out loud and looking at their phones. He ignored them at first but their laughter was striking in his ears. When he passed through them, he starred at them, and they looked him in the eye then looked at their phone and started laughing again.
It was as if they were laughing at him but there was no way to ascertain that. Roland went home and decided to tell his wife about it but she was a bit moody so he skipped. He didn't see those kids again until another day he came home late at night. The same incident repeated itself and this made him very scared, this time he had to tell his wife. She ignored him, telling him that it was just the kids messing around. Roland went to the care taker of their building to tell him about the incident and he assured him that it would be taken care of.
A week passed and he didn't see those kids again, but his life was a mess. He had an argument with his wife and that made them to stop taking to each other. His project was lacking as well. It was yet another late night and sadly, he saw those kids again. This time their laughter was much louder. Roland was very annoyed, and so he decided to confront the kids.
He walked slowly towards them, they were still laughing,mechanically looking at him and then their phone. Roland was at a car distance from them when he lunged at the kids, they got out of his hands but then, he saw a nude picture of a woman in their phone. He didn't see her face, but it got him thinking why they were laughing at him?
Heading towards his house, his care taker texted him saying that no one else saw the kids. Roland was a little bit baffled why the kids targeted him specifically and that woman image keeps flashing in his mind. To get this off his mind, Roland decided to reconcile with his wife. They both had an eccentric dinner and as a norm they went into the bed but she seemed a bit hastened and so they decided to call it off for the night.
Roland couldn't sleep that night as that image kept circulating in his head. He then decided to grab a beer from the kitchen but then, he saw some of his beer bottle missing. He went to his room to ask his wife but she was sleeping in the bed unconscious, so he sipped a few drops of beer up his throat and then the image striked again.
It was his wife in that picture, she was laying there in the exact position as the woman in the picture. He lost his cool and threw the bottle at her, suffocating her with the pillow beside. He felt relaxed after that, since the image didn't flash again in his head. He slept like a baby that night. The next morning he called the police and informed them of his crime.
The police investigated about the kids and the photos but they found no evidence. They told him that his wife was HIV positive and hence she was seeing a doctor who came to visit her early that day. He was given a 10 years imprisonment for the horrendous murder of his wife but got out early for good behavior.
Roland had to visit the Care Taker again since he kept his things with him. The care taker told him that he kept his stuff in his farmhouse outside the city, and so, he hired a car and reached around midnight. It was a deserted area, he got out of the car and a heard the chilling laugh again, and it was coming from behind a tree. He went there to see it and saw the same kids again mechanically laughing.
Thanks for visiting my blog
---
---