Attack in Istanbul: who is behind it?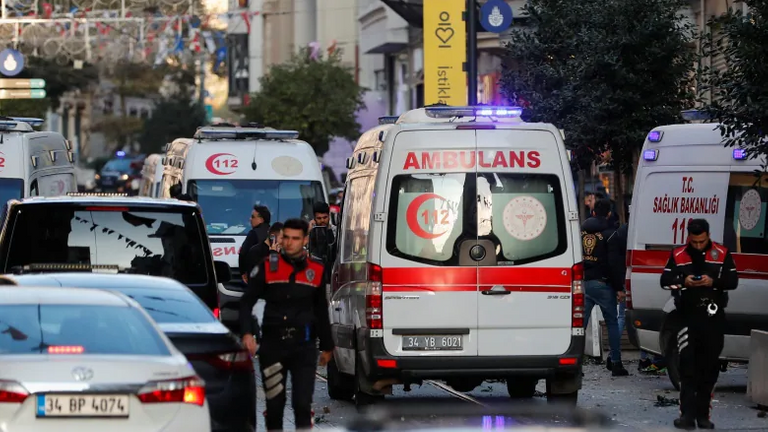 Source image
In Istanbul, on the afternoon of Sunday 13 November, at 16.20 local time there was a strong explosion in the city center, near Taksim square. There seems to be no doubt about the terrorist origin of the attack: Turkish President Recep Tayyip Erdogan said it was a cowardly attack.
The explosion caused at least six deaths and 53 injuries, the toll is still partial. The Turkish authorities have imposed a temporary ban on all media, for security reasons, on the transmission of information regarding the attack.
Erdogan said that an unidentified woman would have played a role in the explosion.
Turkey in recent months has been playing a mediating role in the conflict between Russia and Ukraine, so we wonder if this attack in Istanbul could be somehow linked to the ongoing conflict between Moscow and Kiev.
Obviously there are more than one connection: Turkey at the moment is a key country and Erdogan has been playing a very difficult game on several tables for some time. I think it is inevitable that, in the end, they must end up being the object of attention of this kind. It could be a message delivered to make it clear to the Turkish president and his entourage that he cannot go on to play at multiple tables but must choose which side to side.
I would like to remind that Turkey has recently suffered a coup by the most technological sector of its armed forces which is aviation, therefore the one most linked to NATO and Obama was late until six in the morning to congratulate the president for foiling the coup. It was said at the time that it was thwarted thanks to the complicity of the Russians who warned the Turkish government in advance.
Then there was the murder of the Russian ambassador, who was killed in Istanbul during a demonstration by a security man. I remember the shooting down of the Russian fighter that had passed through Turkish territory for a few seconds and was shot down by the air force. Not to mention the series of attacks in the period of the attacks in Europe attributed to ISIS. So Turkey is a key country, which literally rests on a fault line, so an episode of this type at such a critical moment, with the delicate role that Turkey is playing, shouldn't be surprising.
References:
https://www.aljazeera.com/news/2022/11/13/turkey-istanbul-explosion-istiklal-several-injured


BLOGGING
GEOPOLITICS | ENVIRONMENT | WAR | ECONOMICS | SOCIETY | GAMING

CURRENTLY PLAYING



IF YOU SIGN UP ON THIS GAMES WITH MY REF LINK CONTACT ME FOR HELP

---
---