Pfizer researcher regarding vaccines: 'We flew the plane while we were building it'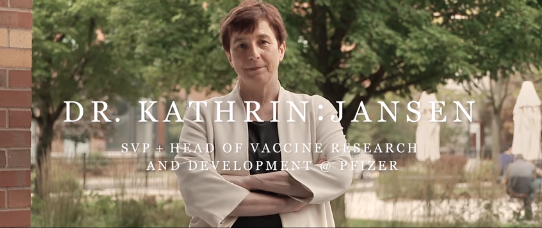 Source image
There have been many reactions on social networks to the interview with the former head of vaccine research at the laboratory, which was published in a scientific journal.
We flew the plane while we were building it.
This metaphor is signed by Kathrin Jansen, former R&D head of vaccines at Pfizer who recently retired, returning to the process of developing vaccines against Covid-19. It was this sentence used as the title of the interview the German-born scientist granted to Nature Reviews Drug Discovery, a specialist journal on drug development and discovery, It only takes nine months for some Covid vaccines to be developed as opposed to a decade or more for others. Jansen was answering a question about how quickly Covid vaccines are developed.
There have been many reactions on social networks to this sentence. Some see it as evidence supporting their hypothesis that the anti-Covid vaccine would be a experiment, turning those who received it into guinea pigs.
Others, who are more restrained, use this interview to fault Pfizer for not doing enough to research the adverse consequences of their vaccine.
In other words, even though it has been known since the beginning of the crisis that the vaccine was created and released under unprecedented emergency circumstances due to the global pandemic, the interview would be an admission that Pfizer acted too quickly and lacked perspective on the effectiveness and safety of vaccines.
However, Kathrin Jansen makes a different claim in her work for Nature Reviews Drug Discovery.
The anti-Covid-19 vaccine developed by Pfizer and BioNTech, Comirnaty, is discussed as the high point of the researcher's work for a significant portion of the discussion.
The review cites the two companies as being the first to obtain approval for the marketing of their Comirnaty vaccine in many nations, including those that are members of the European Union, at the end of 2020. The two companies were already collaborating on messenger RNA vaccines against influenza.
Be aware that they were doing things in parallel, looking at the results of the research and performing the production at the same time, as she clarifies later. Before manufacturing begins, normally several years must pass for sufficient data to be gathered.
She explains that in this situation:
We couldn't wait for the data, we had to do a lot of risky things
Including starting the manufacturing of several vaccine types concurrently even though all of these vials were in danger of being wasted in the end. Jansen specifically recalls making calls to the manufacturing teams and telling them to prepare the four as there are four alternative formulations available. As the vaccine's profile developed, a lot of items that didn't function had to be discarded.
Kathrin Jansen emphasizes that this procedure, which falls under exceptional conditions, has been supported by previously unheard-of amounts of money and labor.
People were willing to go above and beyond. However, because we were working nonstop, there was a lot of burnout.


BLOGGING
GEOPOLITICS | ENVIRONMENT | WAR | ECONOMICS | SOCIETY | GAMING

CURRENTLY PLAYING



IF YOU SIGN UP ON THIS GAMES WITH MY REF LINK CONTACT ME FOR HELP

---
---