Head Ball 2 - Online Soccer | Game review [ENG-ESP]
Greetings friends, we continue playing and testing some phone games for those moments where there are problems with electricity or you find yourself a little bored, this will be perfect for all soccer fans and even more so at this time that the soccer leagues are starting, known as Head Ball 2, which will be a mini character where you only see the head of the player and we will have to become the best soccer player, win all the leagues and tournaments of the game in order to be recognized.
Saludos amigos, continuamos jugando y probando algunos juegos para teléfonos para aquellos momentos donde haya problemas con la electricidad o te encuentres un poco aburrido, este será perfecto para todo los fanáticos del fútbol y más aún en estos momentos que la ligas de fútbol están empezando, conocido como Head Ball 2, la cual serás un mini personaje donde solo se ve la cabeza del jugador y tendremos que convertirnos en el mejor jugador de fútbol, ganara todas las liga y tornes del juego para así poder ser reconocidos.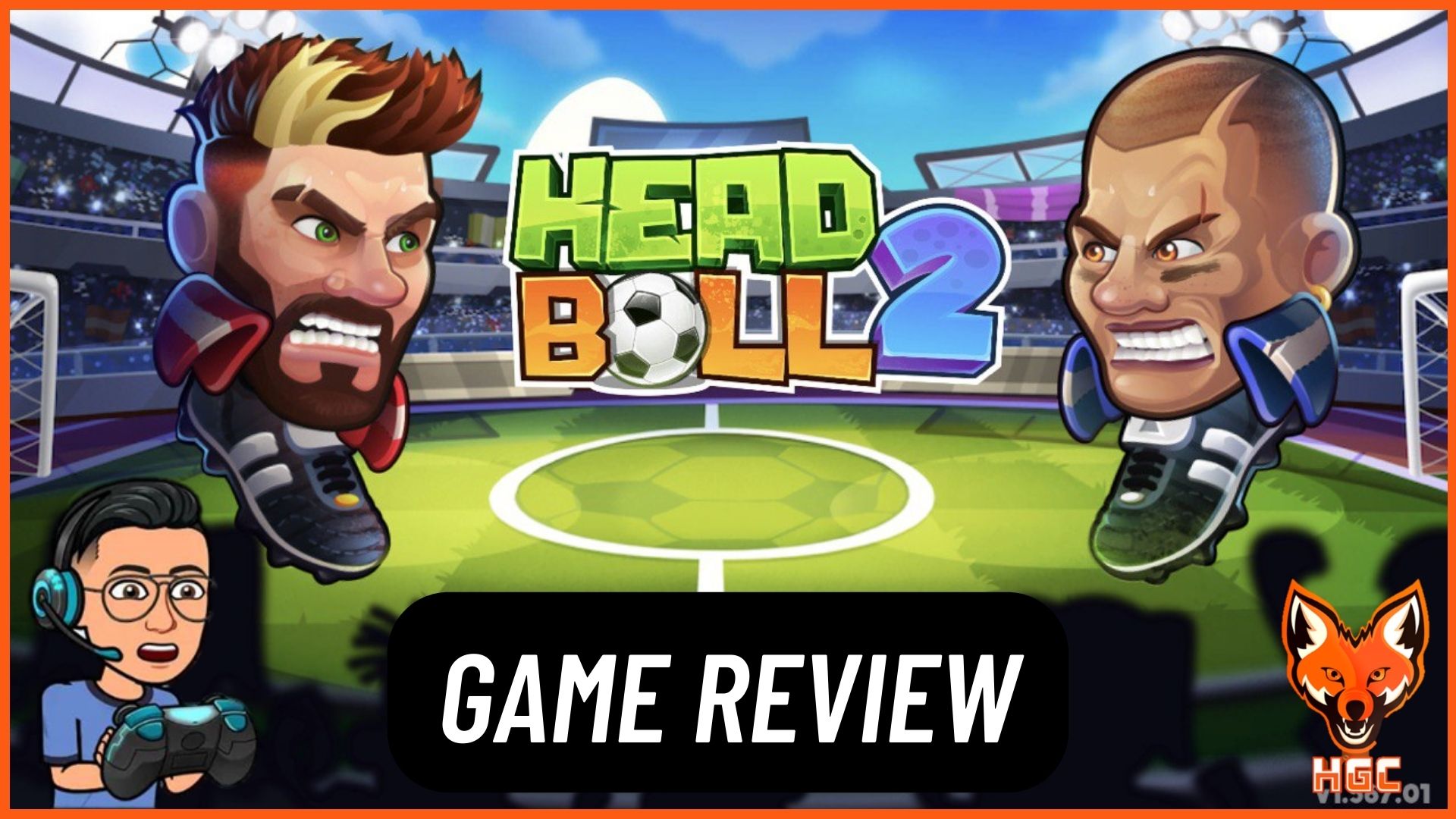 The first thing we have to do is go to the Play Store on our phone to find it and put it to download, the good thing is that it does not weigh much and with just a few seconds you can have the game to start the adventure. Where at the beginning of the game we will get a small tutorial on how to use and manage our character, plus the different buttons that will be of great help to play the game, such as moving, jumping and kicking the ball, with these three buttons and you can become a great player. Once that is ready, you can play with tranquility and gradually increase our account, where this game has many important things and we will have to go doing.
Lo primero que tenemos que hacer es irnos para la Play Store de nuestro teléfono para buscarlo y ponerlo a descargar, lo bueno es no pesa tanto y con tan solo algunos segundos podrás tener el juego para comenzar la aventura. Donde al principio del juego nos saldrá un pequeño tutorial de cómo usar y manejar a nuestro personaje, además los diferentes botones que serán de gran ayuda para jugar el partido, como el de moverse, saltar y el de chutar el balón, con eso tres botones ya podrás convertirte en un gran jugador. Una vez listo eso, ya podrás jugar con tranquilidad y poco a poco ir aumentando nuestra cuenta, donde este juega cuenta con muchas cosas importante y tendremos que ir haciendo.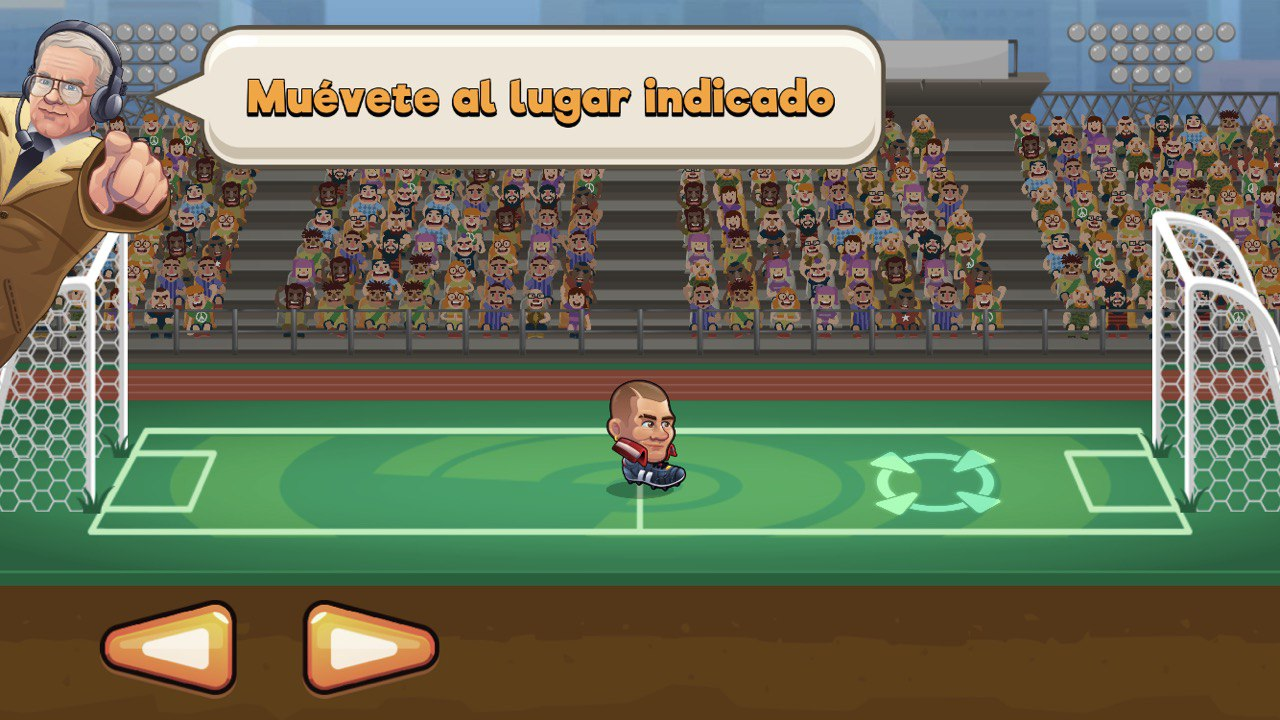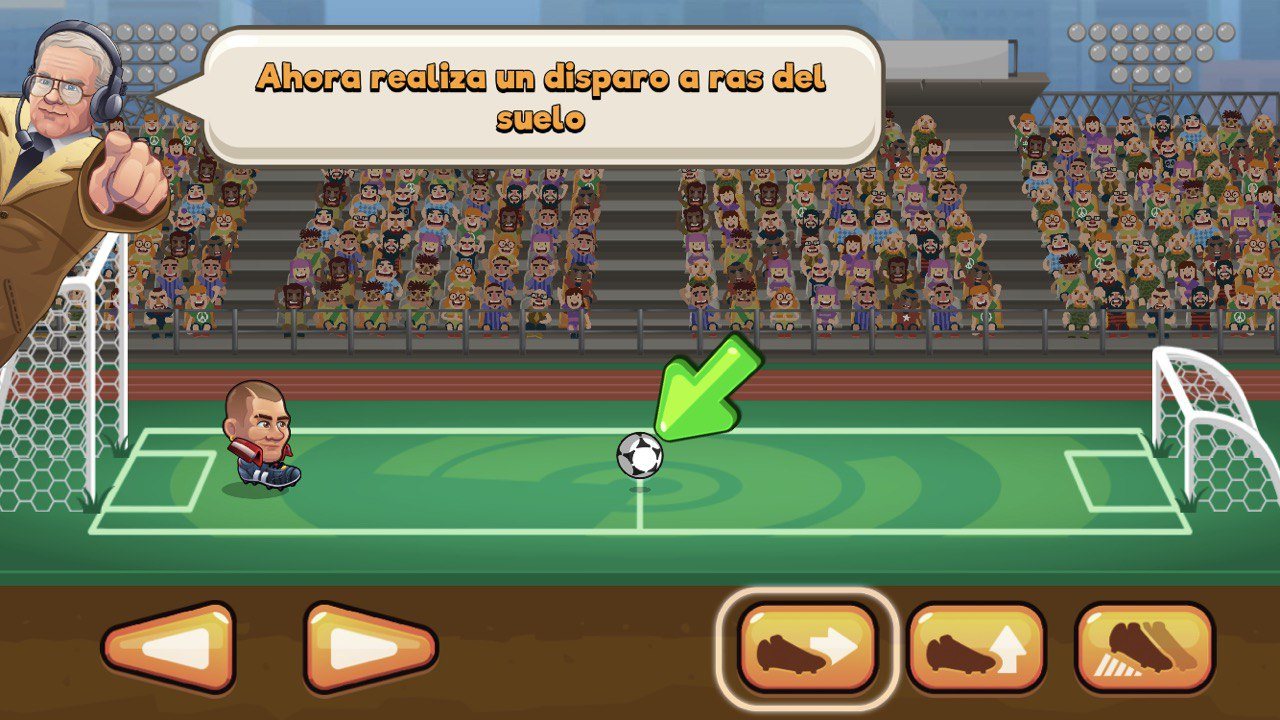 On the home screen we will see a section known as play, we give there to start a quick match, where you play one on one, certainly something new and that caught my attention is that we will indicate the position in which we are in the league, in my case I'm going for the amateur league 3 in the 16th position, where I have only been playing a couple of days and gradually I have managed to move up the position with the goal of overcoming and advancing league. You will move up in position every time you win the game, as they award points and coins. Being a total success and a way to encourage all players who are starting the game.
En la pantalla de inicio nos saldrá una sección conocida como jugar, le damos allí para comenzar un partido rápido, donde se jugara uno contra uno, sin duda algo nuevo y que me llamo la atención es que nos va a indicar la posición en la que estamos dentro de la liga, en mi caso caso voy por la liga aficionados 3 en el puesto 16, donde solo llevo un par de día jugándolo y poco a poco he logrado subir de puesto con el objetivo de superar y avanzar de liga. Uno irá subiendo de puesto cada vez que se gane el partido, ya que otorgan puntos y monedas. Siendo un éxito total y una manera de animar a todos los jugadores que están comenzando dicho juego.

Another section that is relevant to know is known as powers and this section is of great help and perhaps we can get out of trouble and get a victory faster, where I managed to unlock two powers in the game, which the first is to freeze the opponent and the second is to double the size of our character and cover the entire arc. The good thing is that these powers can be improved to last longer, do more damage and many other things, so these powers will need to know how to use them to not waste them and have to wait for them to recharge.
Otra de la sección que es relevante saber es conocida como poderes y esta sección es de gran ayuda y quizá nos podrán sacar de apuros y conseguir una victoria más rápido, donde ya logre desbloquear dos poderes en el juego, la cual el primero es congelar al rival y el segundo es duplicar el tamaño de nuestro personaje y cubrir todo el arco. Lo bueno es que estos poderes lo podemos ir mejorando para así duren más, hagan más daño y muchas otras cosas, así que estos poderes se necesitara saber usarlos para no malgastarlos y tener que esperar a que se recarguen.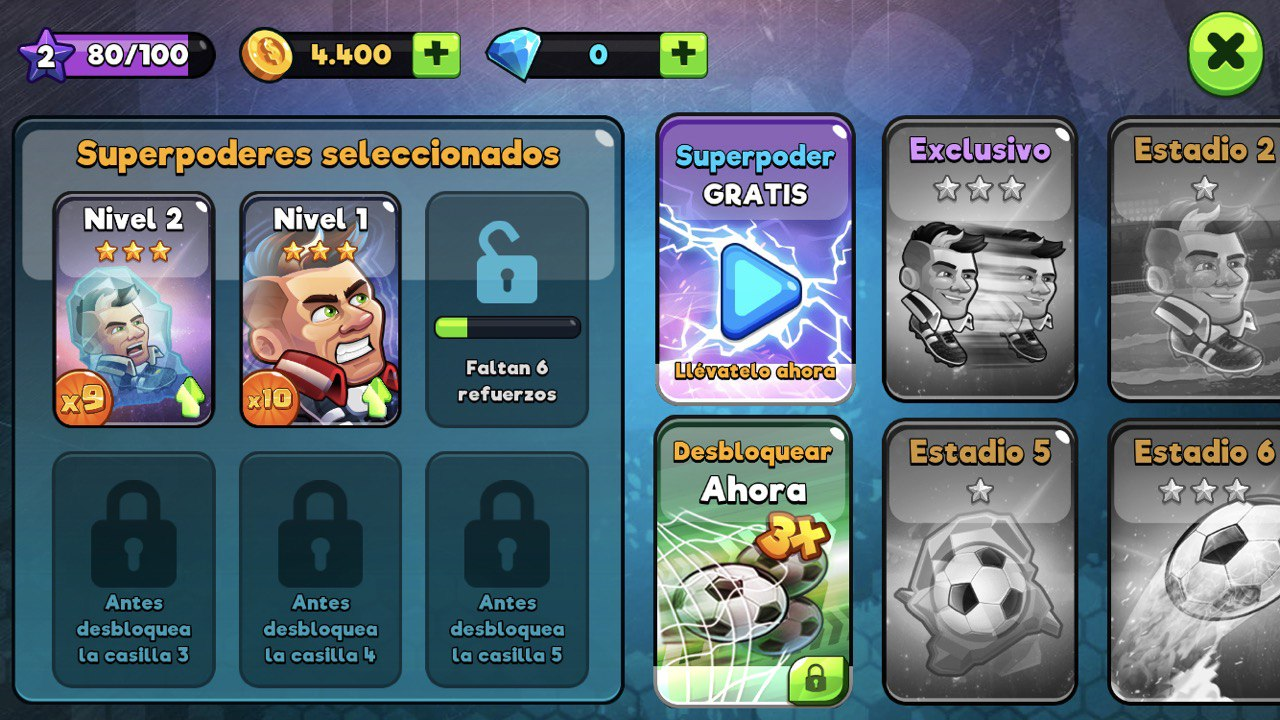 We also find a character section, where here reflects all the characters in the game, which will be a great task to unlock all and be able to choose any when playing, certainly I already have three of them and they are common. However, I will focus on playing with a single character, so I can improve it to be invincible in each of the matches. The good thing is that it can be improved, apart from speed, jumping, shooting and size, which will take some time, since they are only level 4.
También encontramos una sección de personaje, donde aquí nos refleja todos los personajes del juego, la cual será una gran tarea poder desbloquear todos y poder escoger cualquiera a la hora de jugar, sin duda ya tengo tres de ellos y son comunes. Sin embargo, me enfocaré en jugar con un solo personaje, para así poder mejorarlo para que sea invencible en cada uno de los partidos. Lo bueno es que se puede mejorar, aparte la velocidad, salto, disparo y tamaño, la cual llevara algo de tiempo, ya que apenas van por el nivel 4.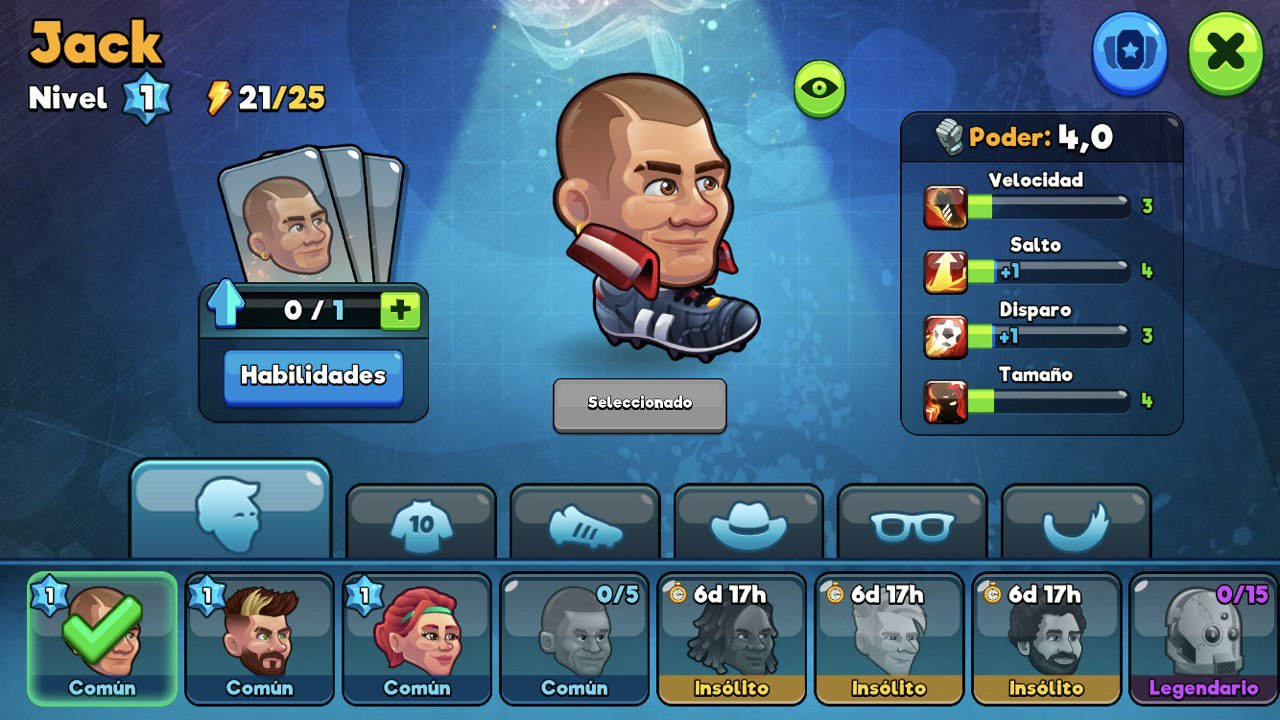 At the time of playing is very simple, just hit start and begin, which the game will last 90 seconds, there will be no out, no foul, just score goals and try not to score a goal. A game that is a lot of fun and requires a lot of concentration, since the ball can go in any direction, where little by little I got the hang of the game and managed to score the first goals of the game and I felt very excited, however, I also scored some goals during the game. To achieve a score of 8-3 taking me the victory of this game, which was not bad to start with and in this way I was awarded some points to move up in the league. From then on I continued playing and achieved more victories.
Al momento de jugar es muy sencillo, solo le damos empezar y comenzamos, la cual el partido tendrá una duración de 90 segundos, no habrá fuera, falta, solo anotar goles y tratar de que no nos haga gol. Un partido que es muy divierto y se necesita de mucha concentración, puesto que la pelota puede ir en cualquiera dirección, donde poco a poco fui agarrando el hilo del juego y logre anotar los primeros goles del partido y me sentí muy emocionado, sin embargo, también me hicieron algunos goles durante el partido. Para lograr un marcador de 8-3 llevándome la victoria de este juego, la cual no fue nada malo para empezar y de esta manera me otorgaron algunos puntos para subir en la liga. De allí en adelante continúe jugando y logre más victorias.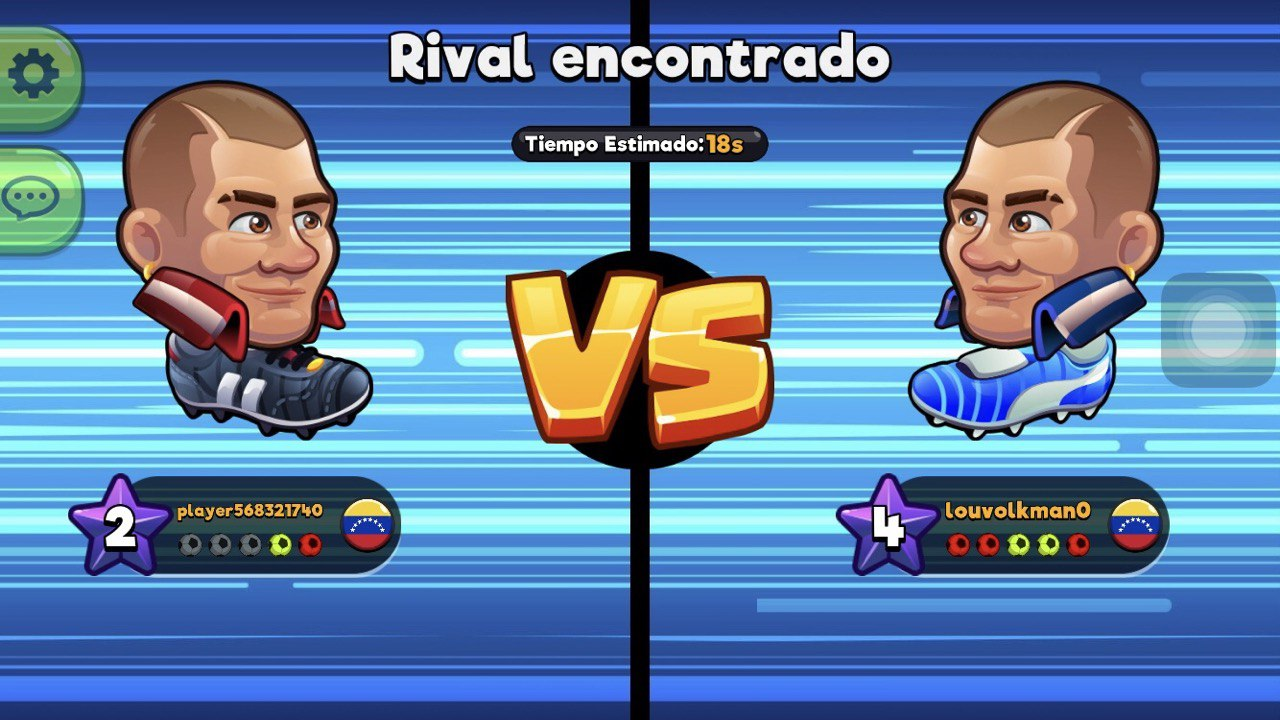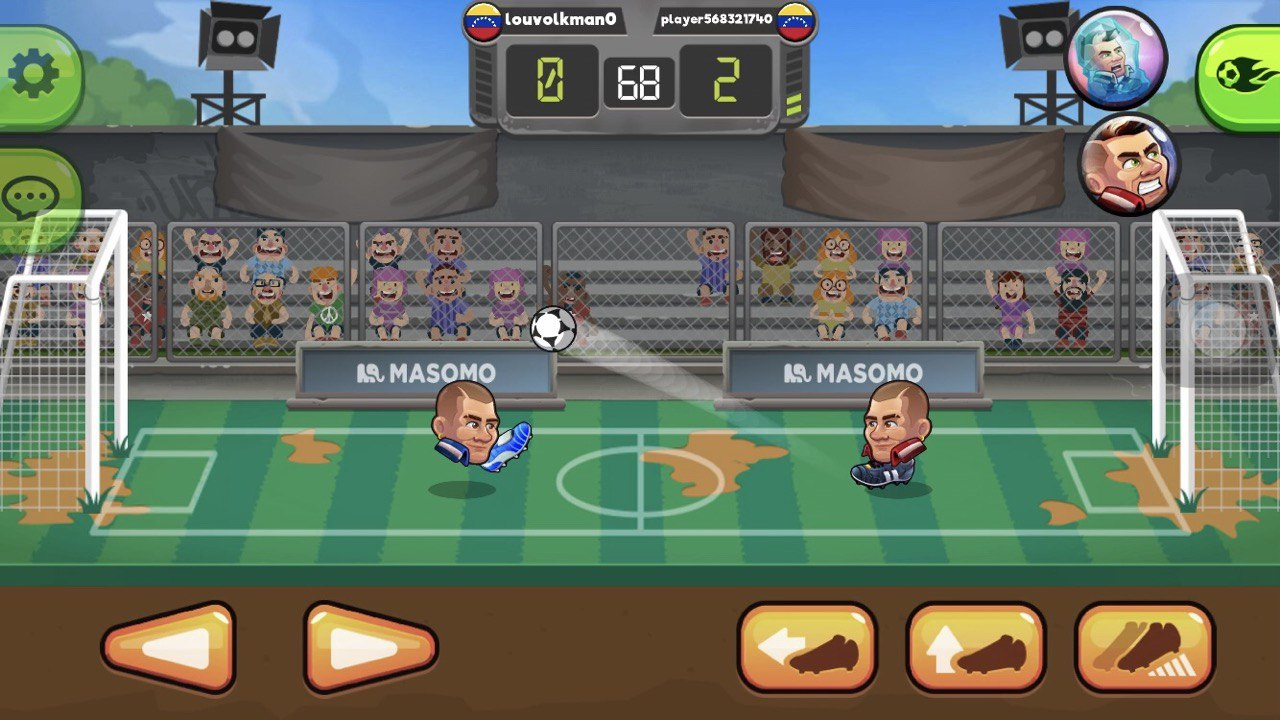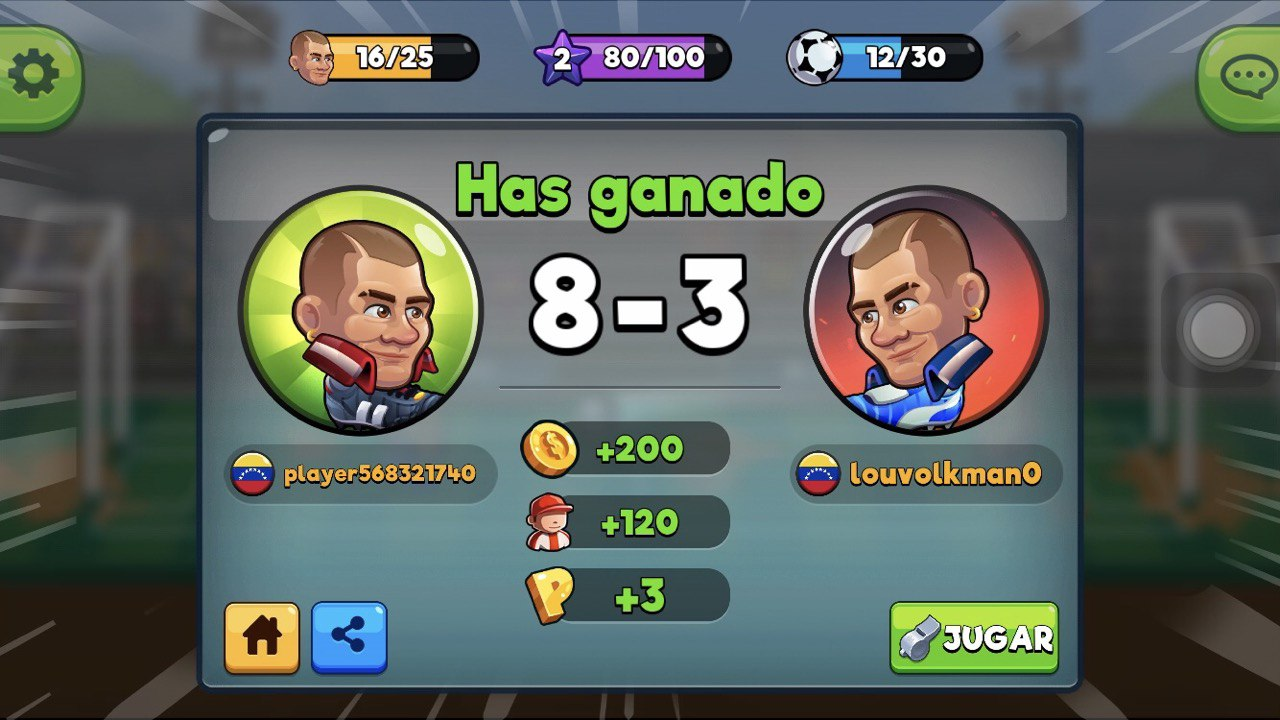 A game that is very fun, entertaining, since there will always be something to do and when you realize you left a couple of hours playing it, as long as you keep the victory, since one of the bad thing about this game is that one has some chips to play the games, and if you are losing will be removing and if they run out we have to wait a couple of hours to recharge, perhaps a way of the game to not climb so fast and not become boring, but rather always keep that intrigue to play each game accurately. In addition, it is totally free, so I give it 8/10, as a big fan of soccer games I recommend it.
Un juego que es muy divertido, entretenido, puesto que siempre habrá algo que hacer y cuando te das cuenta se te fue un par de horas jugándolo, siempre y cuando mantengas la victoria, puesto que una de la cosa mala de este juego es que uno cuenta con algunas fichas para jugar los partidos, y si uno va perdiendo irá quitando y si se acaban tendremos que esperar un par de horas para que se recarguen, quizás se una manera del juego para no subir tan rápido y no se vuelva aburrido, sino más bien siempre mantener esa intriga de jugar cada partido con precisión. Además, es totalmente gratis, así que le doy 8/10, como gran fanático de los juegos de fútbol se los recomiendo.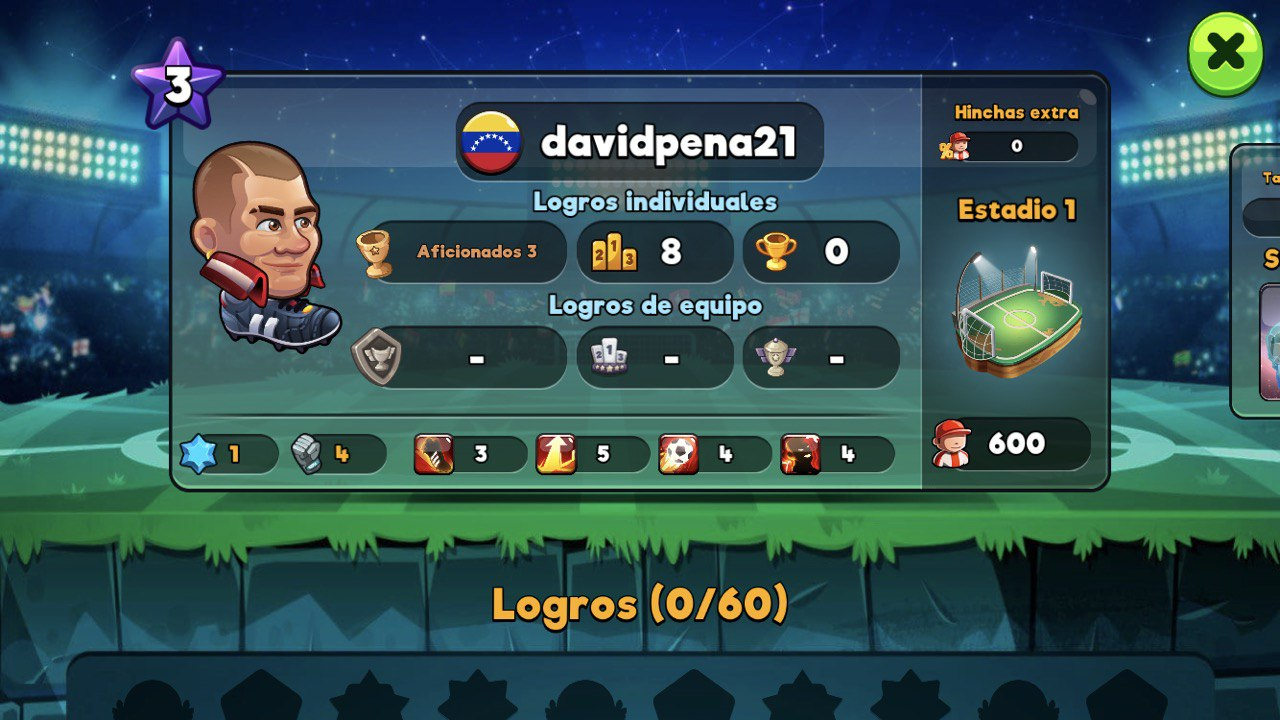 I hope you like this game and are encouraged to play it, here I share a small gif of one of the best games I managed to play. Also, if you already play, you can find me in the game as (davidpena21) my user. See you in the next one with more advances.
Espero que le guste este juego y se animen a jugarlo, por aquí les comparto un pequeño gif de una de las mejores partidas que logre jugar. Además, si ya juegas, me puedes encontrar en el juego como (davidpena21) mi usuario. Nos vemos en la próxima con más avances.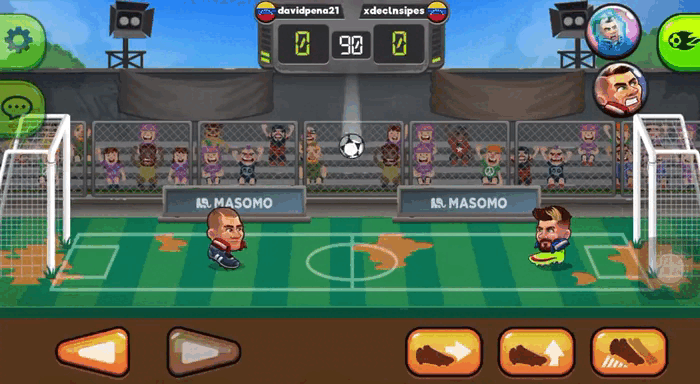 Main image edited in Canva // Imagen principal editada en Canva
Screenshots of my phone // Captures de pantalla de mi teléfono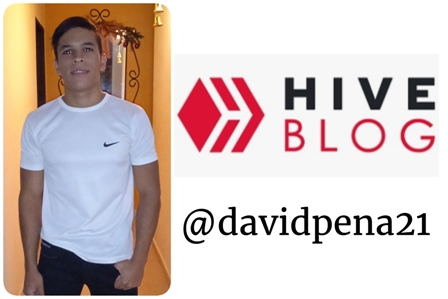 ---
---