CineTV Contest #19: 🛸PASSENGERS🛸 [ESP/ENG]
Hello humans of the cosmos
A pleasure to be able to write for you about this great movie called Passengers of which I have 2 very nice memories. To put it in context the movie is about an intergalactic journey of a community that goes to sleep in the ship Avalon to create a home on a distant planet, but something happens and changes everything.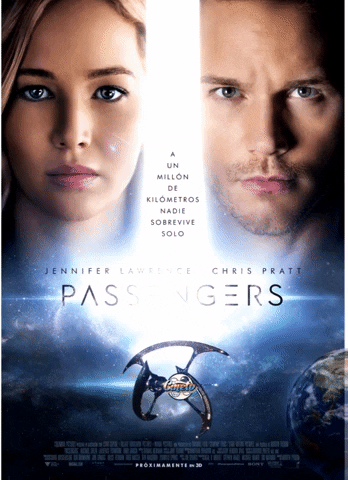 SOURCE


It is a film that consists of 4 actors but with them they make magic, their music transmits me sadness and hope is something curious that a melody can do that; the research they do on space and the universe is very successful; I tell you because the first time I saw it I was with my little sister and she knows a lot about astronomy so she explained some things to me to enjoy the movie more.
Total admiration for the character of how one can live only 1 year and not go crazy and fall in love with a person just for what he writes without ever having interacted with him.
The generation of emptiness and uncertainty that runs through you as you eat the frames and want to know more and more; also the robot that for me symbolizes sanity and innocence in the face of the chaos that happens.

Our friend JIM after waking up investigates how far he is to reach the new planet and discovers that there are 80 years left; I can't imagine the emptiness and fear he must have felt when he found out about that, it should be clarified that he must be about 30 years old although the movie never gives us a hint about it.
Again JIM writes a kind of mail to planet earth and is amazed because the message will arrive in 50 years (besides the money it costs to send it); I imagine making a post in #hive and the same thing happens haha.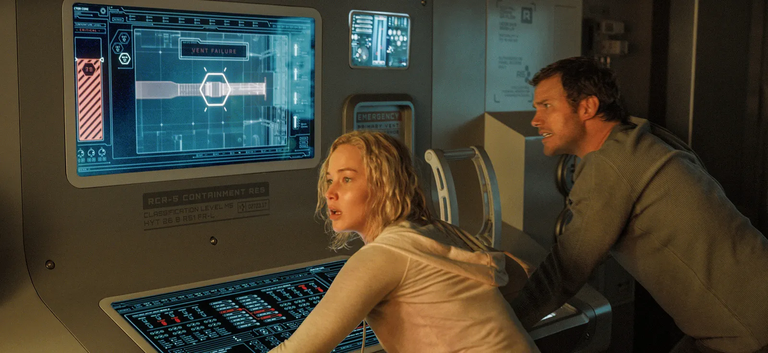 3.The best JIM takes AURORA to a kind of observatory because a red giant (giant star) is going to pass by and tells her: "happy birthday is the gift of the universe for you".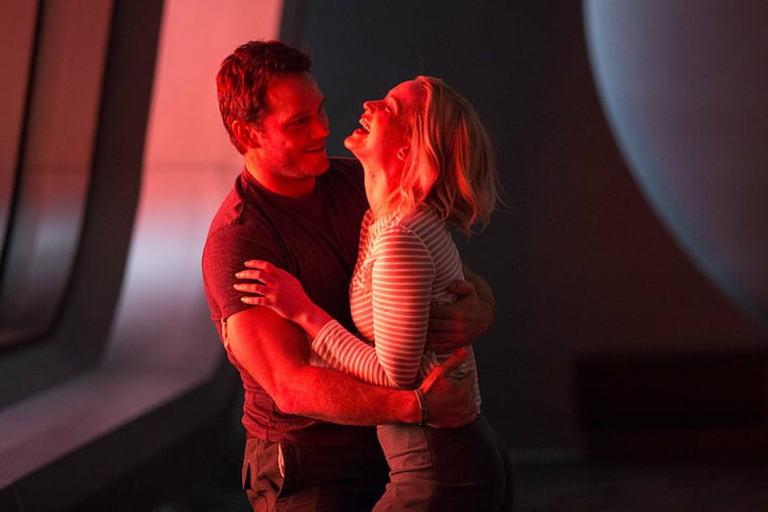 "You are right, Aurora. But when a person is drowning, he tries to drag someone with him, it's not right, but he was drowning;" a very profound sentence as far as we can take it as human beings?
"A 120-year space hibernation means never seeing your family or friends again. You'll wake up in a new century, on another planet. That's the ultimate geographic suicide." I understood it as a leap into the void of not being happy in your life, in looking for a way to escape.
---
I hope you have already seen this movie or if not I invite you to watch it you will not regret it; you may be wondering what is the other memory I have with this movie because the second time I saw it with my girlfriend in which I taught her about space what my sister taught me and if Aurora saved Jim in the movie my Princess saved me in the real world.Blessings thanks for reading me and thanks to @cinetv for doing this kind of activities a hug.😄
---

Hola humanos del cosmos
Un placer poder escribir para ustedes sobre esta gran pelicula llamada Passengers de la cual tengo 2 recuerdos muy bonitos. Para ponerlos en contexto la pelicula trata de un viaje intergalactico de una comunidad que va dormida en la nave Avalon para crear un hogar en un planeta lejano, pero algo ocurre y cambia todo.
LO QUE ME ENCANTO
Es una filmacion que consta de 4 actores pero con ellos hacen magia, su musica me trasmite tristeza y esperanza es algo curioso que una melodia pueda hacer eso;la investigacion que hacen sobre el espacio y el universo es muy acertada; se los digo porque la primera vez que la vi estaba con mi hermanita y ella sabe mucho de astronomia entonces me explicaba algunas cosas para asi disfrutar mas la pelicula.
Admiracion total por el personaje de como uno puede vivir solo 1 año y no enloquecer ademas de enamorarse de una persona solo por lo que escribe sin haber interactuado nunca con ella.
La generacion de vacio y de incertidumbre que te va recorriendo a medida que te vas comiendo los fotogramas y quieres saber mas y mas; tambien el robot que para mi simboliza la cordura e inocencia frente al caos que pasa.
ESCENAS FAVORITAS
Nuestro amigo JIM despues de despertar investiga a cuanta distancia esta por llegar al nuevo planeta y descubre que faltan 80 años; no me imagino el vacio y miedo que debio sentir al enterarse de eso, cabe aclarar que debe tener unos 30 años aunque la pelicula nunca nos da un indicio sobre ello.

Nuevamente JIM escribe una especie de mail al planeta tierra y se asombra porque el mensaje llegara en 50 años ( ademas del dineral que vale enviarlo); me imagino hacer un post en #hive y que pase lo mismo jaja.

La mejor JIM lleva a AURORA a una especie de obervatorio porque va a pasar una gigante roja ( estrella gigante ) y le dice: "feliz cumpleaños es el regalo del universo para ti "
LAS FRASES
"Tienes razón, Aurora. Pero cuando una persona se ahoga, intenta arrastrar a alguien con él, no está bien, pero se estaba ahogando;" una frase muy profunda hasta donde podemos aguantar como seres humanos?
"Una hibernación espacial de 120 años, significa no volver a ver a tu familia ni amigos. Despertaras en un nuevo siglo, en otro planeta. Eso es el máximo suicidio geográfico". Lo entendi como un salto al vacio al no ser feliz en tu vida, en buscar una manera de escapar.
Espero que ya hallas visto esta pelicula o si no te invito a observarla no te arrepentiras; te estaras preguntando cual es el otro recuerdo que tengo con esta pelicula pues la segunda vez que la vi con mi novia en la cual yo le enseñaba del espacio lo que me mi hermana me enseño a mi y si Aurora salvo a Jim en la pelicula mi Princesa me salvo a mi en el mundo real. Bendiciones gracias por leerme y gracias a @cinetv por hacer este tipo de actividades un abrazo.

CREDITS:
my story about the movie, the images are from the advertised movie, I made the edition with programs. My native language is Spanish, I used the translator.
---
---