I HAVE A DREAM: FROM FISH TO DOLPHIN.💲🔥 VOL. 5 [ESP/ENG]
Hello human farmer friends 🌱🌱🌱
Today I want to share with you the fifth step and my progress towards one of my dreams to have 1 million BUDS and go climbing 10 by 10 and be able to become one day a dolphin in hive to be able to contribute more to the community in #hive and to my life itself .
I am doing it because in my country the inflation is rather high and our currency the Colombian peso has been very hit by the increase of the dollar and I would like to have a future savings to help several people around me.
This has been the 2 weeks where I feel that I have advanced more because I have made several moves and I have acquired new nft as well as I have improved a little in Bang defense (I'm up to wave 8 hehe).
I'm doing it with a lot of discipline and organization in my portfolio because I have very few resources which I will mention below although I feel that I have grown in front of my nft:
5 lands of mexico.
4 lands of afghanistan
23 avatar distributed in the first 2 raids (in the first raid they give love, in the second raid they fight hehe).
20 hive delegated to @hkcuration.
145994.28 BUDS ( my current coins ).
Epic Blaster beta ( I'm improving my aim ).
Common beta blaster.
PRICE BUDS: 0,000269.
HIVE PRICE: 0,44 US.😀 (go go go )
TOTAL BUDS ACCUMULATED: 38.05 hive
My idea is still to put to staking ( I do not remember when it has APR) 90% percent of the BUDS obtained and go documenting it; also try to make a biweekly report of how I go and go including new resources that will be adding to this dream and perhaps encourage more people to join and create their own. ( compound interest a wonder ). When you acquire nfts from the project you are in a way to combat a little bit this uncertainty regarding cryptocurrencies and more with the current price of Bitcoin which still continues without a clear picture and I feel fear in the market.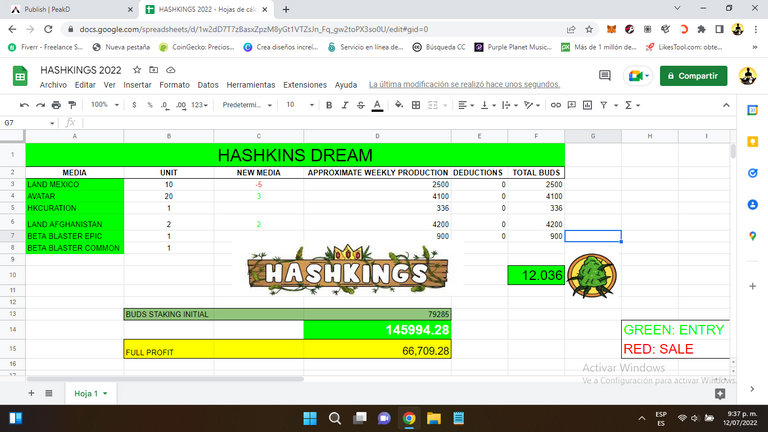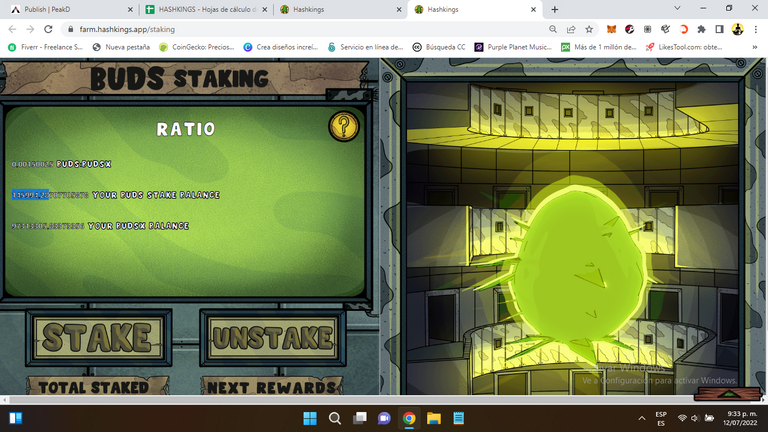 I am migrating little by little to the following lands that is to say; my lands are from Mexico (I sell), then I climb to Afghanistan so that all are of the mentioned although currently with my water towers I am not enough haha I am not self-sustaining since the deduction that I had from the purchase of seeds I make up for it with what the avatar of the raids give me; Also with the income of the @bang-defense guns I will have an additional income of BUDS although I have improved a little but the enemies pass very quickly, I have not passed wave 8 but I know that I will improve with time. By the way also take a look at this project which is from the Hashkingverse.
WHY HASHKINGS ?
I still think it is a great project that is very organized economically and is one of the best in #hive; the other thing is that your SEO @liuke96player sensei is always giving information which generates confidence adding that puts the face , plus your token BUDS are working to be deflationary ( every month the seeds give less BUDS ) and I have faith that it will eat one or two zeros in the future in its price. I invite you to start and create the habit of saving for #hive and your lives. If you have any questions or how to improve my portfolio I will be very happy to read them; until next time your good friend davot says goodbye.
---
ESPAÑOL
Hola humanos amigos granjeros 🌱🌱
Hoy quiero compartir con ustedes el quinto paso y mi progreso hacia uno de mis sueños tener 1 millon de BUDS e ir escalando de 10 en 10 y poder convertirme algun dia en un delfin en hive para poder aportar mas a la comunidad en #hive y a mi vida misma .

Lo estoy realizando ya que en mis pais la inflacion es mas bien alta y nuestra moneda el peso Colombiano se ha visto muy golpiado por el incremento del dolar y me gustaria tener un ahorro a futuro para poder ayudar a varias personas de mi entorno.
Esta han sido las 2 semanas donde siento que he avanzado mas porque he hecho varios movimientos y he adquirido nuevos nft nuevos como tambien he mejorado un poco en Bang defense ( ya llego hasta la oleada 8 jeje ).
Lo estoy logrando con mucha disciplina y organizacion mi portafolio ya que cuento con muy pocos recursos los cuales mencionare a continuacion aunque siento que he crecido frente a mis nft:
5 tierras de mexico.
4 tierra de afghanistan
23 avatar distribuidos en las 2 primeras raids. ( en la primera raid dan cariño, en la segunda pelean jeje )
20 hive delegados a @hkcuration.
145994.28 BUDS ( mis monedas actuales ).
Blaster epico beta. ( estoy mejorando mi punteria )
Blaster comun beta.
PRECIO BUDS: 0,000269🤑
PRECIO HIVE: 0,44 US.😀 (go go go )
TOTAL BUDS ACUMULADO: 38,05 hive
Mi idea sigue siendo meter al staking ( no recuerdo cuando tiene de APR) el 90% porciento de los BUDS obtenidos e ir documentandolo; ademas tratare de hacer un reporte quincenal de como voy e ir incluyendo nuevos recursos que se iran sumando a este sueño y quizas animar a mas personas a que se sumen y creen el suyo. ( interes compuesto una maravilla ). Cuando adquieres nfts del proyecto estas de una manera de combatiendo un poco esta incertidumbre en cuanto las criptomonedas y mas con el precio actual del Bitcoin el cual aun continua sin un panorama claro y siento miedo en el mercado.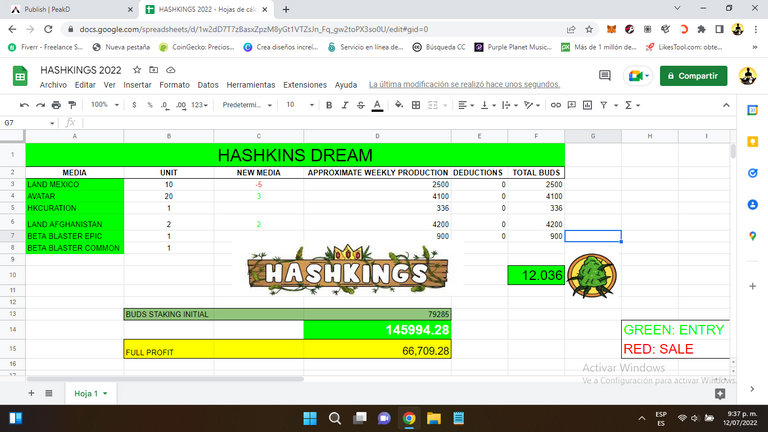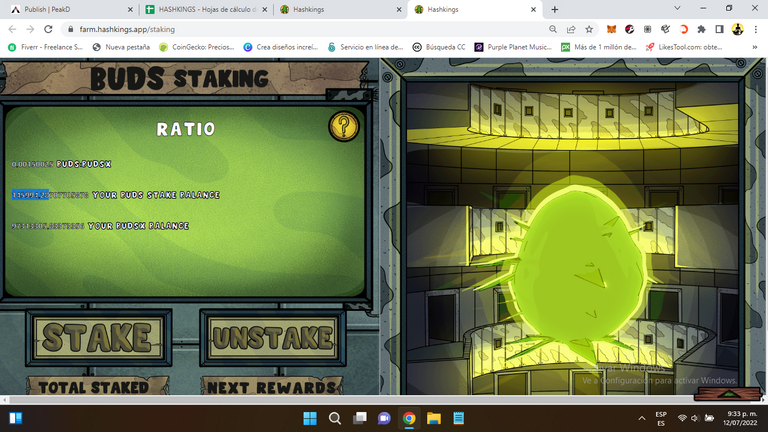 Estoy migrando de a poco hacia la siguientes tierras es decir; mis tierras son de Mexico ( vendo ), entonces escalo hacia Afghanistan para que todas sean de la mencionada aunque actualmente con mis torres de agua no me alcanza jaja no soy autosustentable ya que la deduccion que tenia de compra de semillas la suplo con lo que me entregan los avatar de los raids; ademas con el ingreso de las pistolas de @@@bang-defense pues tendre un ingreso adicional de BUDS aunque he mejorado un poco pero pasan muy rapido los enemigos, no he pasado de la oleada 8 pero se que mejorare con el tiempo. A proposito tambien hechenle una ojeada a este proyecto que es del Hashkingverse
PORQUE HASHKINGS ?
Sigo pensando que es un gran proyecto que esta muy organizado economicamente y que es de los mejores en #hive; lo otro es que su SEO @liuke96player sensei siempre esta dando informacion lo que genera confianza adicionando que pone la cara , ademas su token BUDS lo estan trabajando para ser deflacionario ( cada mes las semillas dan menos BUDS ) y tengo fe de que se coma uno o dos ceros a futuro en su precio. Los invito a empezar y crear el habito del ahorro para #hive y sus vidas. Si tienen alguna duda o como mejorar mi portafolio me alegrara mucho leerlos; hasta la proxima se despide su buen amigo davot.😁
https://farm.hashkings.app/play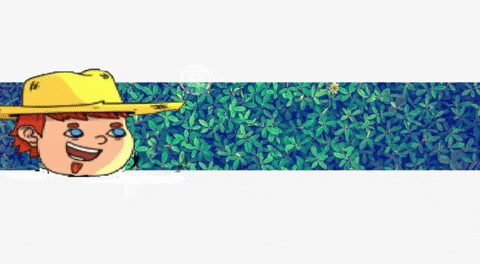 CREDITS:
Text of my authorship as well as the edition. My native language is Spanish. I invite you to do your own research.
---
---