I INVITE YOU TO MEET THEM 🧪 [Eng/Esp]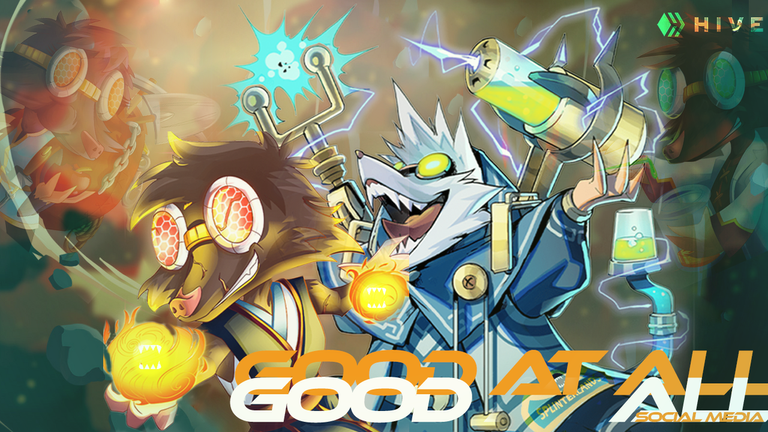 Greetings duelists...
We continue to know a little of the races of our warriors that are in @splinterlands, today I present the SCAVO a race of moles that have something curious is that they wear glasses and the brightness of them is by the magma, his new friend and base of everything.
The game currently presents us with 4 of them, something peculiar is that the fire class has 2 , followed by water and neutral with only 1. These creatures are made to be supports , ie help the #splinter who are in first positions with some advantages they provide.

They have an interesting history that I will share with you below and I will put them from minor to major importance according to my appreciation, that said let's start:
Scavo Firebolt.
Lives in the realm of silence, throws game balls as they have proximity to magma which gave them these abilities. This card is an archer, its potential starts to develop from level 4 and is very cheap to buy.

---
Scavo Chemist
He is a scientist, he lives in a cavern with a laboratory in the realm of chaos where he creates positions of many colors. He has the ability to remove the enemy states to the card in first position. His true potential comes when you take him to level 6. He is a very balanced card.
---

---
Scavo Hireling
Here we enter where it gets interesting, this card is meta (very played) because its ability is to give shield to the tank in first position. As for their history, they are the wall builders of Praetoria to take care of the Legion of Chaos, they don't like money as payment and prefer information and learning. It is a good card in its lore and as a card.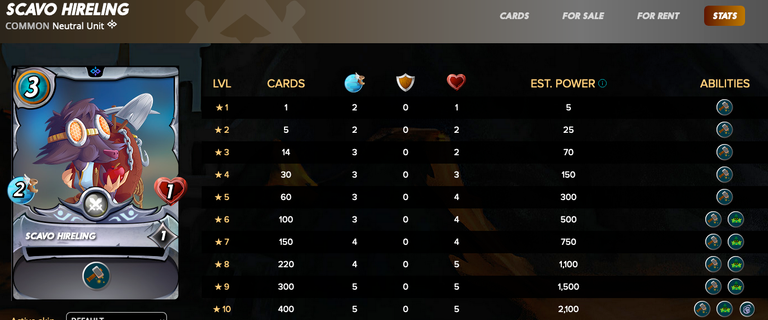 ---
Scavo Technomancer
For me the best for its explosion ability, with which we can go damaging enemies in the back, something for me very satisfying. At level 6 it becomes very powerful as it gets 1 more magic damage and the ability to remove shields, ah not bad. They can design advanced weapons; things to generate auras and thus give some advantage to their allies, they are the creators of technomagic. I acquired this card recently and as it is class neutral I can play it in almost every deck, although I use it with the Dragon of Magic summoner and do magic hehe.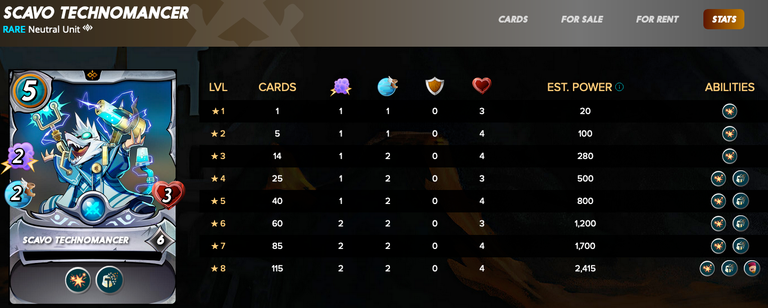 ---
---

That's all for this week, thank you very much for coming this far; I hope you've learned something new about the #splinterverse, there's a lot to tell here.
Thank you very much to #splinterlands for the activity and recommend you to learn something new, play sports, play splinterlands , but the most important thing BE HAPPY..
A hug, blessings...
What are you waiting for to play :
https://splinterlands.com?ref=davot
---
SPANISH VERSION (CLICK HERE!👈)
Saludos duelistas...
Continuamos conociendo un poco de las razas de nuestros guerreros que hay en @splinterlands, hoy les presento a los SCAVO una raza de topos que tienen algo curioso es que ellos usan gafas y el brillo de ellas es por el magma, su nuevo amigo y base de todo.
El juego en la actualidad nos presenta a 4 de ellos, algo peculiar es que la clase de fuego tiene 2 , seguido por agua y neutral con tan solo 1. Estas criaturas están hechas para ser soportes , es decir ayudar a los #splinter que estén en primeras posiciones con algunas ventajas que brindan.

Tienen una historia interesante que les compartiré a continuación y los pondré de menor importancia mayor según mi apreciación, dicho esto comencemos:
Scavo Firebolt
Vive en el reino del silencio, lanza bolas de juego ya que tienen proximidad al magma los cuales les dieron estas habilidades. Esta carta es un arquero, su potencial se empieza a desarrollar desde el nivel 4 y es muy económica de comprar.

---
Scavo Chemist
El es un científico, vive en una caverna con una laboratorio en el reino del caos donde crea posiciones de muchos colores. Tiene la habilidad de quitar los estados enemigos a la carta en primera posición. Su verdadero potencial lo consigues cuando lo llevas al nivel 6. Es una carta muy equilibrada.
---

---
Scavo Hireling
Aquí ya entramos donde la cosa se pone interesante,esta carta es meta ( muy jugada ) ya que su habilidad es dar escudo al tanque en primera posición. En cuanto a su historia, ellos son los constructores de muros de Praetoria para cuidarse de la Legión del Caos, no les gusta el dinero como pago y prefieren es información y aprendizaje. Es una carta bueno en su lore y como carta.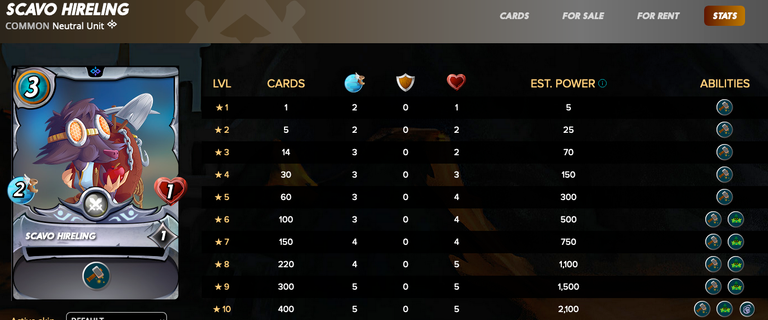 ---
Scavo Technomancer
Para mi el mejor por su habilidad de explosión, con la que podemos ir dañando enemigos en la parte de atrás, algo para mi muy satisfactorio. En nivel 6 se vuelve muy poderosa ya que obtiene 1 daño mas de magia y la habilidad de quitar escudos, ah nada mal. Ellos Pueden diseñar armas avanzadas; cosas para generar auras y así dar cierta ventaja a sus aliados, son los creadores de la tecnomagia. Esta carta la adquirí hace poco y como es de clase neutral la puedo jugar en casi todos los mazos, aunque la uso con el invocador Dragon de Magia y hacer magia jeje.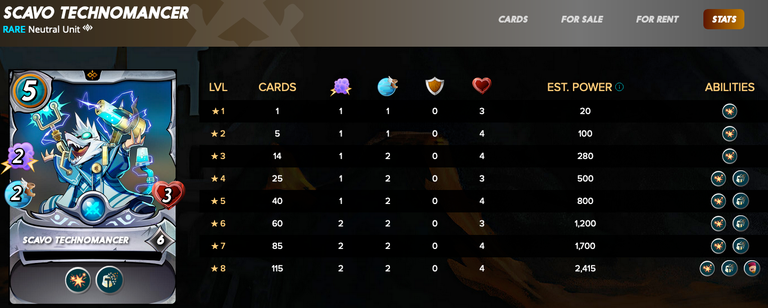 ---
---
Eso ha sido todo por esta semana, muchas gracias por llegar hasta aquí; espero que hayas aprendido algo nuevo sobre el #splinterverse, aqui hay mucho para contar.
Muchas gracias a #splinterlands por la actividad y recomendarles que hay que aprender algo nuevo, hacer deporte, jugar splinterlands , pero lo más importante SER FELICES.
Un abrazo, bendiciones...
Que estas esperando para jugar :
https://splinterlands.com?ref=davot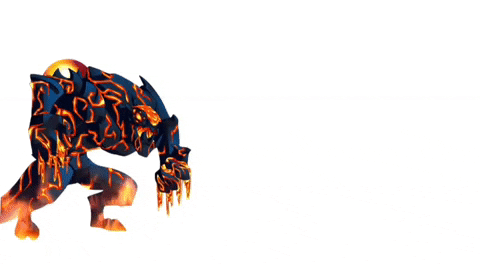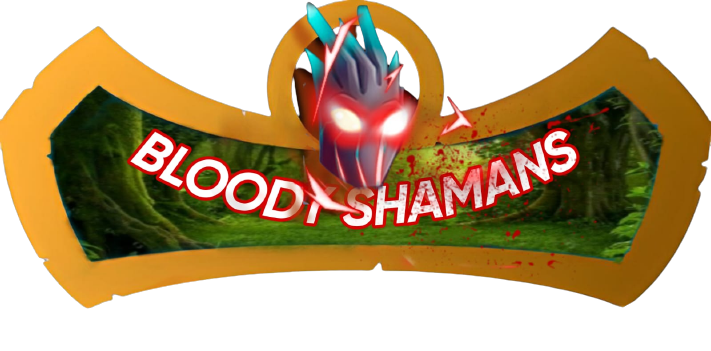 CREDITS:
To whom it may concern; Use of images from the mentioned project under my
editing for photoshop and i.a. My native language is Spanish, I use google translator. Thanks
---
---