POWERFUL BUT FORGOTTEN💛 [Eng/Esp]
Greetings duelists how are you?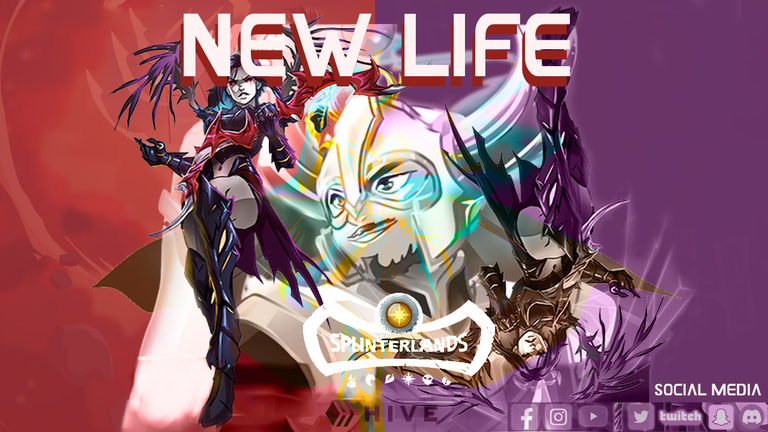 This project called @splinterlands has 7 kinds of decks (fire, water, earth, neutral, death, dragon) and life; this class is the least played in the project. But today I bring to light all the power that has the life deck which has approximately 73 cards to play.
I feel that this deck has all its potential in the Wild league because its most powerful cards are from the alpha and beta versions; generally when I play with this deck my winrate is 70% because I combine it with the summoner which is a Lion and the Gladius magic card which is a killing machine.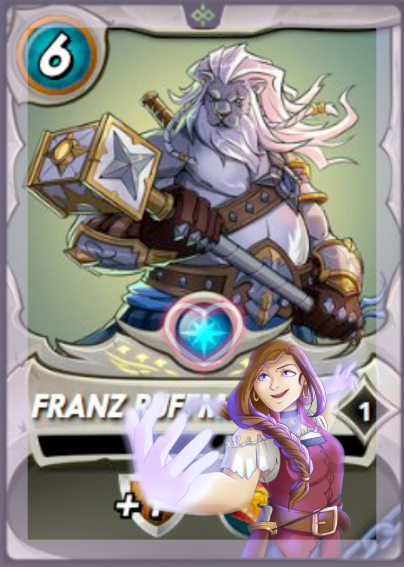 Among the forgotten cards I mention these with which you can make some interesting combinations with the cards that give away in the chests:
Bila the Radiant.
Although this card is high in mana, it makes up for it with its ability to buff its health when it does damage to the enemy, a beauty. You can get it at an average of 4.5 to 5 dollars since it has gone up in price in the market. Well it's a legendary card with a lot of potential.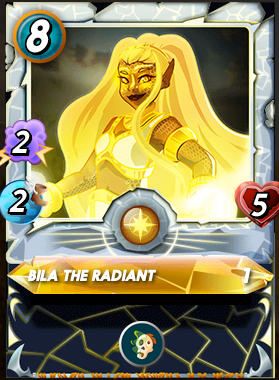 ---
Silvershield Assassin
This assassin with the ability of sneak does its job from the back as it can attack the enemy 2 times, you can combine it with a card that buffs his attack and you will make magic hehe.
It's very cheap in the market, it doesn't even reach the dollar. It is an interesting card and will be my next purchase.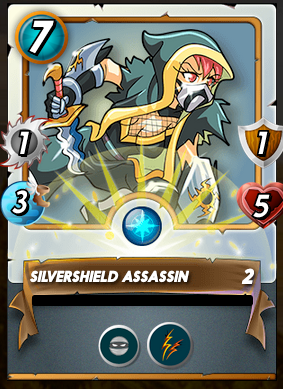 ---
Chanseus the Great
Vida you have good summoners, but I'll take this one because I think it's very balanced in terms of cost benefit. It is not a summoner that you can use in all your battles, but for its first and third ability to resurrect and give armor, your victory will be very close.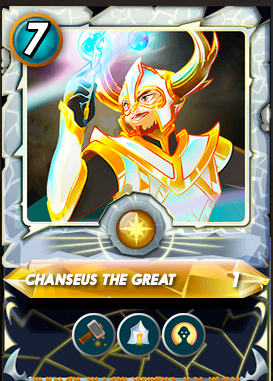 ---
Zyriel
This card is beautiful in its art, but super powerful as it has 2 abilities; the first one is WEAPONS TRAINING with which the splinter around it can get some arrow attack if they don't have attack.
Also with his second ability when he does damage he buffs his life, ah you want more ?, well I have it for you:
This card can be used in both life and death as it is a dual class card.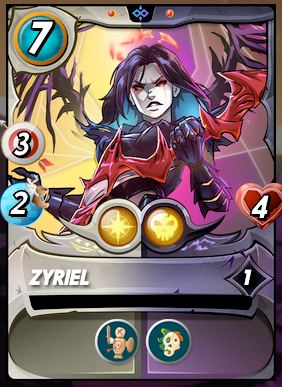 The good thing is that its rent per day in rank 1 is worth the millionaire of 1 DEC and if you want to buy it it will cost you about 25 dollars that for all that it does it doesn't seem expensive to me. I've been following this card for a few days now but its price hasn't fluctuated much.
---
---

These are my 4 forgotten powerhouses, I invite you to give them a try. The good thing is that by not being so used your opponent will not see this lineup coming, so you can get the victory.
Well friends that would be all for this social media, thank you very much to #splinterlands for the activity reminding you to learn something new, play sports and most importantly BE HAPPY.
A hug, blessings...
I invite you to join the game here:
https://splinterlands.com?ref=davot
SPANISH VERSION (CLICK HERE!👈)
Saludos duelistas como están...
Este proyecto llamado @splinterlands cuenta con 7 clases de mazos ( fire,water, earth, neutral ,death,dragon ) y life; esta clase es de la menos jugadas en el proyecto. Pero hoy les traigo a la luz todo el poder que tiene el mazo de vida el cual tiene 73 cartas aproximadamente para jugar.
Siento que este mazo tiene todo su potencial en la la liga de Wild debido a que sus cartas mas poderosas son de las versiones alpha y beta; generalmente cuando juego con este mazo mi winrate es de un 70% ya que lo combino con el invocador que es un León y la carta Gladius de magia que es una maquina de matar.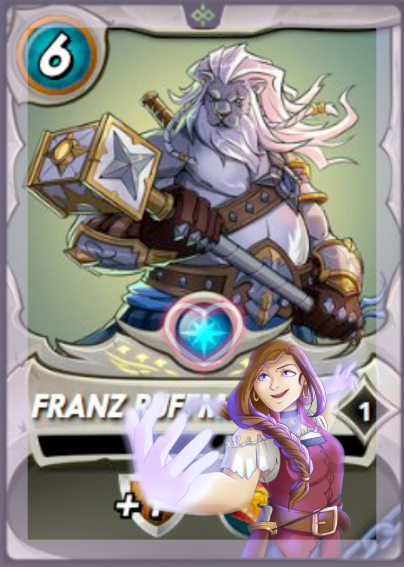 Entre las cartas olvidadas te menciono estas con las cuales puedes hacer unas combinaciones interesantes con las cartas que regalan en los cofres:
Bila the Radiant
Esta carta aunque es alta en mana lo compensa con su habilidad de irse bufando su salud cuando hace daño al enemigo, una belleza. La puedes conseguir a un promedio de 4.5 a 5 dólares ya que ha subido de precio en el mercado. Bueno es una carta legendaria con mucho potencial.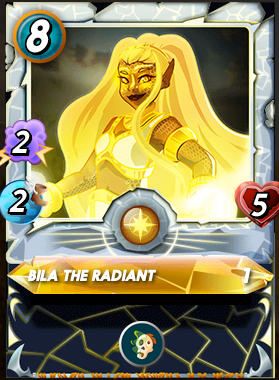 ---
Silvershield Assassin
Este asesino con la habilidad de sneak hace su trabajo desde la parte de atrás ya que puede atacar 2 veces al enemigo, lo puedes combinar con alguna carta que le bufe su ataque y harás magia jeje.
Esta muy económica en le mercado no llega ni al dólar. Es una carta interesante y sera mi próxima compra.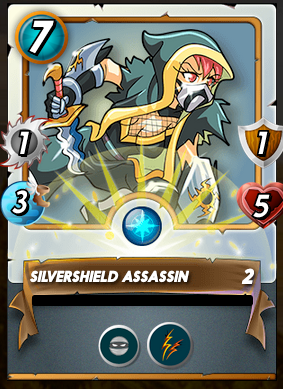 ---
Chanseus the Great
Vida tienes buenos invocadores, pero me quedo con este ya que me parece muy equilibrado en lo que es costo beneficio. No es un invocador que puedas usar en todas tus batallas , pero por su primera y tercera habilidad de resucitar y dar armadura, tu victoria estará muy cerca.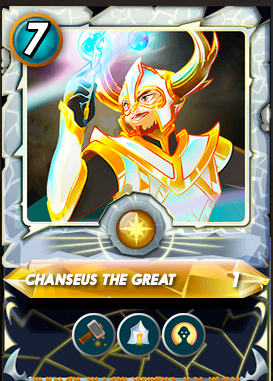 ---
Zyriel
Esta carta es preciosa en su arte, pero súper poderosa ya que tiene 2 habilidades; la primera es WEAPONS TRAINING con la que los splinter a su alrededor pueden obtener un poco de ataque de flecha si estos no poseen ataque.
Además con su segunda habilidad al hacer daño se bufa la vida, ah quieres más ?, pues se lo tengo:
Esta carta se puede usar tanto en life como muerte ya que es una carta doble clase.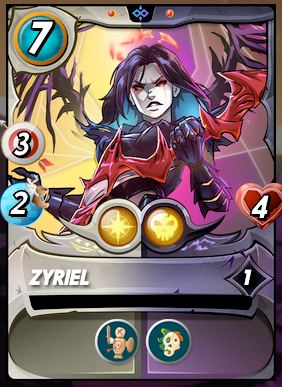 Lo bueno es que su arquiler por día en rango 1 vale la millonada de 1 DEC y si la quieres comprar te valdrá unos 25 dólares que para todo lo que hace no me parece costoso. Esta carta la sigo hace unos días pero su precio no es que fluctué mucho.
---
---
Estas son mis 4 poderosas olvidadas, te invito a que les des una oportunidad. Lo bueno es que al no ser tan usadas tu oponente no va a ver venir esta alineación, con lo que te podrás alzar con la victoria.
Bueno amigos eso seria todo por este social media, muchas gracias a #splinterlands por la actividad recordandoles aprender algo nuevo, hacer deporte y lo más importante SER FELICES.
Un abrazo, bendiciones...
Te invito a unirte al juego aquí:
https://splinterlands.com?ref=davot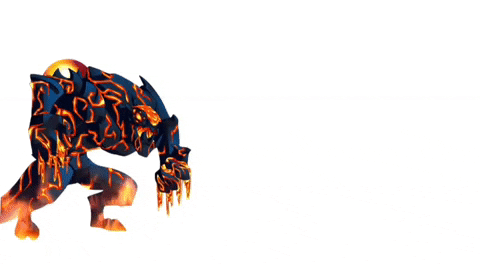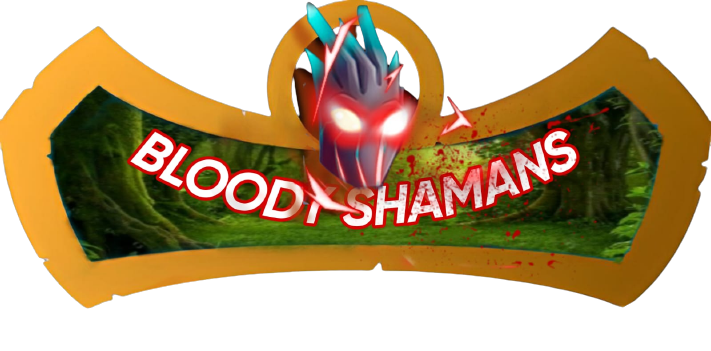 CREDITS:
To whom it may concern; Use of images from the mentioned project under my
editing for photoshop and i.a. My native language is Spanish, I use google translator. Thanks
---
---