🎹YOU HAVE UNLOCKED THE BAND - THE FAMILY.[ESP/ENG]😱
Hello musical humans...

It's a pleasure to write to you telling you a great news, our band is finally complete; it's been a year where we played in the streets for coins to survive. But now things have changed and we have taken a step towards success in the
@risingstargame
world of the
#hive
universe; so I will tell you a little bit of the history of each member of our pop rock band and why we gave them this name.
VANESA PASCALA AND LUCY PASCALA
They are our second voices and twin sisters originally from Canada (dual citizenship) but with latin parents, they are 25 years old, they love music but they have had a hard time in this world where there is so much competition. They are in charge of the keyboards.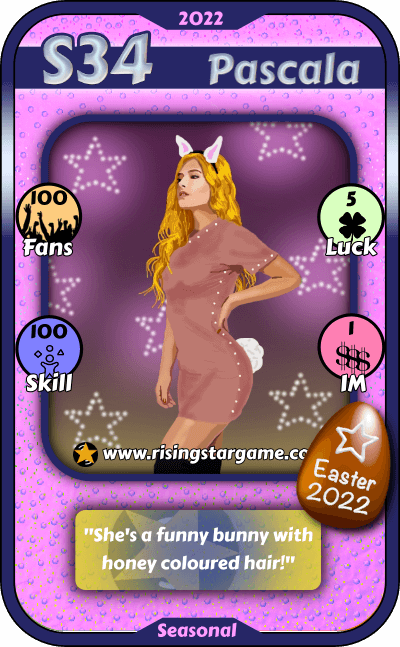 PASCAL
He is the father of the Pascalas 50 years old Venezuelan, he joined his daughters because he wanted to support them; he sold his food business to rent a bus for 3 years (it cost him 3 million starbits) where they are transported to the events. He is learning to play piano and installed a small kitchen in the bus where he cooks for the members. He is happy if he sees his daughters happy.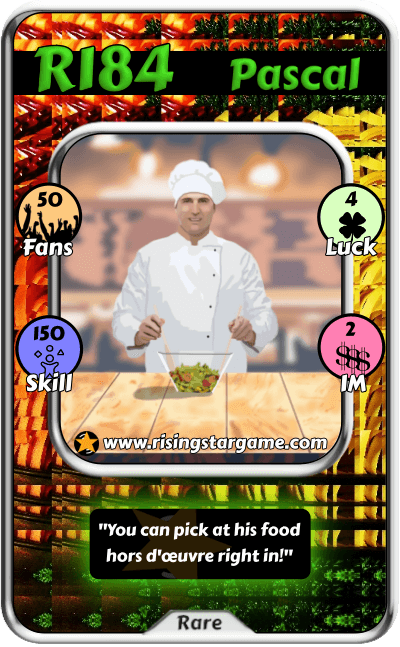 JANINE
She is a business administrator (love sports) and keeps the band's accounts (although they are few starbirs in salary) she has a lot of talent for design; although she understands little about music she has a wonderful voice. She is the main vocalist and sings in English and Spanish, we don't know her country although she is of Latin origin.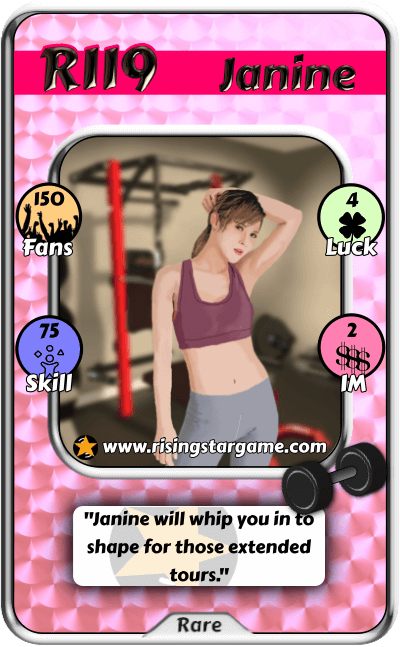 GUSTAF
He is 36 years old, Colombian, although he always wanted to form a band as a child, he has a talent for music and art; they met him because he saved their lives in a small event (the guitarist got sick at the time, and he jumped from the audience and started playing with them) and that's when he was hired. He is the bus driver, does the harmonies with his guitar and studies English.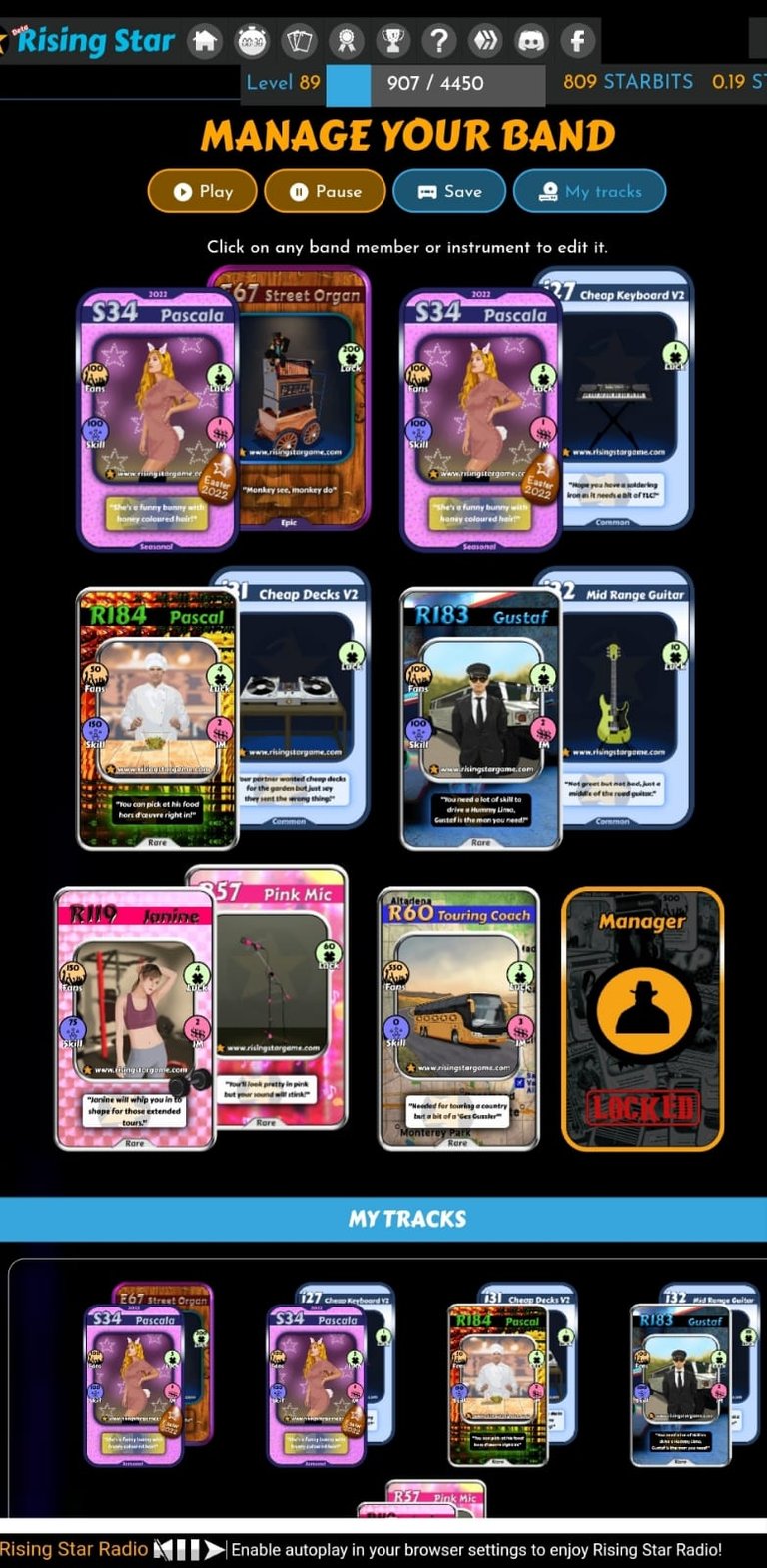 As you can see everyone here is united and helps each other; of course the love for what they do is important; just as in music if a melody is missing it doesn't work so is this musical family but not of blood.
We have the opportunity to open the concert of a legendary artist and we feel a great hope and excitement to make ourselves known, of course the starbits will be useful for our future plans.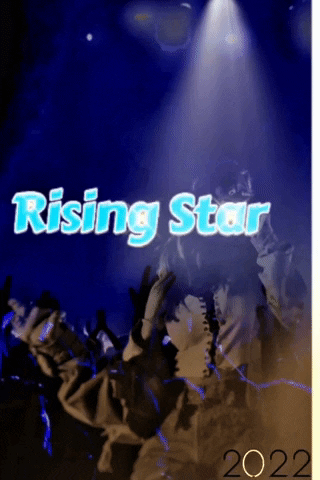 The next goal is the third city, but here the progress will be a little slower due to the level; besides, we have to get a garage to be able to rehearse well in order to evolve. Pascal has a very limited budget but we have faith that he will find the right place.
This is the risingstar universe very similar to the real world where constancy and discipline are rewarded. I hope that you who are reading this also have the band of your dreams and have great success in everything. And if it is not yet so begins is the most important thing. I hope you like the story of our band, thank you for taking the time to read. Long live the music.🎻

Hola humanos musicales...
Es un gusto escribir para ustedes contandoles una gran notica, nuestra banda porfin esta completa; ha pasado ya un año donde tocabamos en las calles por monedas y asi subsistir.
Pero ahora cambiaron las cosas y hemos dado un paso hacia el exito en el mundo @risingstargame del universo #hive ; asi que les contare un poco de la historia de cada miembro de nuestra banda pop rock y el porque le otorgamos este nombre.
VANESA PASCALA Y LUCY PASCALA
Ellas son nuestras segundas voces y hermanas gemelas originarias de Canada (doble nacionalidad) pero de padres latinos, tienen 25 años aman la musica pero les ha tocado duro en este mundo donde hay tanta competencia. Se encargan de los teclados.
PASCAL
Es el padre de las Pascala 50 años Venezolano se unio a sus hijas debido a que queria apoyarlas; vendio su negocio de comidas para arquilar un bus por 3 años (le costo 3millones de starbits) donde se transportan a los eventos. Esta aprendiendo a tocar piano e instalo una pequeña cocina en el bus donde les cocina a los integrantes. El es feliz si ve feliz a sus hijas
GUSTAF
Fue conductor de uber tiene 36 años Colombiano aunque de niño siempre quiso formar una banda,tiene talento para la musica y el arte; lo conocieron debido a que les salvo la vida en un pequeño evento (el guitarrista de momento se enfermo, y el salto desde el publico y se puso a tocar con ellos) ahi fue contratado. Es el conductor del bus hace las armonias con su guitarra y estudia ingles.
JANINE
Es administradora de empresas lleva las cuentas de la banda (aunque son pocos starbirs de salario) tiene mucho talento para el diseño; aunque entiende poco de musica tiene una voz maravillosa. Ella es la vocalista principal canta en ingles y en español no sabemos su pais aunque es de origen latino.
Como pueden ver aqui todos son unidos y se ayudan entre si; por su puesto el amor por lo que hacen es importante; asi como en la musica si falta una melodia no funciona asi es esta familia musical mas no de sangre.
Tenemos una oportunidad de abrir el concierto de un artista legendario se siente una gran esperanza y emosion por darnos a conocer.Claro que los starbits nos serviran para nuestros planes futuros.
La proxima meta es la tercera ciudad aunque aqui el avance sera un poco mas lento debido a nivel; ademas se debe conseguir un garaje para poder ensayar bien para evolucionar. Ademas Pascal tiene el presupuesto muy reducido pero se tiene fe de que encontrara el lugar adecuado.
Este es el universo risingstar muy parecido al mundo real donde se premia la constancia y disciplina. Espero que tu que estas leyendo esto tambien tengas la banda de tus sueños y tengas mucho exito en todo. Y si aun no es asi comienza es lo mas importante. Espero que te guste la historia de nuestra banda gracias por tomarte el tiempo de leer. Larga vida a la musica.🎻
Credits:
To whom it may concern. The use of the images are the right of the mentioned project. Editing and text are my authorship by means of .
https://www.risingstargame.com/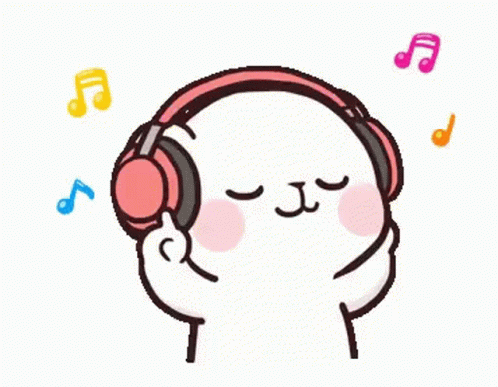 ---
---