Qujo part 5 (Lightpainting on Hive)

---
Hi everyone,
Last month, I visited friends and family in Paris. Of course, I took time to schedule LP sessions and come back home with nice souvenirs of that trip. It's weird to go back there as it always has been home...until october 2020.
I made a very nice session with a local dancer, Qujo, who's specialized in Hip-Hop.
Salut tout le monde,
Le mois dernier, j'ai rendu visite à des amis et à ma famille à Paris. Bien sûr, j'ai pris le temps de programmer des sessions de lightpainting et de revenir à la maison avec de beaux souvenirs de ce séjour. C'est étrange d'y retourner car ça a toujours été chez-moi... jusqu'en octobre 2020.
J'ai fait une très belle séance avec un danseur local, Qujo, spécialisé en Hip-Hop.
---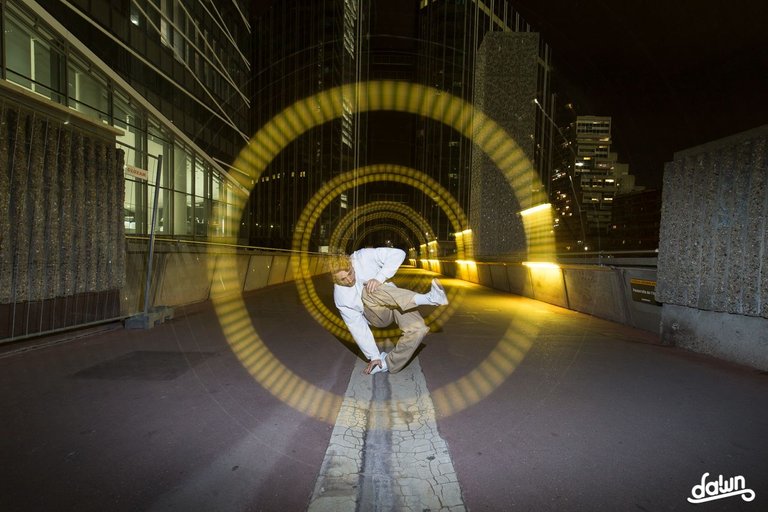 13s 16mm f/9 100 ISO
---
Lightpainting created in real time, captured to the camera in one single photographic frame.
No layers /no Photoshop / no editing except minor adjustments (lens correction profite, WB, contrast (+12)) and addition of my logo.
Lightpainting créé en temps réel, capturé par l'appareil photo lors d'une seule et unique exposition photographique.
Pas de calques / pas de Photoshop / pas de retouche sauf des ajustements mineurs (patch correctif de l'objectif, balance des blancs, contraste (+12)) et ajout de mon logo.
---
---
Specs :
Canon EOS 6D body
Canon EF 16-35mm f/4L IS II USM lens
Canon RC-E6 IR remote
Benro A4770TN tripod
Jobu-Design Heavy Duty Gimbal Head Mk IV
April 2022
Equipement :
Appareil Canon EOS 6D
Objectif Canon EF 16-35mm f/4L IS II USM
Télécommande infrarouge Canon RC-E6
Trépied Benro A4770TN
Tête pendulaire Jobu-Design Heavy Duty Mark IV
Avril 2022

WHAT IS LIGHTPAINTING?
Lightpainting is a photographic technique in which exposures are made by moving a hand-held light source while taking a long exposure photograph, either to illuminate a subject or to shine a point of light directly at the camera, or by moving the camera itself during exposure. Nothing is added or removed in post processing.
Single exposure Light Art Photography
/nolayer /notricks /nophotoshop

YOU WOULD LIKE TO SEE MORE LIGHTPAINTING HERE?


Give the Lightpainters United Community a follow and you will be introduced into the world of light painting.


You will find innovative and original light painting from various artists from all over the world. Have a look at the profiles of some very active lightpainters in the group :
Mafu Fuma - Oddballgraphics - Fade to Black - Chris Thompson - Mart Barras - Stefan Stepke - Nikolay Trebukhin - Leetodd - Stabeu Light - Maxime Pateau - Stephen Sampson - lightandlense - Neil Rushby - L.A.C.E.

WOULD YOU LIKE TO GET IN CONTACT WITH US?
Join us at Discord


Thank U for your support and keep shining!
LIGHT, LOVE & UNITY!

Lightpainters United gif Banner made by @oddballgraphics

---
---