Let's make a bracelet out of magazine pages. [Esp/Eng]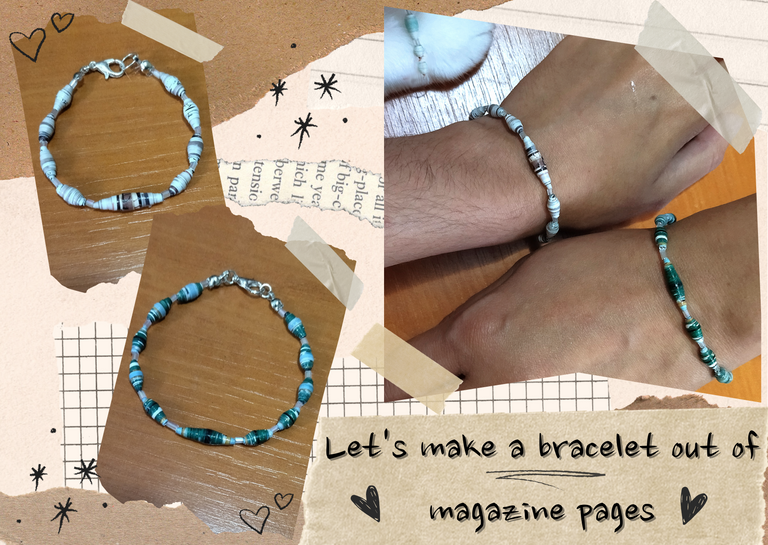 Hello everyone... 🐱🐾💕


Hello my dear Hiver and the beloved #Jewelry community, as always very pleased and excited to be here, to show you a new work made with love especially for you.


For today I bring you a simple tutorial dedicated to recycling, to make a bracelet with magazine leaves, in which we will elaborate our own appliques or beads substitutes, to make this beautiful bracelet.


Hoping with all my heart, that my humble work to present will be to your liking.
Let's begin:😃

Magazine sheet.
Quilling needle.
Ruler.
Pencil or pen.
Scissors.
White glue.
Short beads.
Transparent Nylon thread.
Sewing needle.
Nylon knot cover.
Jewelry rings.
Parrot's beak locker.



Hola a todos... 🐱🐾💕



Hola a mis queridos Hiver y a la querida comunidad de #Jewelry, como siempre muy complacida y emocionada de encontrarme por acá, para mostrarles un nuevo trabajo hecho con mucho cariño especialmente para ustedes.


Para hoy les traigo un sencillo tutorial dedicado al reciclaje, para realizar una pulsera con hojas de revistas, en la cual vamos a elaborar nuestros propios apliques o sustitutos de perlas, para confeccionar esta bella pulsera.



Esperando con todo el corazón, que mi humilde trabajo a presentar sea de su agrado.




Comencemos:😃

• Hoja de Revista.
• Aguja para quilling.
• Regla.
• Lápiz o bolígrafo.
• Tijera.
• Pega blanca.
• Mostacillas cortas.
• Hilo Nylon transparente.
• Aguja de coser.
• Tapa nudo para Nailon.
• Argollas de bisutería.
• Trancadero pico de loro.

We start by taking a sheet of magazine, the pen and the ruler, we will cut a strip of 2cms wide x 27cms long, most magazines have standard measures, I used the entire length of the sheet I took, which as I mentioned before had a length of 27cms.


Now we will cut 4 or 5 more strips of 1cm wide x 27cms long. Let's take into account that we are going to cut as many strips as beads we want to make, according to the circumference of the person's hand, that is to say, the size we want to make the bracelet.


We take the strip of 2cms, we are going to pass a line through the center, that is to say we will divide it into 1cm on each side with a pencil, then we will pass a line from the widest part to the line we made in the center, we will do that on both sides, when cut with the scissors will be like a long strip of triangular shape, (reserve).



• Comenzamos tomando una hoja de revista, el bolígrafo y la regla, vamos a cortar una tira de 2cms de ancho x 27cms de largo, la mayoría de las revistas tienen medidas estándar yo utilice todo el largo de la hoja que tome, que como mencione antes tenía un largo de 27cms.


• Ahora cortaremos 4 o 5 tiras más de 1cm de ancho x 27cms de largo. Tomemos en cuenta que vamos a cortar tantas tiras como perlas queramos hacer, según la circunferencia de la mano de la persona, es decir del tamaño que queramos hacer la pulsera.


• Tomamos la tira de 2cms, a esta le vamos a pasar una línea por el centro, es decir la vamos a dividir en 1cm de cada lado con un lápiz, luego vamos a pasar una línea desde la parte más ancha hasta la línea que hicimos en el centro, eso lo vamos a hacer por ambos lados, al recortar con la tijera quedará como una tira larga de forma triangular, (reservamos).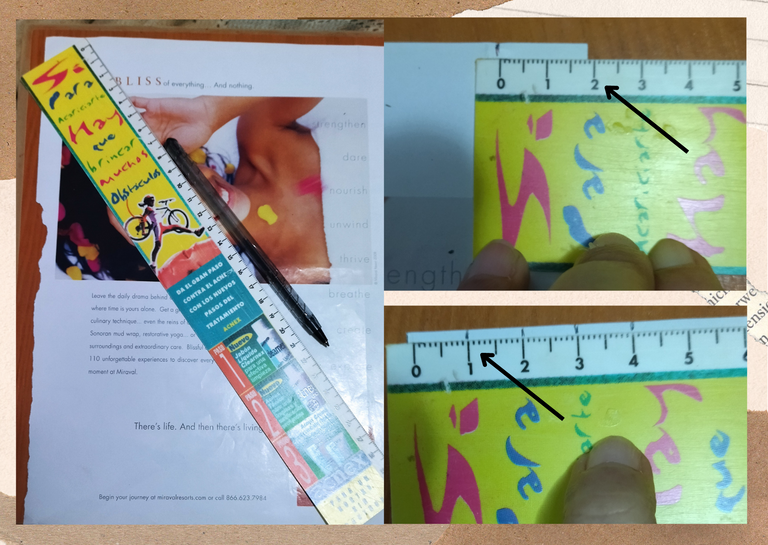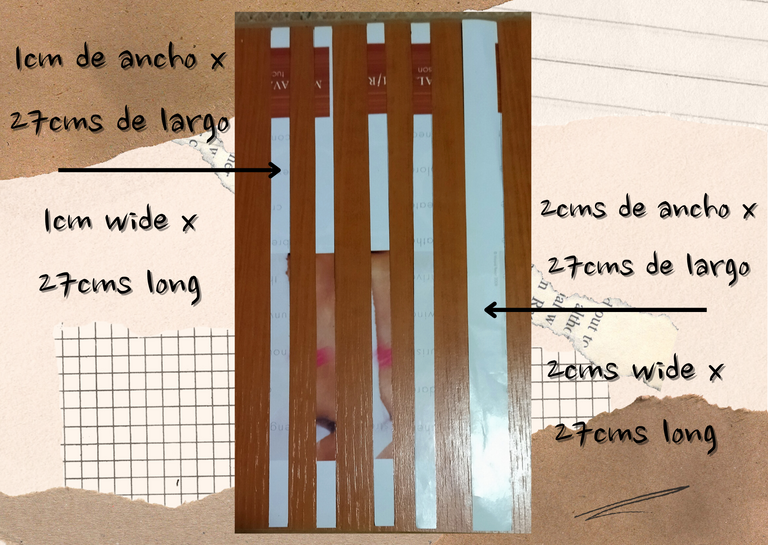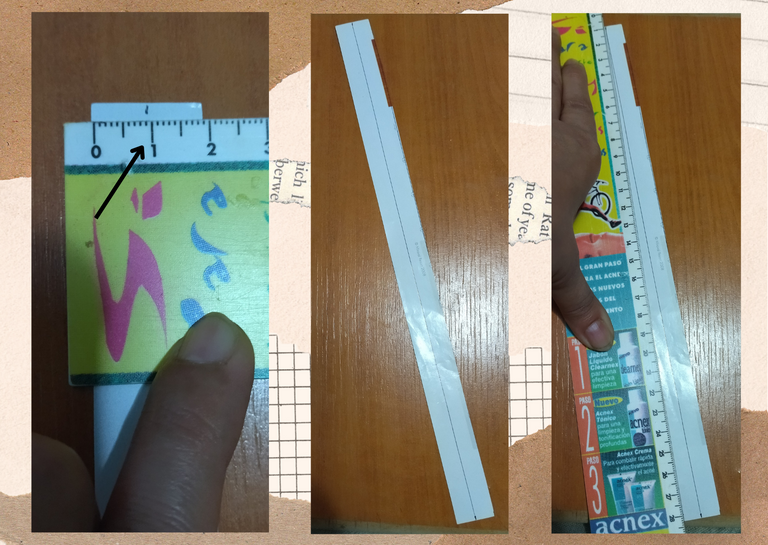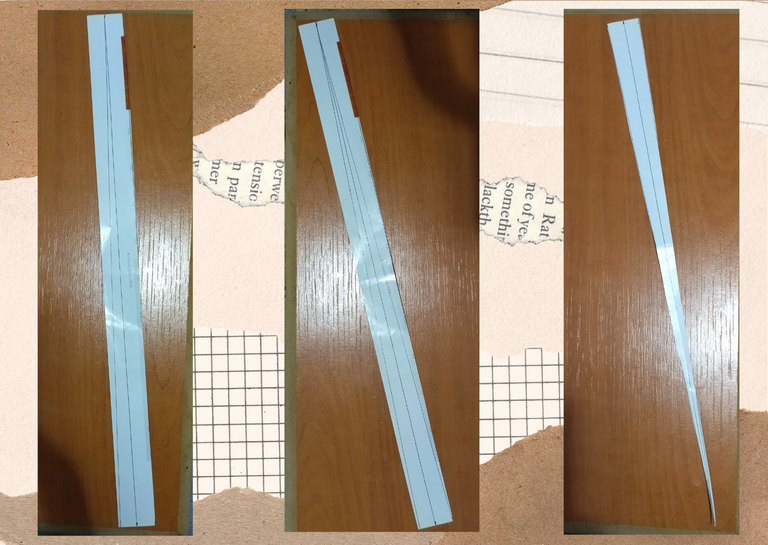 Now we take the strips of 1cm wide x 27cms long, we draw a diagonal line, cut.


Now we are going to take the quilling needle and we are going to roll the widest strip, this is going to be the central bead that we will put on the bracelet, we are going to start rolling the widest part, when we finish we will seal with white glue, at that moment we will add glue to the whole bead so that it is resistant, let it dry, then we take it out of the needle very carefully.


Now we will repeat the same procedure with the strips of 1cm, we roll as the previous one by the thickest side, we add glue to the whole piece and let dry, these will be the beads that will go to the sides of the bracelet.

• Ahora tomamos las tiras de 1cm de ancho x 27cms de largo, le trazamos una línea en diagonal, recortamos.


• Ahora vamos a tomar la aguja para quilling y vamos a enrollar la tira más ancha, está va a ser la perla central que colocaremos a la pulsera, vamos a comenzar enrollando por la parte más ancha, al terminar sellaremos con cola blanca, en ese momento aprovecharemos de añadirle pega a toda la perla para que quede resistente, dejamos secar, luego sacamos de la aguja con sumo cuidado.


• Ahora repetiremos el mismo procedimiento con lás tiras de 1cm, enrollamos tal cual como la anterior por el lado más grueso, añadimos pega a toda la pieza y dejamos secar, estás serán las perlas que irán a los lados de la pulsera.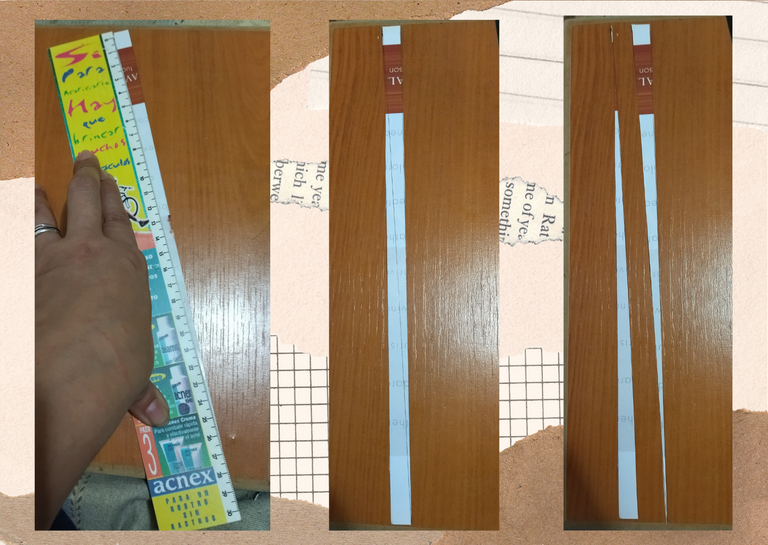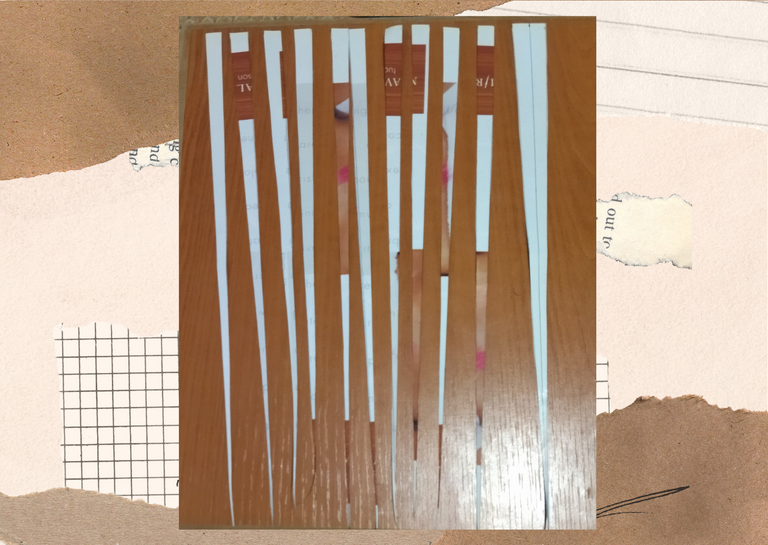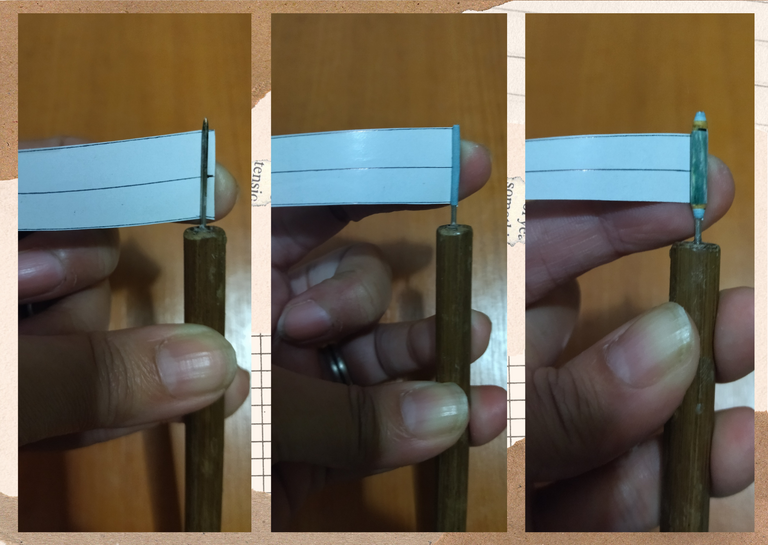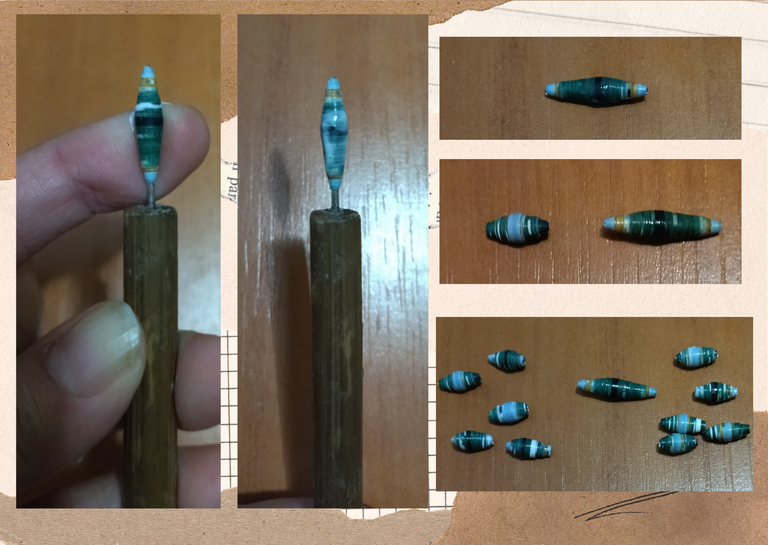 We have our pearls made with magazines ready, we are going to proceed to assemble the bracelet, we take a needle of baking we place an adequate amount of nylon, according to the pearls and beads that we are going to place. After threading the needle to the nylon, we place on the other end the nylon stopper so that the beads that we are going to place do not come out.



We begin by inserting a bead through the needle (I chose a transparent one, you can place the color you prefer), then we place one of the small beads that we made, intercalate in that way, bead/bead, we are going to put the same amount on both sides, leaving in the center the biggest one, we close our bracelet with its other knot stopper, we place a costume jewelry ring on each side, its parrot beak lock and in this way we have our beautiful bracelet ready for use.


I suggest that for the work to have more protection instead of white glue can add to each bead, artistic resin so that in this way it is with a more resistant plastic coating, although working with white glue is a good option, since everything is in taking care of the garment to be used. The works made in a handmade way are to show them off and take care of them in this way they are not damaged.
I loved working with leaves from magazines because as you can see we can play with colors by choosing leaves of different shades.
I made two bracelets with different leaves, one for me and one for my daughter, I loved the shades that they threw, they look totally different.



• Tenemos nuestras perlas realizadas con revistas listas, vamos a proceder a armar la pulsera, tomamos una aguja de cocer le colocamos una cantidad adecuado de nylon, según las perlas y Mostacillas, que vayamos a colocar. Luego de ensartada la aguja al nylon, colocamos en el otro extremo el tapanudos para nylon para que no se vayan a salir las perlas que vamos a ir colocando.


• Comenzamos metiendo por la aguja una mostacilla ( yo escogí una transparente, puedes colocar el color que prefieras), luego colocamos una de las perlas pequeñas que realizamos, intercalar de esa manera, mostacilla/perla, vamos a meter la misma cantidad de lado y lado, dejando en el centro la más grande, cerramos nuestra pulsera con su otro tapanudos, colocamos una argolla de bisutería de cada lado, su trancadero pico de loro y de esta manera tenemos nuestra bonita pulsera lista para su uso.



Les sugiero que para que el trabajo tenga mayor protección en vez de cola blanca pueden añadir a cada perla, resina artística para que de esta manera quede con un plastificado más resistente, aunque trabajar con cola blanca es una buena opción, ya que todo está en cuidar la prenda a utilizar. Los trabajos realizados de manera artesanal son para lucirlos y cuidarlos de esta manera no se dañan.

Me encanto trabajar con hojas de revistas ya que como pueden observar podemos jugar con los colores escogiendo hojas de diversas tonalidades.

Lleve a cabo dos pulseras con hojas diferentes una para mí y una para mi hija, me encantaron las tonalidades que arrojaron se ven totalmente distintas.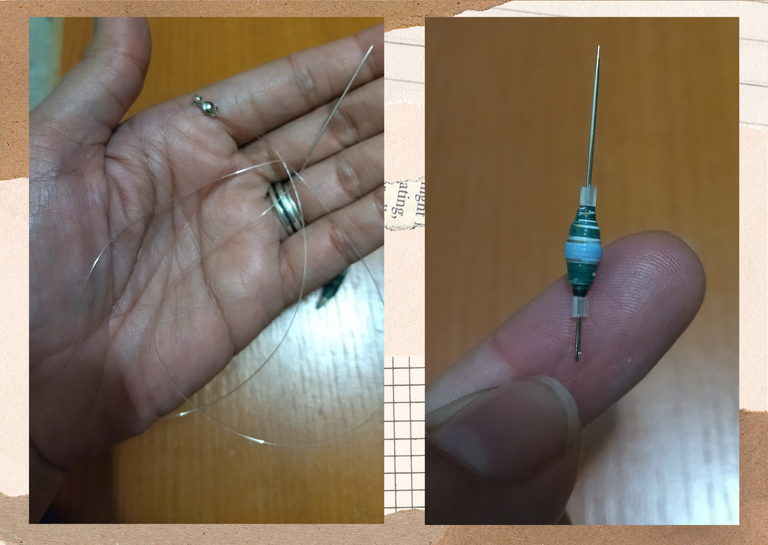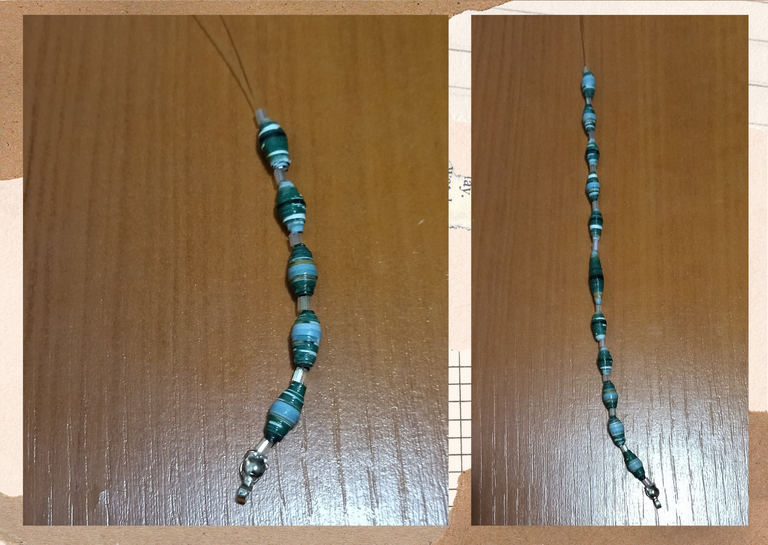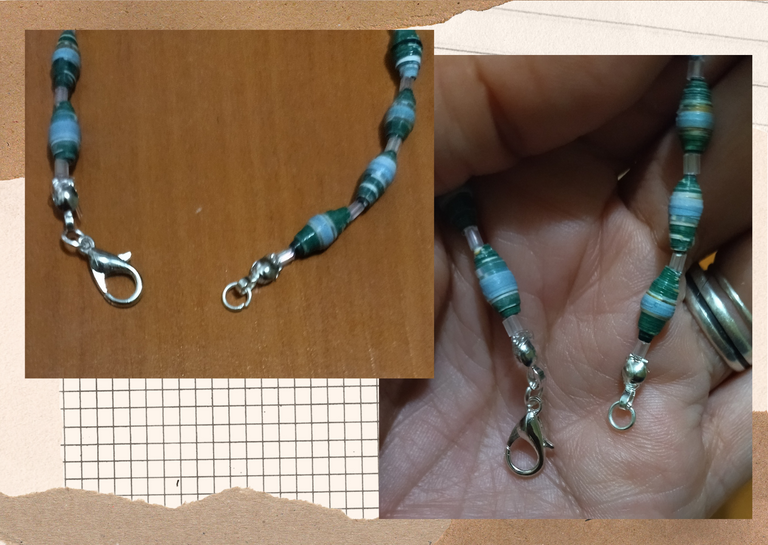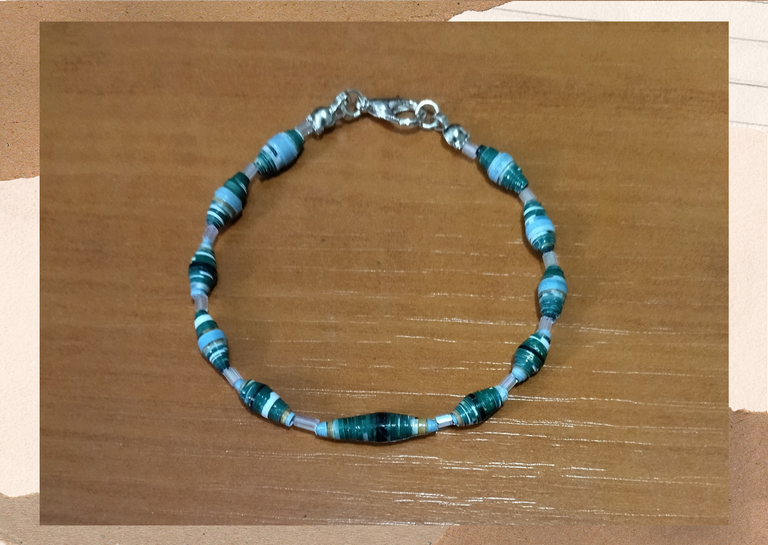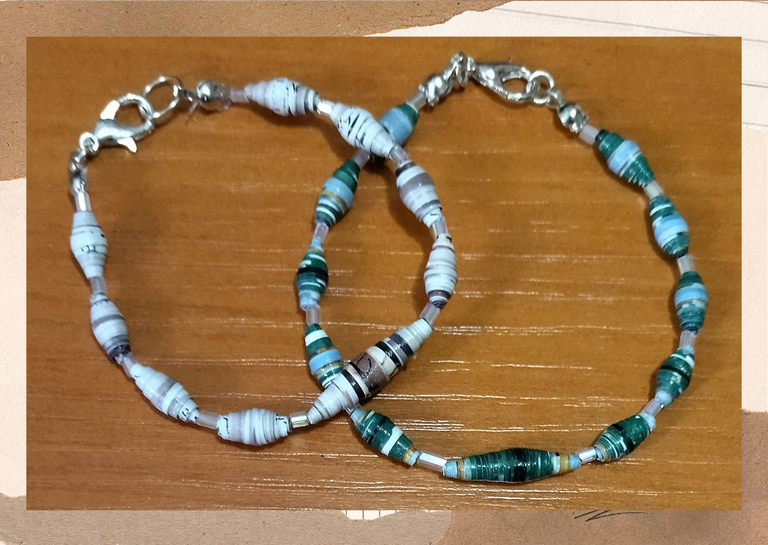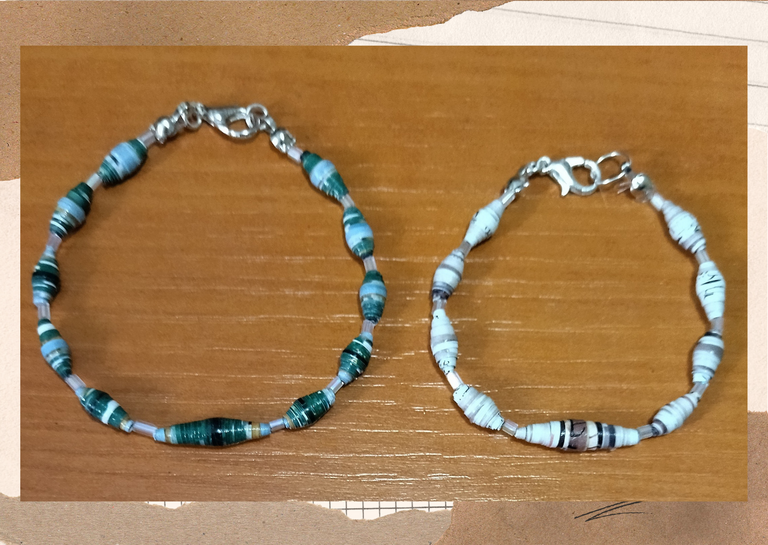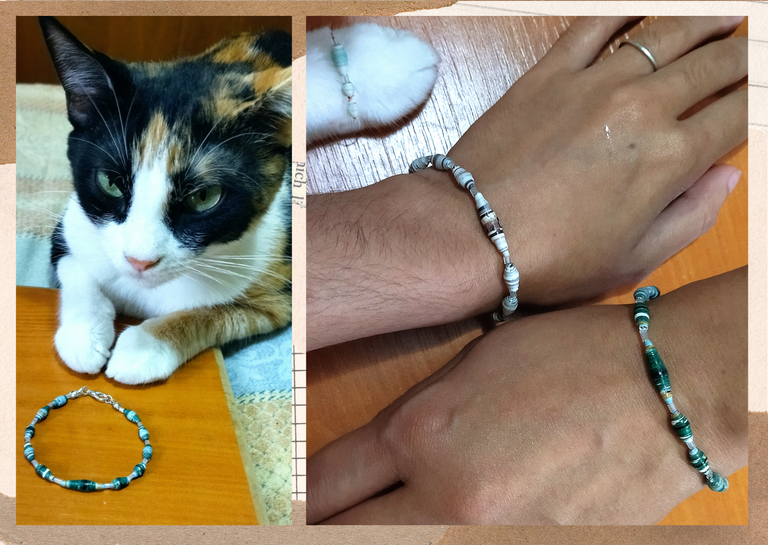 What did you think, did you like it?
I hope you did, I hope you liked my explanation, procedure and photos, I made them with love for you.


"Let out that muse that inspires you, and let your imagination fly".
Thank you all, see you next time. 🐾🐱💕

¿Que les pareció, les gustó?



Espero que sí, que les haya gustado mi explicación, procedimiento y fotos, los hice con mucho cariño por y para ustedes.


"Deja salir esa musa que te inspira, y deja volar tu imaginación".



Gracias a todos, nos vemos en la próxima. 🐾🐱💕
---
---
---
All photos used in this post are of my authorship and have been taken on my personal cell phone a Redmi 9T and edited in Canva
Banner and separator made by me in Canva
Translated with the help of DeepL

Todas las fotos usadas en este post son de mi autoría y han sido sacadas en mi celular personal un Redmi 9T y editadas Canva

Banner hecho por mí en Paint Tool Sai

Traducido con la ayuda de DeepL



---
---