My coffee morning at "Rumoh Kupie"
This morning was a sunny day for me after a few days ago it rained continuously in my village location, even in some places experiencing prolonged flooding.
---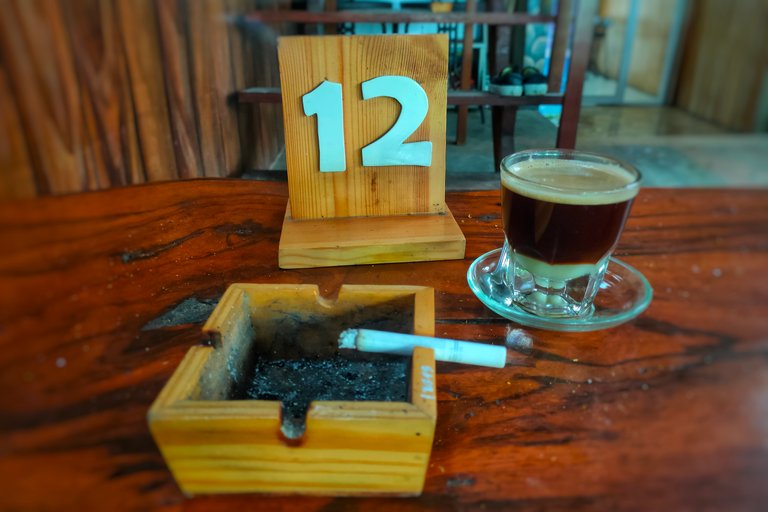 ---
---
Hi my friends coffee lovers .!!!
On this occasion I will give my short story about what I experienced when I visited a cafe shop in my area, namely in the city of Lhokseumawe - Aceh (INDONESIA). This morning I took some photos that I shot at the "RUMOH KUPIE" shop, maybe this will be a story about a coffee experience that I enjoyed this morning.
Coffee for me is a necessity that interests me every day. I enjoy coffee from morning, afternoon and evening, actually I am a person who is crazy about the enjoyment of authentic Aceh coffee, as it is known that Aceh is the best coffee producer in Southeast Asia, especially Indonesia. But for us Acehnese, coffee has made our breakfast and some cakes served.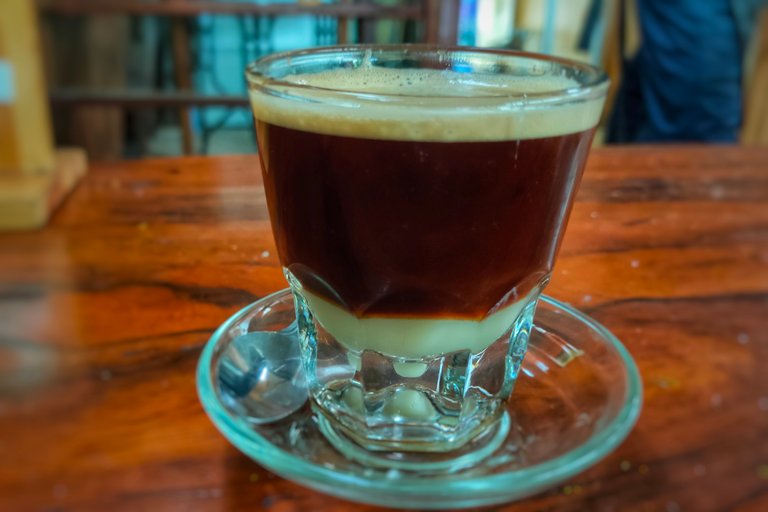 Milk coffee that we call SANGER
---
---
What Is Sanger?
SANGER is a type of coffee brewed with sweetened condensed milk with original coffee. Ulee kareng type, Ulee kareng is a type of coffee produced in the ulee kareng area, which is in the village of ulee kareng Banda aceh - Aceh. This type of coffee is greatly admired by coffee lovers in my area, namely in Aceh.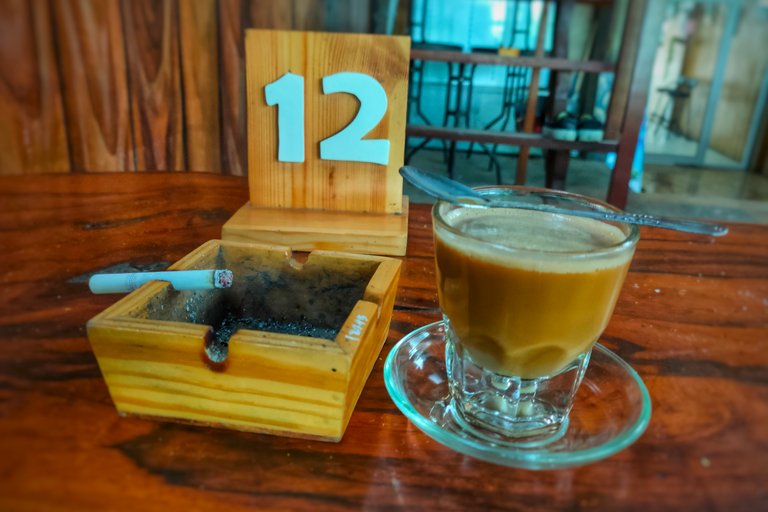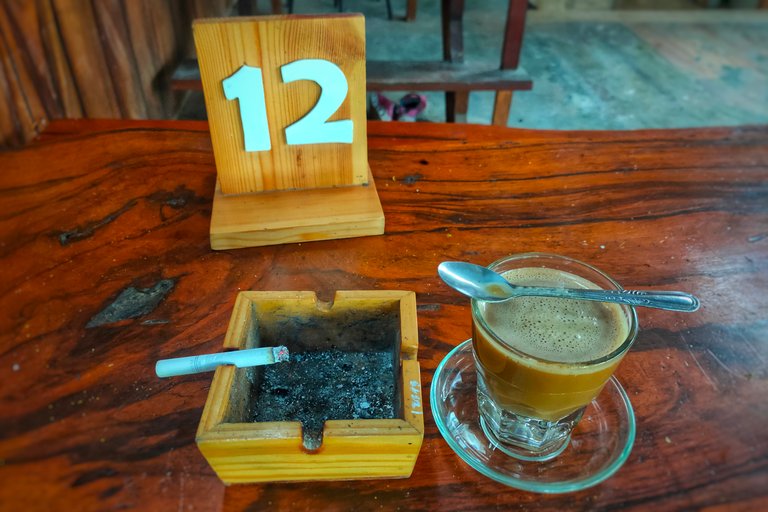 This display is the appearance of stirred sanger coffee, looks brownish in a transparent cup and the combination of a cigarette that I smoke adds to the addictive taste of this sanger coffee taste. Every morning I smoke 2 cigarettes after breakfast and drink a cup of coffee wherever I stop. And for now I'm still in this shop to write a post about the taste of this coffee.
---
---
Rumoh kupie shop room view
The room I sat in was very comfortable and I saw several visitors enjoying their coffee so relaxed. I took some photography that I shot in this room, and I'm currently at table number 12.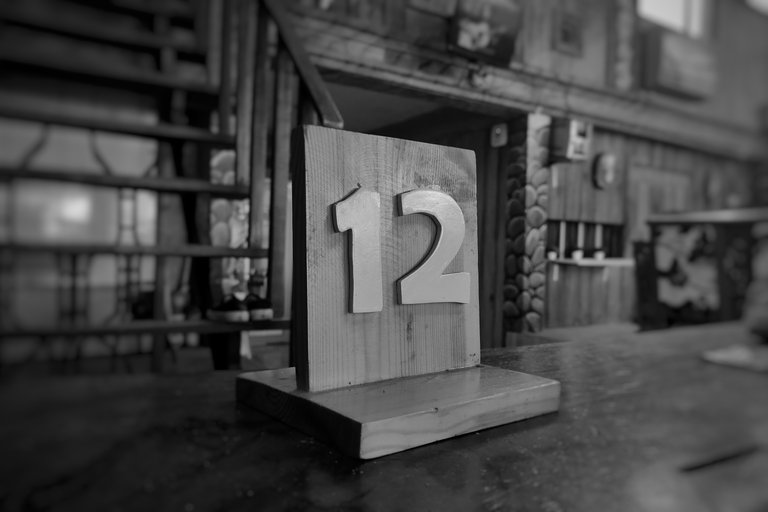 I saw an ashtray and a cigarette that I shot and then I uploaded it in my post, sorry if this is a mistake, I hope you don't imitate me as a cigarette addict.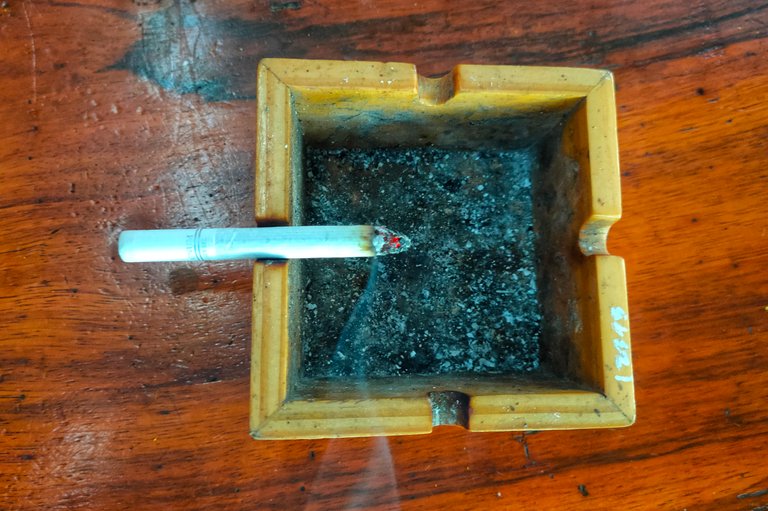 The appearance of the room is very comfortable, the interior of this cafe shop has a traditional style with teak wood motifs with real wood carvings. Acoustic music made me and other visitors feel comfortable. This cafe shop has two rooms upstairs and downstairs. the second floor has a special place, from the second floor you can see a view of the ocean.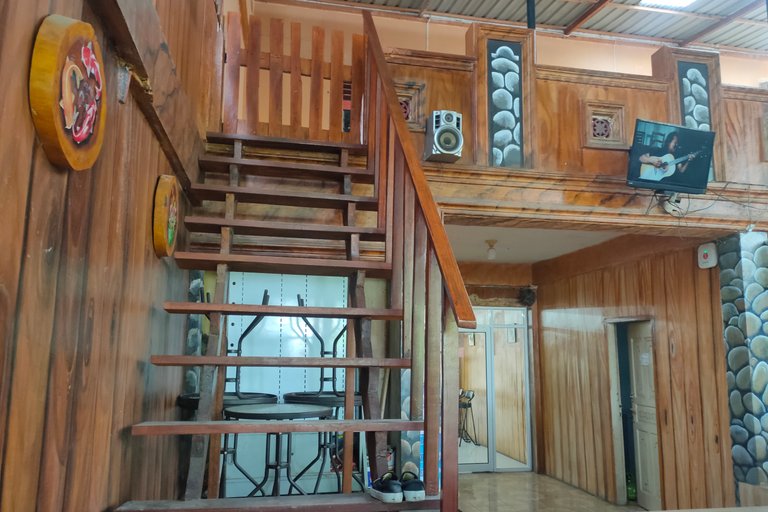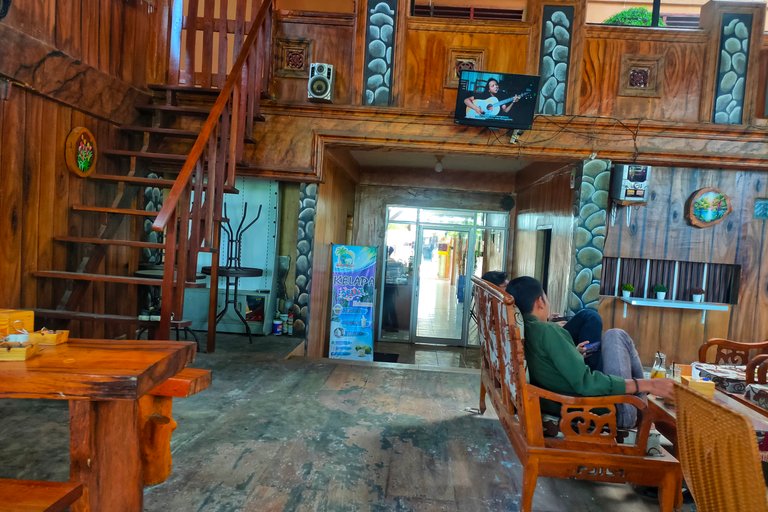 ---
---
Rumoh Kupie Room Decoration
Tables and chairs are the main roles that must be owned by cafe shop entrepreneurs, here you can clearly see some decorations from tables and chairs made of original teak wood from the Aceh forest which were modified by carpenters, and there are also chairs made of plastic. What made me interested in visiting this place is that it has natural colors and a slight fragrance of real natural wood.
Next, several visitors are seen who are busy with their gadgets while enjoying coffee, usually at 12.00 Western Indonesia time, there will be many visitors who come, maybe this is because it is still too early, so only a few cafe visitors are seen.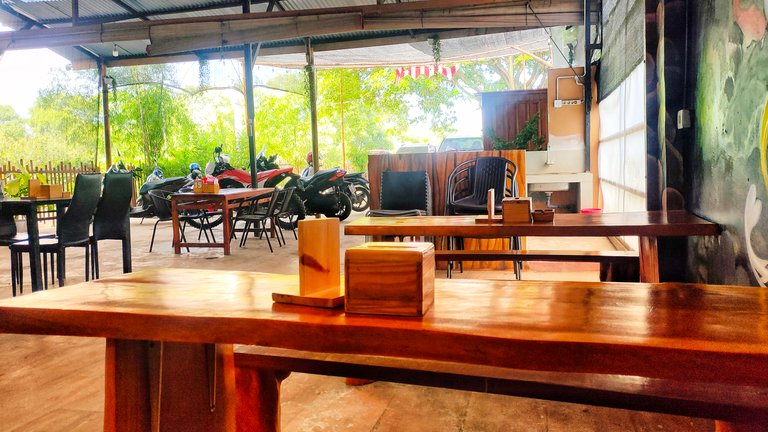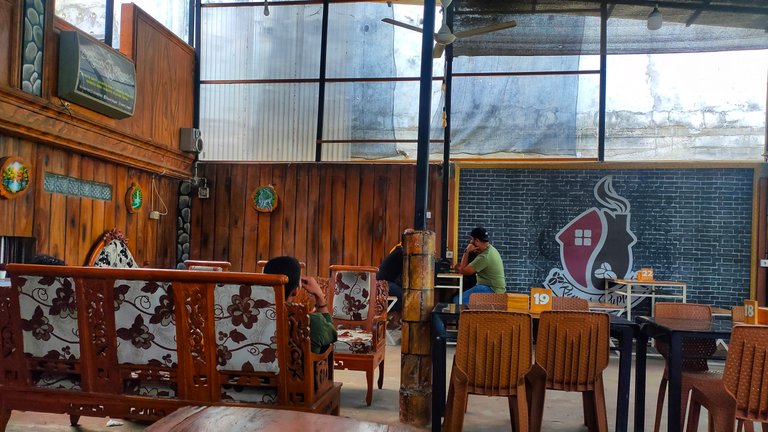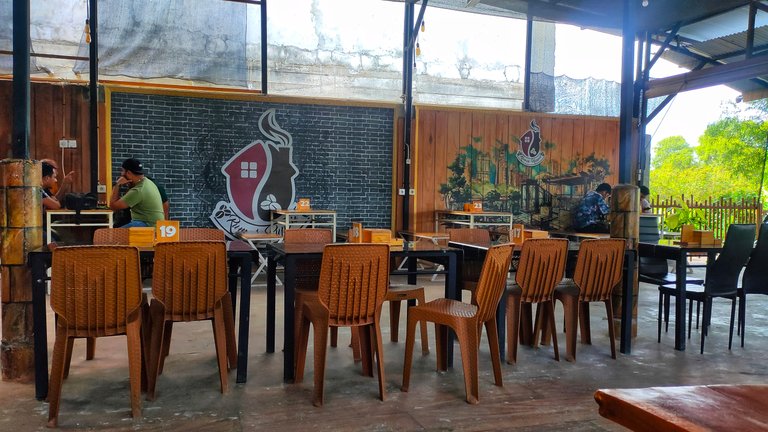 ---
---
Right behind my desk I can see a painting made using paint, I think this is a good and extraordinary work by a painter's handiwork, this artwork was made directly on the parapet, it looks like this is a Koi fish painting, and there are some other paintings that you can see in the photo above.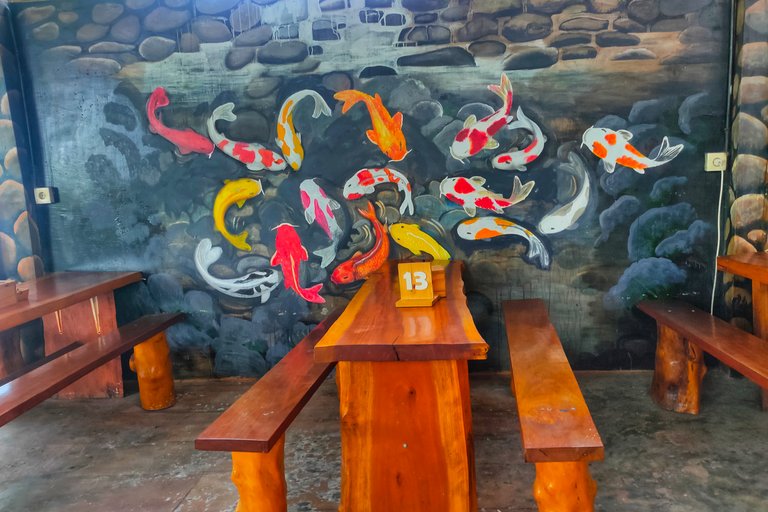 That's what I show in today's post about a short story about my morning coffee, if this post is interesting for friends and has a high value, I will continue to contribute to my posts in this growing community.
My thanks to all my friends who have stopped by and read and supported my posts.
REGARD @dayatsiaulia
| Photographer | Camera | Editing | Location |
| --- | --- | --- | --- |
| @dayatsiaulia | Smartphone RMX 5 Pro | Snapseed App | Lhokseumawe |

---
---
---