25k Here We Come - My Hive Goals for 18 Sept 2023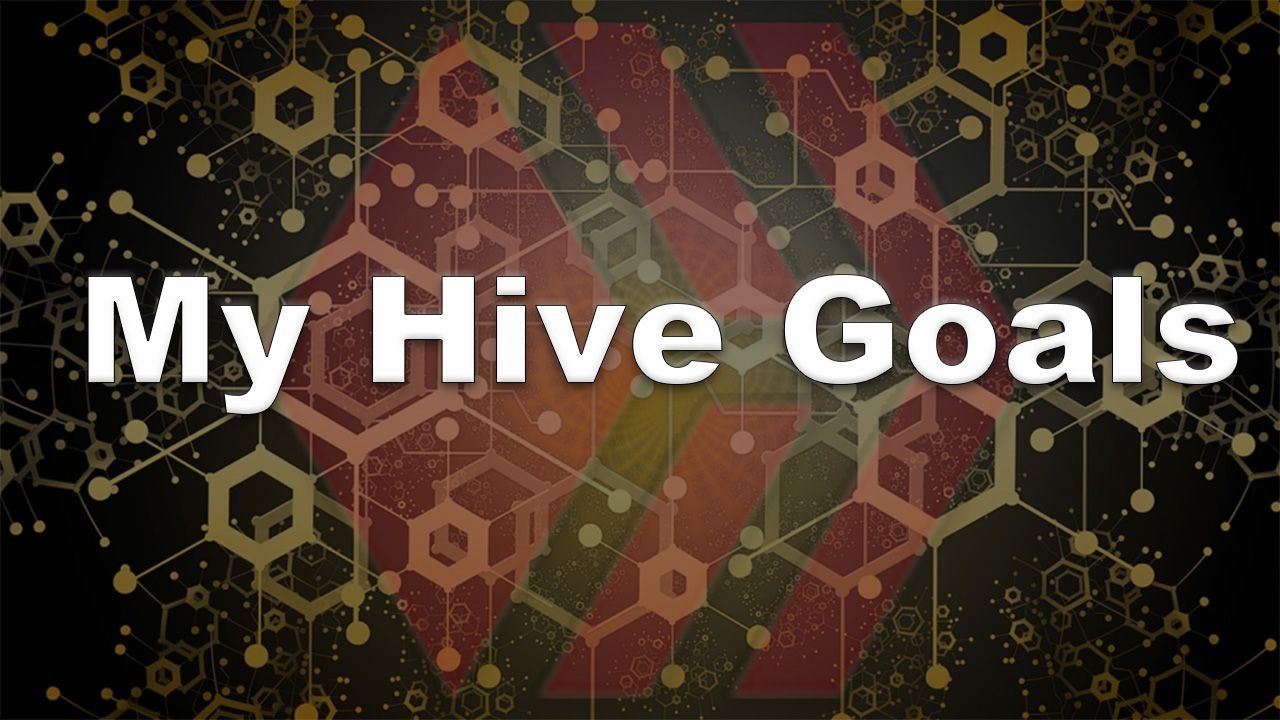 Hello all! Another week and it's time again to do another #myhivegoals post, a series idea started by started by @jongolson. I'm going to look at the progress I've made on my Hive goals, as well as give a few tokens I'm looking at right now. If you are here for the comment SBI giveaway, well, we'll get to that too.

Let's start with my Hive goals.
~ Hive ~
My current goal is 25k Hive.
This past week I made 218.930, bringing me to 18,287.81 total Hive Power. That's 73.2% of my goal!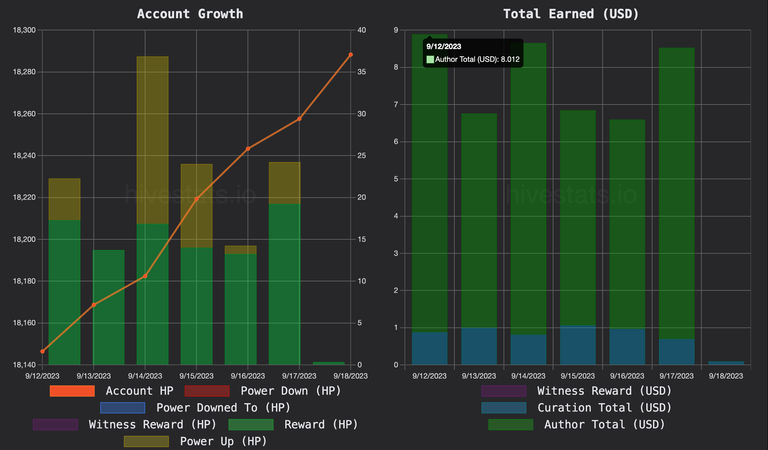 So let's see... 25k minus 18287.81 gives us 6712.19. Getting closer! Divided out by the rest of the year gives us a 63.9 Hive needed per day to reach 25k by the first of next year. Well.... it's still going up, but at least it didn't go up as much this week. I suppose that's something to be happy about. It's the small things, eh?
By the way, did you catch the HBD pump the other day? It shot up pretty high for a little bit, giving us a nice trading opportunity. I know my man @bozz caught it. He wrote this post about it. Then a day later when HBD fell back to the regular price, Hive pumped to over 30 cents, giving us the perfect opportunity to swing right back into HBD and secure those gains.
That is one thing I love at Hive. It is so easy to swing back and forth between Hive and HBD. The internal market makes it a piece of cake, but one can do it just as easily on the Hive-Engine market, swinging between swap.Hive and swap.HBD.
Most online services, like coingecko, will send you an alert if the price of an asset goes up or down over 5%—I fully recommend you use these. I have alerts for Hive and HBD set to show up on my Apple watch, so I can always catch these moves (unless it's at night and I'm asleep).

Moving on to my weekly coin preview, I picked up four cool coins last week.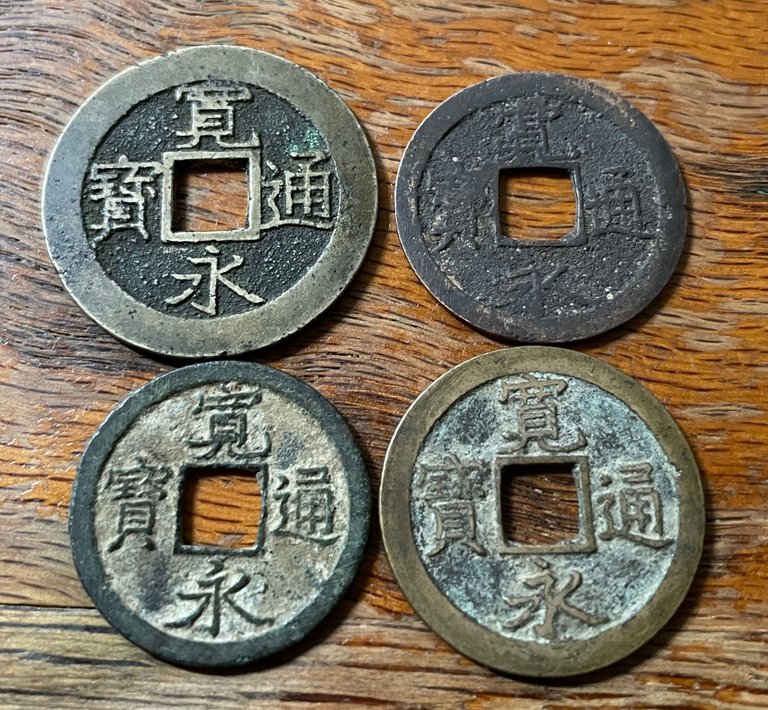 These are mon, which belonged to the system of currency before the modern era in Japan, back when the samurai ruled the country. Sadly they aren't silver—they are bronze—but I figure out guys may appreciate them.
I picked them up from a yahoo auction sale. (Yahoo auction is like ebay, but much much more popular in Japan). The sale just said four mon, without dates or info, so I'm going to have to do some research and figure out things a little better before a bigger post about them.
The one with the broader rim is a 4 mon coin, that one I can recognize. The other three look like 1 mon coins, but as to their exact era I can't tell. The mon was minted from the 1300s until 1870, so that gives a pretty wide expanse of time that these could be from, though they are probably from closer to the end of that range.
Anyway, I'll do more research and post about these this week.

That stuff out of the way, let's do our SBI drawing! If you are new here, I give away 5 shares of SBI every week to commenters on this post. If I get under five commenters, I try to divide it up as best as possible, and if I get over five, I do a random drawing.
So how about this week? Let's see... last post we had comments from @littlebee4 @sirdelly @bitcoinflood @kerrislravenhill @mdasein @bhattg @coinjoe @stickupcurator @hiro.guita @princessbusayo.
And the winners are...
@coinjoe @bitcoinflood @mdasein @sirdelly @bhattg
Congrats guys!!


And forward we go! It was a strong week. Let's see how this coming one goes!
❦
| | |
| --- | --- |
| | David LaSpina is an American photographer and translator lost in Japan, trying to capture the beauty of this country one photo at a time and searching for the perfect haiku. |
---
---