Is the World Getting Better or Worse? I think the Future is Bright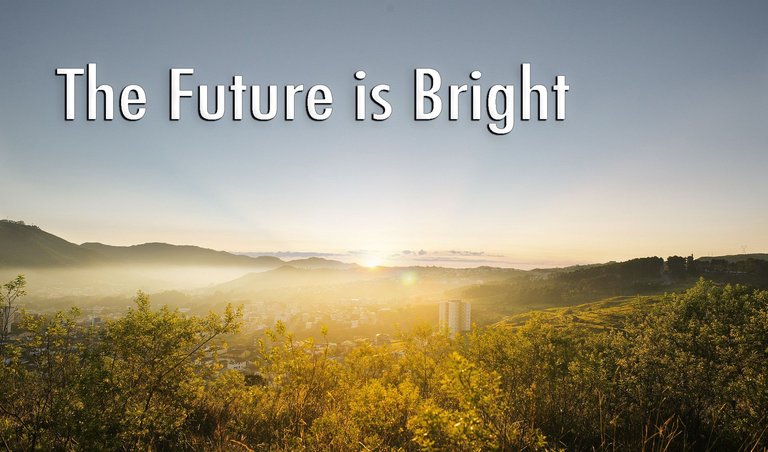 Is the world getting better or getting worse?
There seems to be a general feeling that it's getting worse. We all read the news and see how politics has divided us more than ever, how it's all become tribal and isn't even about any actual policies but is just about beating the other side. All our officials seem to be corrupt and serve the wealthy, creating policy that takes money from us and gives it to them, making them obscenely rich, and that wealth puts them above the law so they can basically do anything they want with no consequence. And, well, I could go on and on.
All of this has given us the feeling of walking on eggshells, like anything we do could set off the people around us, and we are all afraid to even look at the news anymore for fear of what we will see. I'd wager the number of people doing "news-fasts" has increased dramatically over the past few years.
Absolutely it feels like things are getting worse. But are they? But is it really getting worse?

I think the idea that the past was better is not only common but has always been common. Most traditional folklore speaks of a Golden Age that occurred many lifetimes ago and how society has been falling since. In Europe the Middle Ages emphasized this feeling, due to the perception that technology was lost when Rome fell. Never mind that many medievalists scholars tell us that the middle ages weren't nearly as backwards as Hollywood shows us and were actually a time of great progress, the common feeling is still that it was a time of darkness when we had fallen from the Golden Age of Rome and Greece. A lot of people feel like we still haven't recovered from that perceived fall, which is just ridiculous, but that shows you the power of this narrative.
It's not just in the West. In Buddhism we say that we are living in the fourth kalpa, kalpas being huge spans of time (4.32 billion years). The first kalpa was a Golden Age and things go downhill with each kalpa until the universe ends in destruction and is restarted at the end of the fourth kalpa. The fourth one which we are in is said to me a time of moral decay when war, crime, and plague all spread and increase.
This idea that the past was better is even infused into modern popular literature. Lord of the Rings may be the most popular of these. In the LotR cosmology, the first age was a Golden Age and our current 3rd age is a far decline from the greatness of that period. Men are not as tall, their span of years is less, the world is more marred and less beautiful, things are gradually fading and will continue to do so until a massive Ragnarök (or Armageddon) event called Dagor Dagorath that destroys the world.
Many other stories in media contain this same theme, this idea that the past was better and that we are falling towards the end times. There are some stories that buck this trend and paint an optimistic future such as Star Trek, but this is far from most.

Was the past really better? There is reason to be doubtful. Just a few generations ago there was much more child death. Smallpox, polio. Even diabetes, which we now take as at most an inconvenience, was a death sentence before the discovery of insulin. One of my favorite poets, Shiki, died of tuberculosis (TB) when he was 35. TB also was a death sentence only one hundred years ago. Today it is easily cured.
In other ways as well. The excesses of capitalism today may cause a lot of pain and suffering, but they pale in comparison to the misery of life under feudalism. There are many articles floating around today about how back in the medieval Europe they had more days off than we do today. That may be true, but they needed those days off because the days they worked were so backbreakingly awful. The people in power weren't stupid, and the system was built to give so many days off to avoid a revolt or revolution. Even with those days off, peoples' bodies just couldn't deal with all the stress and they gave out far sooner than ours do today. The average life span we see of 30 years during the middle ages isn't exactly accurate as the average was pulled down by the incredible number of child deaths, but even so, people who did survive childhood didn't make it much past 50.
The further you go back the worse health becomes and the worse treatment of the lower classes (which were the vast majority of the people; so if you were around then you would have been in this group) becomes.

No, I think that as bad as things seem today, they are much much better than at any previous point in history. And they are getting better, as hard as that may be to believe.
We were talking about this in The Mancave the other day and I was glad to see @raymondspeaks agreed with me about it.
Things seem so bad today because we have the internet and social media. Now social media does have a whole lot of problems, don't get me wrong, but overall these two things have made us much more aware of what is going on in the world. Whereas before the corruption of our leaders was hidden from us, today we can see it all and know every detail. The fact that we still seem powerless to prevent the corruption and bad behavior is disheartening, but the fact that we can now know about it is an amazing development. In the past this behavior was hidden. It might have been whispered about, but the truth wasn't clear. Now it is.
We can't fix things when we don't know about them. As long as things are in shadow and hidden, we are powerless to do anything about them. But once they come to light, it is only a matter of time before we as a people correct the problem. This correction might not be painless and it probably won't come within our lifetimes, but it is inevitable.
We still have many challenges ahead. Deep Fake technology is going to soon make it so that even video will become untrustworthy. Within the next ten years political parties will start playing video where their opponents "say" horrible horrible things which will be complete lies, all thanks to deepfake technology. But I think we will figure out a way to overcome these challenges and we will continue to move in a positive direction.

What do you think? Am I off my rocker, blinded by optimism, completely wrong? Is the world really sinking into a cesspool of moral decay? Let me know your thoughts in the comments.
(title graphic made by me in Photoshop using this photo by Daniel Reche from Pixabay)
❦
| | |
| --- | --- |
| | David LaSpina is an American photographer and translator lost in Japan, trying to capture the beauty of this country one photo at a time and searching for the perfect haiku. |
---
---