Joy of Dawn and Snails・Haiku of Japan
Have you ever watched a sunrise? In the modern world it's difficult to take the time to watch a sunrise on a workday and on the weekend we are often too exhausted to wake up early enough to see them. If you ever have managed to watch, however, you will agree they are delightful. Two hundred and thirty years ago, Issa was sharing one of these delightful moments with a friend. He wrote:


朝焼けが喜ばしいか蝸牛
asayake ga yorokobashii ka katatsuburi
rosy dawn
does it delight you
snail?
—Issa
(trans. David LaSpina[1])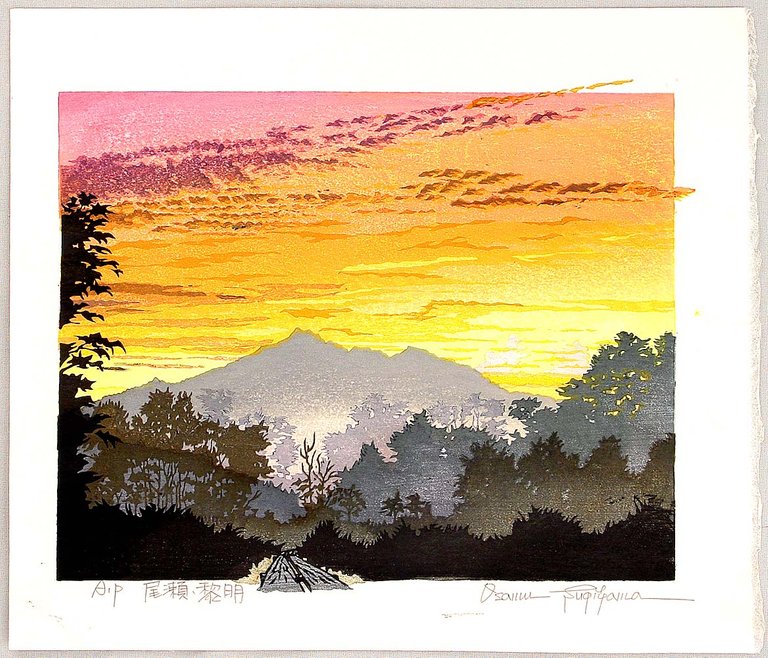 "Sunrise in Oze Field" by Morozumi Osamu

I had to resist the urge to translate the first line as Rosy-Fingered Dawn, of course referring to the line (Ῥοδοδάκτυλος Ἠώς / rhododáktulos Ēṓs) used to describe Dawn every single time she appeared in The Odyssey bringing in a new day of suffering for our hero. Issa would likely have had no knowledge of that epic, so I shouldn't attribute an allusion that he had nothing to do with.
Asayake refers to the morning colors that show up especially well in the late summer sky with the sunrise as the atmosphere scatters the light, turning it a reddish-yellow. The word is, in fact, a kigo (season word) for late summer. Snail, katatsuburi is also a kigo, this time for all summer. Given that the snail is the focus of the poem, I'd say that is the actual or main kigo in this poem.
Issa loved all animals and often wrote haiku attributing human feelings to them, talking to them, asking questions of them, or simply referring to them as his little friends. Hmm.. that makes him something of a Bob Ross figure, eh? Happy little snails.
Here he is asking the snail if it enjoys the sunrise presumably as much as he does. Issa was a very serious Buddhist. He valued kindness and practiced it himself. We might guess he very much believed that all his little friends really did have the same feelings as he did and experience the world in a similar way.
It is partially for this that he is usually considered the most most relatable to the average man of the four haiku masters and the emotional center of the group.
❦
| | |
| --- | --- |
| | David LaSpina is an American photographer and translator lost in Japan, trying to capture the beauty of this country one photo at a time and searching for the perfect haiku. |
---
That is, me! If you like this translation, feel free to use it. Just credit me. Also link here if you can. ↩
---
---