Just Sitting・Zazen, Zen Meditation
I'd wager almost all of you know what meditation is—most of you have probably even tried doing one or a few times to varying degrees of success.
Today, I want to talk about a type of meditation that I have practiced daily for about twenty-five years: zazen. But actually a specific kind of zazen common to the Sōtō school called shikantaza (只管打坐).
Zazen means sitting meditation. The word zazen is used for all Buddhist meditation in Japan, I've translated it as 'Zen meditation' in the title for the sake of differentiation in English. In English the first thing you think of when you hear the word meditation is probably a kind of mantra meditation like TM or some yoga style, so we need to distinguish things. Maybe Japanese Buddhist meditation would be better. In fact, Zen itself simply means meditation. Zen is the Japanese pronunciation of 禅, which the Chinese (who pronounce it chan) picked to represent the Sanskrit word ध्यान dhyāna. So when we say Zen Buddhism, we are essentially saying meditation Buddhism, which tells you well what the focus of Zen Buddhism is.
There are a few kinds of zazen, but the kind Sōtō Zen focuses on is shikantaza, which means just sitting or nothing but sitting, and this is what I'll be talking about in this article.
Just Sitting
It's likely that when most of you think of meditation, you think of a kind of focus meditation where you concentrate on something as you sit. The object of focus might be your breath, which you may or may not count, a candle, a mantra which you repeat continuously, or something else that you focus on in an attempt to distract the monkey mind from talking so much.
Monkey Mind (心猿, shin'en) is what we call the mind in Buddhism, by the way, because it tends to jump around in every direction restlessly and generally act like a wild monkey.
(Incidentally, the Monkey King—孫悟空—from the Chinese novel Journey to the West was intended to be the Monkey Mind personified. You may know the Monkey King better in his pop culture form as Son Goku from Dragonball.)
Shikantaza is a bit different from other forms of meditation in that there is no focus—no thing to concentrate on. Hence, "just sitting".
This is more challenging than it may sound. Even focus meditation is tough for beginners, but at least when you focus on something this helps distract us from the constant stream of thoughts coming from the mind. But when you take away all focus, there is no distraction. This is kind of the point, but it does make it harder for the beginner.
In focus meditation, we are instructed to gently return to our object of focus every time we catch ourself paying attention to our monkey mind. In shikantaza, however, when we notice that we are focusing on anything—be it the birds singing outside, the buzz of the fan, our breath, a spot on the wall, or our monkey mind—then we let go and return to simply sitting and being aware of everything. Just as you might relax the muscles in your hand when you notice you are clenching your fist, we return to simply sitting whenever we notice we are focusing on something.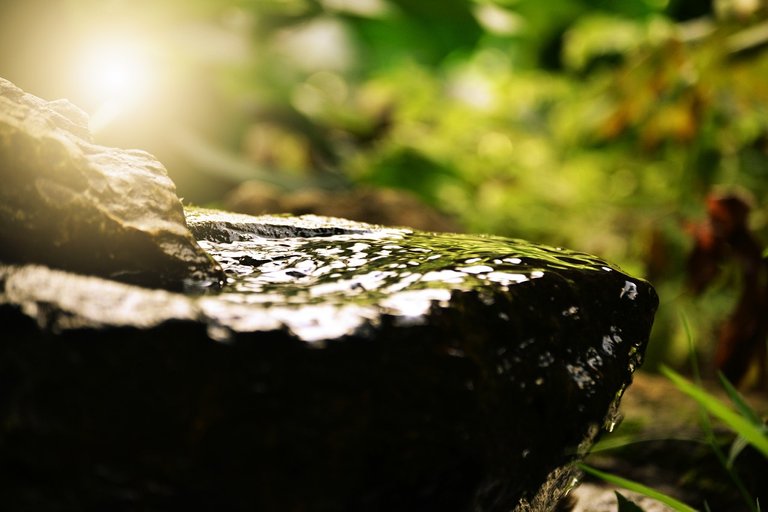 Image by devonoday from Pixabay
As I mentioned, this is tougher than it sounds. Some teachers may in fact start the students with focus meditation, using it as a stepping stone to shikantaza. As I understand it, this is what the Rinzai school of Zen does. (Though I'm not entirely sure, as I've primarily studied Sōtō Zen.) Dogen, the founder of the Sōtō school, advised against this, though, so not all teachers will use it.
Bear in mind, this is the central idea. Even the best of us get stuck focusing on something every now and again. Even the best... hell, most of us. The key is not to think of this as a bad thing, not to scold ourselves over it or feel bad. We simply notice it happened and try to return to a focus-less state. The act of trying to do this is what is beneficial. It doesn't have to be perfect. But it does go without saying that the longer we do this daily practice, the easier it does become.
You've Been Here Before
There is a state of mind that we are all familiar with.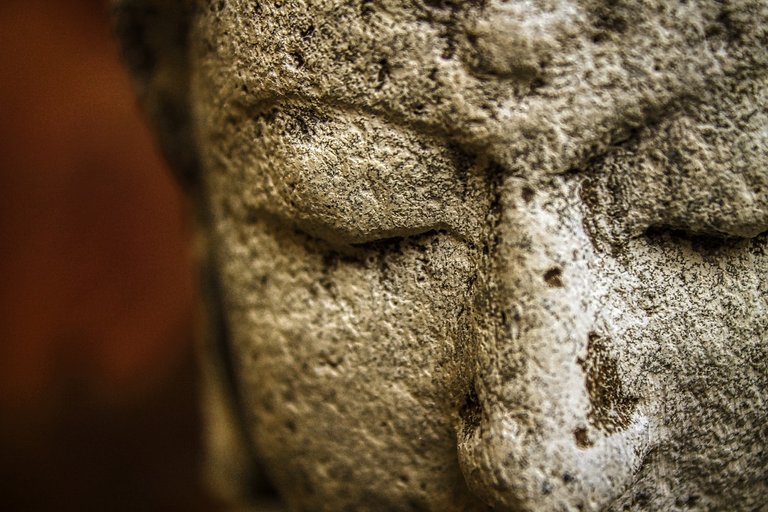 Image by Patrizio from Pixabay
I think just about everyone has had glimpses of this. For example, we've taken a trip somewhere and the scenery has just so overwhelmed us that we've stood there, simply observing it, not giving it voice. In that singular moment, we become one with the world, noticing everything simultaneously and absorbing it without verbalizing our experiences. We hear the birds singing, the bees busing, the airplane overhead, the cars in the distance, the breeze gently blowing the treetops. We see and we hear but there is no focus, we take in everything equally and are one with it. This is satori (or kenshō)—this is enlightenment. Well... a small taste anyway. You may have heard the Zen line that you are already a Buddha or that you are already enlightened. The idea is that we all already have access to this state of mind, and most of us have stumbled into this state at least once. We've all had hints of it. We've all been there, but unfortunately for most of us we lose it minutes after we've had it.
Shikantaza is the practice of regaining this and cultivating the ability to experience it more often.
Staring at a Wall
You might have heard terms like 'wall-gazing', 'Zen wall-gazing', 'staring at the wall', 'wall meditation', or some other variation casually mentioned. This is shikantaza. The staring at the wall part really isn't important, we just do it in Sōtō Zen in an attempt to limit distractions. We sit on small cushions called zafu. Sometimes a larger square pillow called a zabuton will be put under the zafu. We sit on the zafu and put the knees down on the zabuton. Now that assumes some flexibility in the hips. Sitting in the lotus position or half-lotus is best because it stabilizes the body and lets us sit straight fairly effortlessly. Sitting in seiza is also a decent position to use. This is the Japanese style of sitting on the heels. If all else fails, sitting in a chair is ok, just be sure to sit at the front edge and keep your back completely straight.
The placement of the hands really isn't important so don't stress about it, but we do usually rest them in our lap, one hand resting in the other, right on top. It's called hokkaijoin (法界定印) or dhyana mudra and is a pose the Buddha is said to have often used. If you are into energy manipulation, this hand position is said to aid in focus and influence our mind to be a little more calm and peaceful than usual. If you've ever taken karate, it may be familiar, as they use the same pose for karate meditation (mokuso). It looks something like this: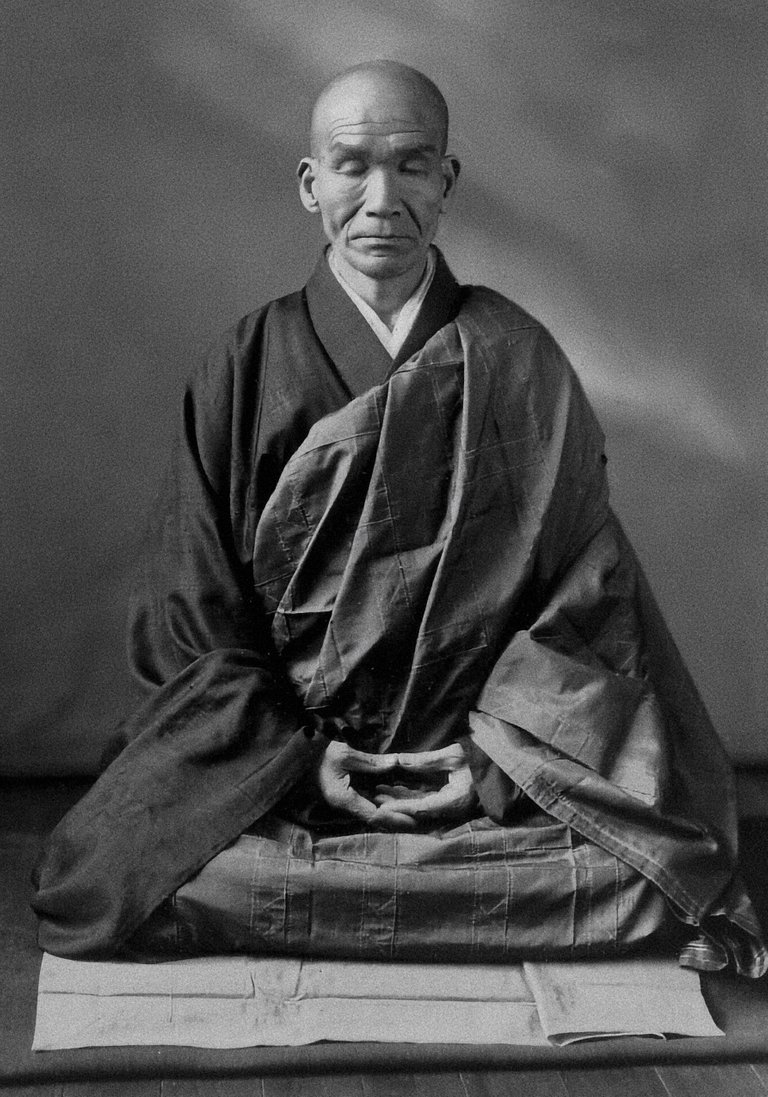 This is Kodo Sawaki, considered one of the most influencial Zen masters of recent times - Source
A more practical reason for that hand position is that if we are holding any tension in our minds, it will probably show up in our hands when we are trying to relax them in our lap. Ah hah—something to notice. Once noticed, we can then try to release the tension.
Typically, people half-close their eyes. You could close them all the way, but that would make it easier to daydream or even fall asleep, so it's better to keep them open a little. Common instruction tells us to gaze straight but slightly down. If you are staring at a wall and if there is something on the wall, try not to focus on it.
For breathing... just breathe. No effort should be made to breathe deeply or for a certain number of seconds. Just breathe normally.
And that's basically it. You set your timer, and sit there, listening to everything but not focusing on any one thing. It's all quite boring, but that is in many ways the point. Boredom is simply the lack of stimulation and that is exactly what we want here.
If you are interested in trying, start with five minutes. Don't try to not think. That would be as impossible as trying to stop your heart or your lungs from working. The mind thinks. That's its job. Besides, trying to stop the mind from thinking by thinking is like trying to smooth the ripples in a pond by touching them—the end result will just be more thinking. Our job in meditation is to ignore the mind, not stop it. You can notice thoughts, but then let them go and don't focus on them, just as you can notice the bird singing outside, but let it go and don't focus on the song.
But don't worry if you find yourself focusing on thoughts or birds. As soon as you notice what you are doing, just let it go. You'll probably bounce back and forth between focusing and trying not to focus during your five minutes, and that's ok. Try it again tomorrow, and the next day, and the next. If you can do that, increase the time to ten minutes and maintain that duration for a while.
Zazen is good for nothing
This is a line we often use in Zen circles. It's said in a playful way, but the meaning is not that Zazen is worthless (though we might say that too, come to think of it 🤔) it's that we shouldn't be doing it to gain anything, rather we should be doing it just to do it.
Well, I've probably rambled on enough, so I'll wrap it up now. If you have any questions, leave them in the comments.
(title graphic made from this photo by cdd20(愚木混株) from Pixabay)
❦
| | |
| --- | --- |
| | David LaSpina is an American photographer and translator lost in Japan, trying to capture the beauty of this country one photo at a time and searching for the perfect haiku. |
---
---