Little Kimono Girl ~ Festival Japan
Posing for photos for her family for her special day.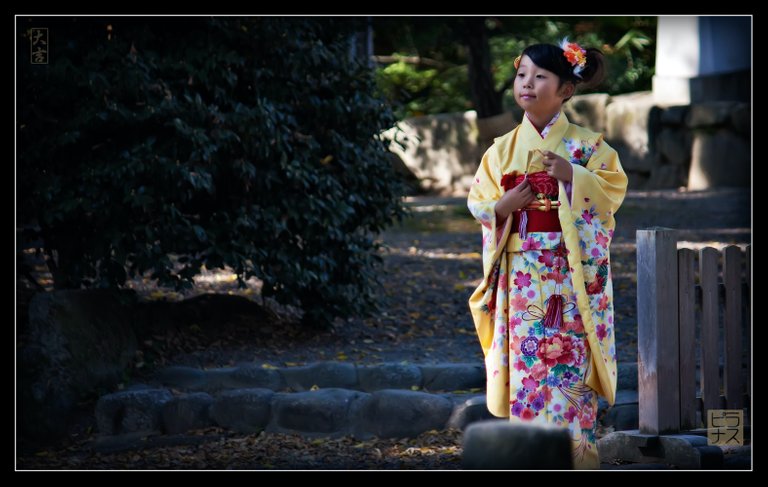 From the Shichigosan festival. Shichigosan is a coming-of-age festival when kids 3,5, and 7 dress up in kimono and head to shrine to celebrate, hence shichigosan which literally means 7-5-3. Girls 3 and 7 go, and boys 3 and 5.
Why these ages? Traditionally age 3 was when kids were allowed to grow out their hair (prior to this it was shaven), boys at age 5 were allowed you wear hakama (a traditional bottom worn over a kimono; think of aikido and you have the image), and age 7 was when girls were allowed to use an obi to tie their kimono rather than simple strings. So as you can see, all three of these ages had some significance.
But of course none of these things really matter these days and it is just an excuse to have a fun holiday. (And rent very expensive clothes to dress your kids in.)
❦
| | |
| --- | --- |
| | David LaSpina is an American photographer and translator lost in Japan, trying to capture the beauty of this country one photo at a time and searching for the perfect haiku. |
If this blog post has entertained or helped you, please follow/upvote/reblog. If you want to further support my writing, donations are welcome.
BTC: 1Gvrie5FDBNBb6YpGBiaTvA5AyvsP814BN
ETH: 0x2Ce5c2b5F3f1a888b50A7bA9002E4F742784dF9c
LTC: LUVLvatsFqCubrJAVmCNQaoUdFAdnUCysU
BCH: qrzdazep5xfxax0ydppun89cxfts2vup9q4wnfn025
Dash: XoGzWrhdgbLKBG5kn4GjWfaJDJ6AWkDiqU
---
---