My Hive Goals ~ 22 Nov 2022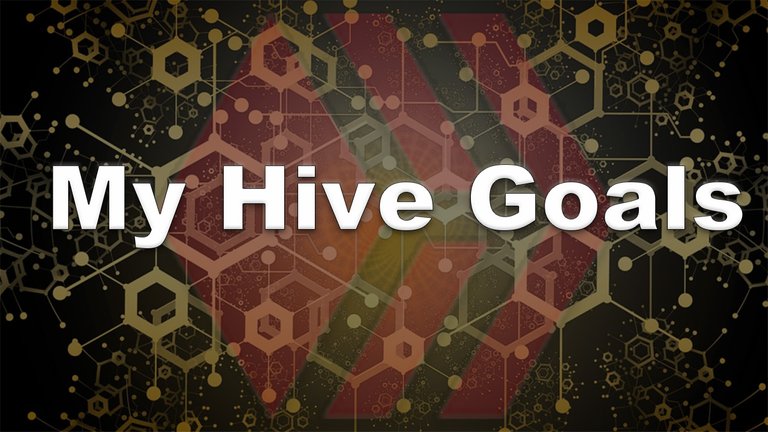 The market continues to be in the crapper. At least while we try to survive this bear market we can watch as Elon destroys Twitter. That's fun.
So I continue to build. And what did I build? Let's look!

Hive & HBD
My current goal is 10k Hive.
How will I get there? I post everyday and so half of that automatically gets added to the total powered-up. In addition I try to power up at least 50-100 every HPUD.
This past week I made 48.83, bringing me to 7,568.38 total Hive Power. That's 75.7% of my goal!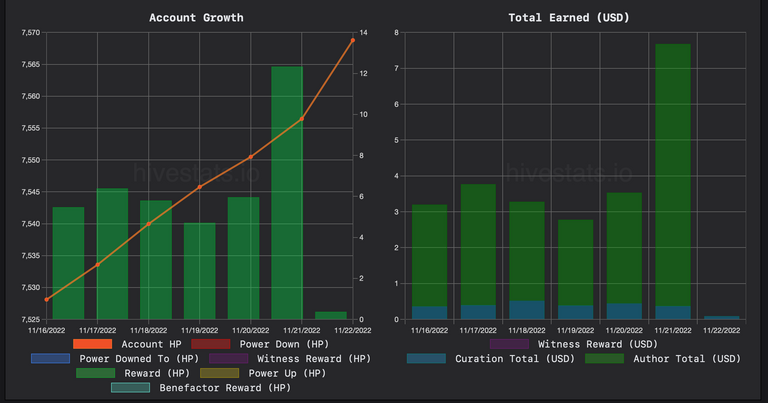 With HBD my current goal is 1.8k. At the current 20% interest, 1800 HBD will earn around 1 HBD per day. That seems like good place to pause and reassess my goals, so let's get to that point.
This past week I put 1.041 into savings. I know I know.... But like I said last week, when Hive is down like it is, it makes a little more sense to me to sell my daily HBD for Hive on the market, then use that Hive to invest in other parts of the Hive ecosystem. Actually I say that, but right now the Hive I got from selling HBD is just sitting in my account. I'm kind of waiting for Hive to spike so I can quickly flip it back to HBD.
All that said, my monthly interest became available yesterday. That was 19.778, bringing me to a total of 1144.547.
That's 63.6% of my goal!
BRO
Bro has a lot of great things planned that I want a part in. A more short-term benefit is they give a nice upvote to our posts. Unfortunately with BRO becoming more popular, more people are buying BRO so the upvote account is voting more often and therefore the value of the vote is dropping... so it goes. One disadvantage to becoming popular, I suppose. But that is only one benefit to the coin, so it's all good.
My overall goal here is 1000 BRO to make it into dragon club, but I'm breaking that into subgoals to help ease the pain.
Last week I bought and earned 62.94, which puts me at 270.069 total. Wow, that blows past the 250 subgoal I set last week. So now I'm doubling that and setting my current subgoal for 500. I don't think I can buy as much this week. I used my GLX airdrop to fuel a lot of it last week, but the price of that coin is dropping. Oh well. I'll figure out something.
This puts me at 54.0% of my current goal.
SPT
My goal here is currently 200k SPT.
SPT has stabilized and actually went up a little last week, which made me happy. With my focus on BRO, I'm not putting any money in now, but I am keeping what I earn. Curation on my @dbooster.spt account and the posts I make there both give me around 100-300 SPT per day on average. Not a bad daily take! That only comes to around 3-5 cents a day if we convert it to dollars.... but let's not convert!
I made 1,269.53 SPT last week, putting me at 124884.711895, or 62.4% of my goal.
PIMP
My goal with PIMP is all the PIMP. But just to pick a number for achievement motivation purposes, my current goal is 40k PIMP.
I get about 50-100 daily from curation, LPs, and posts.
I made 230.02 PIMP last week, putting me at 39,624.7292 — 99.1% of my goal. So close... I'm tempted to just buy the gap from the market and set a new goal. Hmm... maybe I will this week!
MISC
I bought 5 BXT last week and that has been paying out a little each day. I held a lot of BXT at the beginning of the year, but as the APR dropped below 20% I sold it all. But now the APR is back up at 40%, making this a good deal. I'll pick up a few more as I can.
The GLX airdrop is going well. I continue to stake about half what I get and sell the other half. As the staking APR drops, I'll stake less. But for now a half and half approach seems to be working well.
I delegated some HP to ecency. It has been paying out a little above 9% which is more than I get in my own curation. They also give a few POINTS every day, so that will help fund my rewards at Blockchain Poets

And forward we go! It was a strong week. Let's see how this one goes!
❦


| | |
| --- | --- |
| | David LaSpina is an American photographer and translator lost in Japan, trying to capture the beauty of this country one photo at a time and searching for the perfect haiku. |
If this blog post has entertained or helped you, please follow/upvote/reblog. If you want to further support my writing, donations are welcome.
BTC: bc1q6q86uq5qhffuk08gdenlg9wtq75cpvur359shj
ETH: 0x2Ce5c2b5F3f1a888b50A7bA9002E4F742784dF9c
Doge: D7McZi8SLd1QqRsNsFws21rYuRhjFRyN2q
---
---