The Kan'ei Tsūhō: Ancient Japanese Mon Coins from the Samurai Era
Hello Silver & Gold stackers! Another week and I have another Japanese coin for you! Another four Japanese coins! Like last week, these aren't silver, unfortunately. However, they are steeped in history and intrigue, so let's take a look.
We're going to skip the stats today because all four of these are slightly different, despite the fact that three of them are the same coin. They all come from before a time when Japan had any modern minting equipment, so things weren't quite standardized to the point where every coin was the same size, weight, and dimensions. Also there were many mints and these mints outsourced to local merchants who would cast them. So all together, standardizing the size and weight was not possible.
Obverse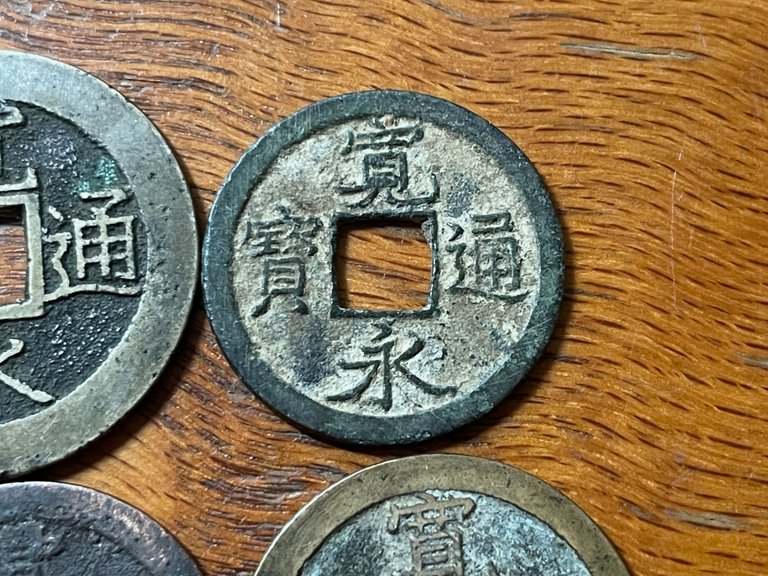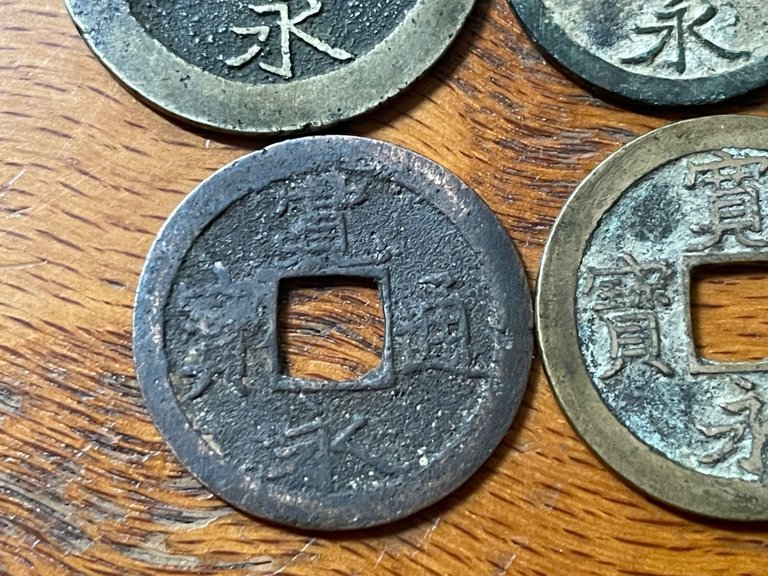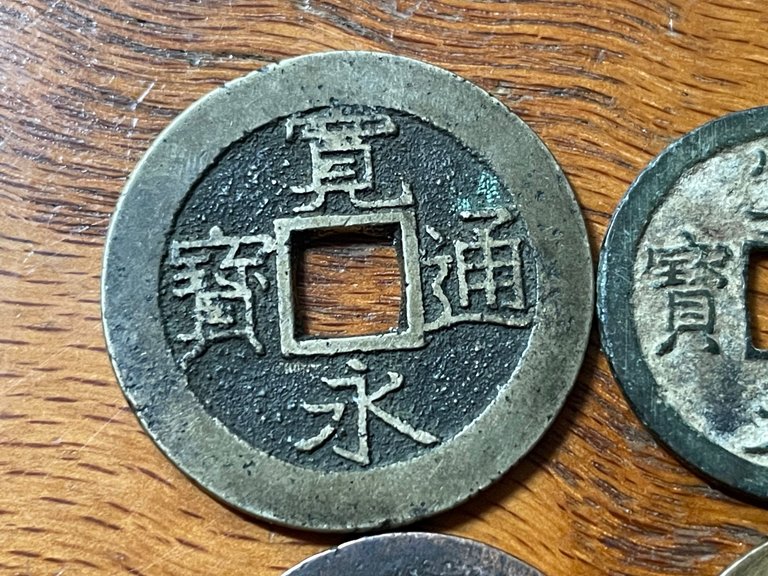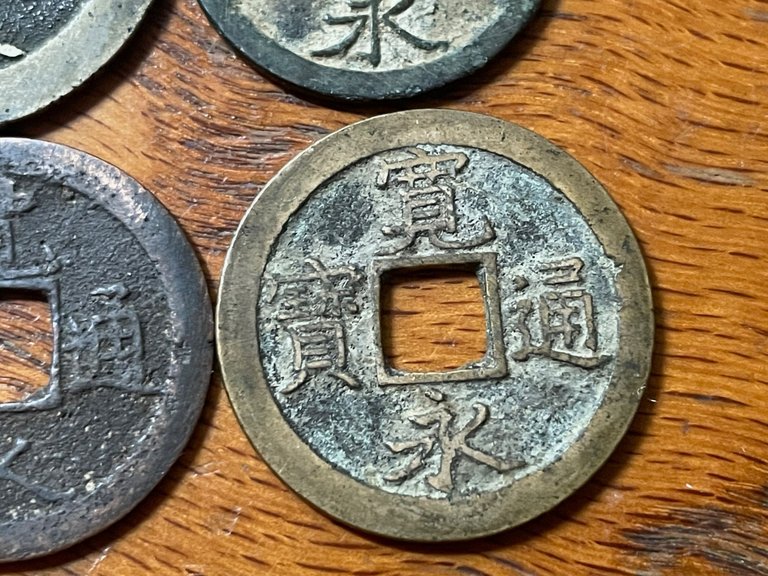 All four are different sizes, but you can see one stands out as being more different, with a wider rim. That one with a wider rim is a 4 mon coin. The other three are all 1 mon coins. I'll cover what exactly a mon was later in this post, but suffice to say it was the lowest value coin in the money system at the time and was therefore the most common one in daily life.
Moving clockwise from the top, the four characters you see are: 寛 通 永 寶 which might seem random at first glance if you can read kanji. They are read top to bottom and then right to left, giving us 寛永通寳, which would be 寛永通宝 using the modern simplified Japanese. In this order, you can read these characters as Kan'ei Tsūhō. The Kan'ei part of that refers to the era these were first minted in, which was 1626, or the third year of the Kan'ei era. Tsūhō means something "circulating treasure" or "circulating currency". All together Kan'ei Tsūhō translates to something like "Kan'ei era standard currency".
These mon coins were minted in a variety of metals, usually iron, copper, brass, or bronze. These four I have are (I think) all bronze.
Reverse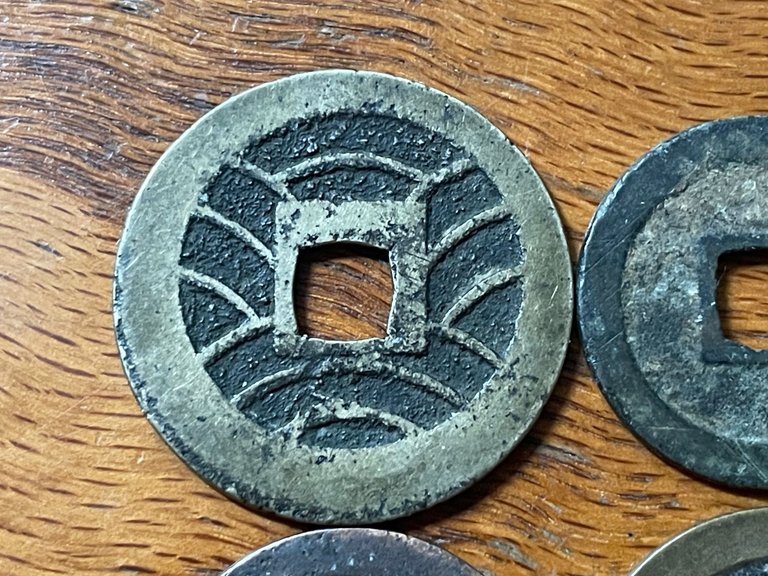 The back is a little more interesting. The 4 mon coin has 11 waves to help identify it. Two of the 1 mon coins are completely blank, and one has a 文 kanji on it. 文, read as bun, was inscribed on coins minted from 1668 to 1684, informally called bunsen (文銭).
That dates one of these coins, making it pretty old indeed. But the dates of the other three I can't figure out. Wikipedia mentions that the style of writing the kanji gives away the era they were minted. The Japanese Wikipedia page for the coin features several examples, but my eye is not good enough to be able to tell them apart. I need to find someone who can guide me in person in distinguishing the coins.
About
These were first introduced in Mito domain in 1626 and then were adopted by the national military government in 1636. The money system at the time was 4000 mon = 16 shu = 4 bu = 1 ryō. The upper three of these system were silver or gold. Remember, I showed off one of the silver shu "coins" before.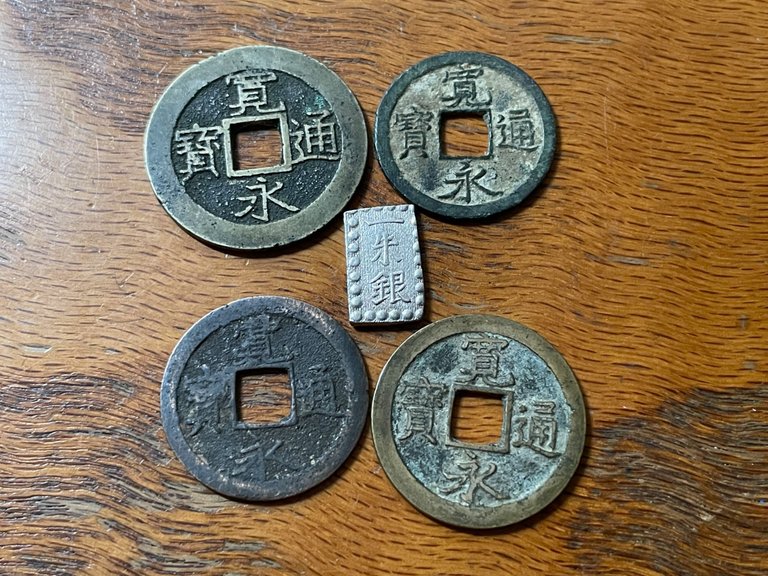 That silver shu would be worth 250 mon
But the mon were the most common. They were used for all daily things. They would often be held together with a string down the middle and carried around this way in bundles of 100. Anyone using a bundle would get a small discount from the stores.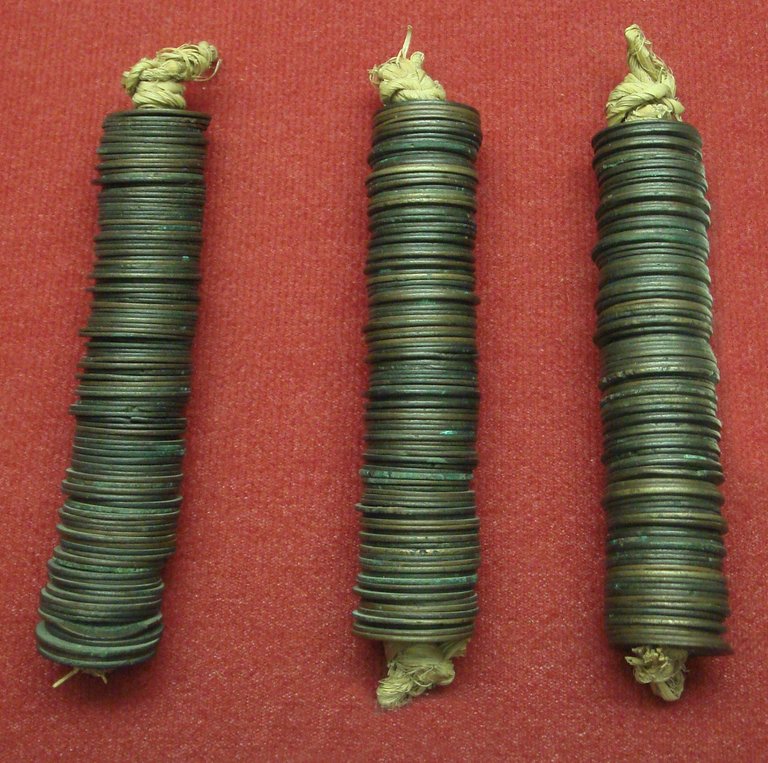 From Wikipedia
The Edo period (1603-1868) was a long time so prices changed a lot, but using averages from the middle or the Edo period might give you an idea of the value of a mon. A bowl of noodles would have cost around 16 mon. A night at an inn, around 300 mon. A simple kimono, starting at 1000 mon. A book, around 16-50 mon. A kabuki show, between a few dozen and several hundred mon, depending on the seats.
Overall
This coin used during the samurai era, however the samurai themselves were not allowed to use money. Money was considered unclean and beneath their noble stature, which was the top level of the caste system in use at the time. However, as the Edo era progressed, many samurai faced economic challenges (i.e., they became poorer) as the economy evolved in a way that made merchants the true top of society. Consequently, some of the lower samurai were forced to use money. It was still looked down upon, however, so they would have used it in secret as much as possible. That in mind although it is possible, it's unlikely that samurai frequently used these coins. These coins were primarily in the hands of farmers, merchants, and craftsmen.
And now they are in my hands!
Thoughts?
❦
| | |
| --- | --- |
| | David LaSpina is an American photographer and translator lost in Japan, trying to capture the beauty of this country one photo at a time and searching for the perfect haiku. |
---
---