Winter Meetings ~ Haiku of Japan
You meet the Buddha in the strangest places in Japan.
冬蕨「樹下の石仏」我と逢ふ
fuyu warabi juka no ishibotoke ware to au
winter bracken
under the trees I meet
the stone buddha
—Mori Sumio
(trans. David LaSpina[1])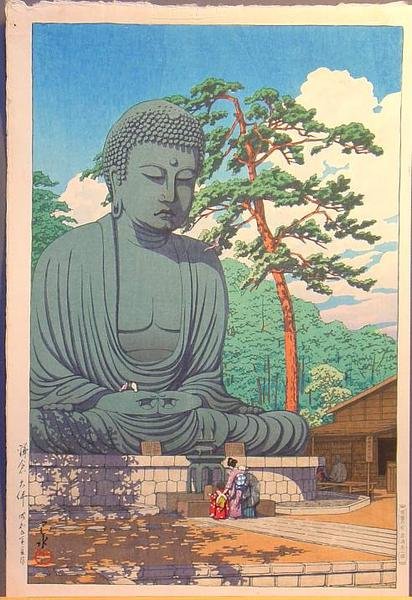 Great Buddha at Kamakura by Kawase Hasui

If you every make it to Japan and start exploring, one thing you will immediately notice is that there are stone statues of various Buddhist deities everywhere. Often the statues are Jizo-sama, but others as well. Kannon-sama and Fudo-sama are also fairly common. Along busy (or not-so-busy) roads, next to buildings, next to or within small areas of green in the city. But meeting these buddhas isn't so strange. What does feel strange is when you meet them in the middle of nowhere; you might find yourself hiking in the forest in the middle of nowhere and come across a well worn Buddhist statue, often with fresh offering of sake. It is strange at first, but also somewhat pleasant to come across. You meet Buddha in the oddest places in Japan!
The season word (kigo) here is winter bracken, or fuyu warabi. My saijiki (season word encyclopedia) tells me that the plant grows quite high in winter and looks like a flower. It is usually found in the mountains, so that gives you an idea of the setting for the stone buddha the poet came across. It is a season word for all of winter.
❦


| | |
| --- | --- |
| | David LaSpina is an American photographer and translator lost in Japan, trying to capture the beauty of this country one photo at a time and searching for the perfect haiku. |
If this blog post has entertained or helped you, please follow/upvote/reblog. If you want to further support my writing, donations are welcome.
BTC: bc1q6q86uq5qhffuk08gdenlg9wtq75cpvur359shj
ETH: 0x2Ce5c2b5F3f1a888b50A7bA9002E4F742784dF9c
Doge: D7McZi8SLd1QqRsNsFws21rYuRhjFRyN2q
---
That is, me! If you like this translation, feel free to use it. Just credit me. Also link here if you can. ↩
---
---