Yesterday's Tomorrow – A Portland Journey & London During the Blitz
While walking down the streets, either of my adopted hometown in Japan or my true one in America, I have often wondered what it looked like 10, 25, 50, 100 years ago. I have enough knowledge of history to make a decent guess of what it looked like, but that's just a guess or a mental image, to actually see it would be something else.
I'm sure many of you have had similar thoughts. That in mind, I really enjoy finding old photos of places I know and I enjoy these "now and then" comparisons of places I don't know. I'm sure you have seen them. These are photo projects comparing old shots of a location with current shots of the same location. These projects are always fun to look at even when they aren't done well, but especially when they are done well.
Well this one is done really well. The guys at Uncage the Soul have taken this to a whole new level.
Just watch.
Yesterday's Tomorrow - A Portland Journey from Uncage the Soul Productions on Vimeo.
They have a blog post to go along with the video.
We've seen books and blogs using the "Then and Now" treatment to show side by side the historic and present via photos. But in our curiosity and research, we could not find many or any examples of this comparison being done with motion video. Thinking about it more, we got excited to use timelapse and slow motion to bend and warp present time while exploring past time.
Very cool.

Just since I'm on the subject, here is another blog post contains some "now and then" photos, this time looking at WWII. I like this one so I had it bookmarked. You've probably seen war images from around the battle areas, but have you even seen around London during the blitz?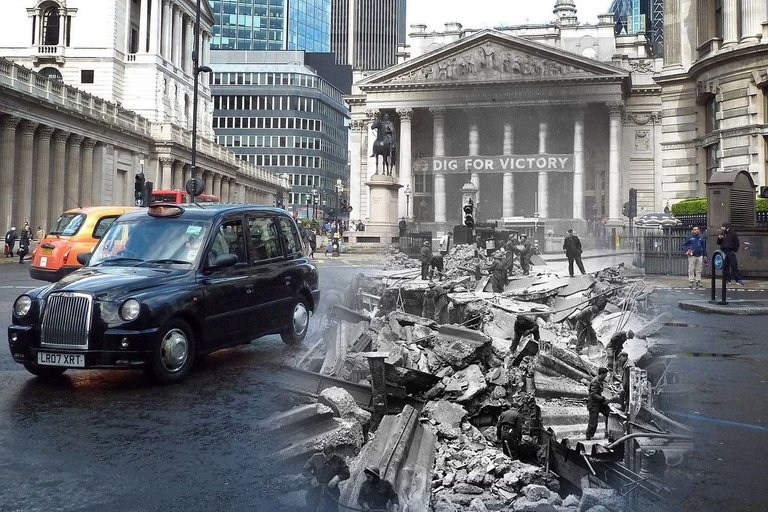 Head to the link to see more.
❦


| | |
| --- | --- |
| | David LaSpina is an American photographer and translator lost in Japan, trying to capture the beauty of this country one photo at a time and searching for the perfect haiku. |
If this blog post has entertained or helped you, please follow/upvote/reblog. If you want to further support my writing, donations are welcome.
BTC: bc1q6q86uq5qhffuk08gdenlg9wtq75cpvur359shj
ETH: 0x2Ce5c2b5F3f1a888b50A7bA9002E4F742784dF9c
Doge: D7McZi8SLd1QqRsNsFws21rYuRhjFRyN2q
---
---