Weekly Development Updates for D.Buzz - Today: Add a Title and A New Settings Page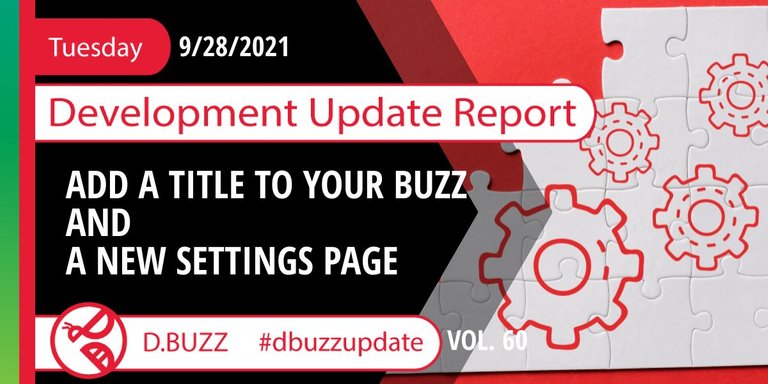 Weekly Development Updates for D.BUZZ - Today: Add a Title and A New Settings Page
---
Welcome to Tuesday.
It is important to have a title for your blog because it gives it a unique and individual flair and sets it apart from other posts. The title can also be a strong and powerful statement that gets people interested in the post. However, until recently, Buzzes on D.BUZZ did not have the title feature. This time, we are happy to say is changing!
Coming to our Testnet (Next.D.Buzz), not later than Wednesday, there will be the option to add titles to your buzzes. This will be a tool that skillful content authors can use to further enhance their Buzz.
We anticipate that with this new title feature, while you are scrolling through Buzz's, you will be able to identify and find the content you wish easier. In addition, on other DApp frontends, your Buzz will appear cleaner.
The best part is, the title will NOT count towards your 280-character limit. With a title feature like this, along with the new image upload options, you will now be able to produce up to 280 characters of content specifically on your subject, and not worry about URL counts or title counts. All of this can help Buzzes be more widely accepted in the Hive community.
Along with the exciting title feature, we have also added a user-requested feature.
The "Settings" page.
For now, we're just adding one option in this update, and that is enabling or disabling the embedded View. This means that users will now have an option to disable embeds if they don't want to see them.
However, in the future, we will add additional choices to the settings page that are user-specific.
Lastly, this week, we also added additional platforms on which you can share your Buzz too. These two new platforms this week are Signal and Matrix.io.
Below, you'll find the complete release notes for the week.
---
What's New?
A new Settings page
-- For custom settings based on the user's needs.

Buzz Title
-- Now you can add or customize a title to your buzz.

More Sharing options
-- Added sharing options to share your buzz in other apps. This update includes sharing to Signal and Element (Matrix.io).
Bug Fixes
Minor bug fixes
-- We have squashed a few more bugs to make DBuzz's user experience even better.
---
Summary :
A few more bugs were taken out, a title feature was added in, additional platforms to which you can share a Buzz opened up, and added a new page specifically designed to hold settings.
---
Thanks for joining us on this adventure!
---
What do you think of today's updates?
What are you most excited about?
Do you have any updates you would like to see in the future?
---
---
A censorship-resistant short-form microblogging platform that empowers you to share your thoughts in 280 characters or fewer.
Censorship resistant and built for the community with love.
---
We strive to have a fun and neutral stance on topics. If you have any concerns with the content, please contact @jacuzzi who writes and generates the content for our articles, or the @dbuzz team for clarification.
---
D.Buzz Online At:
Join us on Discord at : https://discord.gg/BKg5Ptg9ss

---
---