Weekly Development Updates for D.Buzz - Today: The Multi-Draft Feature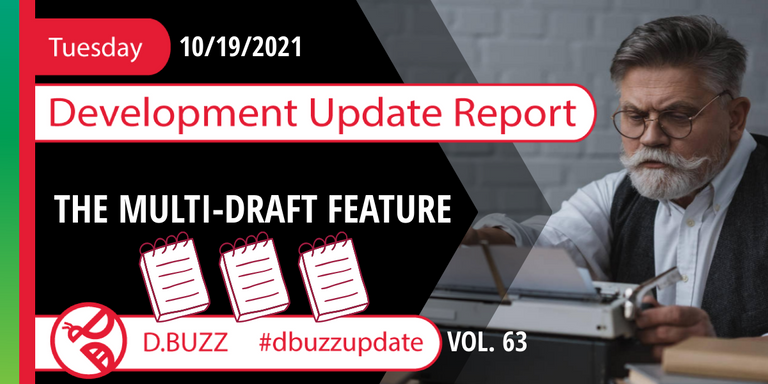 Weekly Development Updates for D.BUZZ - Today: The Multi-Draft Feature
---
Welcome to Tuesday.
When you find yourself in the moment of a creative thought, it's important to capture the thought and try to do it justice with whatever you have at your disposal. Eloquence is not necessary, and sometimes the limits of your vocabulary will be your best work. Capturing moments and reflecting on them can be a catalyst for growth in your craft. Take the time to process what you just felt, and what you just captured in that blurry-eyed, un-showered, un-bathed state.
We realize this, and in our efforts to better provide you with the tools and features you need, to succeed, we have created a multi-draft feature.
The multi-draft feature will allow you to capture your ideas when they strike, by saving them as a draft on D.Buzz. This way, you could revisit your drafts when you are ready, to polish that thought into a perfect Buzz.
---
Please note :
For now, all your drafts are saved locally on your browser. In the future, we will shift the storage of this data into a database, but for the time being, your drafts are being stored locally on your browser. This means if you clear your cookies/chase, you will lose the previous drafts that you saved.
---
Along with the multi-draft feature, we have also improved the title feature. A few weeks ago, we rolled out a new feature enabling you to add titles to your Buzz. Based on user feedback, we have now further polished this tool. The titles will be seen on the D.Buzz front-end, as well as other front-ends, creating a true microblogging experience!
Lastly, as we do every week, we continue to make other minor changes and address bugs that have been reported by our cool users, and that we the D.Buzz team have discovered by ourselves.
The complete release notes are below.
---
Next.D.Buzz - v3.27.0-dev (Testnet)
Release Notes
What's New?
You have the ability to save multiple drafts locally on your browser. This way, when you are ready, you can post them in the future easily.
The Buzz title feature has been improved so that it is now displayed on our front- end.
IMPROVEMENTS
You can manually refresh the D.Buzz version if the latest version doesn't automatically load.
We have also added the version number to the bottom right-hand corner of the menu screen, below the "Catch us on" information box.
BUG FIXES
A few minor bug fixes and improvements to make D.Buzz even better.
UPCOMING UPDATES
We're working on a Mute list system where users will be able to mute spammers on D.Buzz.
---
Summary :
You now have the ability to write multiple drafts and save them locally on your browser, and the title feature has been enhanced for greater visibility and use on our platform. Along with this, we have enabled greater transparency as to what version numbers you are using, and made it easier to make sure you're on the latest version of the platform.
---
Thanks for joining us on this adventure!
---
What do you think of today's updates?
What are you most excited about?
Do you have any updates you would like to see in the future?
---
---
A censorship-resistant short-form microblogging platform that empowers you to share your thoughts in 280 characters or fewer.
Censorship-resistant and built for the community with love.
---
We strive to have a fun and neutral stance on topics. If you have any concerns with the content, please contact @jacuzzi who writes and generates the content for our articles, or the @dbuzz team for clarification.
---
D.Buzz Online At:
Join us on Discord at : https://discord.gg/BKg5Ptg9ss

---
---