Weekly Development Updates for D.Buzz - Today: User Feedback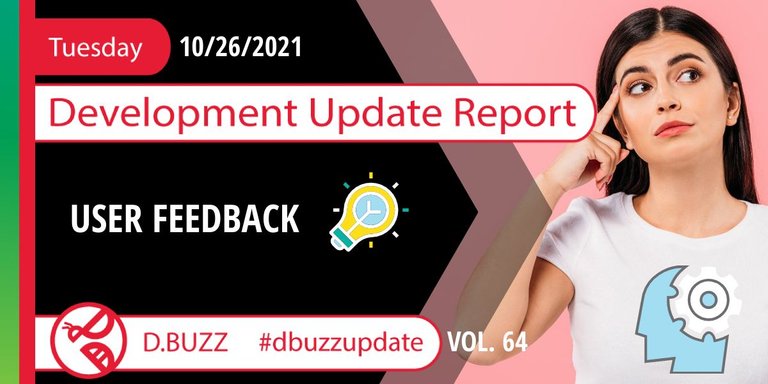 Weekly Development Updates for D.BUZZ - Today: User Feedback
---
Welcome to Tuesday.
D.BUZZ is a platform that we are building, and developing for the community. We are building it because we believe in freedom of speech, and freedom of expression. These are the driving forces behind the development of our platform. Community and freedom.
Over the last several months, we have rolled out many new features and options. Here are just a few.
Threads,
Multi-draft,
Titles,
Custom image handling,
Better tags,
More embedded video options,
And MORE!
Along with these features, we have also reduced the number of bugs that are present, and worked on streamlining the code to have it run more efficiently. We believe that this is one of the best versions of our platform to date. However, we are not happy yet.
We want to push the platform further. We want to develop it into the best Dapp on HIVE and in crypto. We want this to be a platform you love, a platform that truly revolutionizes social media, and the Blockchain.
Next week, we will have a system in place for you to submit ideas, as well as bugs you may find. We will also work towards developing a roadmap of the features we are currently working on.
Some of the ideas we are currently developing are:
A gallery feature for your profile page of images,
Better spam control (You will have 100% control to view all content or not),
Re-stylize the threads feature,
Complete UI redesign and update (Q2 2022),
Internal tipping feature,
And a few other surprises we can't talk about yet 😉.
We challenge you to start thinking about features and updates you would like to see on D.BUZZ. Next week, we will have a solution for you to submit them to us for better tracking.
Together we can build D.BUZZ stronger!
---
Updates for this week :
We rolled out the in test features from the development platform (Next.D.BUZZ), to our main platform D.BUZZ.
We've also addressed a few bugs and issues on the platform behind-the-scenes
---
Thanks for joining us on this adventure!
---
What do you think of today's updates?
What are you most excited about?
Do you have any updates you would like to see in the future?
---
---
A censorship-resistant short-form microblogging platform that empowers you to share your thoughts in 280 characters or fewer.
Censorship-resistant and built for the community with love.
---
We strive to have a fun and neutral stance on topics. If you have any concerns with the content, please contact @jacuzzi who writes and generates the content for our articles, or the @dbuzz team for clarification.
---
D.Buzz Online At:
Join us on Discord at : https://discord.gg/BKg5Ptg9ss

---
---