dCrops Update - Cooking Is Now Live!
These updates just keep on coming! We've got another huge update for everyone!
The cooking system is now live! Players can now cook various exquisite recipes in the game. So put on your chef's hat and get cookin'.
---
How to cook?
Step 1: Learn a recipe.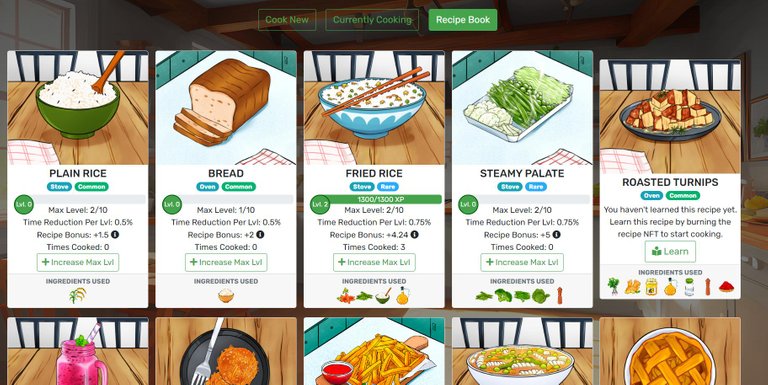 Unlike crafting, before you can cook something, you need to learn the recipe. Click on the button that says "Recipe Book" to check which recipes you have learned so far.
Learning a recipe burns the NFT. Once you learn a recipe, it is unlocked for you. You start at Level 0 when you learn a recipe. To unlock more levels, you need to burn additional copies of that recipe NFT.
Please note that learning a recipe as well as unlocking additional levels is permanent and you cannot get the NFTs back.
To level up the recipe, you need to earn enough XP for it to reach the next achievable level. You earn XP every time you claim the cooked item.
The XP earned is as follows:
Common: 360 XP
Rare: 400 XP
Epic: 475 XP
Legendary: 550 XP
The above values are then multiplied by the quality of the claimed food.
The highest level you can reach is Level 10.
Please note that learning a recipe is permanent and you cannot get the NFTs back.
Step 2: Cook an item.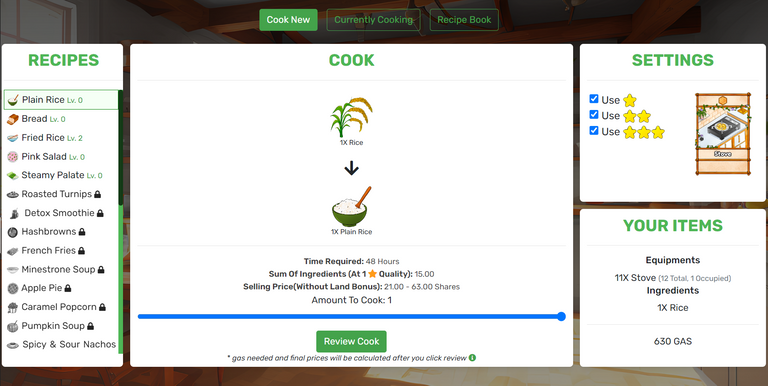 Once you have learned a recipe, you can now head over to the "Cook New" screen. Here you can see what ingredients a particular recipe needs, the time required to cook, the share values, the amount of gas you have and the quality of ingredients to use.
Similar to crafting, the quality depends on the quality of the ingredients you use. Read how that works here.
Each recipe also adds a "bonus" amount of shares to the final price.
The formula for calculating the share value of the cooked food item is:
final share value = (sum of shares of ingredients)*1.3 + recipe bonus + equipment bonus

Step 3: Claim the cooked item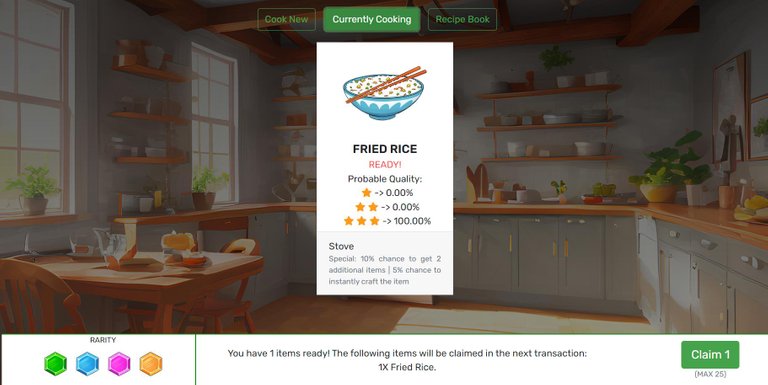 Once the cooked item is ready to be claimed, you can then go ahead and click the claim button and it will be added to your inventory.
This screen also shows you the special abilities of the equipment a food item was cooked on as well as what the final quality might be.
Once you claim the food item, the equipment is freed and you can use it again to cook something else.
---
Join dCrops today!
Play Now: www.dcrops.com - Play to earn farming game
Join our discord: https://discord.gg/zeJShKkF7K
Twitter: https://twitter.com/d_crops
Wiki: https://wiki.dcrops.com
---
---