# Giving Gifts, Event Shop, and Raffle are live + dCrops x OCD Writing Contest


Sending and opening presents is now live
Did you get into Santa's nice list this year? If you have been naughty, you can bribe Santa to add you to the list.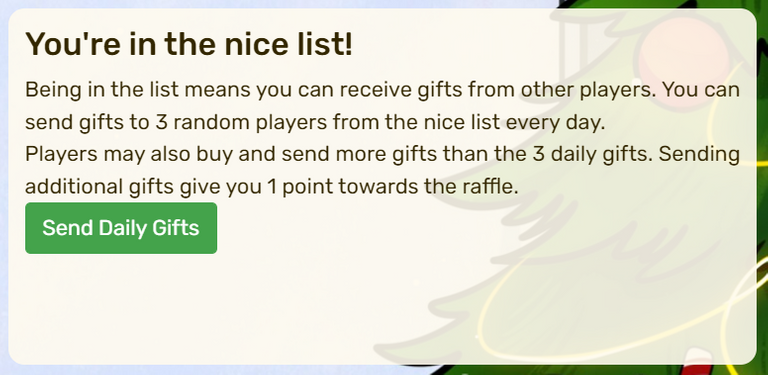 Being added to the list means you get to send 3 free presents to others in the list and when other players send gifts, you could get one. The timer resets in the same way as how the timers for Trees work.
Event Shop is live
The event shop is open and you can exchange your candy canes for various goodies. The golden tickets you get by buying presents can be exchanged for the event exclusive items.
The Xmas Raffle
As it was already mentioned, being in the nice list allows you to send 3 gifts to other players. But if you are feeling extra generous, you can buy more gifts and send them to a random player in the list.

Being a good sport and sending other players presents not only makes other feel good, but for every additional present you send apart from the 3 you get daily, you get 1 point towards the Xmas Raffle we're holding.
You can also get more points by sending cards to the event collection. The cards from the event collection will be won by other players when they open their presents.
To send NFTs to the event collection, transfer your NFTs to dcrops.events
The points distribution is as follows:
ALPHA, BETA and REWARD Common: 0.25 Points
ALPHA, BETA and REWARD Rare: 0.5 Points
ALPHA, BETA and REWARD Epic: 1 Points
ALPHA, BETA and REWARD Legendary: 4 Points
There are some exceptions to the above:
If you add crafted resources like Wood Planks, Iron Ingots etc, you will get 3 times the above values.
For equipments and buildings that have begun or completed construction, you will get 10 times the above values.
For Land, you get (number of plots) x above values.
When opening presents, cards added by the same player to the collection will not be selected as a prize.
The raffle will be held once the event ends.
Raffle Prizes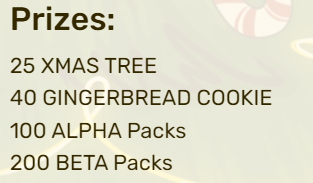 Each time a player wins, their name will be removed from the draw list. This goes on till the 25th draw when the winners are added back in and the draws begin again with the draw count reset to 0.
New Sponsors
We got 2 new sponsors that hadn't been added to the website yet.
POSH (@poshtoken)
Linking your Hive and #web2 accounts on hiveposh.com (currently only supporting Twitter) allows you to earn POSH for sharing #web3 content on #web2. All you have to do is share a Hive front-end link in a tweet, tag it with #hive and it makes you eligible to earn POSH & Hive if others upvote the @poshtoken comment. Check the mentioned account for daily earners through sharing and delegating.
Actifit (@actifit)
Actifit is Hive's flagship Move2Earn dapp.
Kicked off in June 2018 as an innovative and disrupting social project, Actifit incentivizes healthy lifestyle by rewarding its users for moving.
Leading the crypto move2earn movement, we have rewarded more than 350,000 tracked activity reports, and more then 2 Billion steps, with many heart-warming stories of people changing their lives.
Featuring its own virtual gadgets & real products market, integration with fitbit & apple watch, gamified experience, powered by hive as its core chain, as well as crossposting capability to other chains, Actifit continues to grow and expand its features and user base.
Writing Contest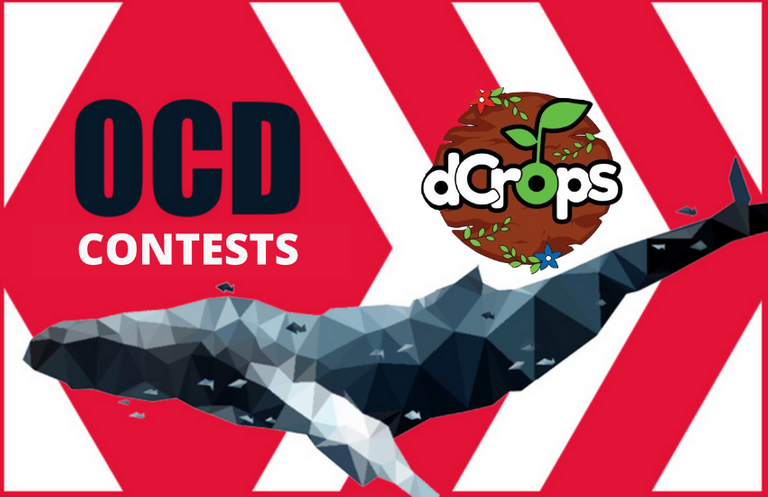 We are doing another collaboration with the curation guild @OCD to come up with a writing contest to celebrate the holidays and the upcoming year.
All rewards from this post will be sent to the participants. In addition to that, there are 25 BETA Packs and 10 ALPHA packs to be won. Each eligible post will also receive 1000 Candy Canes and the top 3 posts will get 1 Golden Ticket each.
You may write about any of the topics below:
A review of dCrops as a game
A guide on getting started and all the things that you can do inside the dCropsverse
Gameplay strategies and opinion
The rules for the contest are simple -
The title must mention the word "dCrops".
One post per user will be counted as an entry. Alt accounts will be automatically disqualified.
The post must be shared on twitter with #dcrops by the author or by someone else.
Participants must join the dCrops discord and post the link to their article on the #events channel
The post on the blockchain must contain #dcrops and #dcropscontest for visibility.
Participants MUST own NFTs from the game and have a record of playing the game.
No minimum word length for the post.
The post must contain a link to the dCrops main website.
Deadline for submission will be a week after this post's payout. The results will be decided a few days thereafter to give some time for curators to decide the winners.
---
Play Now: www.dcrops.com - Play to earn farming game
Join our discord: https://discord.gg/zeJShKkF7K
Twitter: https://twitter.com/d_crops
---
---