A wild community appears! Tattoos on Hive.
Yo. So, after looking around on Hive for a bit I noticed there wasn't a community set up for tattoos, which I thought was a shame. I personally absolutely fucking love tattoos, and always enjoy checking out other peoples ink and hearing about why they chose their design and what the process was like. This is definitely not just a way for me to share and show off my own tattoos as I get them. And, I mean, while that would be an absolute chad move that's definitely not why we are here. Absolutely not. But, anyways. Since I'm starting this community up, it's only right to share one of my own tattoos. And, it just so happens that I very recently got a new piece done :)
I doubt I've ever talked about it. But, my absolute favorite cartoon as a kid was always Courage the Cowardly Dog. I was fucking obsessed with Courage for a good amount of years, and I honestly think it helped boost my interest/love of anything horror. The show has so much depth and nuance to the writing that went into it, that I'm shocked it was actually a childrens show. There are so many episodes with amazing story telling going on, and it does a great job of mixing ridiculous humor with horror elements. There are quite a few episodes that are genuinely creepy or fucked up, even when you're an adult. I genuinely fuck with this show, and think it's definitely one of the greatest cartoon shows of all time. And, since I've always been so into the show and it was a huge part of my life growing up, I figured it would make for a fun tattoo!
The design of the tattoo was based off an existing flash artwork that is part of a print that I was gifted a few years ago. But, I had him tweak two things to make it unique to me. Which was making the background a simple backdrop (The original flashart has a blue moonlit sky with a farmhouse and dirt behind him. Which I thought would look a bit busy on an actual human body.), and adding a traditional mom style heart tattoo onto Courage to pay homage to his owner Muriel. So, here's the outline work of the tattoo before any coloring went into it. I was honestly super stoked with it, even at this point in the process.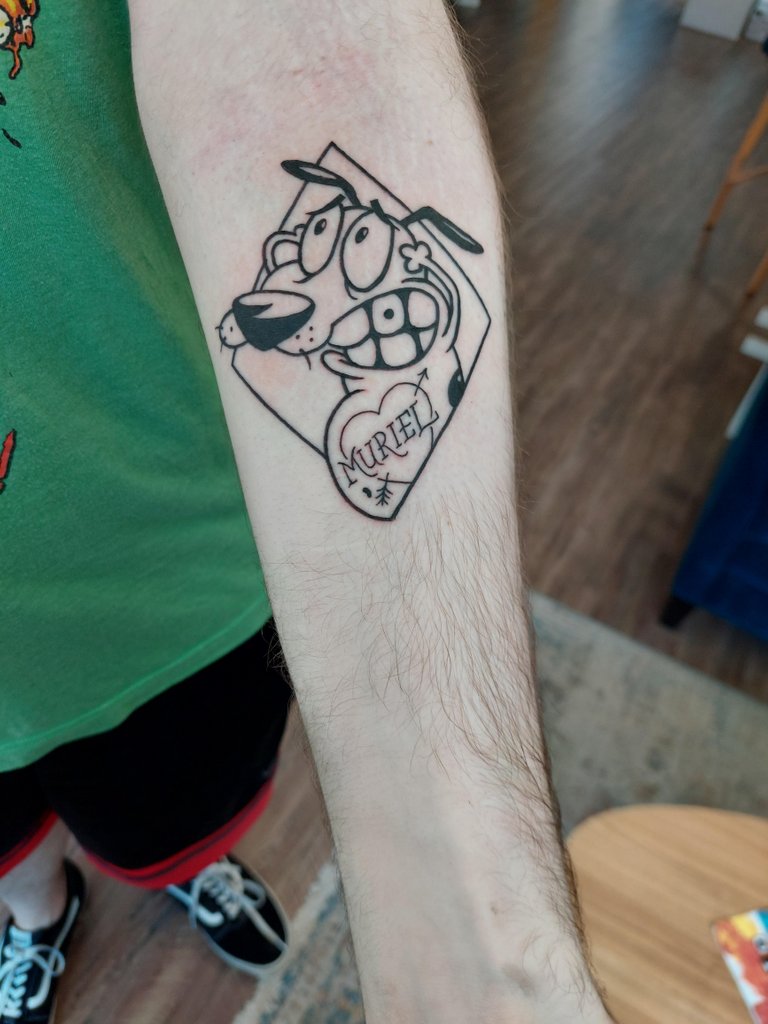 The outlining took roughly about an hour to finish, which wasn't too bad. The worst part of this chunk of the process was having to hold my arm downwards without moving much, as my arm felt like it belonged to an old skeleton in a coffin that had been turned into a dildo by a lonely graverobber. After we were done here, I took a short break so that I could go tinkle in the restroom and stretch my body a bit since we still had a decent amount of time to go before it would be finished. The bathroom was definitely an extra bonus to the experience, as it was decorated beautifully with such things as this.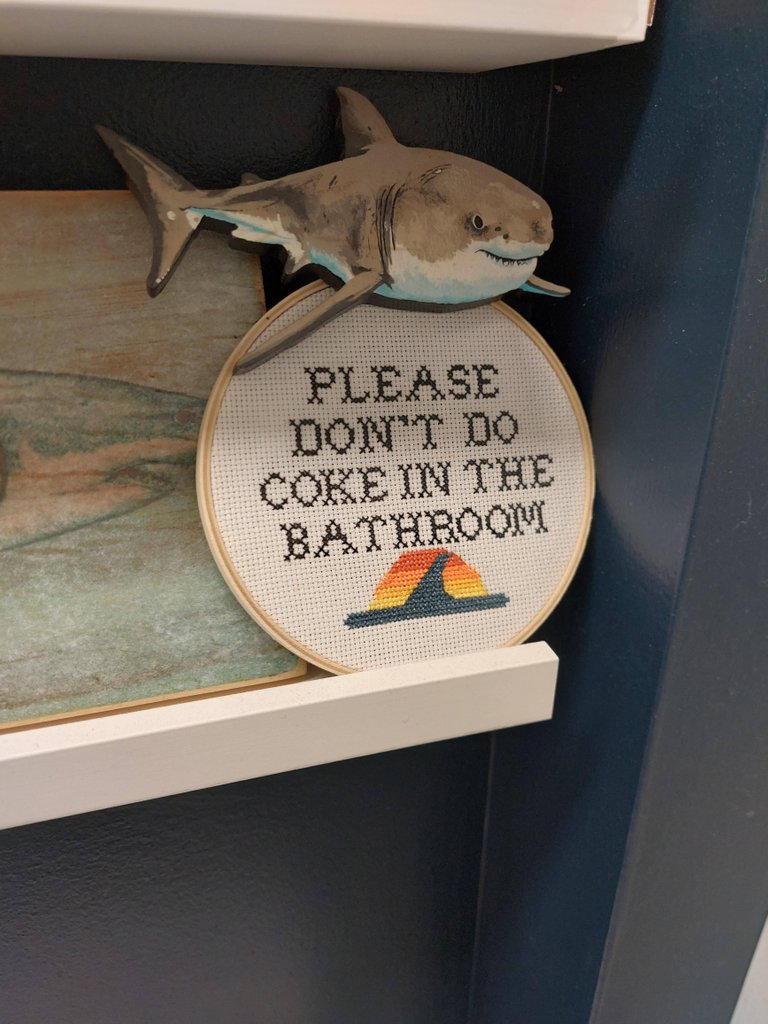 I mean, if you don't have to put up signs in your restroom to tell people to chill on snorting blow, then you must live in one pussy ass society. Fucking idiots. Oh, and if you're wondering why the shark theme to this sign, the entire shop is themed around the movie Jaws. It was cool as fuck, and I'll definitely take more pictures of the place in the future when I go back for another tattoo. But, lets get back to the tattoo. After my break, I sat back down in the chair and we finished this bad boy up. And, here's the result.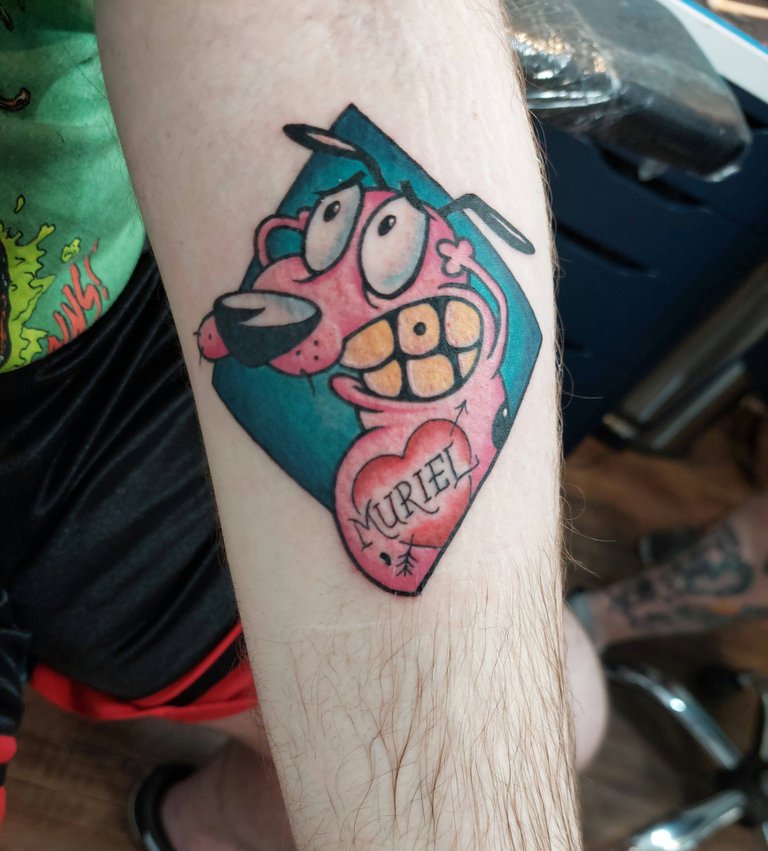 After just about two and a half hours total, we were finally done with my tattoo. And, I was absolutely thrilled with the end product. I fucking love my new tattoo, and the artist absolutely nailed it. It's literally exactly what I was wanting/hoping for. Dude is insanely talented, friendly and has earned the right to ask me for an over the pants hand job anytime, anywhere. Well, except for behind Mcdonalds, even someone like me has standards, you know? Anywho, I'm in the fun part of the process of getting a tattoo currently, which is the healing phase. This shit was a huge pain in the ass years ago. But, now, they use saniderm bandages these days for aftercare, which honestly makes the first week of it an absolute breeze in comparison to when I got my very first tattoo over 10 years ago. I could have posted a picture of what it looked like after 3 days, but I figured nobody here wants to see my dried up plasma and excess ink caked onto my arm.
So, yeah. Just wanted to make a quick post to kickstart this community, and to show off my cool tattoo that I'll use to get unlimited bitchesss. If you have a tattoo that you'd like to share, please feel free! I would love to see what kind of ink the people across Hive have gotten done :)
Until next time, my doods!
Later!
---
---