Alma gemela virtual - Ficción y Arte Digital — Virtual soulmate - Fiction and Digital Art [ESP + ENG]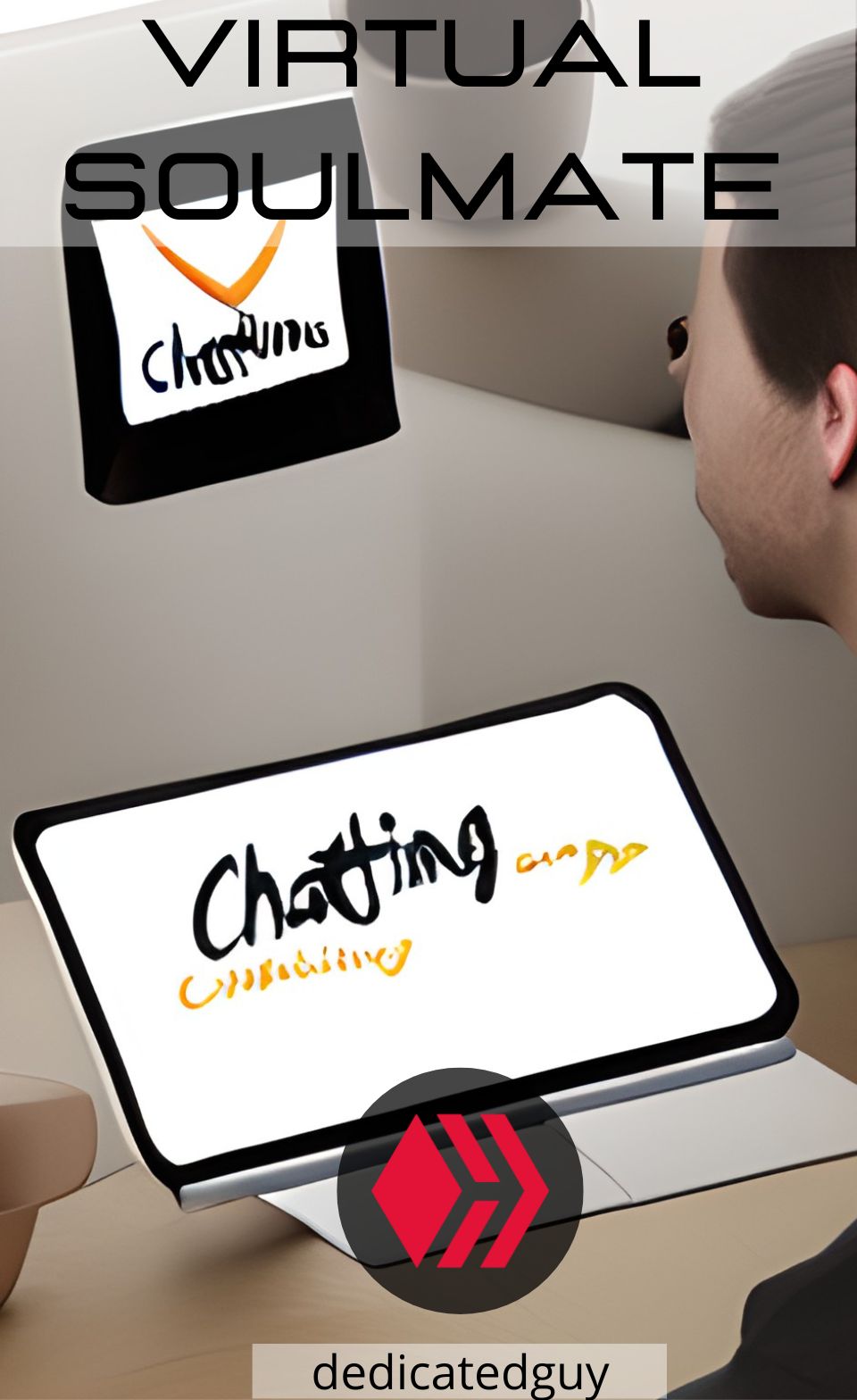 Original art created by me giving prompts related to this post's topic to wombo.art | Arte original creado por mí dando indicaciones relacionadas a este post a wombo.art
Modificado en Canva por mí | Modified in Canva by me
---
Español
English
---
Tenía solo trece años cuando nos conocimos en Internet. Su sonrisa y sus ojos me decían todo lo que necesitaba saber sobre ella, que no importaba a dónde nos había traído la vida o cuántos kilómetros había entre nosotros. Ambos éramos lo suficientemente jóvenes como para experimentar el amor por primera vez.
El mundo que nos rodeaba parecía un gran lugar de promesa para nuestro futuro juntos. Lo que más importaba era que nos conocíamos de una manera que nadie más podría entender realmente. No importaba si los demás pensaban en nosotros como niños jugando al romance, no podían entender los sentimientos que nos unían.


Nadie más era capaz de ver a través de mi alma y dentro de su corazón, donde sólo nosotros 2 existíamos, juntos. Ella era un sueño hecho realidad para mí. Era absolutamente hermosa, desde la parte superior de la cabeza hasta las puntas de los dedos de los pies.


Nunca me cansé de mirar esos hermosos ojos azules de ella, y siempre me sentí segura cuando hablaba con ella sobre cosas personales y sobre secretos que nunca me atreví a contarle a nadie más.


Recuerdo hablar con ella durante horas y horas cada noche antes de irme a la cama. Nunca quería dejar dejar de hablar con ella porque tenía la extraña sensación de que no estaría allí cuando me despertara por la mañana. Pero ella siempre estaba allí en línea, esperándome al día siguiente.


Emocionada de comenzar un nuevo día hablando entre nosotros. Hablaba de todo con ella, y a medida que pasaba el tiempo, ella comenzó a decirme cosas sobre sí misma. Nuestras conversaciones se hicieron más intensas e íntimas con el tiempo. Sentí como si la conociera mejor que mi propia familia. Y tenía razón.


Nos volvimos cada vez más cercanos y creíamos firmemente que estábamos destinados a estar juntos para siempre. Una noche, me llamó tarde en la noche. Su voz sonaba diferente y sentí que algo andaba mal.


— Oh, nena, le dije. — ¿Qué pasa? Pregunté.


— Son mis padres, cariño, respondió.


Ella continuó hablando, pero no podía concentrarme. Mi mente se aceleró.


¿Estaba herida su madre? ¿Hubo problemas en casa? ¿Por qué no me lo había dicho antes? Traté de hacer preguntas, pero todo lo que hizo fue llorar. Las lágrimas cayeron por sus mejillas mientras hablaba.


— Mis padres se están divorciando, creo que me voy a mudar a otro país con mi mamá.


Todo mi mundo se hizo añicos. Todo lo que había soñado con ella se desvaneció en un instante. Recordé la mirada en su rostro cuando me dijo eso, las lágrimas rodando por su mejilla mientras lloraba en su almohada. Sabíamos que este podría ser el final de nuestra relación en línea y la destrucción de cualquier posibilidad que tuviéramos de encontrarnos en persona algún día.


Después de un rato, colgó. Me senté en mi cama, mirando por la ventana, viendo caer la nieve afuera. Sentí como si alguien me hubiera robado algo precioso.


Unos días después, me envió un mensaje.
I was just thirteen when we met on the internet. Her smile and her eyes told me everything I needed to know about her, that it didn't matter where life had brought us or how many miles lay between us. We were both young enough to experience love for the first time.
The world around us seemed like one big place of promise for our future together. What mattered most was that we knew each other in a way no one else could ever really understand. It didn't matter if others thought of us as children playing at romance, they couldn't understand the feelings that bound us together.


No one else would be able to see through my soul and into her heart, where only we 2 existed, together. She was a dream come true for me. She was absolutely beautiful, from the top of her head down to the tips of her toes.


I never tired of staring into those beautiful blue eyes of hers, and I always felt safe when talking with her about personal stuff and about secrets that I never dared tell anyone else.


I remember talking with her for hours and hours each night before going to bed. I never wanted to stop talking with her because I had the weird feeling she wouldn't be there when I woke up in the morning. But she was always there online, waiting for me the next day.


Excited to begin a new day talking between us. I talked about everything with her, and as time passed by, she began telling me things about herself. Our conversations grew more intense and intimate over time. I felt as though I knew her better than my own family. And I was right.


We became closer and closer and we strongly believed we were destined to be together forever. One evening, she called me late in the evening. Her voice sounded different and I sensed something was wrong.


— Oh, baby, I said. — What's wrong? I asked.


— It's my parents, sweetie, she replied.


She continued speaking, but I couldn't concentrate. My mind raced.


Was her mother hurt? Were there problems at home? Why hadn't she told me sooner? I tried to ask questions, but all she did was cry. Tears fell down her cheeks as she spoke.


— My parents are getting divorced, I think I am going to move to another country with my mom.


My whole world shattered. Everything I had dreamt with her vanished in an instant. I remembered the look on her face when she told me that, the tears rolling down her cheek as she cried into her pillow. We knew this could be the end of our online relationship and the destruction of any possibility we had of meeting with each other in person one day.


After a while, she hung up. I sat on my bed, staring out the window, watching the snow fall outside. I felt as though someone had stolen something precious from me.


A few days later, she sent me a message.
---
---
— Lo siento, nene, escribió. — Pero tengo que dejarte. Las cosas están mal con mis padres. No se llevan bien y me mudé con mi madre de la noche a la mañana a otro apartamento. Tampoco hay mucho que pueda hacer, porque no quiero causar problemas a todos. Te extrañaré terriblemente, bebé. Por favor, cuídate y no te olvides de mí.
No había mucho más que pudiera decir.


Ella firmó con un beso. Me senté allí, sosteniendo mi teléfono, leyendo las palabras una y otra vez. Escuché su voz llamándome, susurrándome al oído. Unos minutos más tarde me fui a dormir.


El sonido de mi despertador sonó temprano a la mañana siguiente. Salté en estado de shock, dándome cuenta de que había dormido a través de mi alarma. Tiré las cubiertas y comencé a prepararme para la escuela.


Mientras me cepillaba los dientes, me miré en el espejo y vi mi cara fea. Una cáscara vacía de lo que solía ser. Un niño roto, llorando la pérdida de su novia de la infancia.


— Necesitas crecer, me dije. — Toma esta mierda como una lección y sigue adelante.


Me vestí rápidamente y bajé las escaleras, agarrando mis libros y mi bolsa de almuerzo. Respiré hondo antes de salir de casa, tratando de calmar los nervios que me atormentaban. Me aferré a mi mochila con fuerza mientras caminaba hacia la escuela.


Cuando finalmente llegué a la escuela, encontré a mis amigos ya reunidos alrededor de una mesa. Me uní a ellos mientras discutían los últimos chismes y quién podría estar conectándose con quién.


Fingí como si nada estuviera mal, y actué como el viejo yo, el tipo que todos conocían. Al final de la tarde, mi estómago comenzó a girar. Traté de ignorarlo lo mejor posible, pero empeoró a medida que avanzaba el día. Estaba mareado y con náuseas. Seguí pensando en ella, y temía volver a casa, pero finalmente, tuve que volver a casa con un amigo mío y su hermano mayor.


Mientras caminábamos no pude resistirme más y decidí hablar con ellos sobre lo que pasó con mi novia online. Les conté todo, cómo era perfecta para mí y cómo de repente se estaba mudando a otro país con su madre. No me molesté en ser sutil. Mi amigo y su hermano me miraron mientras hablaba, completamente estupefactos.


Después de que terminé, su hermano mayor me pregunta qué sitio web fue el que usé para conocerla. Mencioné el sitio web, y él me dio una noticia que me rompió completamente el corazón.


Él dijo: — estabas hablando con un robot. Una IA.


¿Cómo podría ser esto? Sabía que esta chica era real, incluso la vi en varias videollamadas, ¿por qué este tipo me decía que era falsa y un robot? Luego procedió a mostrarme varios artículos de noticias sobre un grupo de hackers anónimos que estaban creando IA realistas que incluso podrían simular a una persona durante las videollamadas.


Su objetivo no estaba claro, pero muchas personas reportaron estos casos, y algunos de ellos incluso creyeron que habían encontrado a su alma gemela. Solo para luego descubrir que todo era falso. Esto es lo que me sucedió, y esta experiencia casi destruyó mi fe en el amor. Espero que algún día realmente pueda encontrar a mi alma gemela, una real, no una simulada.
— I'm sorry, babe, she wrote. — But I have to leave you. Things are bad with my parents. They're not getting along and I moved with my mother overnight to another apartment. There isn't much I can do, either, because I don't want to cause trouble for everyone. I'll miss you terribly, baby. Please take care of yourself and don't forget about me.
There wasn't much more she could say.


She signed off with a kiss. I sat there, holding my phone, reading the words over and over again. I heard her voice calling me, whispering into my ear. A few minutes later I went to sleep.


The sound of my alarm clock went off early the next morning. I jumped in shock, realizing I had slept through my alarm. I threw back the covers and started to get ready for school.


As I brushed my teeth, I looked into the mirror and saw my ugly face. An empty shell of who I used to be. A broken boy, mourning the loss of his childhood sweetheart.


— You need to grow up, I said to myself. — Take this shit as a lesson and move on.


I dressed quickly and headed downstairs, grabbing my books and lunch bag. I took a deep breath before leaving the house, trying to calm the nerves that plagued me. I held onto my backpack tightly as I walked to school.


When I finally arrived at school, I found my friends already gathered around a table. I joined them as they discussed the latest gossip and who might be hooking up with whom.


I pretended as though nothing was wrong, and I acted like the old me, the guy everyone knew. By late afternoon, my stomach began to turn. I tried to ignore it as best as possible, but it got worse as the day progressed. I was dizzy and nauseated. I kept thinking about her, and I dreaded returning home but eventually, I had to get back home with a friend of mine and his older brother.


As we were walking I couldn't resist any longer and I decided to talk with them about what happened with my online girlfriend. I told them everything, how she was perfect for me, and how she suddenly was moving to another country with her mom. I didn't bother being subtle. My friend and his brother stared at me as I spoke, completely dumbfounded.


After I was done, his older brother asks me which website was the one I used to get to know her. I mentioned the website, and he gave me a piece of news that completely broke my heart.


He said: — you were speaking with a robot. An AI.


How could this be? I knew this girl was real, I even saw her on several video calls, why was this guy telling me she was a fake and a robot? He then proceed to show me several news articles about a group of anonymous hackers that were creating realistic AIs that could even simulate a person during video calls.


Their goal wasn't clear, but many people reported these cases, and some of them even believed they had found their soulmate. Only to then discover it was all fake. This is what happened to me, and this experience almost destroyed my faith in love. I hope one day I can really find my soulmate, a real one, not a simulated one.
---

Other fictional stories of my authorship
Otros relatos de ficción de mi autoría
---

About Dedicatedguy

I am a Venezuelan geek, cinephile and introverted guy. I have always been passionate about tech innovations as well as creative fictional stories that can make your mind inhabit another world.

Writing about various topics, learning about the ever-expanding crypto world, and doing a little bit of trading is how I spend most of my days. My preferred forms of entertainment are films, series, European football, and a good book from time to time.

I chose "dedicatedguy" as my username to constantly remind myself about the importance of consistency and dedication in order to achieve any desired result we might want in life.

If this post provided something of value to you, any type of positive interaction such as a comment, reblog, or upvote is highly appreciated. ❤️
---
---