Obsesión por los ovnis - Ficción y Arte Digital — UFO Obsession - Fiction and Digital Art [ESP + ENG]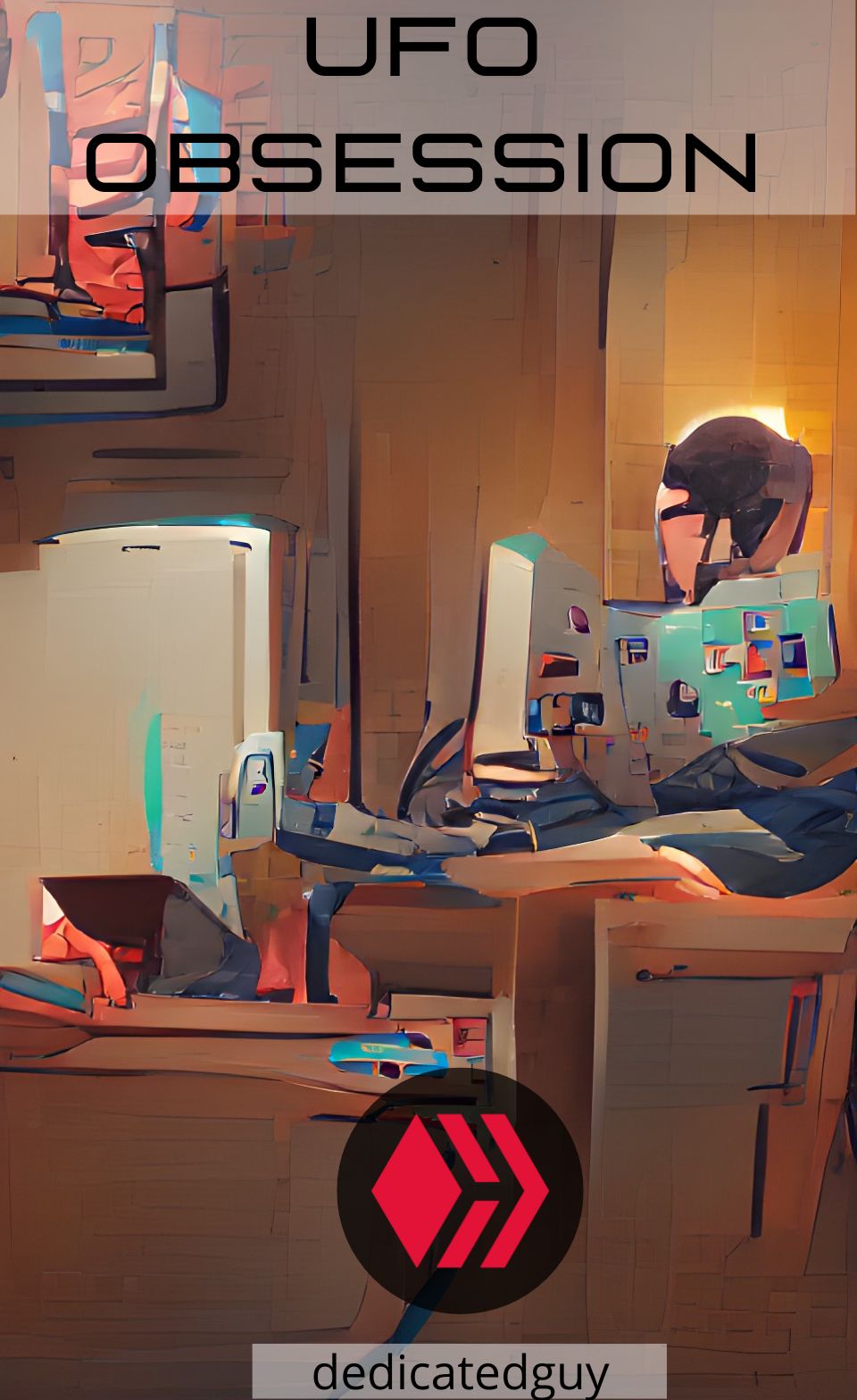 Original art created by me giving prompts related to this post's topic to wombo.art | Arte original creado por mí dando indicaciones relacionadas a este post a wombo.art
Modificado en Canva por mí | Modified in Canva by me
---
Español
English
---
A las siete y quince, Charles se despertó en su apartamento en el vigésimo tercer piso de un edificio en el centro de la ciudad. No había dormido bien, se sentía mal. Dormir era un lujo para él ahora. Sus ojos estaban hinchados, su cabeza palpitaba de tensión y su boca sabía mal.
Su apartamento era pequeño pero cómodo, decorado en tonos de gris. Era programador de una gran empresa de software y trabajaba por las noches para evitar las multitudes durante el día. Le gustaba estar solo. Esa fue una de las razones por las que había decidido trabajar desde casa, le daba tiempo para pensar sin tener a alguien hablando o haciendo preguntas.


Charles miró su reloj digital. Siete y media de la mañana. Se recostó en su cama durante un par de minutos, luego se levantó, se duchó, se afeitó y se vistió rápidamente. Desayunó antes de encender su computadora.


Inició sesión en su cuenta segura en el trabajo y comenzó a trabajar en algunos proyectos de programación. Varias horas después, cerró la sesión y apagó su sistema. Después de eso, pasó una hora leyendo noticias de todo el mundo, estaba particularmente interesado en noticias sobre ovnis y misterios del espacio.


No es sorprendente que no hubiera muchos artículos con fuentes confiables. De hecho, la mayoría de ellos estaban escritos por personas poco confiables. Aún así, eran una lectura interesante. Charles siempre quiso descubrir la verdad sobre los ovnis, tenía la sospecha de que algunos de ellos podrían ser reales, pero no sabía cómo confirmar esto. Había demasiados misterios alrededor de estos objetos.


Antes de acostarse, había pensado en qué hacer a continuación. Sabía que no era sensato confiar en nadie más en su búsqueda de respuestas, por lo que planeaba continuar investigando de forma independiente. Pensó que podría usar sus habilidades de programación para encontrar de alguna manera información que pudiera ayudarlo a encontrar algunas respuestas.


Pero necesitaba más datos, y sabía que si continuaba buscando el tiempo suficiente, eventualmente aprendería algo. Y cuando eso sucediese, el tiempo que invirtió en la investigación habría valido la pena.


Charles se despertó durante la mañana del día siguiente. Era miércoles, así que pasó por su rutina habitual: comer, ducharse, vestirse y finalmente trabajar. Luego, por la tarde, apagó su computadora de trabajo y comenzó a trabajar en las cosas que realmente le interesaban.


Eso eran ovnis y misterios espaciales. Durante dos horas investigó en línea, buscando cualquier cosa nueva. No surgió nada inusual. Luego comenzó a leer foros y redes sociales, siguiendo pistas de una fuente a otra.


Mientras hacía esto, ocasionalmente se detenía para comer un refrigerio. A las nueve en punto, no había encontrado nada nuevo. No tuvo más remedio que reflexionar sobre la posibilidad de que no hubiera forma de que pudiera encontrar más información sobre si los ovnis eran reales o no.


Esta información estaba más allá de lo que podía alcanzar. Si los extraterrestres visitaron la Tierra, podrían haberlo hecho hace cientos de años, y los humanos no habrían sido conscientes de su existencia hasta hace poco. No era difícil para Charles simplemente aceptar la realidad.


Hasta que un pensamiento peligroso apareció en su cabeza, ¿qué pasaría si pudiera hackear sitios web del gobierno y buscar cualquier archivo oculto relacionado con los ovnis? Sabía que el gobierno tenía secretos, así que tal vez podría hackearlos y descubrir información oculta sobre este tema que le apasionaba.


Tomó varias horas de arduo trabajo, pero finalmente, Charles tuvo acceso a varios sitios gubernamentales diferentes. Luego buscó en las bases de datos archivos relacionados con avistamientos de ovnis o cosas extrañas vistas en el cielo. Nada. Probó todas las combinaciones de palabras posibles que parecían remotamente conectadas con el tema. Sin suerte. Los archivos no contenían referencias a nada de eso. Al menos, no había indicios de que el gobierno mantuviera registros de tales eventos.


Charles esperó unos días antes de intentarlo de nuevo. Tenía la sensación de que debía esperar, de lo contrario el gobierno podría notar actividades sospechosas y tomar medidas contra él. Así que se mantuvo alejado por algún tiempo, luego regresó. Repitió todo el proceso, buscando algo inusual. Una vez más, no encontró ninguna información que sugiriera que el gobierno mantenía archivos sobre ovnis.


Después de varias semanas, decidió que necesitaba un descanso. Había revisado muchos de los datos disponibles y no encontró nada útil. No podía pasar meses y meses buscando información que no estaba allí. Estaba a punto de darse por vencido cuando un día, a altas horas de la noche, encontró algo.
At seven-fifteen Charles awoke in his apartment on the twenty-third floor of a building downtown. He had not slept well, he felt unwell. Sleep was a luxury for him now. His eyes were puffy, his head throbbed with tension, and his mouth tasted foul.
His apartment was small but comfortable, decorated in shades of gray. He was a programmer for a big software company who worked nights to avoid crowds during the day. He liked being alone. That was one reason he had decided to work from home, it allowed him time to think without having someone talking or asking questions.


Charles looked at his digital watch. Seven-thirty in the morning. He lay back down on his bed for a couple of minutes, then rose, showered, shaved, and dressed quickly. He ate breakfast before turning on his computer.


He logged onto his secure account at work and began working on some programming projects. Several hours later, he logged off and shut down his system. After that, he spent an hour reading news stories from around the world, he was particularly interested in news pieces regarding UFOs and mysteries from space.


Not surprisingly, there weren't many articles with reliable sources. In fact, most of them were written by unreliable people. Still, they made interesting reading. Charles always wanted to find out the truth about UFOs, he had the suspicion some of them could be real, but he didn't know how to confirm this. There were too many mysteries surrounding these objects.


Before going to bed, he had thought about what to do next. He knew better than to trust anyone else in his search for answers, so he planned to continue investigating independently. He thought he could use his programming skills to somehow find information that could help him find some answers.


But he needed more data, and he knew that if he continued searching long enough, he would eventually learn something. And when he did, the time he invested into the investigation would have been worth it.


Charles woke up during the morning in the next day. It was Wednesday, so he went through his usual routine: eating, showering, dressing, and finally working. Then in the afternoon he turned off his work computer and began to work instead on the things that really interested him.


That was UFOs and space mysteries. For two hours he researched online, looking for anything new. Nothing unusual came up. Then he started to read forums and social media, following leads from one source to another.


While doing this, he occasionally stopped to have a snack. By nine o'clock, he had found nothing new. He had no choice but to ponder the possibility that there was no way that he could find out more information about whether UFOs were real or not.


This information was beyond what he could reach. If aliens visited Earth, they might have done so hundreds of years ago, and humans would have been unaware of their existence until recently. It wasn't difficult for Charles to just accept reality.


Until a dangerous thought popped into his head, what if he could hack government websites, and search for any hidden files related to UFOs? He knew the government had secrets so maybe he could hack them and discover hidden information about this topic that he was very passionate about.


It took several hours of hard work, but eventually, Charles got access to a number of different government sites. Then he searched the databases for files relating to UFO sightings or strange things seen in the sky. Nothing. He tried every possible word combination that seemed remotely connected to the subject. No luck. The files contained no references to anything like that. At least, there was no indication that the government kept records of such events.


Charles waited for a few days before trying again. He had a feeling that he should wait, otherwise the government might notice suspicious activity and take action against him. So he stayed away for some time, then returned. He repeated the whole process, searching for anything unusual. Again, he failed to find any information that suggested that the government maintained files about UFOs.


After several weeks, he decided he needed a break. He had gone through a lot of the available data and found nothing useful. He couldn't spend months on end searching for information that wasn't there. He was about to give up when one day, late at night, he found something.
---
---
Abrió un archivo de base de datos que contenía imágenes de varios aviones militares. Mientras se desplazaba hacia abajo en la lista de imágenes, notó una que se destacaba. Representaba una nave de forma triangular. Su contorno le recordó esos triángulos que muchas personas consideraban ovnis. Pasó horas buscando más información en Internet y, finalmente, descubrió algo.
Encontró archivos e imágenes sobre extraños artefactos recolectados por los militares, que se utilizaron para desarrollar nuevas tecnologías con fines militares. Estos dispositivos fueron creados utilizando "tecnología alienígena".


Su mente estaba absolutamente volada cuando vio todo esto. Finalmente supo que los ovnis y la vida extraterrestre eran reales, su obsesión con este tema finalmente le había permitido hacer un descubrimiento masivo que podría cambiar el mundo entero.


Charles sonrió mientras sentía una sensación de alivio sobre él. Sus sospechas fueron correctas todo el tiempo. Los extraterrestres habían visitado la Tierra y parte de su tecnología estaba siendo utilizada por el gobierno sin decírselo al público. Nunca había sentido este nivel de emoción cuando de repente, su computadora se apagó y todas las luces de su apartamento se apagaron al mismo tiempo. Momentos después, la puerta de su apartamento se abrió de golpe. Estaba atrapado.


La puerta sonó tan fuerte que sorprendió a Charles, haciéndolo caer al suelo. Hombres vestidos con un traje negro y gafas negras entraron en su apartamento y lo amenazaron.


Dijeron ser agentes federales y lo arrestaron. Debido a sus actividades de piratería, dijeron que era culpable de irrumpir en muchos sistemas gubernamentales.


Charles protestó, diciendo que podía probar su inocencia, pero los hombres no escucharon. En cambio, lo esposaron y lo llevaron a una camioneta estacionada cerca. Lo llevaron a una prisión fuera de los límites de la ciudad, y después de un corto tiempo, fue llevado a juicio.


Durante su juicio, el juez le preguntó a Charles por qué había pirateado las bases de datos del gobierno. Con gran dificultad, logró explicar a la corte que estaba buscando respuestas a su ardiente curiosidad sobre la naturaleza de los extraterrestres y sus visitas a la tierra.


Nadie lo tomó en serio y se vio obligado a permanecer en un hospital psiquiátrico hasta que admitió que su obsesión alienígena no era normal y que necesitaba dejar ir este tema. Desde ese día, ha sufrido episodios de depresión y ataques de pánico. Aunque fue dado de alta del hospital más tarde, permaneció en terapia y se puso a tomar medicamentos para la ansiedad.


Ahora, no puede dejar de pensar en esa experiencia, y tiene miedo de descubrir más información y aún más miedo de compartirla con los demás. No tiene más remedio que guardarse esto para sí mismo y vivir así por el resto de su vida. De lo contrario, corre el riesgo de ser encarcelado nuevamente por quién sabe cuánto tiempo ...
He opened a database file containing images of various military aircrafts. As he scrolled down the list of pictures, he noticed one that stood out. It depicted a triangular-shaped craft. Its outline reminded him of those triangles that many people considered to be UFOs. He spent hours searching for more information on the Internet, and eventually, he discovered something.
He found files and pictures about strange artifacts collected by the military, that were used to develop new technology for military purposes. These devices were created using "alien technology."


His mind was absolutely blown when he saw this. He finally knew that UFOs and extraterrestrial life were real, his obsession with this topic had finally allowed him to make a massive discovery that could change the entire world.


Charles smiled as he felt a sense of relief wash over him. His suspicions were right all along. Aliens had visited Earth and some of their technology was being used by the government without telling the public. He had never felt this level of excitement when suddenly, his computer turned itself off and all the lights in his apartment went off at the same time. Moments later, his apartment door slammed open. He was trapped.


The door slammed so loud that it startled Charles, causing him to fall to the floor. Men wearing a black suit, and black glasses entered his apartment and threatened him.


They claimed to be federal agents, and they arrested him. Because of his hacking activities, they said he was guilty of breaking into many government systems.


Charles protested, saying he could prove his innocence, but the men wouldn't listen. Instead, they handcuffed him and led him to a van parked nearby. They drove him to a prison outside the city limits, and after a short time, he was put on trial.


During his trial, the judge asked Charles why he had hacked the government databases. With great difficulty, he managed to explain to the court that he was seeking answers to his burning curiosity about the nature of aliens and their visitations to earth.


No one took him seriously and he was forced to remain in a mental hospital until he admitted that his alien obsession wasn't normal and that he needed to let this topic go. Since that day, he had suffered bouts of depression and panic attacks. Although he was released from the hospital, later on, he remained in therapy and took medication for anxiety.


Now, he cannot stop thinking about that experience, and he is afraid of discovering more information and even more afraid of sharing it with others. He has no choice but to keep this to himself and live like that for the rest of his life. Otherwise, he risks being imprisoned again for who knows how long...
---

Other fictional stories of my authorship
Otros relatos de ficción de mi autoría
---

About Dedicatedguy

I am a Venezuelan geek, cinephile and introverted guy. I have always been passionate about tech innovations as well as creative fictional stories that can make your mind inhabit another world.

Writing about various topics, learning about the ever-expanding crypto world, and doing a little bit of trading is how I spend most of my days. My preferred forms of entertainment are films, series, European football, and a good book from time to time.

I chose "dedicatedguy" as my username to constantly remind myself about the importance of consistency and dedication in order to achieve any desired result we might want in life.

If this post provided something of value to you, any type of positive interaction such as a comment, reblog, or upvote is highly appreciated. ❤️
---
---