Una pesadilla muy vívida - Ficción y Arte Digital -- A very vivid nightmare - Fiction and Digital Art [ESP + ENG]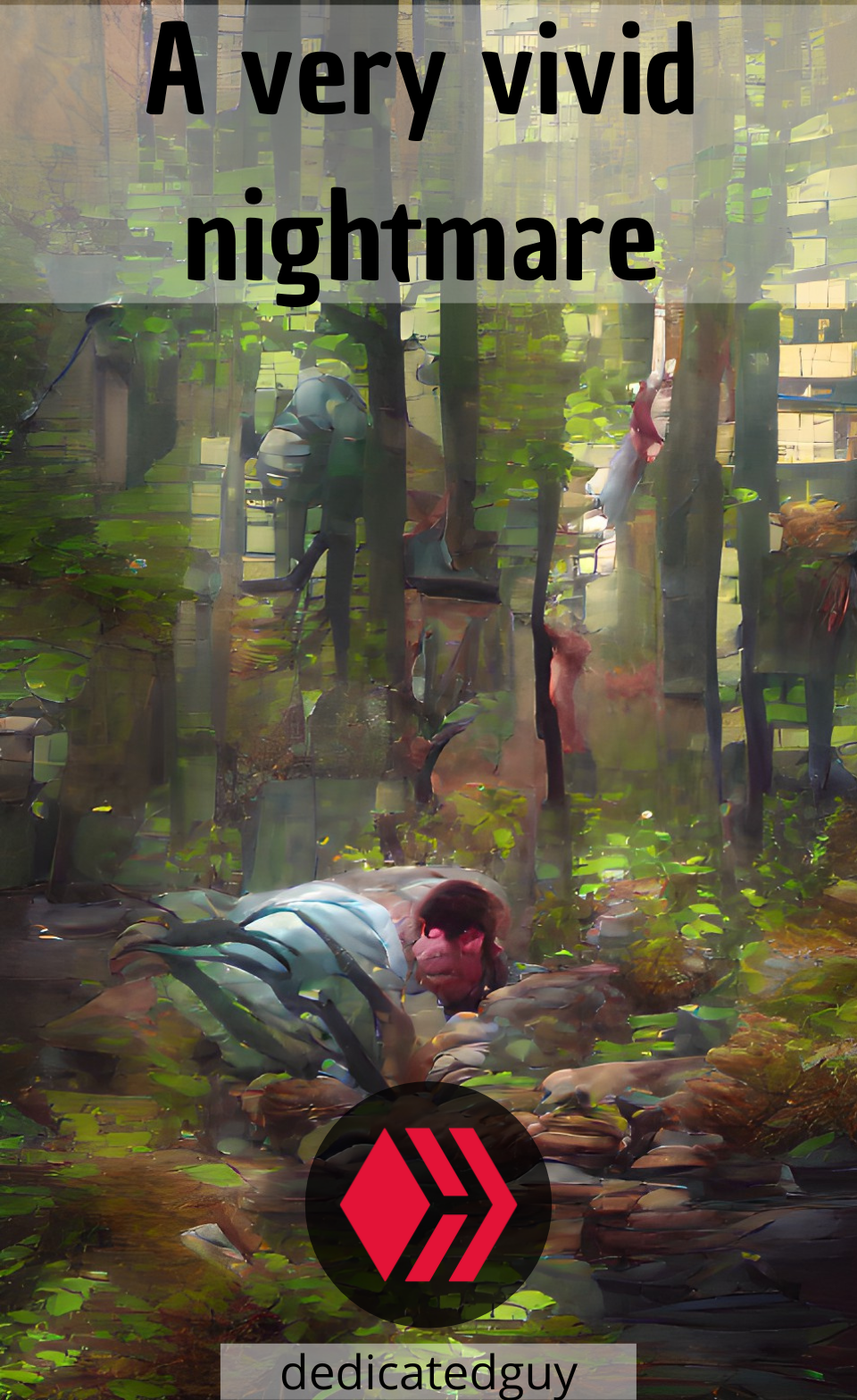 Original art created by me giving prompts related to this post's topic to wombo.art | Arte original creado por mí dando indicaciones relacionadas a este post a wombo.art
Modificado en Canva por mí | Modified in Canva by me
---
Español
English
---
Sentado en el borde de la cama en su habitación en casa, Billy sacó su computadora portátil y abrió una aplicación que le permitía ver películas en línea. Eligió ver la nueva película de slashing de la que mucha gente estaba hablando, era su género favorito. Tan pronto como comenzó a rodar, Billy bajó la cabeza sobre la almohada y se durmió.
Sin embargo, tan pronto como se durmió, algo entró en los sueños de Billy. En el mundo de los sueños, se encontró en un bosque oscuro con nada más que árboles a su alrededor y un sonido extraño que sonaba como una bocina cerca.


De repente, una figura sombría apareció de la nada y lo atacó. La figura cortó a Billy una y otra vez, cada golpe aterrizó en su cuerpo. Cada vez que la figura golpeaba, Billy sentía dolor y comenzaba a gritar. Pero cuanto más gritaba, menos energía tenía. Pronto ya ni siquiera había ningún sonido proveniente de él, solo silencio.


Billy se despertó de repente. Por un momento, no supo dónde estaba. Entonces se dio cuenta de que todavía estaba en su habitación en casa. Miró hacia abajo y vio sangre por todas partes. Se tocó el estómago y sintió una gran herida a través de él. Se había abierto de par en par y se había derramado mucha sangre sobre las sábanas. Había tanta sangre que Billy sabía que moriría si no hacía nada.


Buscó su teléfono y rápidamente encontró el número de emergencia. Marcó el 911 y les contó lo que sucedió. Una ambulancia llegó rápidamente y llevaron a Billy al hospital. Una vez allí, los médicos hicieron todo lo posible para salvar a Billy. Lo operaron, casi muere.


También le dieron a Billy una inyección de algún tipo de medicina en sus venas. Billy sintió que la medicina lo atravesaba, quitándole su dolor y su miedo. Sus ojos se cerraron y volvió a dormir.


Cuando despertó, Billy estaba rodeado de gente. Todos llevaban batas de laboratorio blancas y sus rostros estaban cubiertos con máscaras quirúrgicas. Todos ellos tenían una etiqueta de nombre en sus pechos. Uno de los médicos se acercó a Billy y le quitó la máscara de la cara.


— Hola, Billy, dijo el médico. — Lamento que hayas tenido que pasar por esto, acabamos de terminar tu cirugía, sobrevivirás.


El médico se quitó los guantes quirúrgicos y extendió la mano. Ayudó a Billy a relajarse, pero todavía estaba muy preocupado por la herida en su estómago.


— Tienes suerte, dijo el médico. — Logramos coser tus heridas. Te cosimos bien, y tendremos que seguir monitoreándote para asegurarnos de que los puntos se mantengan. Sin embargo, es posible que puedas irte a casa pronto, pero no quiero que hagas nada extenuante por un tiempo. Y no más películas de terror durante unos meses, ¿de acuerdo? Eso fue algo extraño de decir, Billy pensó, pero aún así asintió y sonrió.


El médico le dio unas palmaditas en el hombro y salió de la habitación. Billy se recostó y pensó en lo extraño que había sido todo el asunto. Nunca antes había soñado con ser atacado así. Por lo general, solo soñaba con monstruos que lo perseguían o que tenían una pelea con otra persona. Pero ni una sola vez había soñado con una figura oscura que lo atacara.


Esta vez, sin embargo, parecía diferente. El sueño se había sentido real, y la forma en que se despertó para encontrarse acostado con una gran herida en el estómago lo hizo darse cuenta de que realmente debía haber sucedido.


Trató de recordar exactamente cómo era el atacante. ¿Era un hombre? ¿Una mujer? ¿O tal vez un niño? No importa cuánto lo intentara, Billy no podía recordar.


Durante el resto del día, Billy se quedó en el hospital. Dormía la mayor parte del tiempo, y cuando no dormía, pasaba tiempo viendo la televisión. Por la noche, tenía amigos y familiares que venían a visitarlo. Muchos de ellos le trajeron comida, y él comió felizmente. Cuando no estaba comiendo, jugaba videojuegos en su teléfono. Se sentía mejor de lo que se había sentido desde el ataque, y esperaba ser dado de alta del hospital pronto.
Sitting on the edge of the bed in his room at home, Billy took out his laptop and opened up an app that allowed him to watch movies online. He chose to watch the new slashing film that many people were talking about, it was his favorite genre. As soon as it started playing, Billy put his head down on the pillow and fell asleep.
As soon as he was asleep, however, something entered Billy's dreams. In the dream world, he found himself in a dark forest with nothing but trees all around him and a weird sound sounding like a honk nearby.


Suddenly, a shadowy figure appeared from nowhere and attacked him. The figure slashed at Billy over and over again, each blow landing on his body. Each time the figure struck, Billy felt pain and began screaming. But the more he screamed, the less energy he had. Soon there wasn't even any sound coming from him anymore, only silence.


Billy woke up suddenly. For a moment, he didn't know where he was. Then he realized he was still in his room at home. He looked down and saw blood everywhere. He touched his stomach and felt a large gash across it. It had been cut open wide, and a lot of blood poured out onto the sheets. There was so much blood that Billy knew he would die if he didn't do anything.


He searched for his phone and quickly found the emergency number. He dialed 911 and told them what happened. An ambulance arrived quickly, and they rushed Billy to the hospital. Once there, doctors did everything they could to save Billy. They operated on him, he almost died.


They also gave Billy an injection of some kind of medicine into his veins. Billy felt the medicine go through him, taking away his pain and his fear. His eyes closed, and he went back to sleep.


When he awoke, Billy was surrounded by people. They were all wearing white lab coats, and their faces were covered with surgical masks. All of them had a name tags pinned to their chests. One of the doctors walked over to Billy and removed the mask from his face.


— Hello, Billy, the doctor said. — I'm sorry you had to live through this we just finish your surgery, you will survive.


The doctor took off the surgical gloves and held out his hand. He helped Billy relax but he was still very worried about the wound on his stomach.


— You're lucky, the doctor said. — We managed to sew your wounds together. We stitched you up tight, and we'll have to keep monitoring you to make sure the stitches hold. You might be able to go home soon though, but I don't want you doing anything strenuous for a while. And no more horror movies for a few months, okay? That was a strange thing to say Billy thought but he still nodded and smiled.


The doctor patted him on the shoulder and left the room. Billy lay back down and thought about how strange the whole thing had been. He'd never dreamed about being attacked like that before. Usually, he just dreamed about monsters chasing him or having a fight with another person. But never once had he ever dreamed about a dark figure attacking him.


This time, though, it seemed different. The dream had felt real, and the way he'd woken up to find himself lying with a huge gash in his stomach made him realize that it must have really happened.


He tried to remember exactly what the attacker looked like. Was it a man? A woman? Or maybe a child? No matter how hard he tried, Billy couldn't remember.


For the rest of the day, Billy stayed at the hospital. He slept most of the time, and when he wasn't sleeping, he spent time watching TV. At night, he had friends and family members come to visit him. Many of them brought him food, and he ate it happily. When he wasn't eating, he played video games on his phone. He was feeling better than he had since the attack, and he hoped he would be released from the hospital soon.
---
---
Al tercer día después del ataque, Billy estaba listo para irse. Le habían autorizado a irse a casa y estaba deseando volver a la vida normal. Estaba contento de no tener que pasar más tiempo en el hospital. Se vistió y bajó las escaleras para esperar el carro.
Al principio, Billy estaba emocionado de salir del hospital, pero tan pronto como salió, notó algo extraño. Estaba oscuro y el cielo sobre él era negro. Tampoco había estrellas en el cielo. Solo nubes. Billy miró a su alrededor y vio que apenas había luz en ninguna parte. Las farolas a lo largo de la acera estaban apagadas y no había nada que iluminara el camino por delante.


Un escalofrío recorrió la columna vertebral de Billy. ¿Qué estaba pasando? ¿Dónde estaban todos?


De repente, Billy escuchó un fuerte ruido proveniente de algún lugar cercano. Se quedó congelado, preguntándose qué estaba pasando. Luego escuchó el sonido nuevamente. Era el mismo sonido de bocina que había escuchado en su sueño. Sonaba muy cercano.


Billy comenzó a correr tan rápido como pudo. Miró detrás de él, pero no había nadie allí. Las calles estaban vacías, y las casas a ambos lados de él también estaban desiertas. Los únicos sonidos que escuchó fueron el viento que soplaba a su lado y el débil sonido del motor de un automóvil en algún lugar en la distancia.


Billy llegó al final de la cuadra y giró a la derecha. Mientras lo hacía, vio una figura caminando hacia él. La figura llevaba una sudadera oscura con capucha, y la persona caminaba lentamente, casi como si se estuviera arrastrando.


La figura se detuvo frente a Billy y lo miró fijamente.


— ¿Quién eres? Preguntó Billy. — ¿Qué quieres?


Pero la figura no respondió. En cambio, levantó las manos y comenzó a cortar a Billy. Los cortes eran rápidos y furiosos, cortando la carne de Billy y dejando profundas heridas en su piel.


Billy gritó y se cubrió la cabeza. La figura se acercó, cortándolo una y otra vez. La sangre brotó de las heridas de Billy y empapó su ropa.


Tan repentinamente como comenzó el ataque, terminó. La figura se volvió y comenzó a alejarse. Dejando a Billy por muerto.


Fue entonces, después de experimentar la muerte en su sueño, que finalmente se despertó de verdad esta vez. Tenía miedo de un sueño tan vívido y culpó a la estúpida película que estaba viendo antes de quedarse dormido. Justo cuando se estaba preparando para levantarse de la cama, escuchó el sonido de bocina una vez más.
On the third day after the attack, Billy was ready to leave. He'd been cleared to go home, and he was looking forward to getting back to normal life. He was glad he wouldn't have to spend any more time at the hospital. He got dressed and headed downstairs to wait for his ride.
At first, Billy was excited to get out of the hospital, but as soon as he stepped outside, he noticed something strange. It was dark out, and the sky above him was black. There weren't any stars in the sky, either. Only clouds. Billy looked around and saw that there was hardly any light anywhere. The streetlights along the sidewalk were all turned off, and there was nothing to illuminate the road ahead.


A chill ran up Billy's spine. What was going on? Where was everyone?


Suddenly, Billy heard a loud noise coming from somewhere nearby. He stood frozen, wondering what was happening. Then he heard the sound again. It was the same honk-like sound he'd heard in his dream. It sounded very close.


Billy started running as fast as he could. He looked behind him, but there was no one there. The streets were empty, and the houses on either side of him were also deserted. The only sounds he heard were the wind blowing past him and the faint sound of a car engine somewhere in the distance.


Billy reached the end of the block and turned right. As he did, he saw a figure walking toward him. The figure was wearing a dark hooded sweatshirt, and the person walked slowly, almost like they were dragging themselves.


The figure stopped in front of Billy and stared at him.


— Who are you? Billy asked. — What do you want?


But the figure didn't answer. Instead, it lifted its hands and began slashing at Billy. The cuts came fast and furious, slicing through Billy's flesh and leaving deep gashes in his skin.


Billy screamed and covered his head. The figure moved closer, slashing at him again and again. Blood poured out of Billy's wounds and soaked his clothes.


Just as suddenly as the attack began, it ended. The figure turned and started walking away. Leaving Billy for dead.


It was then, after experiencing death in his dream that he finally woke up for real this time. He was scared of such a vivid dream and he blamed the stupid movie he was watching before falling asleep. Just when he was getting ready to get out of bed, he then heard the honk-like sound once again.
---

Other fictional stories of my authorship
Otros relatos de ficción de mi autoría
---

About Dedicatedguy

I am a Venezuelan geek, cinephile and introverted guy. I have always been passionate about tech innovations as well as creative fictional stories that can make your mind inhabit another world.

Writing about various topics, learning about the ever-expanding crypto world, and doing a little bit of trading is how I spend most of my days. My preferred forms of entertainment are films, series, European football, and a good book from time to time.

I chose "dedicatedguy" as my username to constantly remind myself about the importance of consistency and dedication in order to achieve any desired result we might want in life.

If this post provided something of value to you, any type of positive interaction such as a comment, reblog, or upvote is highly appreciated. ❤️
---
---