Una sorpresa para un corazón roto - Ficción y Arte Digital — A surprise for a broken heart - Fiction and Digital Art [ESP + ENG]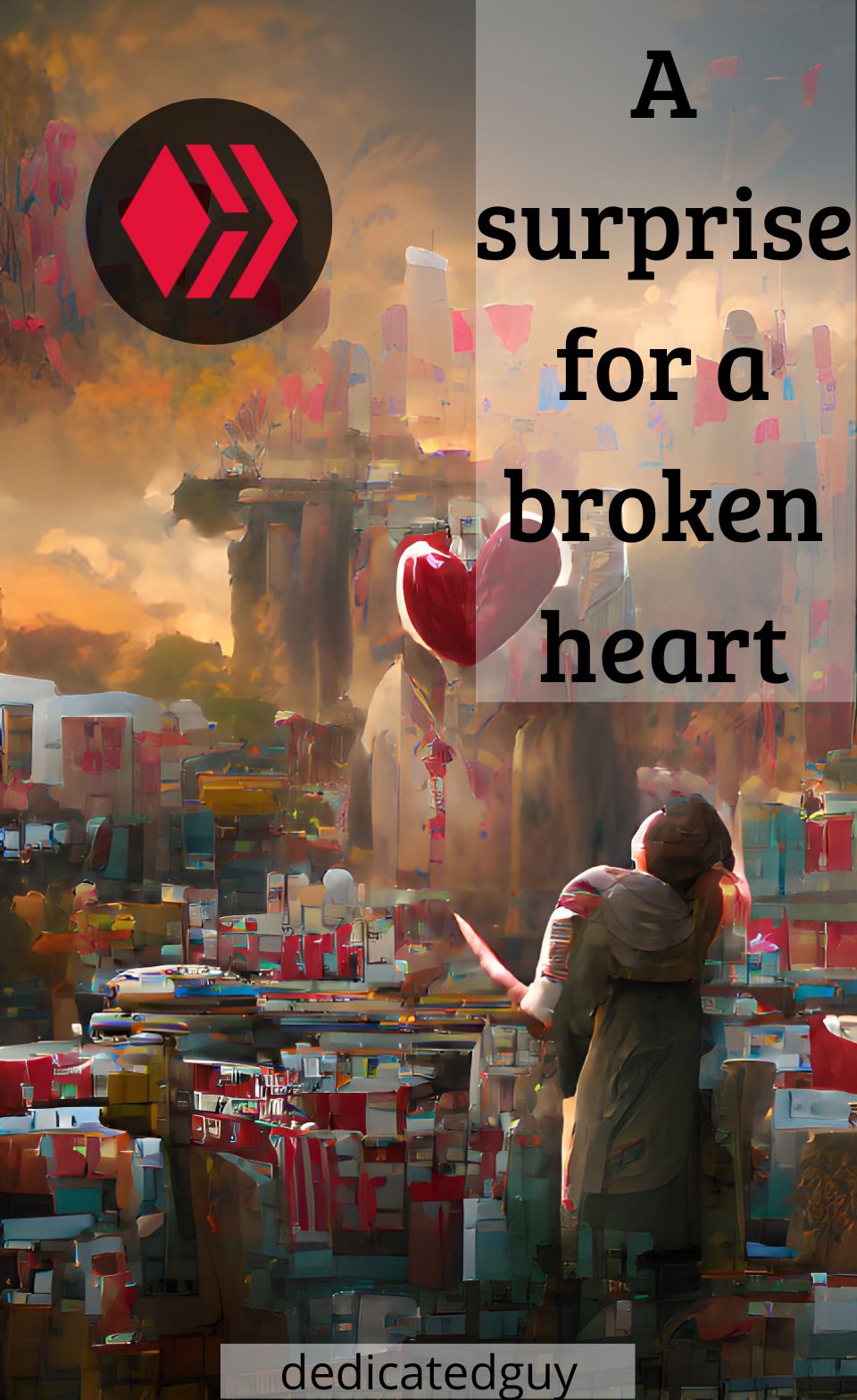 Original art created by me giving prompts related to this post's topic to wombo.art | Arte original creado por mí dando indicaciones relacionadas a este post a wombo.art
Modificado en Canva por mí | Modified in Canva by me
---
Español
English
---
Se suponía que el viaje a la montaña era lo más tranquilo y relajante del mundo, pero mientras seguía caminando, la mente de Tom volvió a lo único que realmente nunca olvidaba, cómo su novia lo había dejado por otra persona.
Debería haber sabido mejor que confiar en ella. Ella siempre hacía las cosas al revés, y ahora toda su vida sentimental se arruinó por eso. No era justo que ella pudiera simplemente alejarse de todo lo que habían construido juntos sin siquiera esforzarse lo suficiente para salvar su relación.


Ahora nunca la volvería a ver, no después de todo este tiempo y esfuerzo. Todos esos años de ser fiel y devoto, todas esas noches que pasó preguntándose qué la hacía feliz para poder brindarle lo mejor, y luego, de repente, ¡puf! Así de simple, ella lo abandonó.


Sin ninguna explicación, su amor se había ido. Y como ella no le había explicado bien por qué no había nada que hacer excepto aceptar los hechos, había encontrado a otro hombre y se iba. Fue entonces cuando dijo que se había terminado entre ellos, y eso fue exactamente lo que sucedió.


Pensó en la forma en que la había visto antes de irse. La última vez que la vio, ella había estado usando jeans ajustados y una camisa escotada, y se había sentido tan incómodo al verla vestida como si fuera a salir con otra persona.


Pero ahora, fue triste para él darse cuenta de que tal vez nunca la volvería a ver, recordó cómo había sostenido su rostro contra su pecho después de pasar una noche juntos y cuánto parecía disfrutarlo. Cómo solían divertirse juntos y no parecían preocupados por nada. Esos días habían quedado atrás. Ahora, ella era fría y distante, y él sabía que ella debía estar pensando en otra cosa. Otra cosa que no fuera él.


Tom notó lo vacío que parecía su apartamento de repente. Ya no había fotos de ellos juntos. Su escritorio estaba limpio y libre de desorden. Lo habían hecho todo, y ahora todo estaba terminado. Le faltaba la ropa de ella y no podía encontrar nada que le perteneciera.


Cuando revisó sus cajones y armarios, se dio cuenta de que ella se había llevado todo. Compartieron tantos recuerdos juntos que ahora eran un triste pasado lejano. Ella lo había tirado todo.


Se preguntó qué pasaría si intentaba contactarla, pero decidió no hacerlo, no valdría la pena su tiempo. Se sintió derrotado. ¿Qué se suponía que debía hacer ahora?
The trip to the mountain was supposed to be the most peaceful and relaxing thing in the world, but as he kept walking Tom's mind went back to the one thing he really never forgot, how his girlfriend had left him for someone else.
He should have known better than to trust her. She always did things backward, and now his entire sentimental life was ruined because of it. It wasn't fair that she could just walk away from everything they'd built together without even trying hard enough to save their relationship.


Now he would never see her again, not after all this time and effort. All those years of being faithful and devoted, all those nights he spent wondering what made her happy so he could provide her with the best, and then suddenly, poof! Just like that, she dumped him.


With no explanation at all, her love was gone. And because she hadn't told him why there was nothing to do except accept the facts, she had found another man and was leaving. That's when she said it was over between them, and that was exactly what happened.


He thought about the way she'd looked before she left. The last time he saw her, she'd been wearing tight jeans and a low-cut shirt, and he'd felt so uncomfortable seeing her dressed up as if she were going out with someone else.


But now, it was sad for him to realize that he might never see her again, he remembered how he'd held her face against his chest after spending a night together and how much she seemed to enjoy it. How they usedto have fun together and didn't seem worried or troubled by anything. Those days were long gone. Now, she was cold and distant, and he knew she must be thinking about something else. Something other than him.


Tom noticed how empty his apartment suddenly seemed. There weren't any pictures of them together anymore. His desk was clean and free of clutter. They had done it all, and now it was all finished. Her clothes were missing, and he couldn't find anything that belonged to her.


When he went through his drawers and closets, he realized that she had taken everything. They shared so many memories together that were now some sad distant past. She threw it all away.


He wondered what would happen if he tried to contact her, but he decided against it, it wouldn't be worth his time. He felt defeated. What was he supposed to do now?
---
---
Todas las cosas que planeaban hacer juntos se habían ido, y el futuro era incierto para él. Sabía que ella estaba planeando mudarse a algún lugar lejano, y probablemente nunca la volvería a ver, ni volvería a saber de ella.
A pesar de que ella lo había dejado, la idea de vivir sin ella era más difícil de lo que él esperaba. Esperaba que algún día, de alguna manera, ella pensara en él. Tal vez ella recordaría los buenos momentos que pasaron juntos, y tal vez entonces él tendría otra oportunidad de demostrarle su valía.


Un día, pronto, se prometió a sí mismo. Algún día, ella regresará y pedirá perdón. Luego, ella le decía lo arrepentida que estaba, y podían intentarlo de nuevo. Junto. Imaginó que todo sucedía y sonrió.


Mientras Tom continuaba caminando por la montaña, vio que alguien había encendido un fuego allí y colocó varias sillas a su alrededor. Cuando se acercó al grupo de personas sentadas alrededor del fuego, reconoció a un hombre que estaba hablando con otras personas.


A medida que se acercaba, escuchó su nombre mencionado:


— Tom, un tipo gritó, sonriendo.


— ¡Oye, Tom! el mismo tipo volvió a llamar. Un momento después, reconoció a Peter, que era un amigo suyo de la universidad. Fueron compañeros de cuarto durante su primer año.


Peter se puso de pie y se acercó a él.


— Te ves muy bien, amigo. No te he visto desde hace años.


— Sí, bueno... He estado bastante ocupado últimamente. Pero me alegra verte aquí también.


Se dieron la mano.


Tom le contó a su amigo Peter todo sobre su relación fallida y cómo se sentía miserable por perder a su amada. Peter escuchó atentamente y asintió, sin decir nada. Después de que Tom terminó de contar su historia, se volvió para mirar a Peter, que estaba mirando las llamas.


— ¿Cómo están las cosas contigo? Preguntó Tom.


Pedro apartó la vista de él y no dijo nada por un momento. Eventualmente, comenzó a hablar compartiendo la historia de su vida durante los últimos años. Su conversación se sentía como retroceder en el tiempo cuando eran compañeros de cuarto y hablaban de todo. Se sentían como hermanos.


Después de un tiempo, todos tuvieron que abandonar la montaña y regresar a sus hogares. Mientras se despedían, Peter le dijo a Tom que estaba seguro de que iba a solucionar sus problemas lo suficientemente pronto. Así que no debía preocuparse por ello y que todo iba a salir bien. Tom agradeció sus buenos deseos y se fue a su carro.


Al llegar a casa, decidió revisar su teléfono ahora que tenía una conexión disponible y para su sorpresa, tenía una llamada perdida de su ex novia con un mensaje de voz esperando a que lo escuchara, sin pensarlo dos veces presionó el botón "play" y sus ojos comenzaron a brillar una vez más.
All the things they planned to do together were gone, and the future was uncertain for him. He knew she was planning on moving somewhere far away, and he'd probably never see her again, nor would he ever hear from her again.
Even though she'd left him, the idea of living without her was more difficult than what he was expecting. He hoped that someday, somehow, she would think about him. Maybe she would remember the good times they had together, and maybe then he'd get another chance to prove himself to her.


One day soon, he promised himself. Someday, she'll come back and ask for forgiveness. Then, she'd tell him how sorry she was, and they could try again. Together. He imagined it all happening and smiled.


As Tom continued to walk through the mountain, he saw that someone had lit a fire there and set out several chairs around it. As he approached the group of people sitting around the fire, he recognized one man who was talking to some other people.


As he got closer, he heard his name mentioned:


— Tom, a guy called out, smiling.


— Hey, Tom! the same guy called again. A moment later, he recognized Peter, who was a friend of his back from college. They were roommates during their freshman year.


Peter stood up and came over to him.


— You're looking great, buddy. Haven't seen you since ages ago.


— Yeah, well…I've been pretty busy lately. But I'm glad to see you here, too.


They shook hands.


Tom told his friend Peter all about his failed relationship and how he was feeling miserable about losing his loved one. Peter listened attentively and nodded, saying nothing. After Tom finished telling his story, he turned to look at Peter, who was gazing into the flames.


— How are things with you? Tom asked.


Peter looked away from him and said nothing for a while. Eventually, he began to talk sharing his life story for the past several years. Their conversation felt like going back in time when they were roommates and talked about everything. They felt like brothers.


After a while, everyone had to leave the mountain and go back to their homes. While they were saying their goodbyes Peter told Tom that he was sure he was going to fix his problems soon enough. To not worry about it and that everything would turn out all right. Tom thanked his good wishes and went to his car.


When he arrived to his home, he decided to check his phone now that it had a connection available and to his surprise, it had a lost call from his ex-girlfriend with a voice message waiting for him to hear it, without thinking it twice he pressed the "play" button and his eyes started to shine once again.
---

About Dedicatedguy

I am a Venezuelan geek, cinephile and introverted guy. I have always been passionate about tech innovations as well as creative fictional stories that can make your mind inhabit another world.

Writing about various topics, learning about the ever-expanding crypto world, and doing a little bit of trading is how I spend most of my days. My preferred forms of entertainment are films, series, European football, and a good book from time to time.

I chose "dedicatedguy" as my username to constantly remind myself about the importance of consistency and dedication in order to achieve any desired result we might want in life.

If this post provided something of value to you, any type of positive interaction such as a comment, reblog, or upvote is highly appreciated. ❤️
---
---