[ESP/ENG] La verdad detrás de la industria del k-pop. | The truth behind the k-pop industry.
Hola a todos, el día de hoy les quiero compartir una serie de pensamientos que he tenido estas últimas semanas, ya que he estando escuchando un poco de k-pop y viendo/leyendo, mucho contenido sobre eso, he querido escribir esto a modo de una pequeña reflexión, análisis y opinión, acerca de todo lo que se encuentra detrás del éxito del k-pop. Para las personas que no estén familiarizadas con este término el k-pop, podría resumirse como un género de música que posee una mezcla de sub-géneros, entre ellos se encuentran el pop, rap, R&B, rock, entre otros, originado en corea del sur en la década de los noventas siendo mayoritariamente influenciado por la industria musical estadounidense y que se ha ido popularizando en los últimos años a nivel mundial, sobre todo entre los adolescentes, jóvenes adultos; teniendo esto ya un poco más claro empecemos a profundizar un poco más.
Hello everyone, today I want to share with you a series of thoughts I've had these last weeks, since I've been listening to some k-pop and watching/reading a lot of content about it, I wanted to write this as a little reflection, analysis and opinion, about everything that is behind the success of k-pop. For people who are not familiar with this term, k-pop could be summarized as a genre of music that has a mixture of sub-genres among them are pop, rap, R&B, rock, among others, originated in South Korea in the nineties being mostly influenced by the American music industry and has been popularized in recent years worldwide, especially among teenagers, young adults; having this already a little clearer, let's start to delve a little deeper.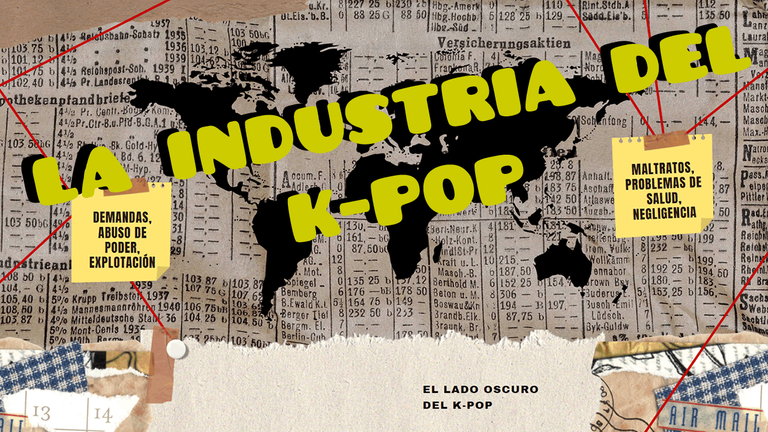 ---
¿Cómo conocí el k-pop?
Todo se remonta en el año 2016/2017 (no recuerdo exactamente) cuando vi ciertos videos, en los cuales las personas reaccionaban al k-pop, para aquel entonces no me terminó de convencer el estilo y no profundicé en el tema, luego en el año 2019 cambié de secundaria, y en esta mis compañeras eran "Armys", nombre otorgado al fandom del grupo BTS, y es aquí donde me van mostrando un poco más sobre el tema, aunque, simplemente estando más focalizado en BTS y no en la industria en general hasta que en el inicio de Octubre del 2022 escuché de manera completamente aleatoria a un grupo llamado Stray Kids y me interesé un poco y fui encontrando diferentes aspectos dentro del k-pop que me llamaron realmente la atención.
How did I get to know k-pop?
It all goes back in the year 2016/2017 (I do not remember exactly) when I saw certain videos, in which people reacted to k-pop, by that time I did not end up convincing me the style and did not delve into the subject, then in the year 2019 I changed high school, and in this my classmates were Armys name given to the fandom of the group BTS, and it is here where they show me a little more about the subject, although, just being more focused on BTS and not in the industry in general until in the beginning of October 2022 I heard in a completely random way a group called Stray Kids and I was a little interested and I was finding different aspects within k-pop that really caught my attention.
---
Empresas de entretenimiento y trainees:
Las empresas de entretenimiento sur-coreanas son aquellas que se orientan en representar, entrenar, producir, promocionar, (entre muchas cosas más) a los diferentes artistas que forman parte de la misma y que no solo son cantantes también incluyen actores. Algunas las más populares son Hybe Corporation, JYP entertainment, Cube entertainment, SM entertainment, YG entertaiment, entre otras. En realidad existen muchas empresas de este tipo pero estas suelen ser las más nombradas debido que grandes (famosos) artistas forman parte de estas; en el momento en el cual las empresas "reclutan" a nuevos miembros se hace por medio de castings entre cientos de jóvenes (entre el rango de edades de 14 y 21 años aproximadamente) y se van entrenando para ser artistas completos a nivel musical, interpretación, coreografías, entre otros e incluso algunas empresas cuentan con un "internado" en el cual los trainees pasan todo su tiempo de entrenamiento sin posibilidad de ver a sus familias y teniendo que practicar unas catorce horas diarias; el dinero que invierten las empresas en los trainees tiene que devolverse luego del debut del artista según lo estipule el contrato, aunque, no todos los trainees llegan al debut, ya que incluso después del casting puede que no lleguen a ser seleccionados de manera definitiva y obtengan una gran cantidad de deudas.
Entertainment companies and trainees:
South Korean entertainment companies are those that are oriented to represent, train, produce, promote, (among many other things) the different artists that are part of the same and that are not only singers also include actors among their represented. The most popular are Hybe Corporation, JYP Entertainment, Cube Entertainment, SM Entertainment, YG Entertainment, among others, actually there are many companies of this type but these are usually the most named because great (famous) artists are part of these; at the moment in which the companies "recruit" new members is done by means of castings among hundreds of young people (between the age range of 14 and 21 years approximately) and they are trained to be complete artists at musical level, interpretation, choreographies, among others and even some companies have a "boarding school" in which the trainees spend all their training time without the possibility of seeing their families and having to practice about fourteen hours a day; The money invested by the companies in the trainees has to be returned after the debut of the artist as stipulated in the contract, although not all trainees reach the debut, since even after the casting they may not be selected definitively and get a large amount of debts.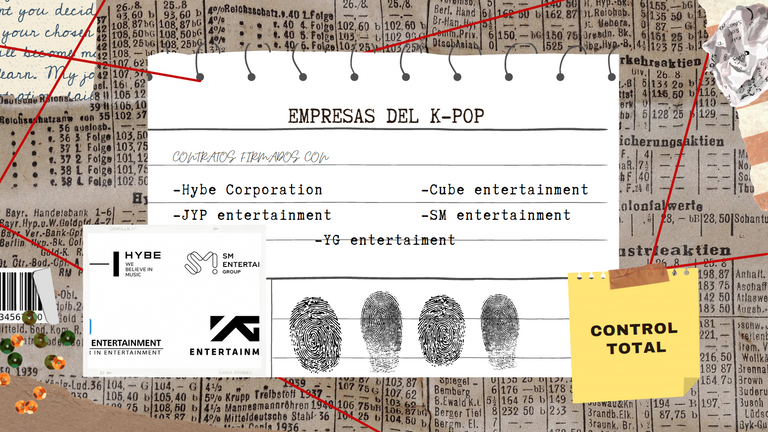 ---
Grupos e ingresos financieros:
En las empresas ciertamente hay artistas en solitarios, aunque, lo más popular son las girlband (Blackpink, Red Velvet, Twice, Itzy, Ive, Mamamoo, New Jeans, entre otros) y boyband (Stray Kids, BTS, TXT, EXO, Enhypen, entre otros) dentro de los miembros se suelen encontrar diferentes títulos como el líder, el bailarín principal, el vocalista principal, el visual, dependiendo del número de miembros del grupo y como este distribuido. Estos crean una gran cantidad y variedad de contenido para sus redes sociales, productos de mercadotecnia, eventos, shows y mucho más, generando más ganancias para las empresas, ya que, son estas las que se quedan con la mayoría de los ingresos que producen, y un menor porcentaje es realmente para los artistas.
Groups and financial income:
In the companies there are certainly solo artists, although, the most popular are the girlband (Blackpink, Red Velvet, Twice, Itzy, Ive, Mamamoo, New Jeans, among others) and boyband (Stray Kids, BTS, TXT, EXO, Enhypen, among others) within the members are usually found different titles such as the leader, the main dancer, the main vocalist, the visual, depending on the number of members of the group and how this distributed. They create a large amount and variety of content for their social networks, marketing products, events, shows and much more, generating more profits for the companies, since they are the ones who keep most of the income they produce, and a smaller percentage is actually for the artists.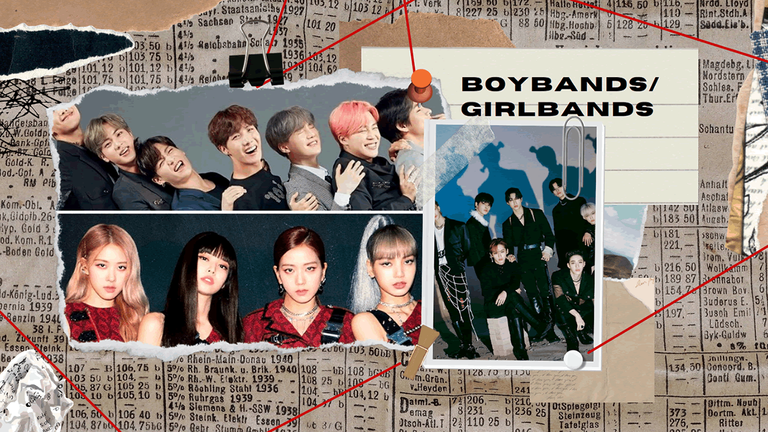 ---
La idealización de los Idols:
Los idols es el título que se le otorga a los artistas dentro del k-pop, debiéndose crear una imagen perfecta, fuera de escándalos, (esto puede incluir ships entre un artista y otro, comportamientos que se consideren inapropiados, entre otros) desde el exterior se deben ver como seres realmente impresionantes, pero en realidad todo esto se debe al riguroso control que tienen las empresas sobre los artistas, los contratos que suelen durar unos siete años y que mantiene al idol en una larga serie de restricciones, desde lo que debe hacer en su tiempo libre, horarios, imagen, y los largas jornadas laborales sin contar que se han reportado en redes el abuso físico /psicológico que algunos han llegado a sufrir por parte de los directivos de las empresas teniendo que soportar esta clase de tratos para llegar satisfacer tanto a las empresas como a los fanáticos.
The idealization of Idols:
Idols is the title given to artists within k-pop, having to create a perfect image, free of scandals, (this can include ships between one artist and another, behaviors that are considered inappropriate, among others) from the outside they must be seen as really impressive beings, but in reality this is all due to the rigorous control that companies have over the artists, contracts that usually last about seven years and that keeps the idol in a long series of restrictions, from what to do in their free time, schedules, image, and long working hours without counting that have been reported in networks the physical / psychological abuse that some have come to suffer by the managers of the companies having to endure this kind of treatment to get to satisfy both companies and fans.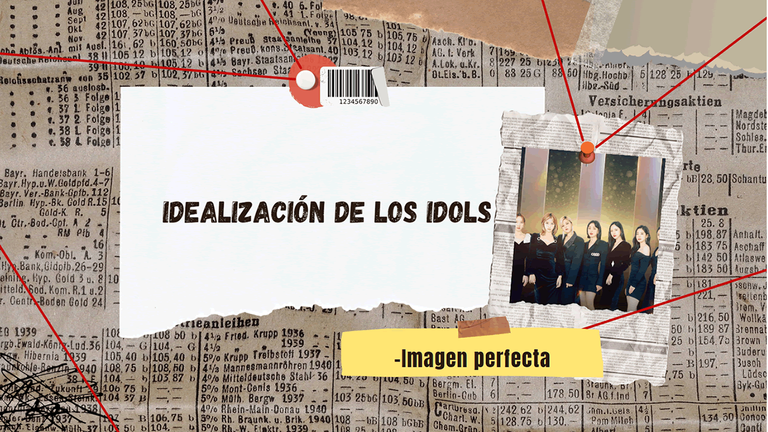 ---
Dietas, cirugías, imagen personal y salud:
Las dietas son una práctica que realizan con frecuencia los idols, sobre todo antes de un comeback, para alcanzar los estrictos estándares de belleza que se tiene en la cultura del k-pop, pero pueden llegar a ser muy peligrosas, ya que varios artistas han comentado que en algún momento de sus carreras han realizado dietas extremas e incluso algunos han desarrollado trastornos de alimentación, manteniendo una gran carga de estrés, ya no solo para crear la imagen perfecta, sino también por las largas jornadas laborales; cuando realizan presentaciones que cuentan con complejas coreografías los idols requieren de una gran cantidad de energía que no pueden obtener, ya que no se nutren lo suficiente dejando como resultado que se lleguen a desmayar en shows. Las cirugías no suelen ser un tema del cual se hable públicamente, pero por diferentes imágenes de antes y después de los idols las personas pueden asumir que es bastante común que en el período de entrenamiento los idols se hayan realizado algún procedimiento estético; algo también importante a mencionar es que incluso cuando un idol tiene alguna lesión o algún tipo de problema de salud, por lo general se les ve que siguen con sus horarios establecidos y muchas fans exigen luego en redes sociales a las empresas que les den a los idols un trato digno, alegando que hay sobreponer la salud antes que el dinero o las "obligaciones".
Diets, surgeries, personal image and health:
Diets are a practice frequently performed by idols, especially before a comeback, to achieve the strict standards of beauty that is held in the k-pop culture, but they can become very dangerous, as several artists have commented that at some point in their careers have made extreme diets and some have even developed eating disorders, maintaining a great burden of stress, not only to create the perfect image, but also because of the long working hours; When performing complex choreographed shows, idols require a great amount of energy that they cannot obtain, as they do not get enough nutrition, resulting in them fainting during shows. Surgeries are not usually a topic that is talked about publicly, but by different before and after images of idols people can assume that it is quite common that in the training period idols have had some aesthetic procedure; something also important to mention is that even when an idol has an injury or some kind of health problem, they are usually seen to continue with their established schedules and many fans then demand on social networks to companies to give idols a dignified treatment, claiming that health must be put before money or "obligations".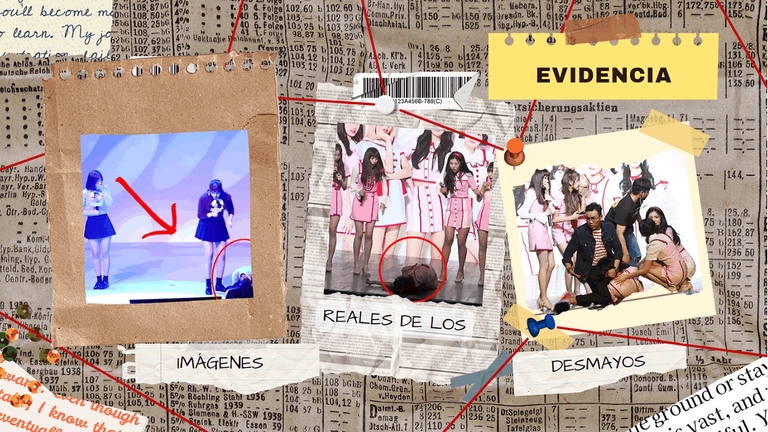 ---
Conclusión personal:
Aunque la cultura del k-pop ofrece una gran cantidad, variedad de contenido con un alto nivel de calidad y excelencia, no se debe olvidar los otros factores que están detrás de toda la producción, siento que muchas personas critican (incluso llegan al punto de hacer amenazas online hacia un grupo o idol) por pequeños detalles como la imagen corporal, hacen comparaciones entre idols, e invaden la privacidad de los artistas, mientras que las empresas muchas veces solo quieren hacer más ventas e incrementar los ingresos, yo pensaba que el k-pop era un mundo color de rosa, donde un montón de personas cantaban y bailaban mientras se veían bien en el proceso, recibiendo un montón de amor, fama y dinero por parte de los fanáticos, pero cuando uno ve un poco más allá se encuentra de que no es así, es todo un proceso, años y años antes de que se realice su debut, en dado caso de que lo haya, ya que, uno entre cientos lo consigue, siento de que sin ninguna a duda los idols son personas de constancia, dedicación y trabajo duro, y ha cambiado por completo mi perspectiva de que simplemente eran famosos por ser lindas/os y el resto era un mínimo de esfuerzo, sin saber que detrás están la falta de descanso, el desgaste físico y emocional, el maltrato, odio y negligencia que pueden llegar a recibir.
Personal conclusion:
Although k-pop culture offers a great quantity, variety of content with a great level of quality and excellence, one should not forget the other factors that are behind all the production, I feel that many people criticize (even go to the point of making online threats towards a group or idol) for small details such as body image, make comparisons between idols, and invade the privacy of the artists, while companies often just want to make more sales and increase revenue, I thought k-pop was a rosy world, where a lot of people sang and danced while looking good in the process, receiving a lot of love, fame and money from the fans, but when you look a little further you find out that it is not like that, it's a whole process, years and years before their debut is made, if at all, because one out of hundreds makes it, I feel that without any doubt the idols are people of constancy, dedication and hard work, and it has completely changed my perspective that they were simply famous for being cute and the rest was a minimum of effort, without knowing that behind are the lack of rest, physical and emotional wear, abuse, hatred and neglect that they may receive.
---
Muchísimas gracias por leer! | Thank you very much for reading!
✌️
-- Todas las imágenes son de mi autoría, editadas con FIREWORKS / CANVA --
-- All images belong to my authorship, edited with FIREWORKS / CANVA --
✌️
---
---