[ESP/ENG] Mi primer amigurumi | My first amigurumi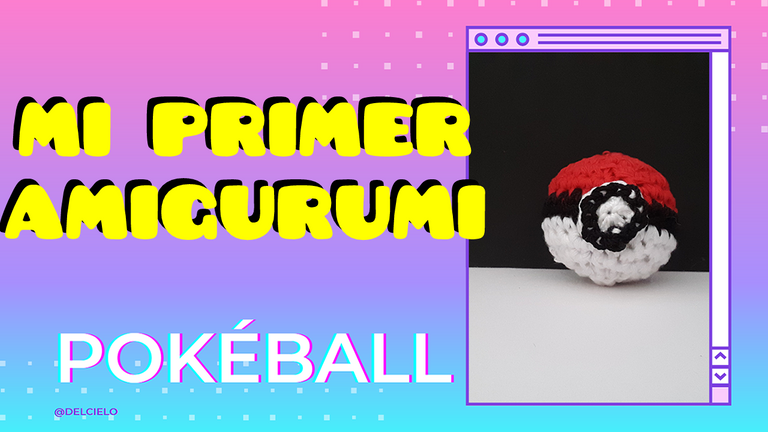 ---


Hola a todos, les quiero presentar el día de hoy, mi pequeña creación un amigurumi de Pokébola, y he de admitir que esta es la primera vez que hago una pieza como esta, e incluso me sorprende a mí misma, porque desde los trece años he estado tejiendo a crochet, y nunca antes había realizado algo similar, en realidad fue mi mamá la que me dijo que yo debería hacer unos amigurumis y cuando se dio cuenta de que yo no tenía ni idea de lo que estaba hablando, me mostró unas imágenes realmente fabulosas, lo que más me impresionó fue ver como las personas pueden llegar a tener ese nivel de creatividad y que puedan desarrollar tan increíbles proyectos; desde ahí me di cuenta de que quería tener mi pequeña colección de amigurumis e ir documentando el proceso, al principio no tenía ni idea de cómo ni por dónde empezar, tenía tantas ideas e inspiración pero poca técnica así que decidí comenzar por una pieza que vi que era fundamental conocer para realizar diversos diseños de amigurumis, una esfera, pero le quise dar un pequeño giro, ya que tener una esfera unicolor no era lo que quería, como parte de mi anhelada colección de amigurumis, así que al final decidí hacer una Pokébola, aunque nunca he sido una gran fan de Pokémon pronto se efectuará el lanzamiento de la nueva generación de juegos Pokémon para Nintendo Switch "Escarlata y Púrpura" lo que me inspiró a realizar éste diseño, además que, cumplía perfectamente con mis requerimientos, algo fácil y lindo con lo que pudiese comenzar a explorar este nuevo mundo del tejido a crochet.
Hello everyone, I want to present you today, my little creation a Poké Ball amigurumi, and I have to admit that this is the first time I make a piece like this, and even I am surprised myself, because since I was thirteen years old I have been crocheting, and I had never made something similar before, actually it was my mom who told me that I should make some amigurumis and when she realized that I had no idea what she was talking about, she showed me some really fabulous images, what impressed me the most was to see how people can get to have that level of creativity and that they can develop such incredible projects; From there I realized that I wanted to have my small collection of amigurumis and document the process, at first I had no idea how or where to start, I had so many ideas and inspiration but little technique so I decided to start with a piece that I saw that it was essential to know to make various amigurumis designs, a sphere, but I wanted to give it a little twist, since having a one-color sphere was not what I wanted, as part of my desired collection of amigurumis, so in the end I decided to make a Poké ball, although I've never been a big Pokémon fan, the release of the new generation of Pokémon games for Nintendo Switch "Scarlet and Violet" will soon take place, which inspired me to make this design, besides, it perfectly fulfilled my requirements, something easy and cute with which I could start exploring this new world of crochet knitting.
---


Cuando empecé a realizar la Pokébola la verdad es que pensé que iba a ser algo súper fácil de hacer, pero cuando iba tejiendo noté que la forma que estaba teniendo se veía bastante extraña, pero, igualmente seguí tejiendo hasta que llevaba más de la mitad del proceso y me di cuenta de que había hecho todo mal, primero al comenzar a disminuir cometí varios errores y luego la medida que tendría la Pokébola eran las incorrectas, así que tuve que volver a empezar desde cero y ajustar el patrón que había hecho al principio, por eso me demoré un poco más de lo que había pensado, pero también me sirvió para darme cuenta de que todavía tengo muchas cosas que aprender, y que no todo me va a salir a la primera, se necesita un poco de paciencia y práctica, para que salgan bien las cosas, ya en mi segundo intento si me salió como yo quería, ahora solo me falta seguir practicando y aprender a hacer nuevas cosas. Y si tú que lees esto, también estás empezando o te interesa el mundo de los amigurumis espero que disfrutes de este proyecto.
When I started to make the Poké Ball the truth is that I thought it was going to be something super easy to make, but when I was knitting I noticed that the shape I was having looked quite strange, but, anyway I continued knitting until I was more than half way through the process and I realized that I had done everything wrong, first when I started to decrease I made several mistakes and then the size that the Poké Ball would have were wrong, so I had to start again from scratch and adjust the pattern I had made at the beginning, that's why it took me a little longer than I had thought, but it also helped me to realize that I still have many things to learn, and that not everything will come out the first time, it takes a little patience and practice to get things right, and in my second attempt it came out as I wanted, now I just need to keep practicing and learn to do new things. And if you reading this, you are also starting or you are interested in the world of amigurumis, I hope you enjoy this project.
---
Materiales:
-Hilo de algodón color blanco.
-Hilo de algodón color rojo.
-Hilo de algodón color negro (aunque en mi caso particular no tenía hilo de algodón de ese color, así que opté por utilizar hilo nylon y como se utiliza muy poco hilo de este color, casi no se nota y no me afectó en el resultado final).
-Algodón antialérgico.
-Silicón frío.
Materials:
-White cotton thread.
-Red cotton thread.
-Black cotton thread (although in my particular case I did not have cotton thread of that color, so I chose to use nylon thread and as very little thread of this color is used, it is almost not noticeable and it did not affect the final result).
-Anti-allergic cotton.
-Cold silicone.
---
Herramientas para realizar la Pokébola:
-Aguja número triple cero (000).
-Tijeras (para cortar el hilo).
-Marcadores (para que sea más fácil poder identificar el inicio de cada vuelta).
Tools to make the Poké Ball:
-Needle number triple zero (000).
-Scissors (to cut the thread).
-Markers (to make it easier to identify the beginning of each turn).
---
Pasos para realizar la Pokébola:
Steps to make the Poké Ball:
1era vuelta: Realizar un anillo mágico y hacer seis puntos bajos.
1st round: Make a magic ring and make six single crochet stitches.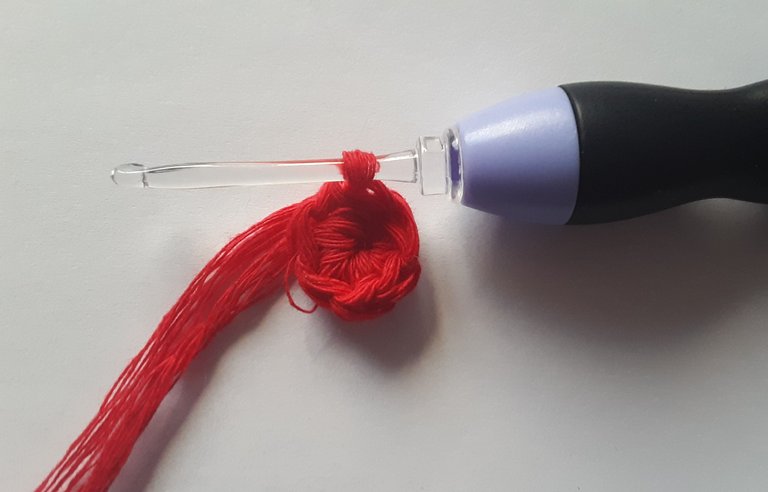 ---


2da vuelta: Realizar dos puntos bajos en cada punto de la vuelta anterior, obteniendo doce puntos en total.
2nd round: Knit two single crochet stitches in each stitch of the previous round, making twelve stitches in total.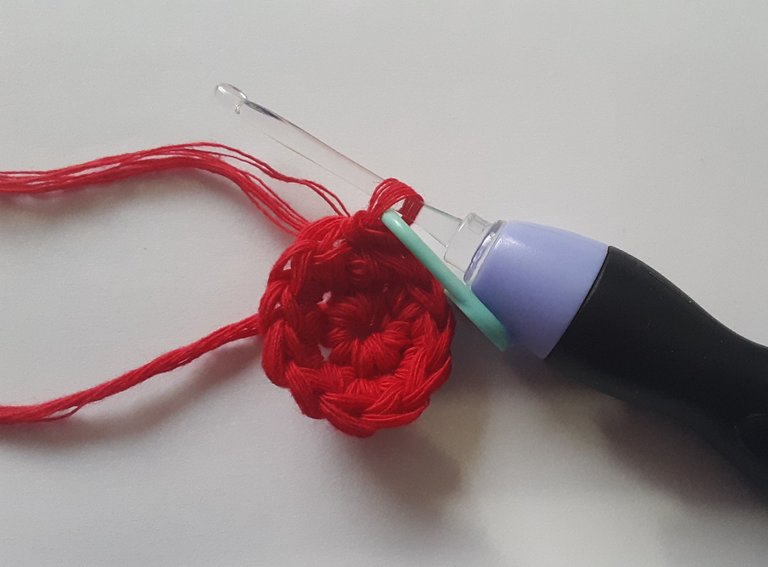 ---


3era vuelta: Ahora vamos a seguir una secuencia primero hay que realizar un punto bajo y luego dos puntos bajos en un mismo punto de la vuelta anterior, hasta completar toda la vuelta resultando un total de dieciocho puntos.
3rd round: Now we are going to follow a sequence first we have to knit one single crochet and then two double crochets in the same stitch of the previous round, until we complete the whole round for a total of eighteen stitches.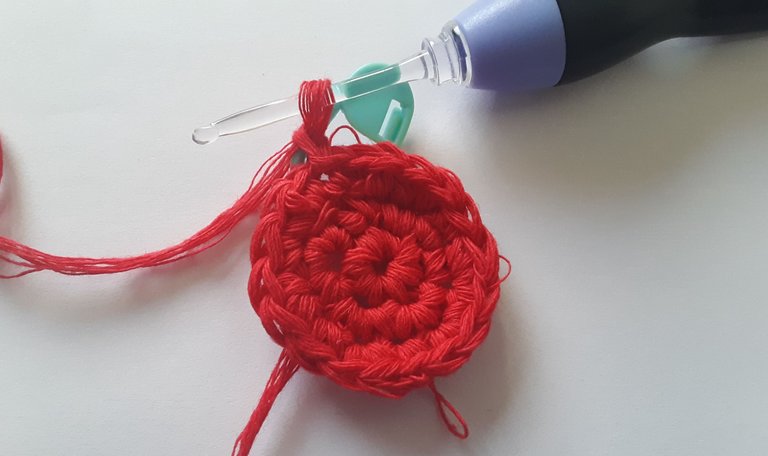 ---


4ta vuelta: Ahora tenemos que tejer dos puntos bajos en cada punto de la vuelta anterior, y dos puntos bajos en un mismo punto de la vuelta anterior, repetir esta secuencia hasta completar la vuelta para obtener veinticuatro puntos en total.
4th round: Now we have to knit two single crochet stitches in each stitch of the previous round, and two single crochet stitches in the same stitch of the previous round, repeat this sequence until completing the round to obtain twenty-four stitches in total.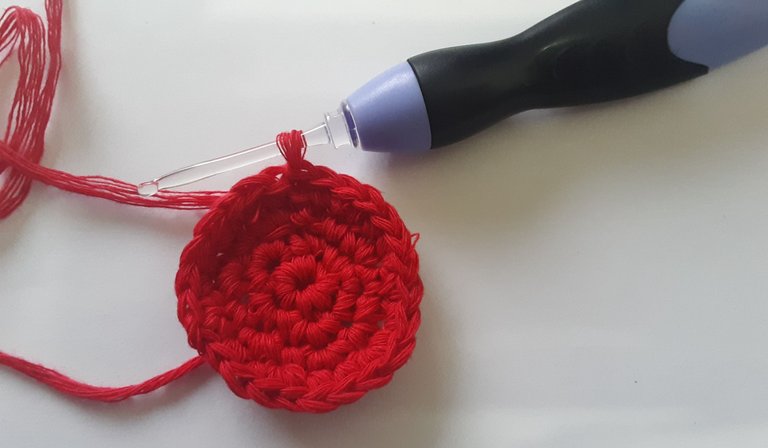 ---


5ta vuelta: En esta vuelta tenemos que tomar el hilo de color negro y se empieza a tejer solo por la hebra de atrás, siguiendo la secuencia que hicimos en la vuelta anterior, la cual, se va a seguir repitiendo hasta la novena vuelta.
5th round: In this round we have to take the black yarn and start crocheting only by the back strand, following the sequence we did in the previous round, which will continue repeating until the ninth round.
---


6ta vuelta: Seguir tejiendo con el hilo negro asegurándonos de que cuando se termine la vuelta resulten un total de veinticuatro puntos.
6th round: Continue crocheting with the black yarn making sure that when the round is finished there are a total of twenty-four stitches.
---


7ma vuelta: Empezar a tejer con el hilo de color blanco asegurándonos de tomar solo la hebra de atrás del hilo de la vuelta anterior.
7th round: Start knitting with the white yarn, making sure to pick up only the back strand of the yarn from the previous round.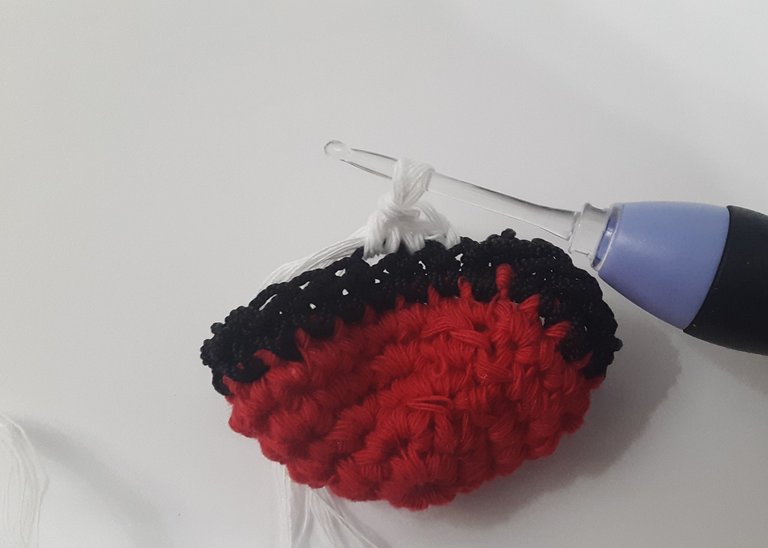 ---


8va vuelta: Esta va a ser la última vuelta en la que se sigue la secuencia que hemos estado haciendo hasta ahora.
8th round: This will be the last round in which we follow the sequence we have been doing so far.
---


9na vuelta: Comenzamos a realizar dos puntos bajos en cada punto de la vuelta anterior y luego, se realiza una disminución invisible, quedando así dieciocho puntos. Ahora este sería el momento para rellenar la esfera con el algodón antialérgico.
9th round: We start by making two single crochet stitches in each stitch of the previous round and then, we make an invisible decrease, leaving eighteen stitches. Now it is time to fill the sphere with the anti-allergic cotton.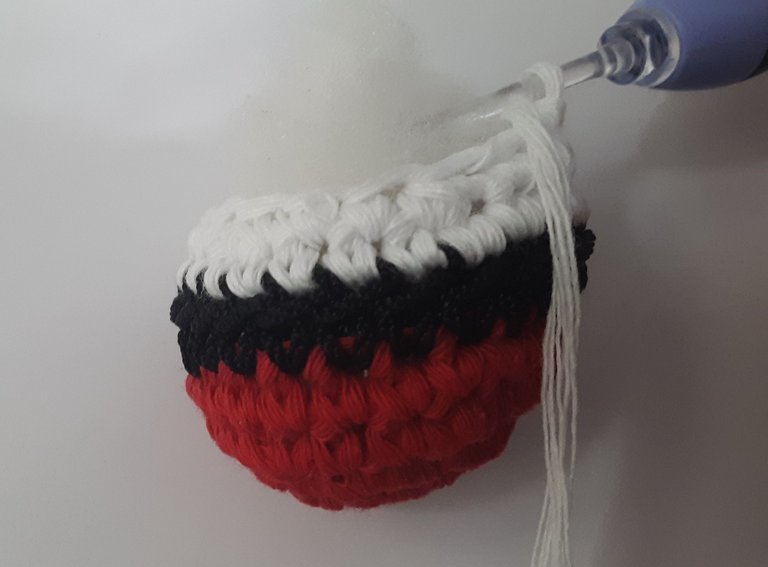 ---


10ma vuelta: Realizar un punto bajo y una disminución invisible para que queden un total de doce puntos.
10th round: Make a single crochet and an invisible decrease for a total of twelve stitches.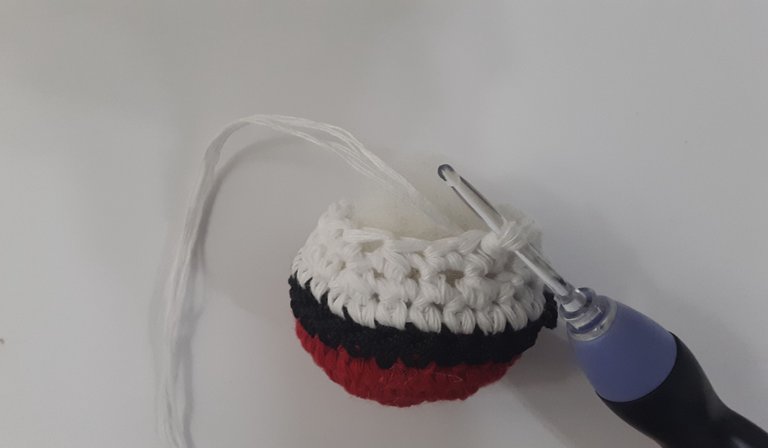 ---


11va vuelta: Realizar seis disminuciones invisibles para luego, cerrar la esfera.
11th round: Make six invisible decreases and then close the sphere.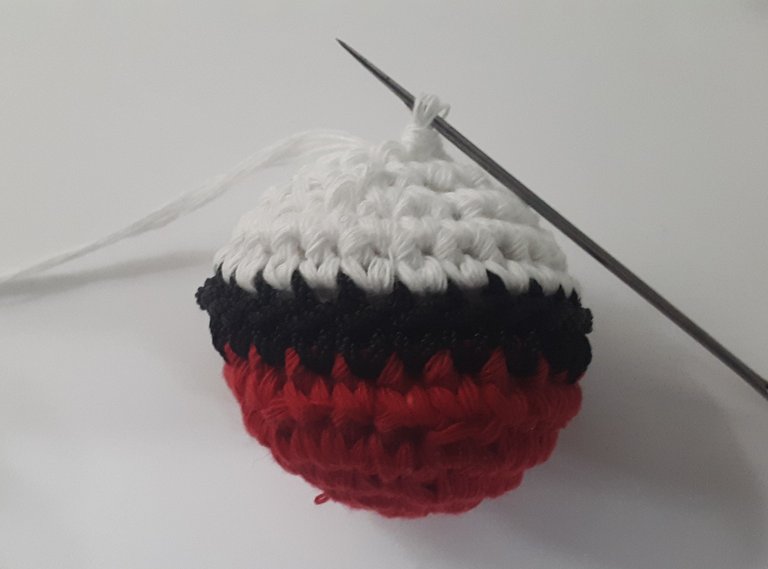 ---


Para realizar el aplique que tiene la Pokébola haremos un anillo mágico y luego, seis puntos bajos con el hilo de color blanco; ahora se teje con el hilo de color negro tomando solo la hebra de atrás de la vuelta anterior y realizar dos puntos bajos en cada punto. Para pegarlo solo calculé donde quedaría centrado y utilicé silicón frio.
To make the applique that has the Poké Ball we will make a magic ring and then, six single crochet stitches with the white yarn; now we crochet with the black yarn taking only the back strand of the previous row and make two single crochet stitches in each stitch. To glue it I only calculated where it would be centered and used cold silicone.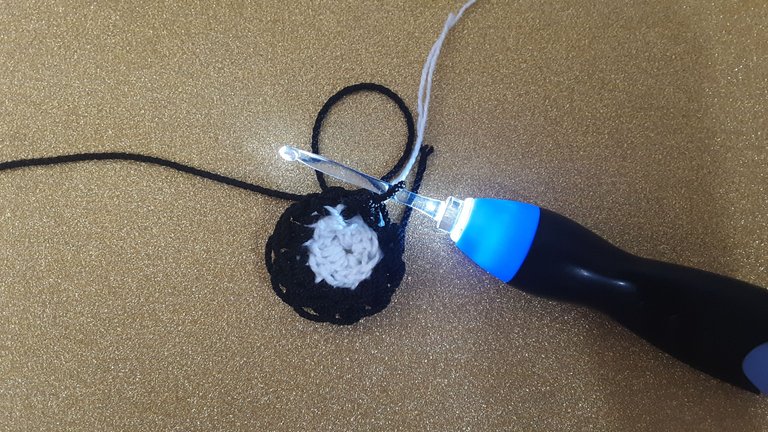 ---


¡Listo! Espero que les haya gustado y no puedo esperar para seguir aprendiendo y continuar trabajando para tener una gran colección de amigurumis, ya que, no se va a hacer sola. Y si tienes algunas recomendaciones o ideas para realizar más amigurumis no dudes en dejarlo en los comentarios.
Done! I hope you liked it and I can't wait to keep learning and continue working to have a great amigurumis collection, because, it's not going to be done by itself. And if you have any recommendations or ideas to make more amigurumis feel free to leave it in the comments.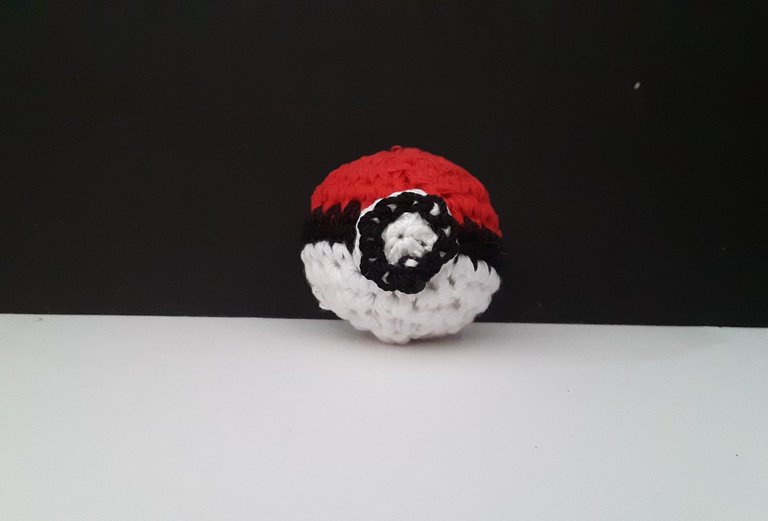 ---
Muchísimas gracias por leer! | Thank you very much for reading!
✌️
-- Todas las imágenes son de mi autoría, editadas con FIREWORKS / CANVA --
-- All images belong to my authorship, edited with FIREWORKS / CANVA --
✌️
---
---