[ESP/ENG] ¿Por Qué Desaparecí por 3 MESES?...Cambios. | Why did I disappear for 3 MONTHS?...Changes.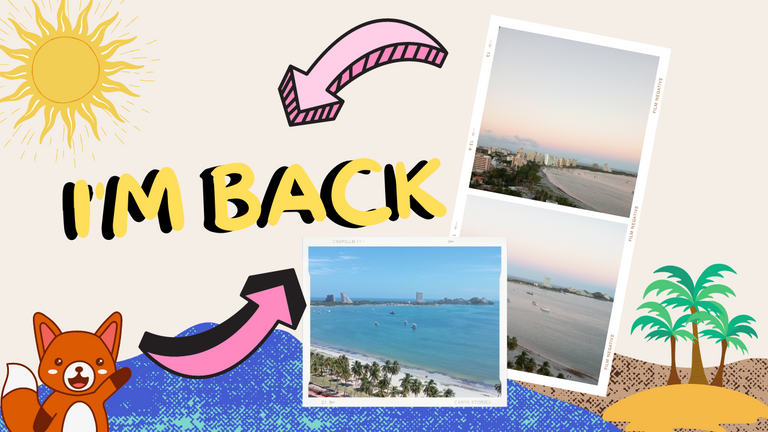 ---
Hola a todos, bienvenidos de nuevo a mi rinconcito en el internet, los extrañé un montón, pero, estamos de vuelta y eso es lo más importante, que aunque, nos vayamos por un tiempo regresemos incluso mejor de cómo nos fuimos, quizás este post sea un poco innecesario para muchos, pero siento que les necesito dar una explicación, ya que, hay muchas personas que realmente han conectado con mi contenido, y que quizás se extrañen que no volví a publicar, he desaparecido alrededor de tres meses ya, de la comunidad de Hive, en un principio, fue paulatino y pensé que iba a volver después de un par de semanas, luego llegó la celebración de la navidad y el año nuevo, y me dije a mi misma que haría mi regreso los primeros días de enero, pero eso tampoco paso, mi vida ha pasado por una serie de cambios, y en consecuencia, yo también he sufrido cambios, realmente no sentí en todo este tiempo transcurrido ningún rastro de motivación o mejor dicho siento que me deje llevar por mis propios pensamientos destructivos, miedos e inseguridades, me daba terror el hecho de escribir hacia un público, realmente no quería defraudar, sentía que solo sería capaz de postear contenido mediocre, con poca creatividad y por ende de manera inconsciente, sin ni siquiera darme cuenta de lo que yo misma me estaba haciendo me deje dominar por esas fuertes emociones negativas, y fui retrasando lo inminente, no quería enfrentarme a mis miedos, y sé que habrá personas que en este momento estén pensando, ¿qué miedo da en publicar en Hive? lo más "difícil", el empezar ya lo había hecho, y tienen razón pero mi mente quizás trabaja un poco diferente al resto, no lo sé, e incluso mientras escribo esto me pregunto si alguien más se ha sentido así, quizás no en el mismo ámbito, o al mismo nivel, pero que te quedes paralizado completamente sólo por el terror que provoca tu propia mente, un miedo completamente injustificado, hay muchas cosas que he querido hacer o decir y que nunca las hice, quiero cambiar eso este año, paso a paso, sé que será difícil o al menos incómodo, pero, también sé que al final son cosas que necesitan hacerse si quiero seguir viviendo en vez de sólo existiendo, quizás me estoy yendo muy profundo, pero, espero que si alguien necesitaba estas palabras, las lea y vea como una señal, para reflexionar y hacer aquellos cambios que sabemos que tenemos que hacer en nosotros mismos y enfrentarnos a nuestros temores.
Hello everyone, welcome back to my little corner on the internet, I missed you a lot, but, we are back and that's the most important thing, that although, we go away for a while we come back even better than how we left, maybe this post is a little unnecessary for many, but I feel I need to give you an explanation, because, there are many people who have really connected with my content, and that maybe they miss that I did not return to publish, I have disappeared about three months already, from the Hive community, at first, It was gradual and I thought I was going to return after a couple of weeks, then came the celebration of Christmas and New Year, and I told myself that I would make my return the first days of January, but that did not happen either, my life has gone through a series of changes, and consequently, I have also suffered changes, I really did not feel in all this time elapsed any trace of motivation or rather I feel that I was carried away by my own destructive thoughts, fears and insecurities, I was terrified of writing to an audience, I really did not want to disappoint, I felt that I would only be able to post mediocre content, with little creativity and therefore unconsciously, without even realizing what I was doing to myself, I let myself be dominated by those strong negative emotions, and I was delaying the imminent, I did not want to face my fears, and I know there will be people who at this moment are thinking, what fear is there in publishing on Hive? the most "difficult" thing, starting had already been done, and they are right but my mind maybe works a little differently than the rest, I don't know, and even as I write this I wonder if anyone else has felt this way, maybe not in the same field, or at the same level, but that you are completely paralyzed just by the terror that your own mind provokes a completely unjustified fear, there are many things I have wanted to do or say and never did, I want to change that this year, step by step, I know it will be difficult or at least uncomfortable, but, I also know that in the end these are things that need to be done if I want to continue living instead of just existing, maybe I am going too deep, but, I hope that if someone needed these words, they read them and see them as a sign, to reflect and make those changes we know we need to make in ourselves and face our fears.
---
Otro cambio que he tenido, fue que en enero mi familia y yo nos mudamos a otra residencia, así que enero fue realmente complicado y estresante, todavía el internet no está funcionando muy bien, y nos seguimos adaptando al nuevo lugar, aunque, hay que hacerle algunos arreglos al apartamento, tiene un comodín muy especial, ya que, las vistas son increíbles sobre todo el atardecer, amanecer y en la noche con la luna, el mar y las lucecitas encendidas de los edificios, todavía no me he bañado en la playa, porque, tengo un resfriado, aunque, ya me siento un poco mejor, los fines de semana la playa es una locura con un montón de gente, en general me gusta mucho. Quisiera prometerles constancia permanente en mi contenido, pero sé que eso es algo casi imposible al menos en mi caso, espero no volver a desaparecer o al menos no por tanto tiempo; mi contenido no tiene un enfoque en especifico y así me agrada, no quiero tener restricciones y esto ya lo he mencionado en otra publicación, seguiré explorando y expandiendo mi contenido, veremos donde nos lleva este camino.
Another change I have had, was that in January my family and I moved to another residence, so January was really complicated and stressful, still the internet is not working very well, and we are still adapting to the new place, although, we have to make some arrangements to the apartment, it has a very special wildcard, because, the views are amazing especially the sunset, sunrise and at night with the moon, the sea and the little lights on the buildings, I have not yet bathed at the beach, because, I have a cold, although, I feel a little better, on weekends the beach is crazy with a lot of people, in general I like it a lot. I would like to promise you permanent constancy in my content, but I know that this is something almost impossible at least in my case, I hope not to disappear again or at least not for so long; my content does not have a specific focus and I like that, I do not want to have restrictions and I have already mentioned this in another publication, I will continue exploring and expanding my content, we will see where this path takes us.
---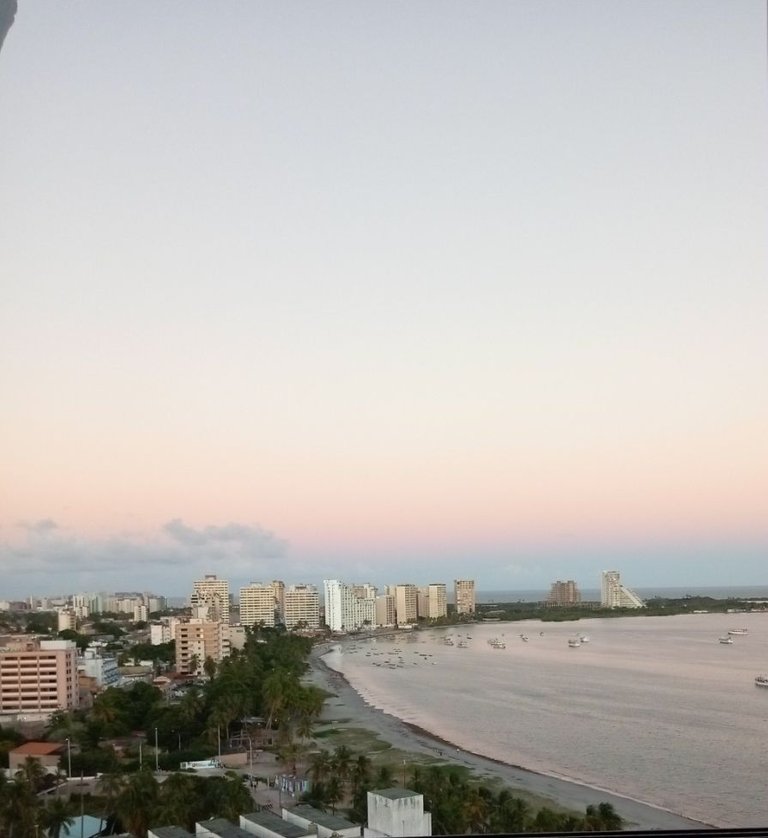 The view
---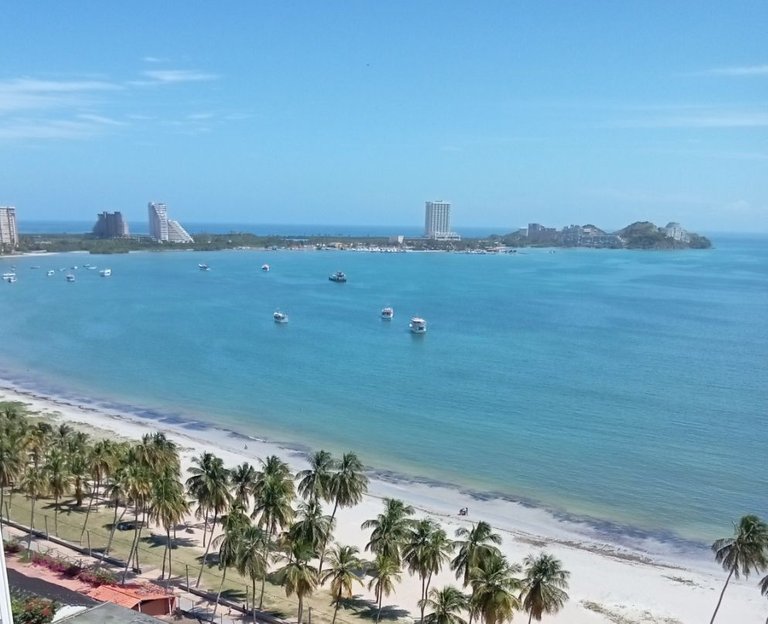 ---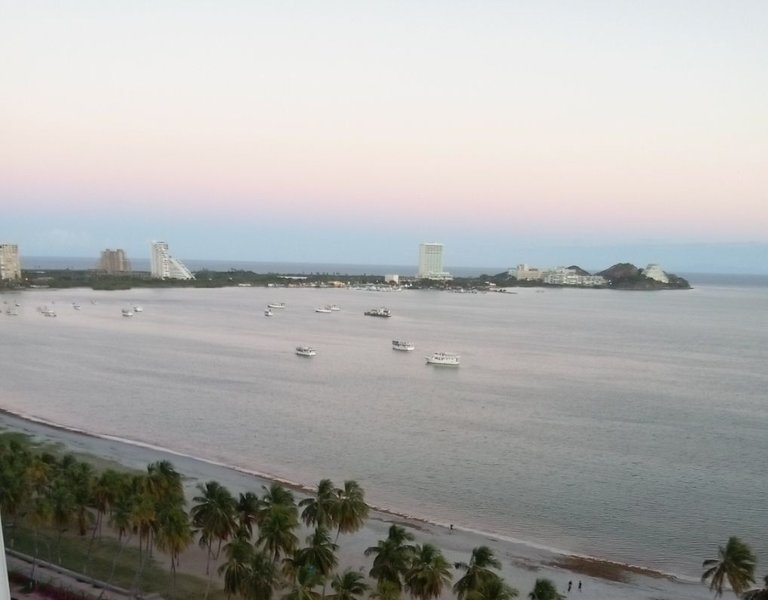 ---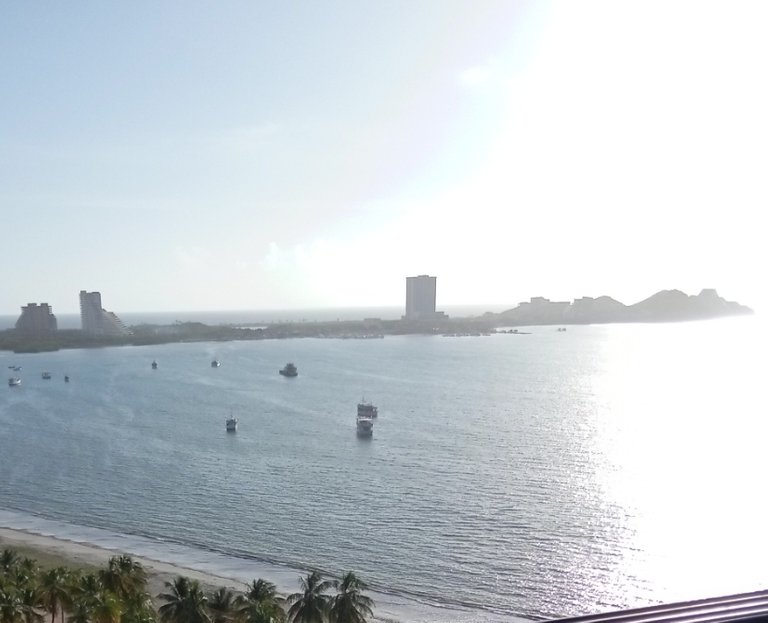 ---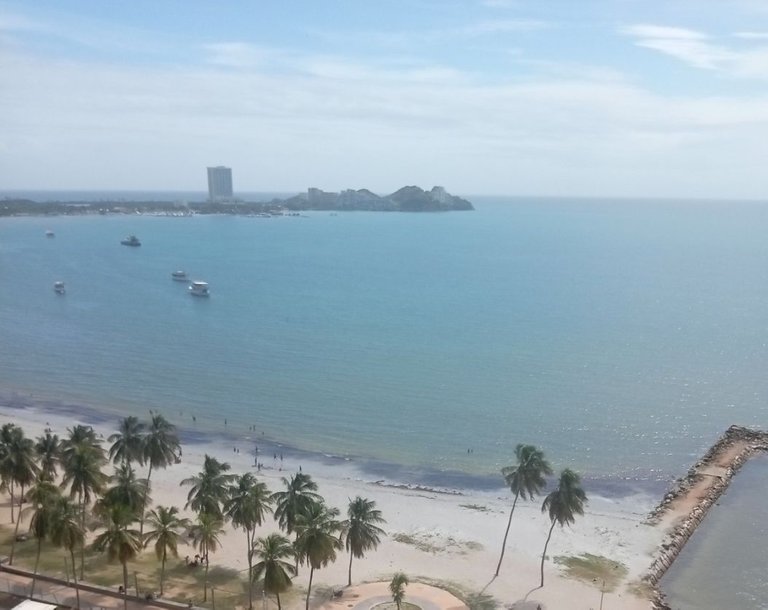 ---
Muchas gracias por estar aquí y llegar a leer un poquito de lo que guarda mi mente, este post es algo corto, lo sé, pero sólo era para darles una pequeña actualización de lo que ha pasado en mi vida y que sepan que la cuenta está nuevamente activa, espero que por un buen tiempo. Algo un poco fuera de tema pero les hago mi recomendación musical "OMG" de New Jeans y les pregunto si tienen alguna recomendación musical que quieran hacerme, estoy abierta a cualquier género o artista, déjenlo en los comentarios y espero que pasen un lindo día, tarde o noche, y encontrarnos de nuevo muy pronto, bye.
Thank you very much for being here and getting to read a little bit of what my mind keeps, this post is a little short, I know, but it was just to give you a little update of what has happened in my life and to let you know that the account is active again, hopefully for a good time. Something a little off topic but I make my musical recommendation "OMG" by New Jeans and I ask you if you have any musical recommendation you want to make me, I am open to any genre or artist, leave it in the comments and I hope you have a nice day, afternoon or evening, and meet again very soon, bye.
---
Muchísimas gracias por leer! | Thank you very much for reading!
✌️
-- Todas las imágenes son de mi autoría, editadas con FIREWORKS / CANVA --
-- All images belong to my authorship, edited with FIREWORKS / CANVA --
✌️
---
---