[ESP/ENG] Porta maceta a crochet | Crochet pot holder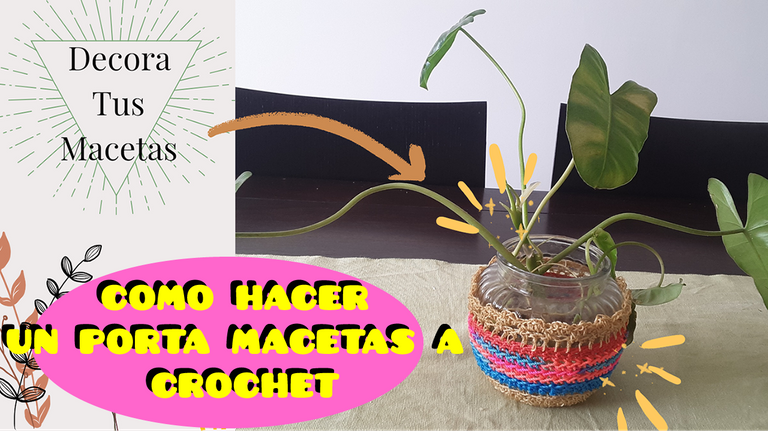 Hola a todos, el día de hoy les presento un proyecto para poder decorar las macetas y que puedan lucirse, aún más las plantas que tengamos (aunque yo soy muy mala cuidando plantas), así que les voy a resumir un poco la historia detrás de la idea de este proyecto, para empezar, mi abuela y yo vivimos en Estados diferentes del país (Venezuela) y unos amigos de la familia que viven cerca de mi abuela, están de visita, así que, ella me dijo que era una excelente oportunidad para que le hiciera alguna manualidad y se la pudiese mandar a través de nuestros amigos, y justo me acordé que hace unas semanas me había dicho en una llamada que tenía unas plantas, pero que, no tenía unas macetas bonitas e incluso tenía algunas de ellas en envases de plástico (lavaplatos, mantequilla, comida rápida, entre otros) así que ella no sabía cómo hacer para que pudiesen combinar con el resto de la decoración de su apartamento, es por ello que se me ocurrió que le podía hacer una especie de forro para cubrir la parte exterior de las macetas, pero rápidamente me di cuenta de que no me serviría cualquier hilo, por ejemplo, uno de algodón, ya que se podría manchar fácilmente por la tierra o mojarse; necesitaría de un material más resistente, buscando por toda la casa encontré unos hilos nylon de mi mamá, siendo estos muy resistentes pudiendo quedar intacto, luego de mucho tiempo bajo estas condiciones un tanto intensas; pero resulta que me encontré con un pequeño inconveniente, ya que, lo que quedaba en los rollos de los hilos era prácticamente retazos, así que tendría que ideármelas para que el proyecto funcionara, al final se me ocurrió que simplemente utilizaría un poquito de varios colores de hilos y crear algo más colorido envés de hacerlo unicolor.
Hello everyone, today I present a project to decorate the pots and that they can look even more the plants we have (although I am very bad at taking care of plants), so I will summarize a little of the story behind the idea of this project, to begin, my grandmother and I live in different states of the country (Venezuela) and some family friends who live near my grandmother, are visiting, so she told me that it was an excellent opportunity to do some crafts and I could send it through our friends, and I just remembered that a few weeks ago she had told me in a phone call that she had some plants, but she didn't have nice pots and even had some of them in plastic containers (dishwasher, butter, fast food, among others) so she didn't know how to make them to match with the rest of the decoration of her apartment, That's why it occurred to me that I could make a kind of lining to cover the outside of the pots, but I quickly realized that not just any thread would do, for example, a cotton one, since it could easily get stained by dirt or get wet; I would need a more resistant material, looking around the house I found some of my mom's nylon threads, these being very resistant and being able to remain intact after a long time under these somewhat intense conditions; but it turns out that I ran into a small inconvenience, since what was left on the rolls of threads were practically scraps, so I would have to come up with them to make the project work, in the end it occurred to me that I would simply use a little bit of various colors of threads and create something more colorful instead of making it unicolor.


---
Luego de tener una idea clara de lo que quería hacer, y tener los materiales que necesitaría, me puse a trabajar lo antes posible para poder enviárselo a mi abuela a tiempo, con los retazos de hilo que tenía, e intenté hacer una combinación que quedara bien, me puse a tejer en el sofá de la sala, aunque hacía muchísimo calor, porque, había una falla eléctrica, mientras tejía me puse a escuchar música, en particular un álbum titulado Maxident del grupo Stray Kids (e incluso mientras escribo esto, estoy escuchando el álbum K-12 de Melanie Martínez), particularmente me gusta tener algún tipo de sonido de fondo mientras hago otra cosa, el tiempo se me pasó volando, tardé unas cuantas horas tejiendo, pero me la pasé genial y prácticamente hice una sesión de karaoke mientras tejía, demasiado divertido, espero que cuando mi abuela lo reciba le guste, ya que lo hice con mucho cariño, y espero que a las personas que estén leyendo esto también les sirva, exploten su creatividad, aprendan algo nuevo hoy y se animen a realizarlo.
After having a clear idea of what I wanted to make, and having the materials I would need, I got to work as soon as possible to be able to send it to my grandmother in time, with the scraps of yarn I had, and tried to make a combination that would look good, I started knitting on the living room sofa, although it was very hot, because there was an electrical failure, while knitting I started listening to music, in particular an album called Maxident by the group Stray Kids (and even as I write this, I'm listening to the album K-12 by Melanie Martinez),I particularly like to have some kind of sound in the background while doing something else, the time flew by, it took me a few hours to knit, but I had a great time and I practically did a karaoke session while knitting, too much fun, I hope when my grandmother receives it she likes it, since I made it with a lot of love, and I hope the people who are reading this will also find it useful, exploit their creativity, learn something new today and be encouraged to make it.


---
Cuidados:
En particular con el tipo de hilo que estoy utilizando no se requiere un mayor cuidado, y es por eso en específico que lo recomiendo utilizar para esta clase de trabajos, se puede mojar, sin ningún problema y en caso de lavarlo hacerlo a mano preferiblemente, sin embargo, evitar las altas temperaturas como secarlo en la secadora o plancharlo, para que permanezca intacto durante muchos años.
Care:
Particularly with the type of yarn I am using no further care is required, and that is specifically why I recommend using it for this kind of work, you could get it wet, without any problem and in case of washing it do it by hand preferably, however, avoid high temperatures such as drying it in the dryer or ironing it, so that it remains intact for many years.


---
Materiales:
-Hilo nylon #12, los colores de hilo que utilicé fueron cuatro siendo estos: coral, matizado, azul, beige.
(El color de los hilos puede variar dependiendo de los gustos de cada persona).
Materials:
-Nylon thread #12, the colors of thread I used were four being these: coral, multicolor, blue, beige.
(The color of the yarns may vary depending on each person's taste).


---
Herramientas a necesitar:
-Ganchillo de tejer número triple 0 (000).
-Encendedor (Para hacer el remate del corte de los hilos).
-Tijeras (Para cortar el hilo).
Tools you will need:
-Knitting crochet hook triple number 0 (000).
-Lighter (To finish off the cutting of the threads).
-Scissors (To cut the thread).


---
Pasos para realizar el porta macetas:
Steps to make the pot holder:
-1era vuelta: Realizar un anillo mágico.
-1st round: Make a magic ring.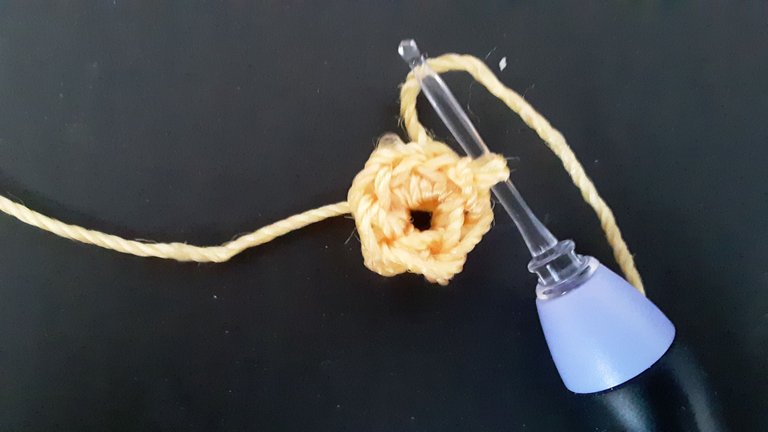 ---
-2da vuelta: Realizar doce puntos bajos.
-2nd round: Knit twelve single crochet stitches.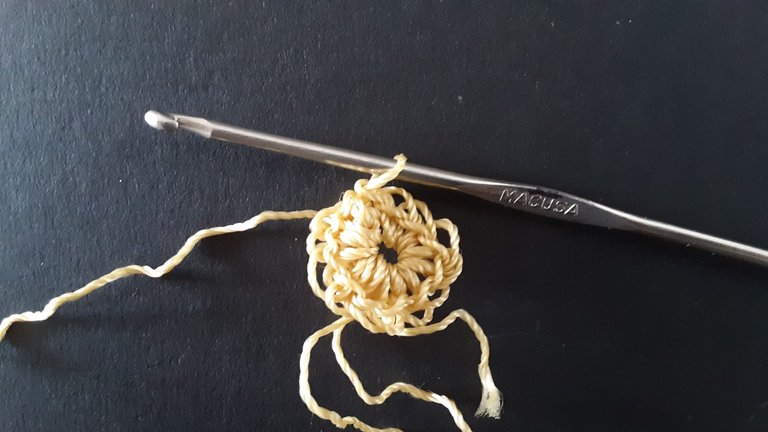 ---
-3era vuelta: Un punto bajo y dos puntos altos en cada punto de la vuelta anterior.
-3rd round: One single crochet and two double crochets in each stitch of the previous row.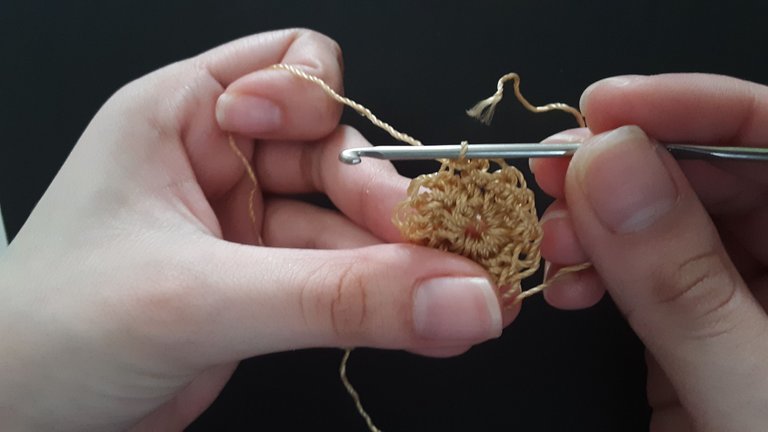 ---
-4ta vuelta: Se hace un punto bajo en cada punto de la vuelta anterior.
-4th round: Knit a single crochet in each stitch of the previous round.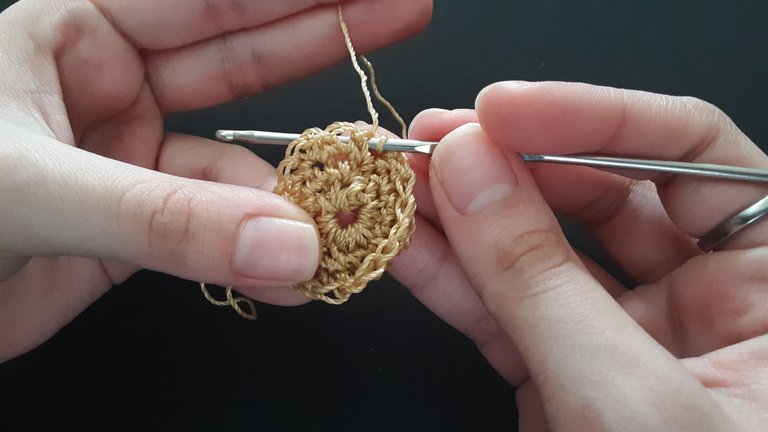 ---
-5ta vuelta: Se repite dos puntos bajos en un punto de la base y un punto bajo en un punto de la vuelta anterior.
-5th round: Repeat two single crochets in a base stitch and a single crochet in a stitch of the previous round.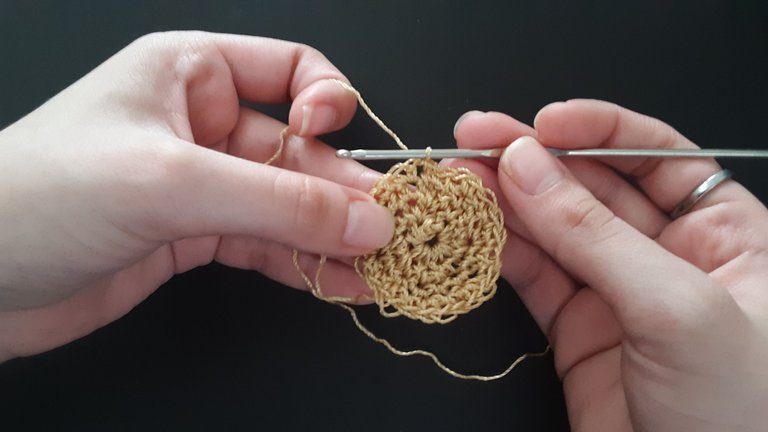 ---
-6ta vuelta: Se realiza un punto bajo por cada punto de la base.
-6th round: Knit a single crochet for each stitch of the base.


---
-7ma vuelta: Dos puntos bajos en un mismo punto y un punto bajo en el punto siguiente y repetir esta secuencia por toda la vuelta.
-7th round: Two single crochets in one stitch and one single crochet in the next stitch and repeat this sequence for the whole round.


---
-8va vuelta: Un punto bajo por cada punto de la base. Continuar así hasta completar quince vueltas.
-8th round: One single crochet for each stitch of the base. Continue in this manner until fifteen rows are completed.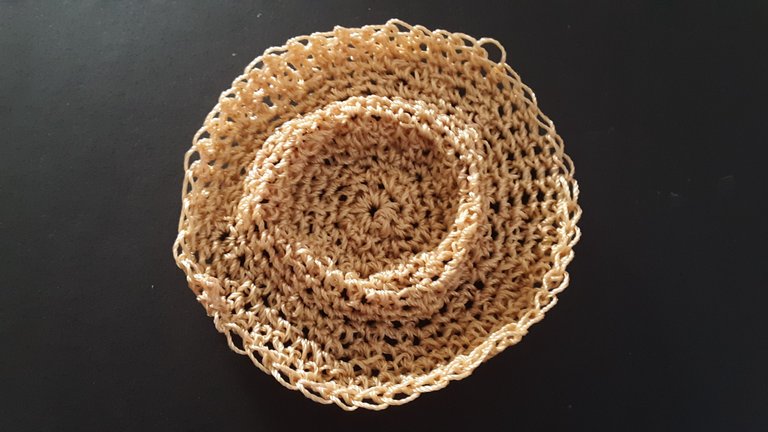 ---
-Se cambia el color del hilo y se teje en punto bajo cada punto de la base tomando la hebra de atrás.
-The color of the yarn is changed and each stitch of the base is knitted in single crochet by taking the yarn from the back.


---
-Se teje tres vueltas con el hilo de color azul en punto bajo.
-Knit three rows with the blue yarn in single crochet.



---
-Se cambia al color matizado tomando la hebra de atrás se tejen puntos bajos hasta completar tres vueltas.
-The multicolored yarn is changed by taking the yarn from the back of the yarn, and knitting a single crochet stitch until three rows are completed.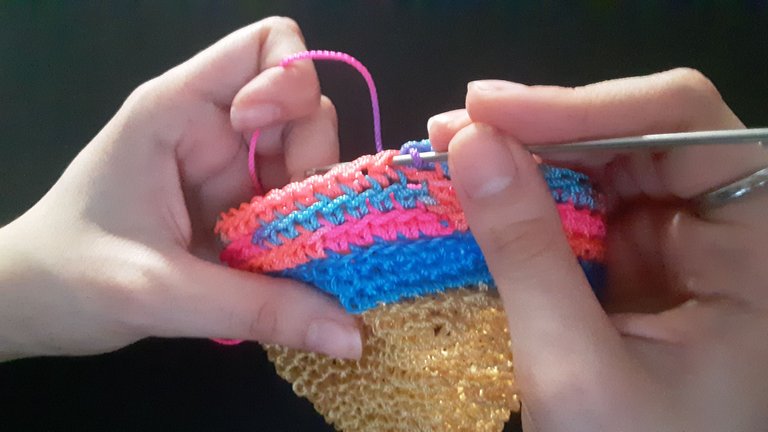 ---
-Se cambia al color coral con punto bajo tomando la hebra de atrás se y tejen tres vueltas.
-Change to coral color with single crochet and knit three rows.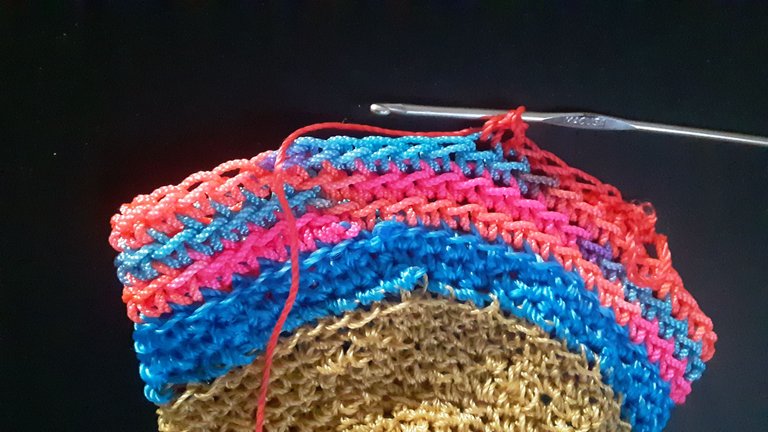 ---
-Se toma el hilo beige y se realiza tres cadenas y un punto bajo de la vuelta anterior.
-Take the beige yarn and knit three chains and a single crochet from the previous row.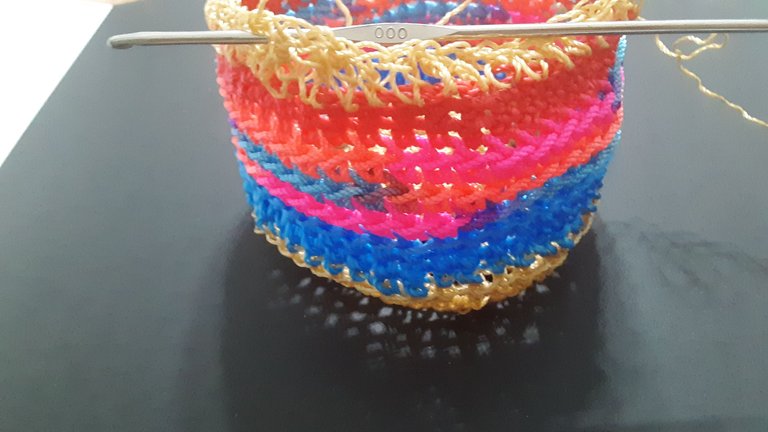 ---
-Se realiza un punto bajo, tres cadenas saltando dos puntos de la base y en el tercer punto realizar un punto bajo.
-A single crochet, three chains are knitted, skipping two stitches from the base and in the third stitch a single crochet is knitted.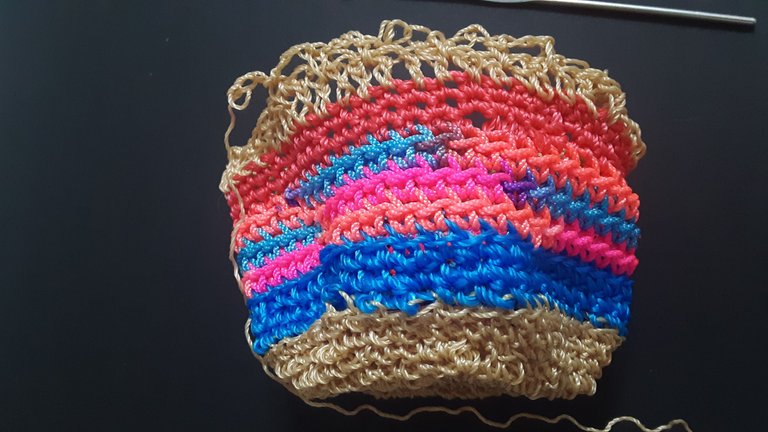 ---
-Se realiza un punto bajo en el aro que forma las cadena de la vuelta anterior, un medio punto alto allí mismo, un punto alto, medio punto alto y un punto bajo.
-A single crochet in the ring that forms the chain of the previous row, a half double crochet, a double crochet, a half double crochet and a single crochet.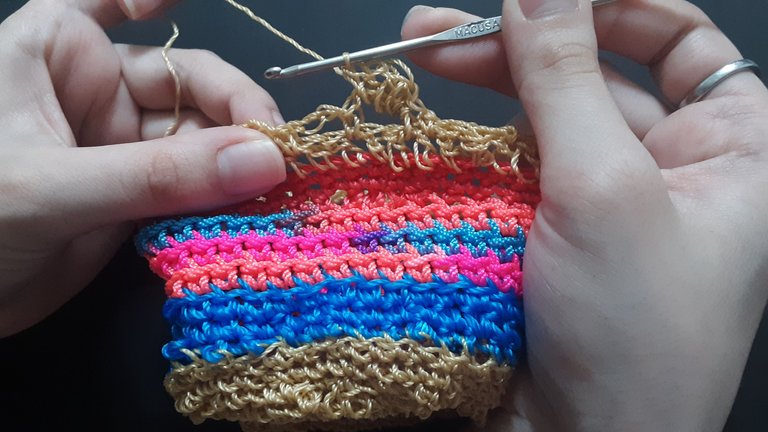 ---
-Se lleva el gancho al siguiente aro y se realiza la misma secuencia, un punto bajo, un medio punto alto, un punto alto, un medio punto alto y un punto bajo.
-The hook is taken to the next hoop and the same sequence is performed, a single crochet, a half double crochet, a double crochet, a half double crochet and a single crochet.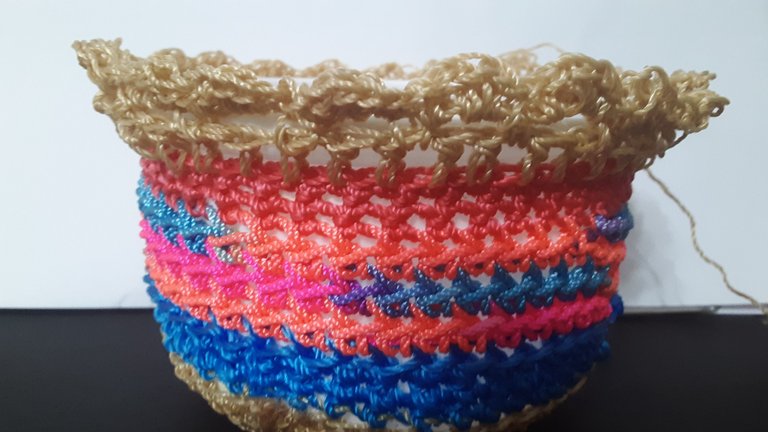 ---
¡Proyecto terminado!
Project finished!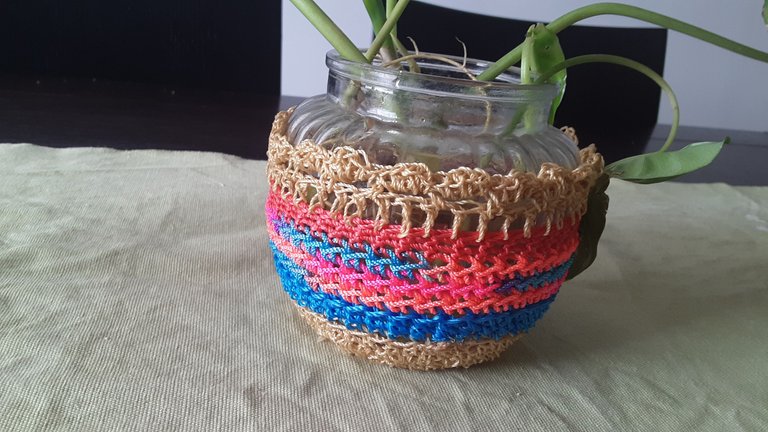 ---
Muchísimas gracias por leer! | Thank you very much for reading!
✌️
-- Todas las imágenes son de mi autoría, editadas con FIREWORKS / CANVA --
-- All images belong to my authorship, edited with FIREWORKS / CANVA --
✌️
---
---