[ESP/ENG] Zarcillos de Calavera al estilo Catrina para este Halloween | Catrina-style Skull earrings for this Halloween

Hola a todos, el día de hoy les muestro como hacer estos bellos zarcillos de calavera, ideales para estas fechas del año, espero que disfruten y se animen a realizarlos.
Hello everyone, today I show you how to make these beautiful skull earrings, ideal for these dates of the year, I hope you enjoy and are encouraged to make them.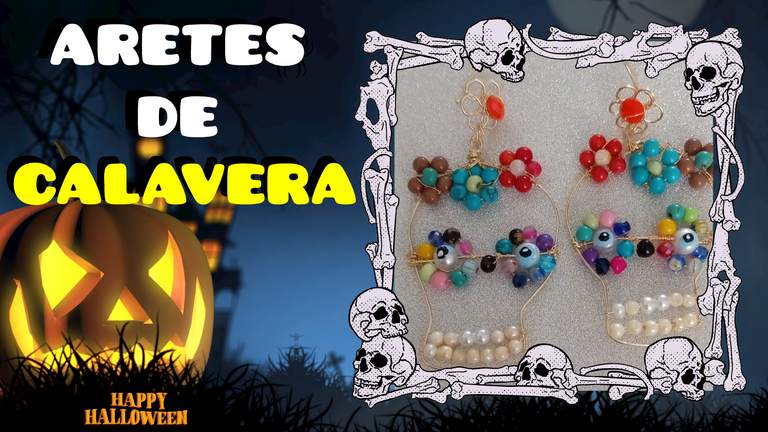 ---
Materiales:
Alambre #20 y #28 (marca de su preferencia).
4 ojos turcos.
32 cuentas de diferentes colores.
10 perlas de 2mm y 4 perlas de 4mm.
10 cuentas de color rojo (color opcional).
10 cuentas de color marrón (color opcional).
12 cuentas de color azul (color opcional).
6 cuentas (para el centro de cada una de las flores).
2 cuentas de color negro.
Materials:
-#20 and #28 wire (brand of your choice).
-4 Turkish eyes.
-32 beads of different colors.
-10 pearls of 2mm and 4 perls of 4mm.
-10 red beads (optional color).
-10 brown beads (optional color).
-12 blue beads (optional color).
-6 beads (for the center of each of the flowers).
-2 black beads.
---
Herramientas a necesitar:
Pinza plana.
Pinza cónica.
Pinza de corte.
Tools needed:
-Flat tweezers.
-Conical tweezers.
-Cutting pliers.
---
Procedimiento:
Paso #1: tomar el alambre #20 directamente del rollo, se hace un loop con la pinza cónica y luego se dispone a darle forma de una calavera.
Procedure:
Step #1: take the #20 wire directly from the coil, loop it with the conical pliers and then set out to shape it into a skull shape.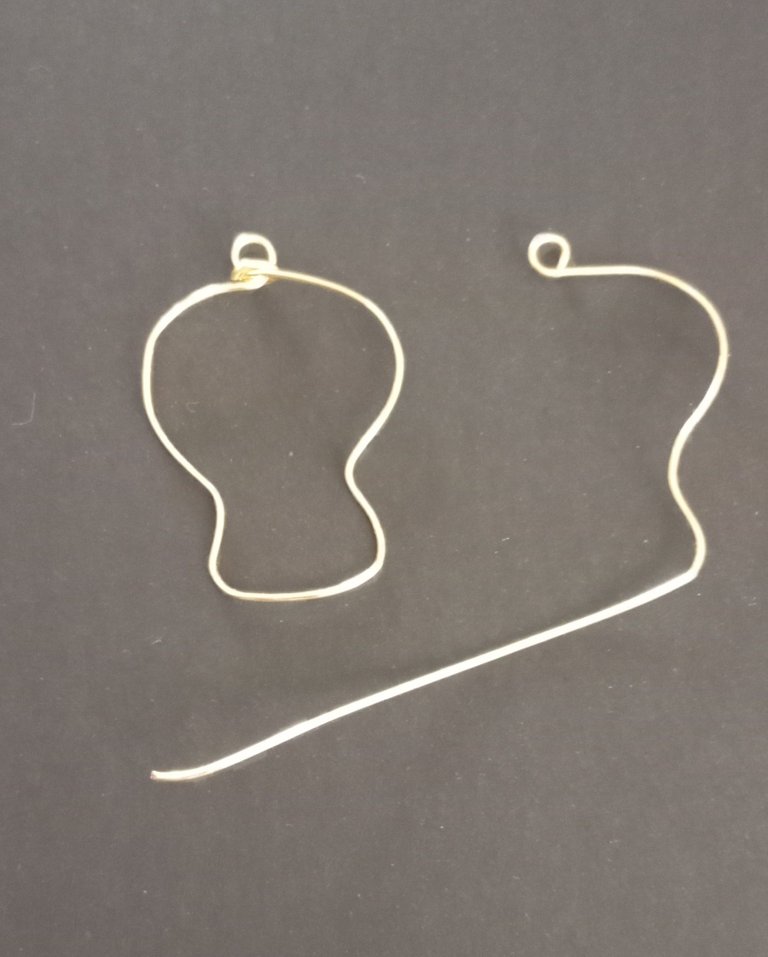 ---


Paso #2: se corta un alambre #20 aproximadamente de cinco centímetros de largo y se ajusta con tres vueltas a la altura de donde van a colocarse los ojos.
Step #2: Cut a #20 wire approximately five centimeters long and adjust it with three turns at the height where the eyes will be placed.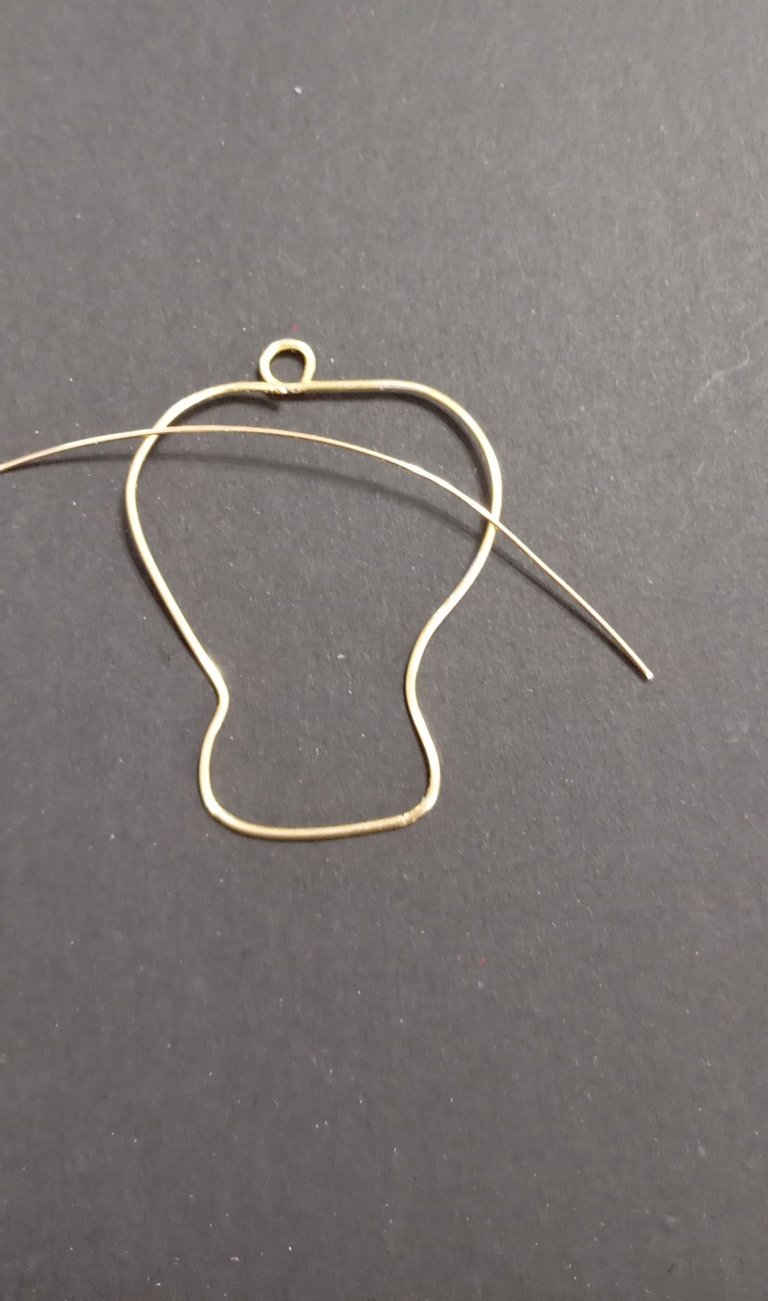 ---
Paso #3: introducir dos ojos turcos en el alambre y ajustar con tres vueltas al otro extremo.
Step #3: Insert two turkish eyes into the wire and tighten with three turns at the other end.

---


Paso #4: tomar alambre #28 aproximadamente entre 25 cm de largo, y entorcharlo con tres vueltas al alambre donde se colocaron los ojos turcos.
Step #4: take wire #28 approximately 25 cm long, and twist it with three turns to the wire where the turkish eyes were placed.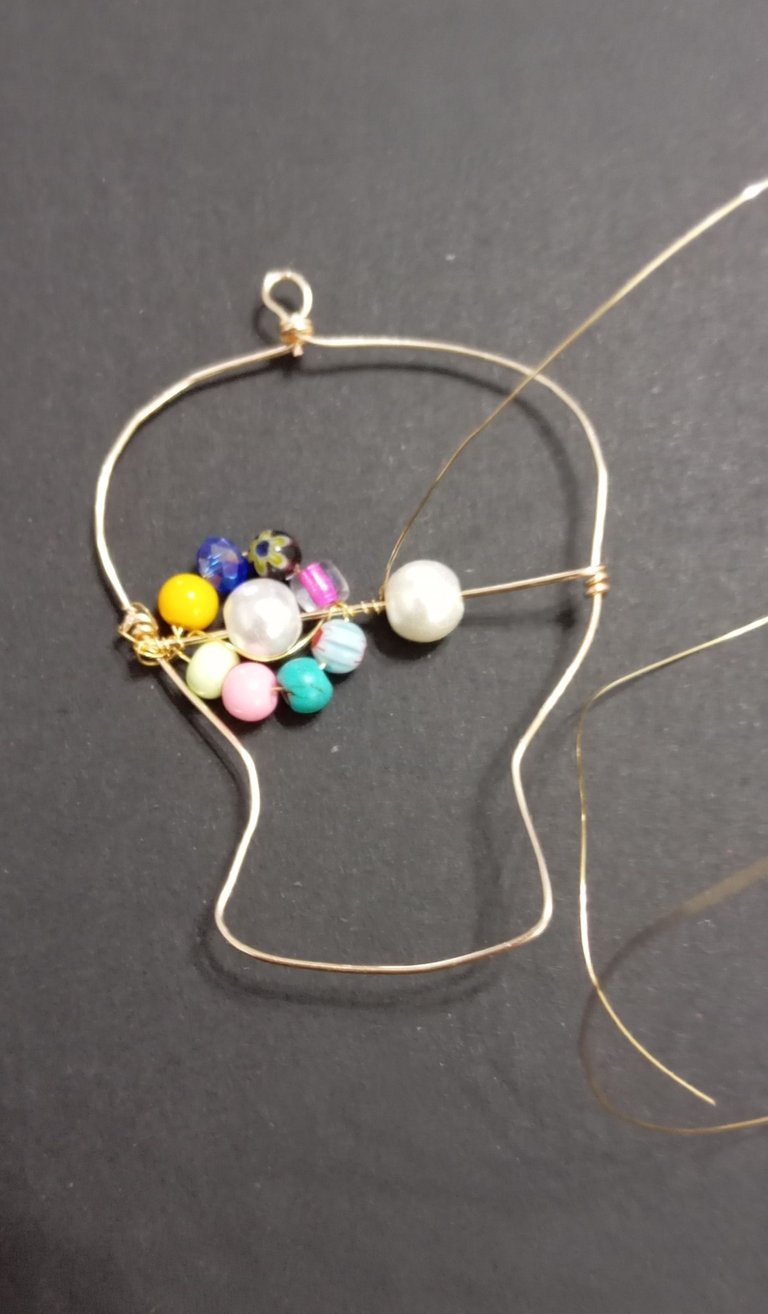 ---


Paso #5: introducir en el alambre #28 cuatro cuentas de colores y entorchar en el otro extremo del ojo turco, se introducen cuatro cuentas nuevamente en el alambre #28 y se entorcha en el alambre #20 del inicio. Entorchar el alambre #28 con tres vueltas al lado de las cuentas de colores que acabamos de introducir, se toma una cuenta negra y se coloca en medio de los ojos. Se repite la operación anterior (cuatro cuentas de colores entorchar el alambre y cuatro cuentas de colores debajo del ojo turco. Para los dientes tomar alambre #28, introducir seis perlas de 2mm y entorchar (dientes de abajo); luego, introducir tres perlas 2mm, dos perlas de 4mm y dos perlas de 2mm y entorchar al otro extremo (para formar los dientes de arriba).
Step #5: insert in the wire #28 four colored beads and twist on the other end of the turkish eyes, insert four beads again in the wire #28 and twist on the wire #20 from the beginning. Twist the wire #28 with three turns next to the colored beads that we just introduced, take a black bead and place it in the middle of the eyes. Repeat the previous operation (four colored beads twist the wire and four colored beads under the turkish eyes. For the teeth take wire #28, insert six 2mm pearls and twist (bottom teeth); then, insert three 2mm pearls, two 4mm pearls and two 2mm pearls and twist at the other end (to form the top teeth).
---


Paso #6: entorchar tres veces alambre #28 sobre la zona de la cabeza e introduccir cinco cuentas de un mismo color, cerrar para formar un círculo y luego introducir la punta del alambre por la primera cuenta, en el medio del circulo colocar otra cuenta de un color diferente. Así realizar las tres flores de la cabeza.
Step #6: Twist wire #28 three times over the head area and insert five beads of the same color, close to form a circle and then insert the tip of the wire through the first bead, in the middle of the circle place another bead of a different color. In this way make the three flowers of the head.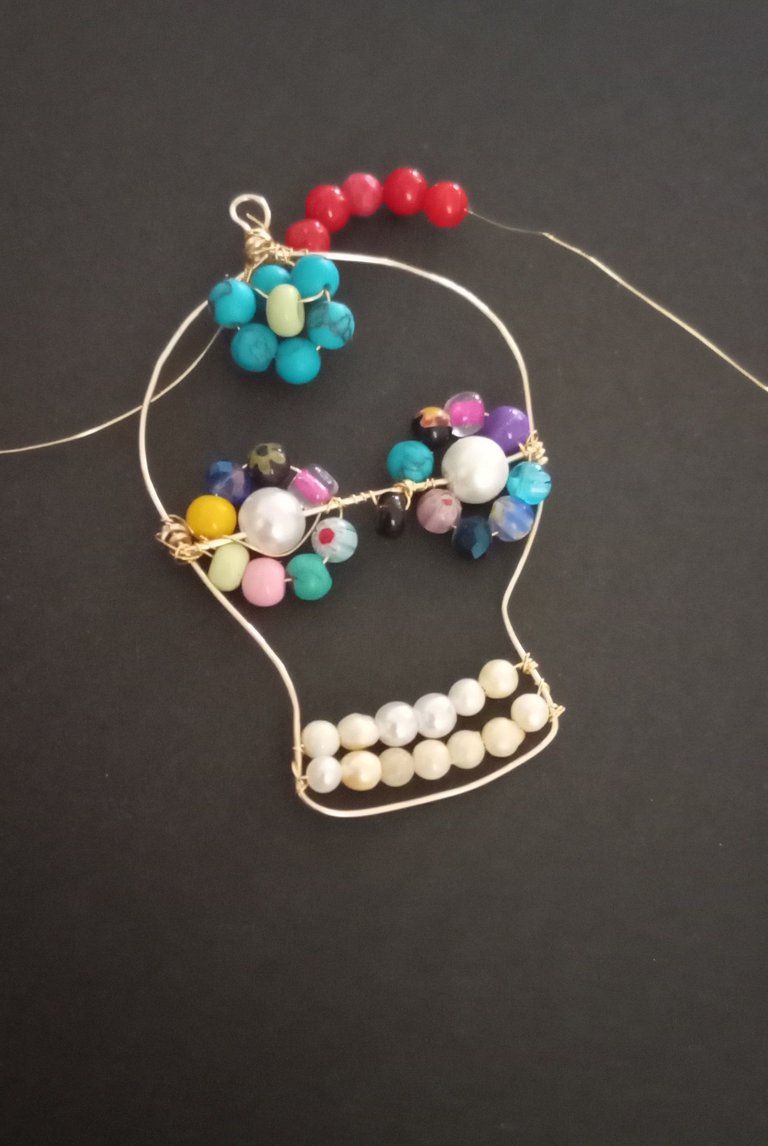 ---


Paso #7 : hacer seis loops con el alambre #20 y un anzuelo, del alambre que reste colocar un cristal en el centro y unir a la calavera con una argolla.
Step #7 : make six loops with the #20 wire and a hook, from the remaining wire place a crystal in the center and attach to the skull with a ring.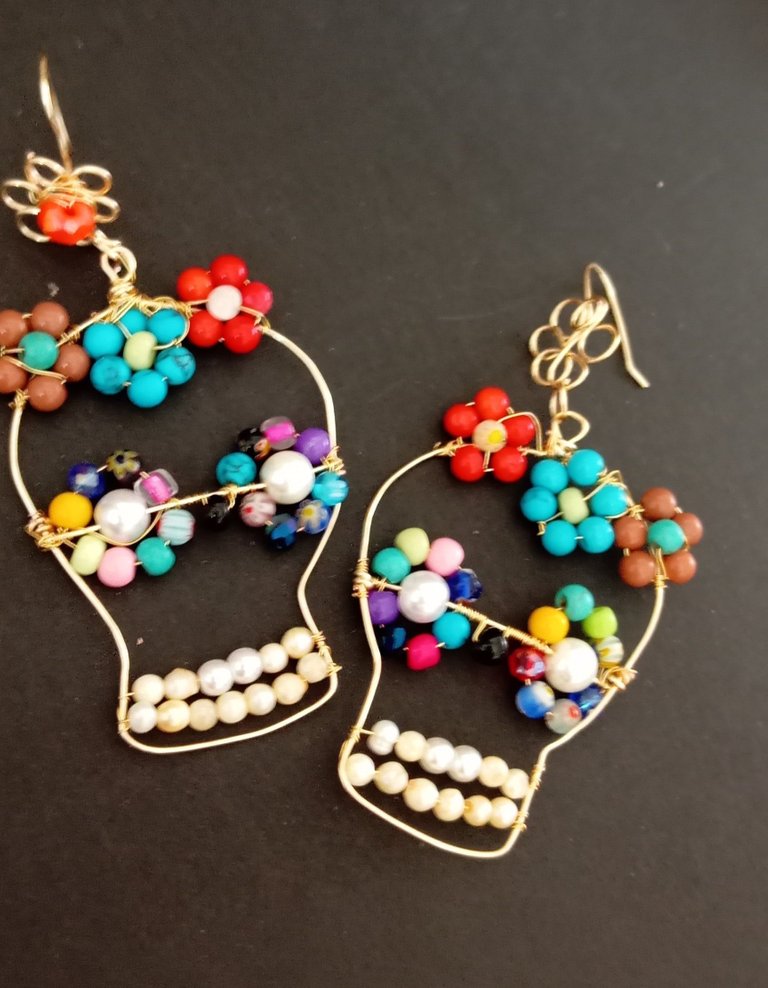 ---


Listo! espero que disfrutes y felíz halloween!
Done! hope you enjoy and happy halloween!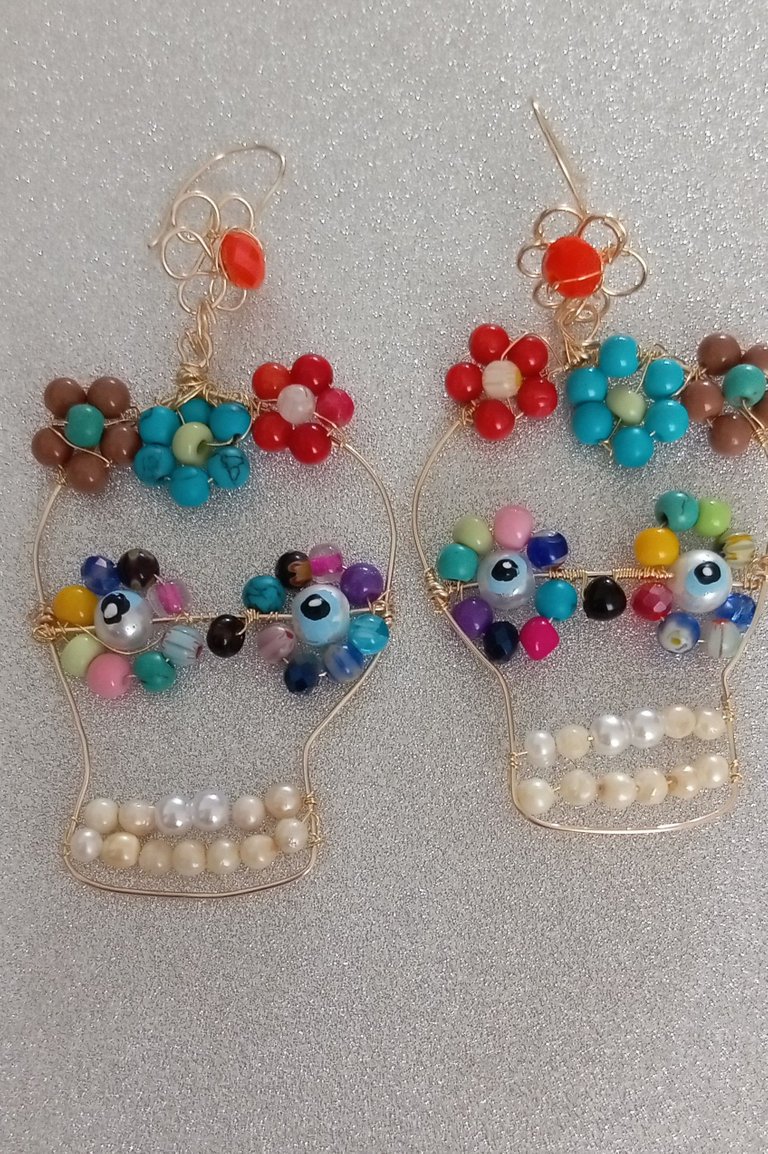 ---
Muchísimas gracias por leer! | Thank you very much for reading!
✌️
-- Todas las imágenes son de mi autoría, editadas con FIREWORKS / CANVA --
-- All images belong to my authorship, edited with FIREWORKS / CANVA --
✌️
---
---