[EN/UA] Війна у тебе забере усе зайве і залишить тільки саме необхідне / The war will take away everything superfluous from you and leave only the necessary

Привіт, читачі. Сиджу на піньочку серед степу широкого, п'ю каву. Насправді ми у одному зачищеному від окупантів селищі. Подзвонив дружині, зв'язок геть поганий, то чути, то не чути, неначе як радіо поміхи. Вирішили спілкуватися за допомогою повідомлень. Хотів набрати дружину по відеозв'язку, теж не вийшло. Коротше ми у єбєнях. Навкруги звична суєта, хлопці бігають, у кожного свої думки, кожен дзвонить додому, та незабаром ми збираємося на позиції. Ще точно не знаю коли саме будемо їхати, треба отримати бойовий наказ, але морально готовимося. А як до такого можливо підготуватися. Не бояться тільки дурні. Навіть у дорослих наших дядьків руки помітно тремтять, бо того аду ніхто ніде не покаже. Інтернет мобільний теж як черепаха, грузиться через раз. Але напишу пост, може опублікується, принаймні спробую.
Треба відволікатися, не грузитися, от я і вирішив написати. Дружина вчора була на благодійному ярмарку, всі наші місцеві школи проявили таку ініциативу. Виставляли дитячі поробки на продаж, а зароблені кошти мають піти на потреби збройних наших сил. Купила ось таке зайченя. Мені фотографій наприсилала, але не всі відображаються.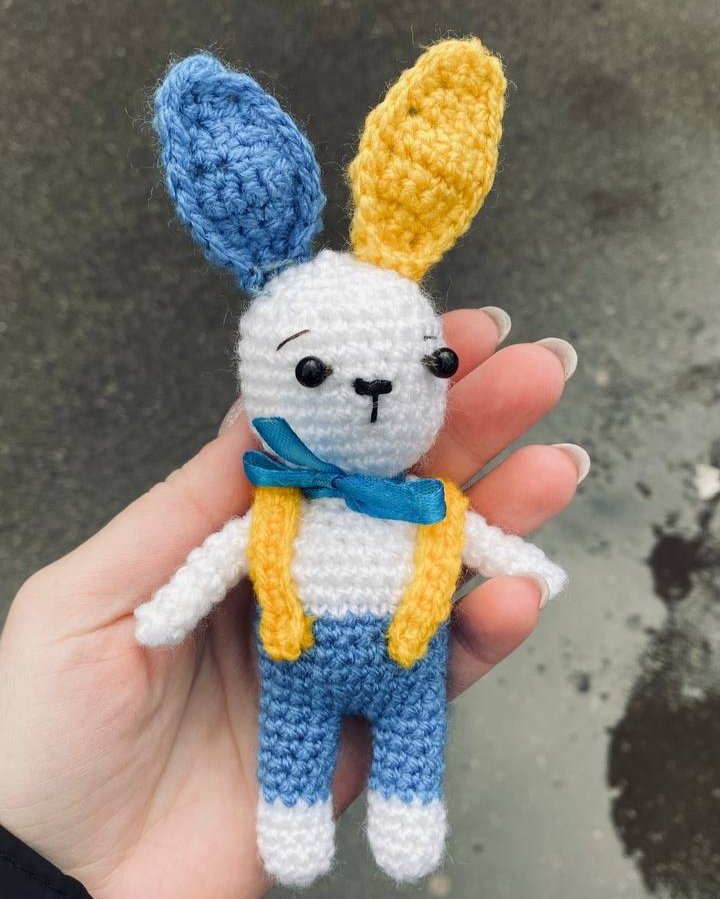 Кажу ж інтернет поганий, а старлінка немає, десь він подівся. Поки я був у лікарні тут багато чого змінилося, і мої речі десь поділися особисті, станок, шкарпетки, рюкзак. Як то кажуть у нас - вони про@балися, то звичне явище, видадуть все. Та ще після переїзду багато чого ще не розібрано. Як каже мій командир війна у тебе забере усе зайве і залишить тільки саме необхідне. Воно так і є, а саме необхідне то життя, а чи залишиться воно з нами цього разу. Думки сумні лізуть звідусіль, як від них сховатися... Я ще пічальний лох, коли ночував у готелі забув годинник на столі! Хлопці подзвонили, сказали збиратися, бо їдуть за мною, та я поспіхом і забувся про годинник. Ну то нехай краще втрата буде такою, у вигляді речей. Не прощаюсь.
---
Hello readers. I am sitting on a pile in the middle of the wide steppe, drinking coffee. I called my wife, the connection is really bad, sometimes I hear, sometimes I don't hear, as if the radio is jamming. They decided to communicate using messages. I wanted to dial my wife via video call, but it didn't work either. In short, we are fucking. There is the usual hustle and bustle around, the boys are running around, everyone has their own thoughts, everyone is calling home, and soon we are gathering at the position. I still don't know exactly when we will go, we need to receive combat orders, but we are mentally preparing. And how is it possible to prepare for this. Only fools are not afraid. Even the hands of our adult uncles visibly tremble, because no one will show that hell anywhere. The mobile Internet is also like a turtle, it loads every once in a while. But I will write a post, maybe it will be published, at least I will try.
We need to be distracted, not to be burdened, so I decided to write. My wife was at a charity fair yesterday, all our local schools showed such initiative. Children's crafts were put up for sale, and the money earned should go to the needs of our armed forces. I bought such a hare. She sent me photos, but not all of them are displayed.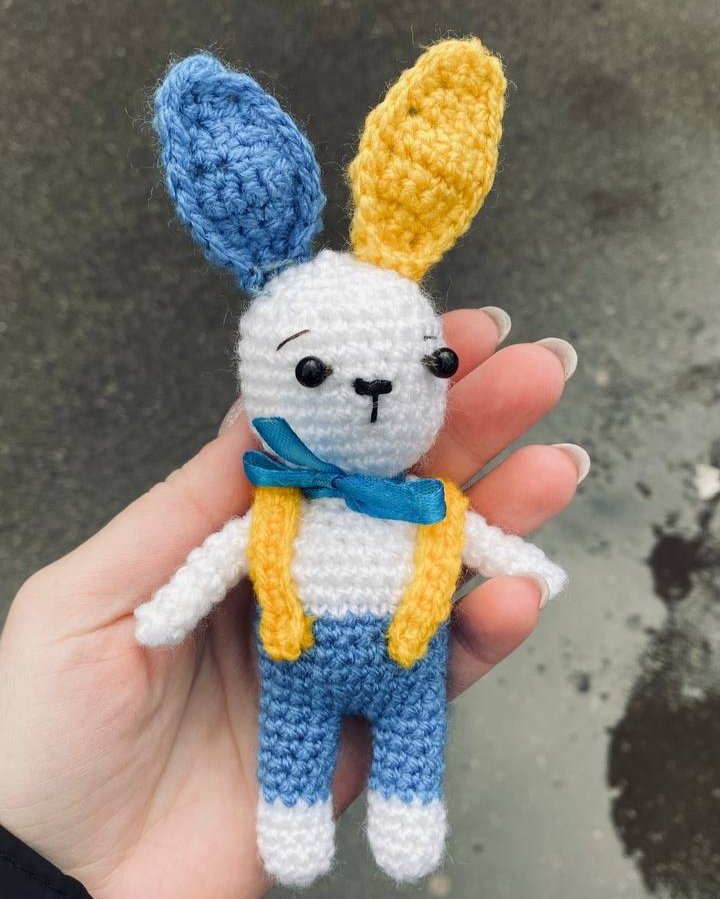 I say that the Internet is bad, but there is no Starlink, it has gone somewhere. While I was in the hospital, a lot of things changed here, my personal belongings, a machine, socks, and a backpack were shared somewhere. As they say here, if they tried, it is a common phenomenon, they will give away everything. But even after the move, many things have not yet been sorted out. As my commander says, the war will take away everything superfluous from you and leave only what is necessary. It is so, and what is necessary is life, but will it stay with us this time. Sad thoughts are creeping up from everywhere, how to hide from them... I'm still a miserable fool, when I stayed overnight in a hotel I forgot the clock on the table! The guys called and told me to gather because they were coming after me, but I was in a hurry and forgot about my watch. Well, let it be better that the loss be like that, in the form of things. I don't say goodbye.
---
---