Motorbike Nest || How to repair an electronic engine dynamo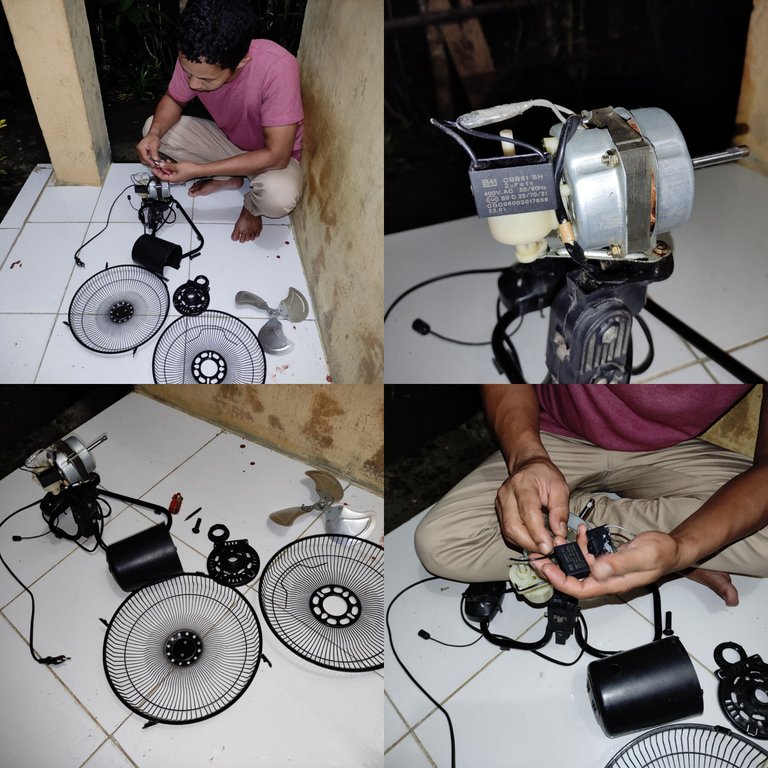 In general, when you have a problem with your electronic engine dynamos at home, you will get good treatment to deal with your engine problem by contacting the nearest repairman and you only need to pay the fees to fix it.
And greetings #hive motor, I'm @deltasteem from Indonesia what if this time I teach you a light tutorial on how to fix your fan engine dynamo with damage which you can do yourself at home? And you of course you don't need to spend a lot of money, even thoughI don't have much experience in the world of engines but a few years ago once I attended a training class....in the home electronics repair learning starting from how to repair blenders, fans and the like.
Even though the class was only held for a few days, I felt lucky enough to get such useful learning to repair the electronics in my house when they broke down
In my first publication on #hive motor I want to share a fan repair tutorial with broken capacitors.
For those of us who live in a country where the weather has a dry season and a rainy season, a fan is one of our needs to produce wind that can cool the air in the dry season and fans are one of our Secondary need in everyday.
What are the characteristics of the fan if the capacitor is broken.?
Your fan dynamo engine doesn't turn on when you turn it on.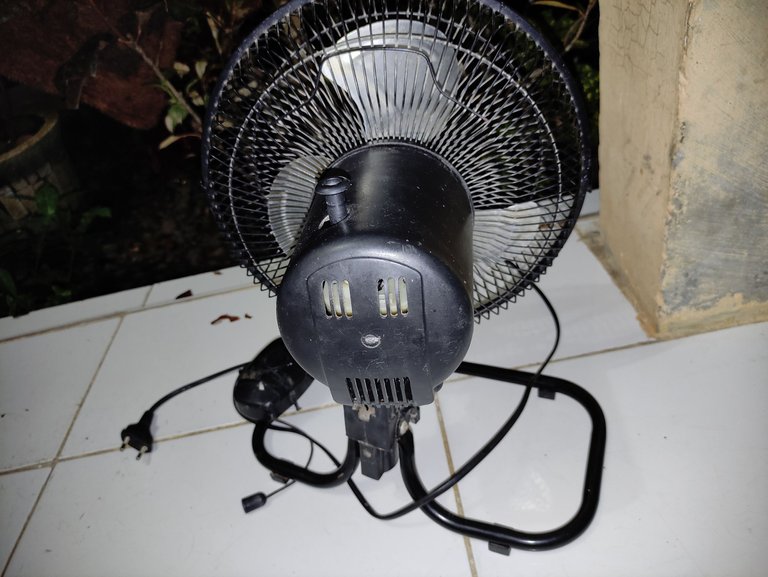 For the equipment materials you need in the fan dynamo repair process as follows.
• Flower screwdriver.
•Duct tape.
•Cable cutter.
And I want to share with you ,how to repair a broken electronic fan and this is my own electronic fan with minor damage and you may often encounter this damage on your electronic fan at home with symptoms of the fan engine no running .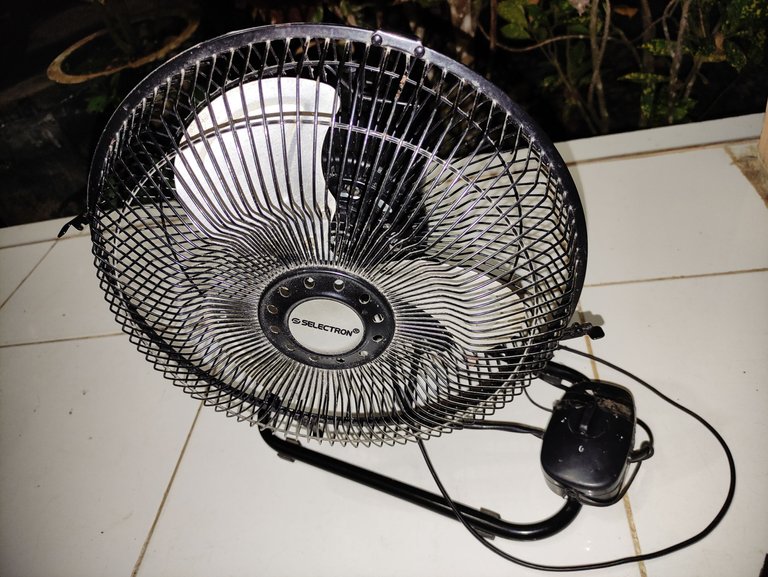 12 inch selectron fan.
---
---
And this is wall fan that I use in my rented room suddenly breaks down /won't turn on (minor damage)and it was caused by damage to the capacitor that stores backup electrical energy and if the capacitor is damaged, the fan will not turn on when it is turned on.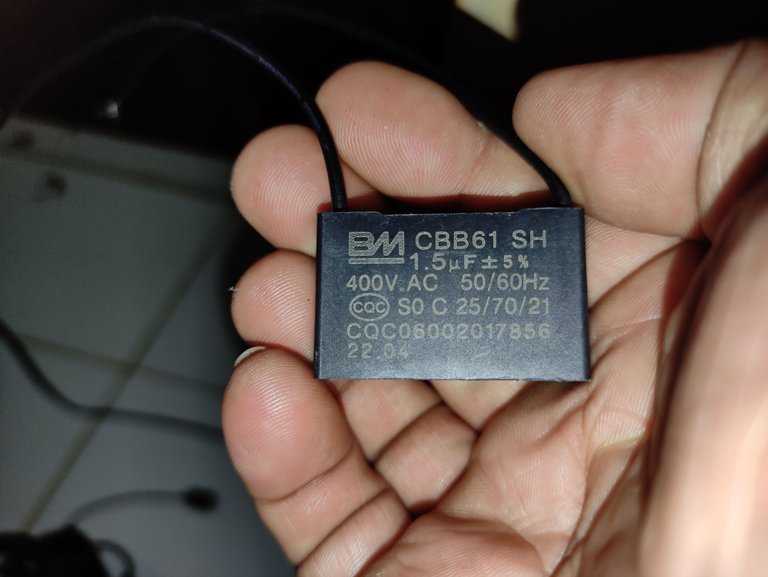 Fan capacitor.
The capacitor is located around the fan engine. To find the capacitor, of course, you have to disassemble the entire body of your damaged fan engine.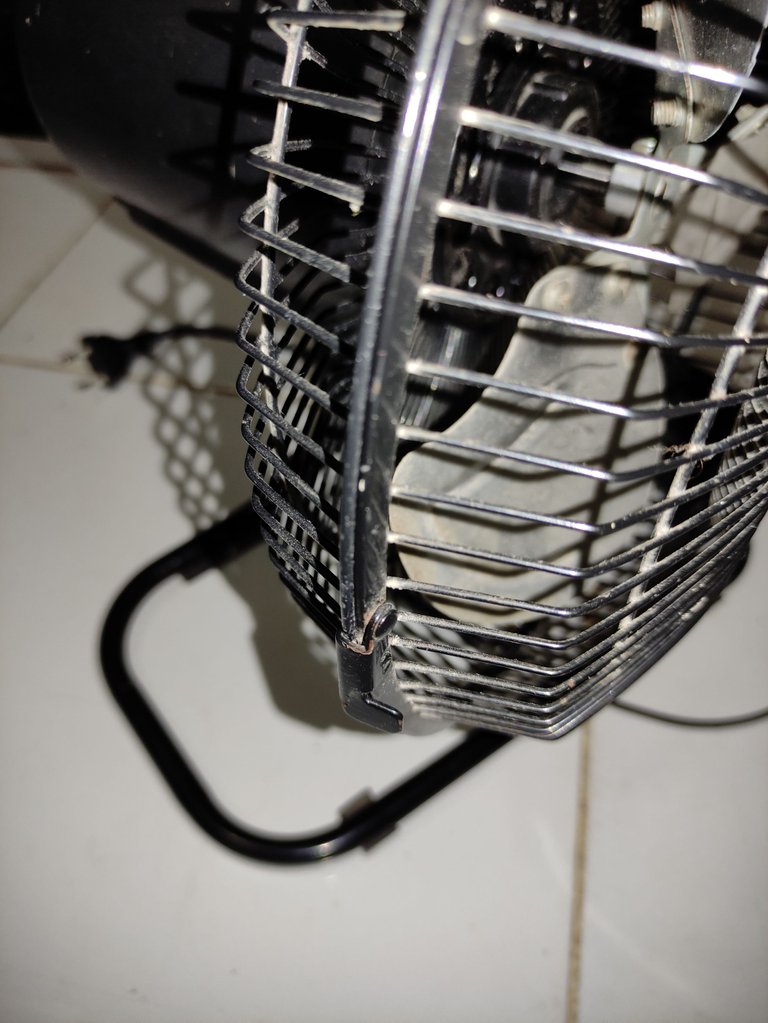 For the type of mini fan that I use the disassembly process is quite easy after I disassemble the front cover of the fan blades then I proceed to remove the blades which are attached with small bolts to the main axis of the machine.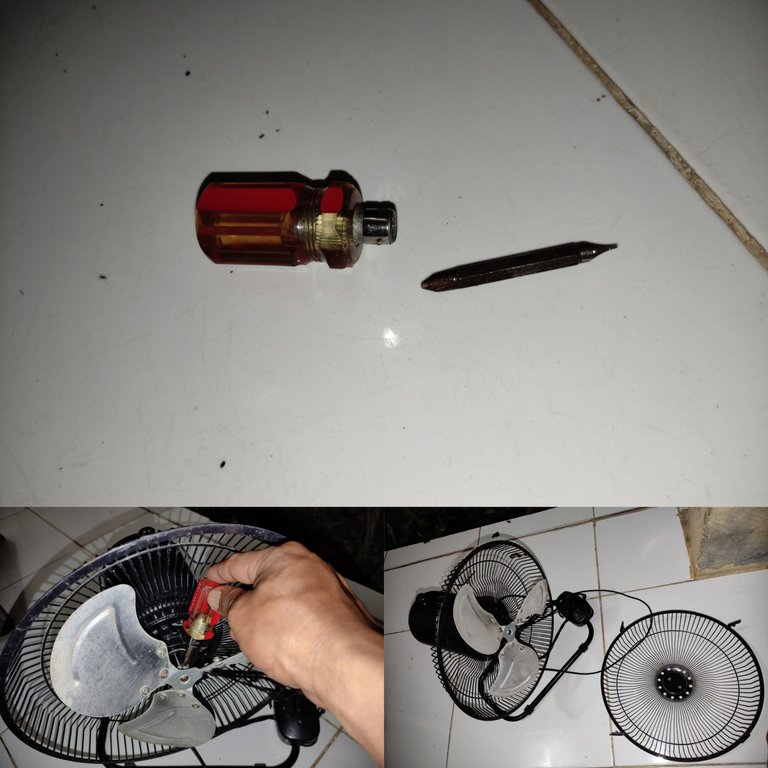 After that I continued to remove the engine body cover by slowly unscrewing a few bolts so that nothing on the engine body was damaged.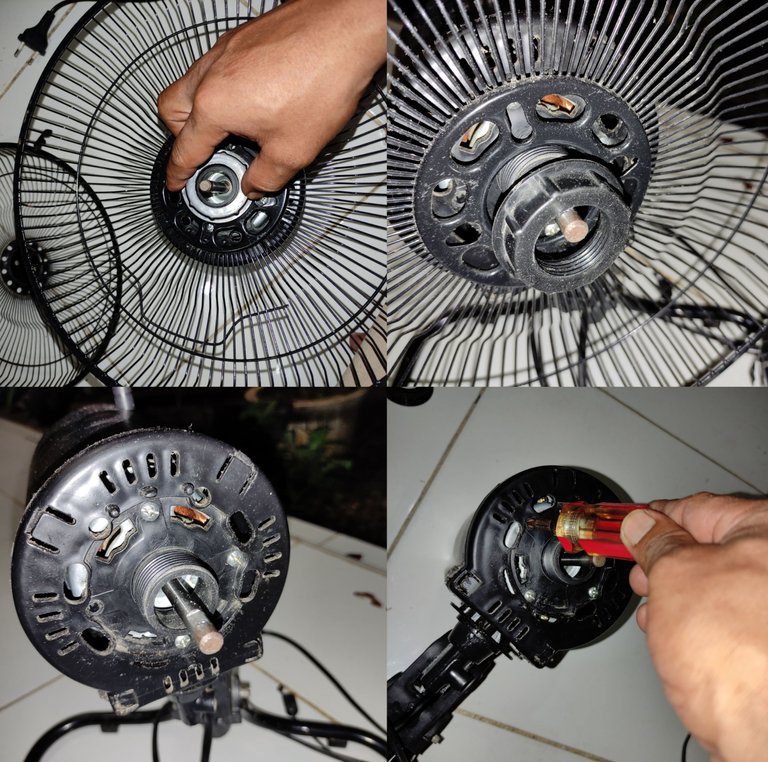 Then after the process of disassembling the engine body is complete it will look like this assembling the engine body and the engine capacitor are located on the outside of the body in black.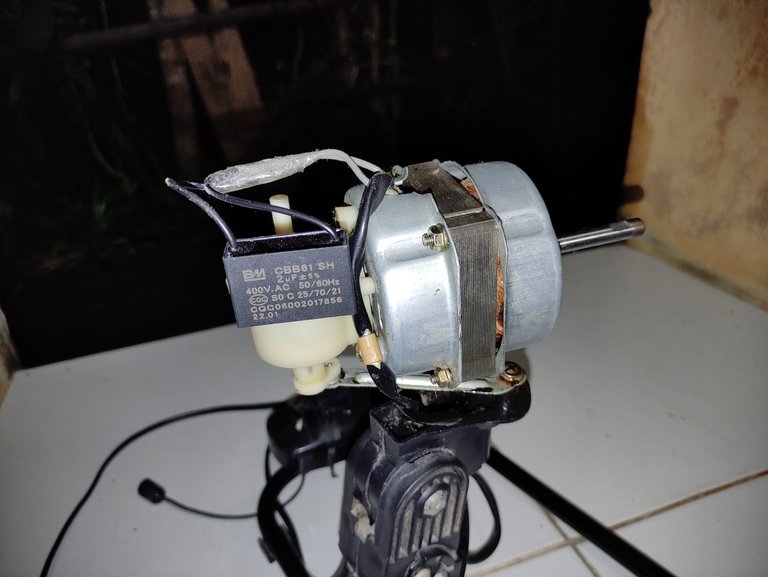 For the 12-inch fan machine, I use factory-set capacitors with sizes is 2µF/ 50 V and that capacitor is damaged on your fan if when you turn on the dynamo your fan doesn't spin.
And you can buy these capacitors at the nearest electronics repair shop in your city at a fairly cheap price and if you want a dynamo your fan can produce faster rotation..for example the built-in dynamo capacitor is 2µF/ 50 V, you can replace the capacitor with a size of 4µF/ 50 V, but be careful your engine dynamo heats up quickly if you turn on your engine for a long time.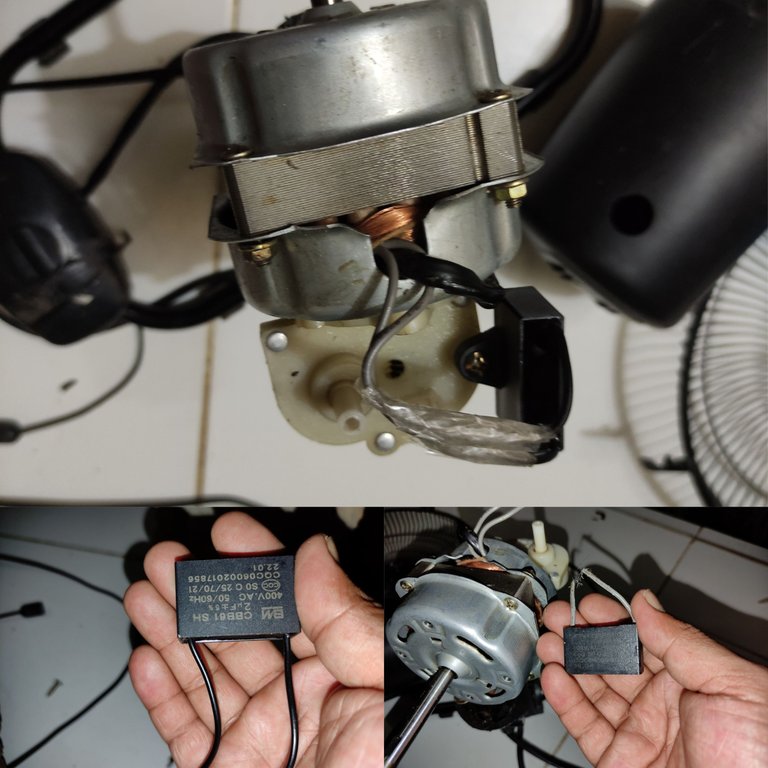 I personally every time I repair a broken fan dynamo capacitor, I myself often use a capacitor with the same size (µF) / Volt (V) as the factory setting size to keep the engine dynamo durable in its long term use,likewise with the fan engine dynamo capacitor that I worked on tonight.
How to install a capacitor on a dynamo is quite easy, all you have to do is cut the previous capacitor cable and reconnect the new capacitor cable after that you provide duct tape to cover the cable winding.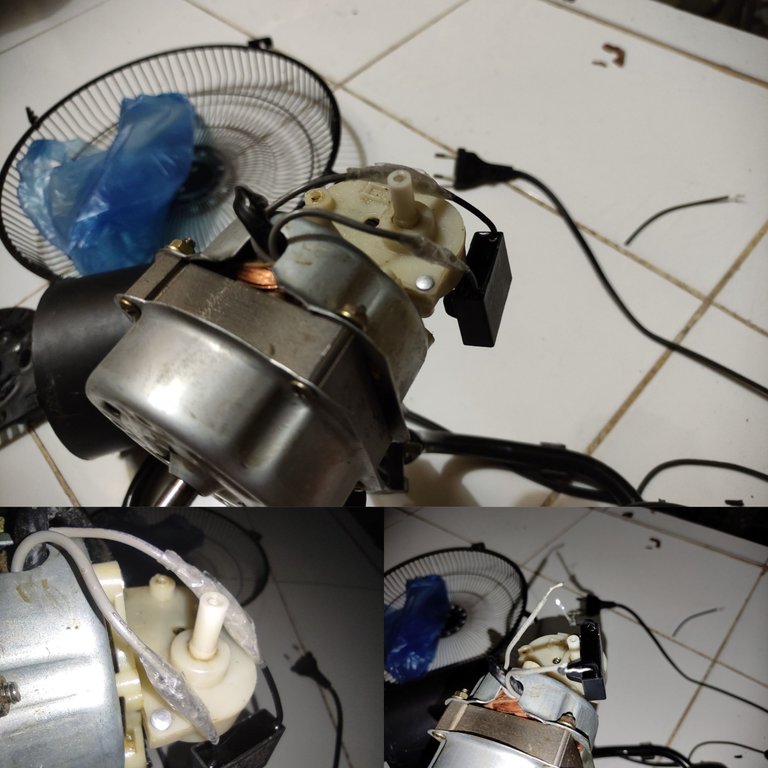 And you have to make sure that your cable connection is really good by providing duct tape that covers all connection cable and after the capacitor replacement process is complete, then you need to gradually reinstall the entire dynamo body cover and rearrange it as before.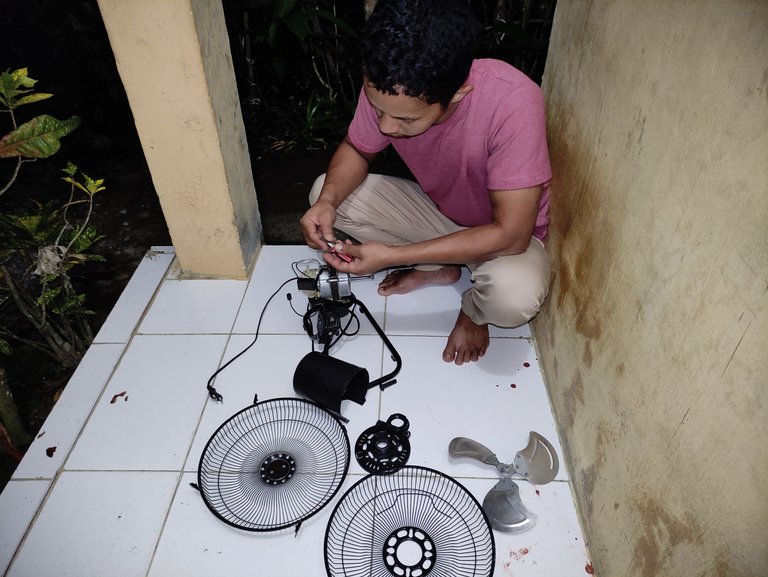 In my area, repairing a fan that is damaged by a capacitor, of course, costs around $ 4 for one unit and learning to repair electronic dynamos that I have learned some time ago is of course very useful for me personally to repair the electronic dynamo at home when it demaged.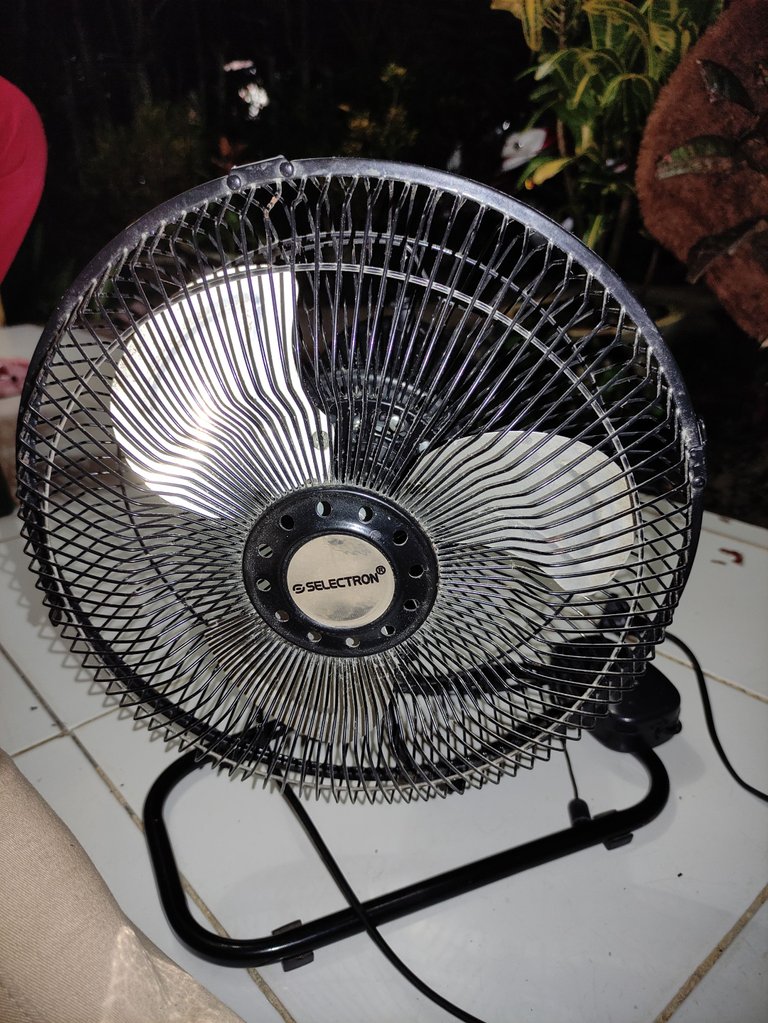 The cost that I spent to repair this fan engine dynamo is about $ 1 the price of the capacitor 2μF/ 50 V . Greetings #hive motor, I hope this tutorial is useful for those of you who are having problems with your fan engine dynamon at home.


---
---