Beautiful tendrils with wick thread and recycled fabric in a few steps. || [ESP/ENG]
---
---
Welcome to my Blog.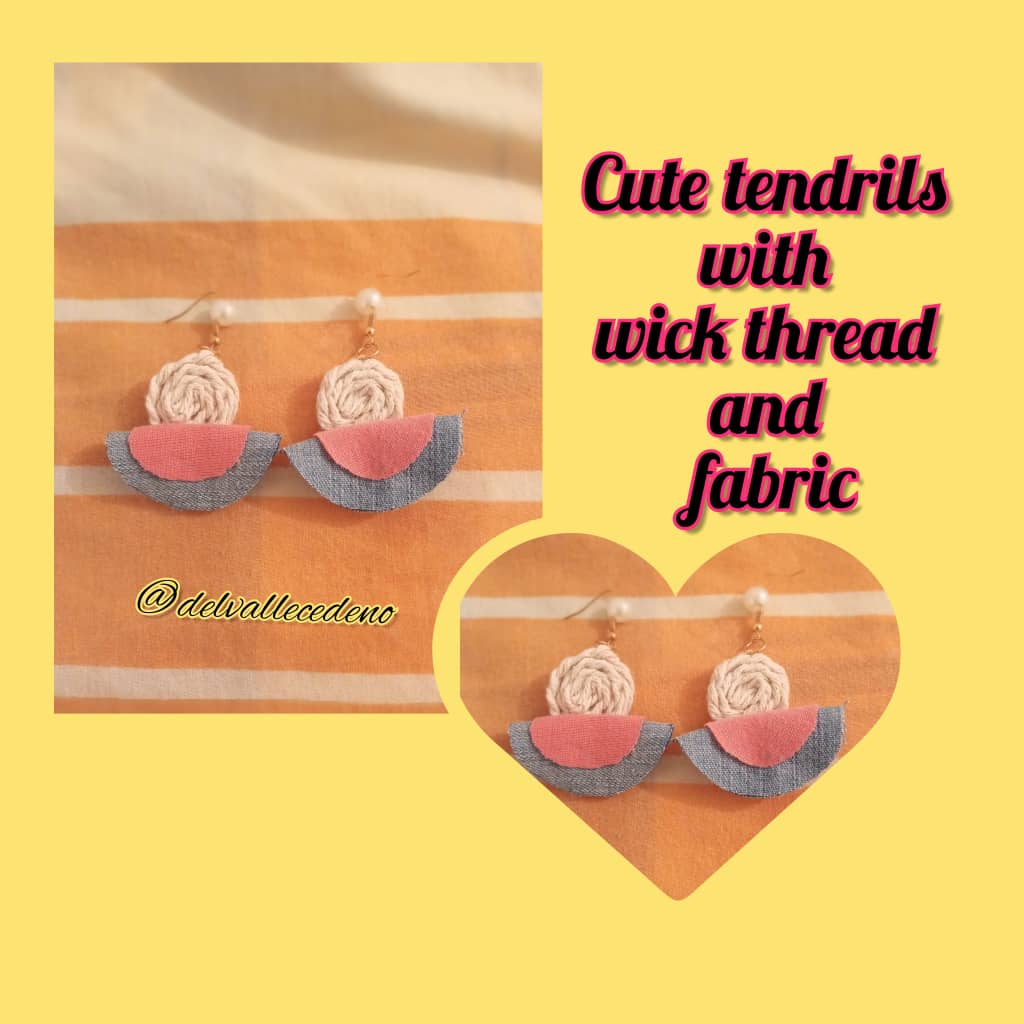 Muy buenas noches tengan todos mis amigos creativos, espero su día haya estado cargado de mucha energía, y su fin de semana vengan llegó de mucha alegría y plena felicidad en todos sus emprendimientos, un afectuoso abrazo virtual para los que día a día hacen un Gran esfuerzo por estar aquí en esta maravillosa comunidad donde se despliega mucho talento 👏. El Día de hoy les traigo un sencillo tutorial de cómo elaborar unos lindos zarcillos con Hilo Pabilo y tela es una muy fácil tarea y se hace en un dos por tres así que espero les guste y disfruten de realizar este paso a paso, los colores son libres de su preferencia y pueden combinarlo a su manera mis Hivers creativos, Así que vamos a tomar los siguientes pasos a seguir.
Good evening to all my creative friends, I hope your day has been charged with a lot of energy, and your coming weekend came with great joy and full happiness in all your undertakings, an affectionate virtual hug for those who make a great day by day effort to be here in this wonderful community where a lot of talent is displayed 👏. Today I bring you a simple tutorial on how to make beautiful tendrils with Pabilo thread and fabric. It is a very easy task and it is done in no time at all, so I hope you like it and enjoy doing this step by step, the colors are free of your preference and you can combine it in your own way my creative Hivers, So we are going to take the next steps to follow.

Materiales:
❤️Retazo de tela de jeans.
❤️Retazo de tela de algodón.
❤️Tijera.
❤️Tapa de desodorante.
❤️Tapa de refresco.
❤️Lápiz.
❤️Sujetadores.
❤️Silicón caliente.
Materials:
❤️Scrap of jeans fabric.
❤️Cotton fabric scrap.
❤️Scissors.
❤️Deodorant cap.
❤️Soda cap. Pencil.
❤️Bras.
❤️ Hot silicone.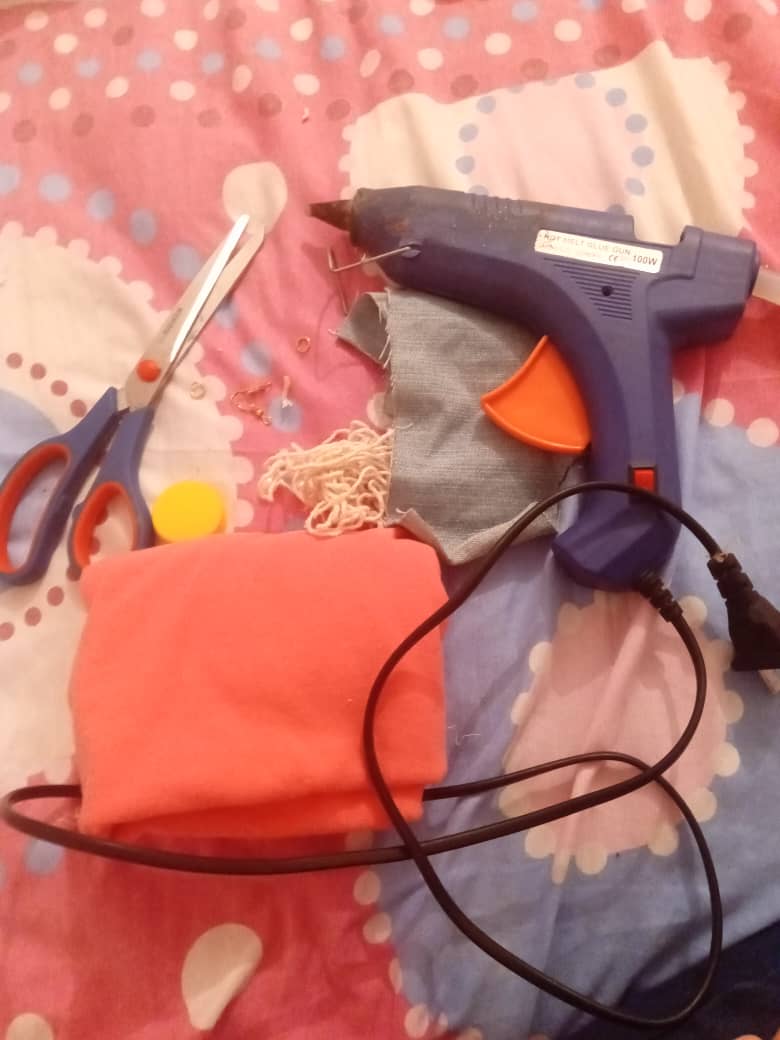 Step by Step || Paso a paso:
1er paso: Bueno mis amigos creativos vamos a proceder a tomar el hilo pabilo de no tenerlo a mano, puede usar cualquiera de su preferencia ya sea estambre, hilo chino entre otros. procedemos a necesitar 6 tiras de hilo de 20 cm cada una tomamos una pinza y sujetamos en la punta para armar una trenza cómo se puede apreciar en las imágenes, en este caso necesitaremos dos piezas.
1st step: Well, my creative friends, we are going to proceed to take the wick thread if you don't have it at hand, you can use any of your preference, be it yarn, Chinese thread, among others. We proceed to need 6 strips of thread of 20 cm each. We take a tweezer and hold it at the end to make a braid, as can be seen in the images, in this case we will need two pieces.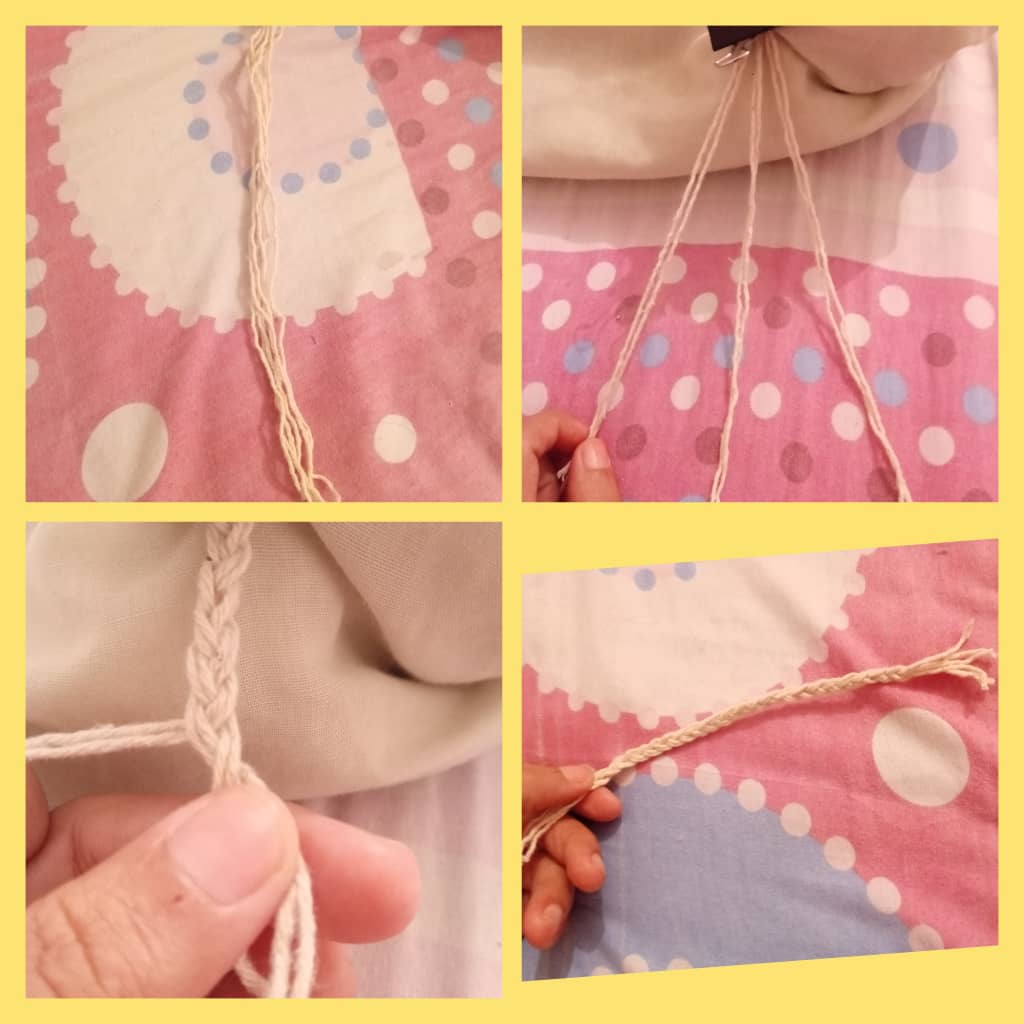 2do paso: Luego una vez de tenerlo lista con el silicón caliente pegamos en ambas puntas para ir armando un círculo como se puede ir apreciando en las imágenes el tamaño de su círculo dependera de su gusto deseado.
2nd step: Then, once it is ready with the hot silicone, we glue both ends to form a circle, as you can see in the images, the size of your circle will depend on your desired taste.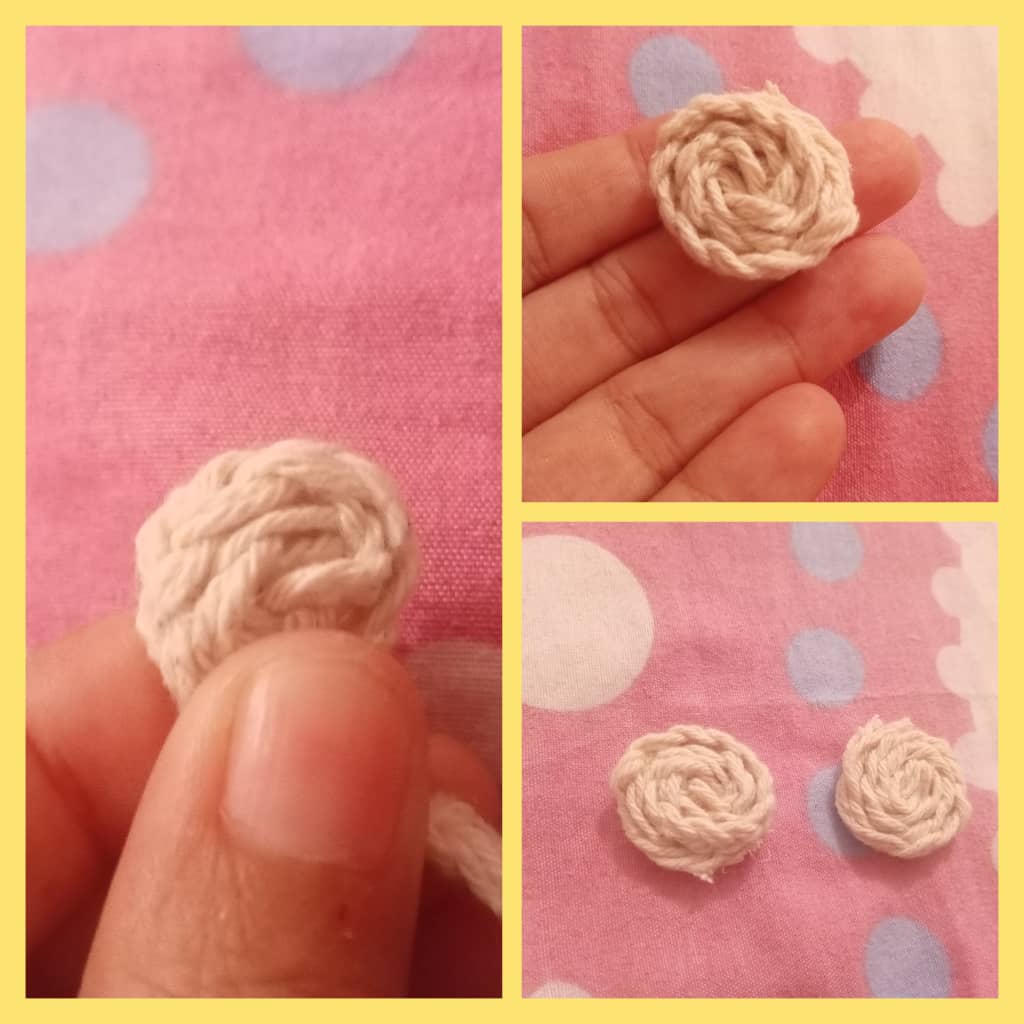 3er paso: Seguidamente amigos tomamos una tapa de desodorante redonda de 4x4 centímetros y marcamos en la tela de jeans y recortamos una vez lista, vamos a doblar para formar un semicírculo y pegamos en la parte superior con un punto de silicón de igual manera tomaremos una tapa más pequeño de 2x2 centímetros y marcamos en la tela de color rosa realizamos el mismos procedimiento anterior, y pegamos encima de la pieza de jeans cómo lo observan.
3rd step: Next, friends, we take a 4x4 centimeter round deodorant cap and mark it on the jeans fabric and cut it once ready, we are going to fold it to form a semicircle and glue it on top with a silicone dot in the same way we will take a cover smaller than 2x2 centimeters and we mark on the pink fabric we carry out the same previous procedure, and we paste on top of the piece of jeans how they observe it.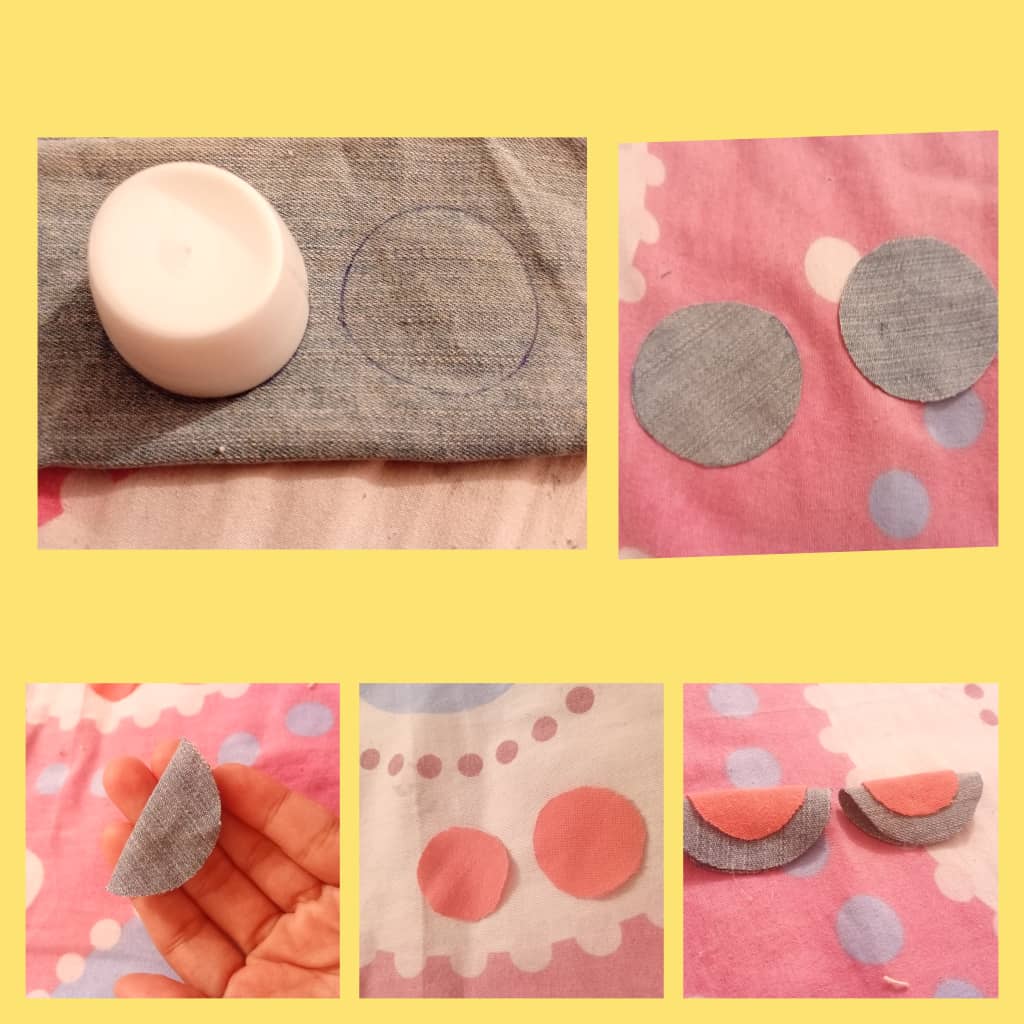 4to paso: Luego unimos ambas piezas de la siguiente manera y a nuestro sujetador incorporamos una mostacilla y colgamos en la parte superior a los zarcillos mis amigos para lucir bellas, este es el resultado final de mis hermosos zarcillos.
4th step: Then we join both pieces in the following way and we add a bead to our bra and we hang the tendrils on top of my friends to look beautiful, this is the final result of my beautiful tendrils.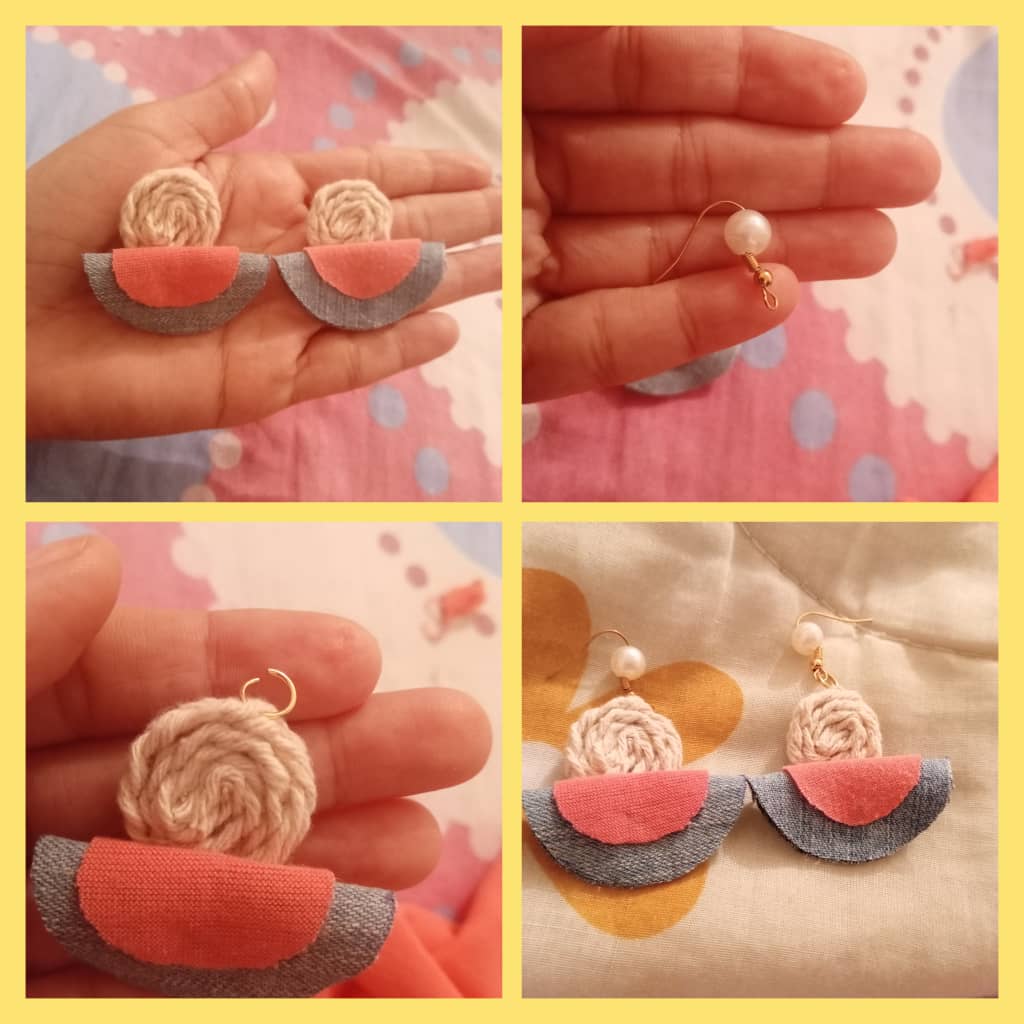 Espero les hay gustado este bello trabajo que les traigo el Día de hoy y puedan ver las maravillosas creaciones que se pueden hacer con simples materiales que tenemos al alcance de nuestras manos y sin grandes gasto, recicla y haz prendas hermosas y con lindos acabados. La tela de jeans es muy versátil y se combina fácilmente con cualquiera tipo de materiales asi que crea tu propias joyas. Saludos y múltiples de bendiciones.
I hope you liked this beautiful work that I bring you today and you can see the wonderful creations that can be made with simple materials that we have at our fingertips and without great expense, recycle and make beautiful garments with beautiful finishes. Jeans fabric is very versatile and easily combines with any type of material, so create your own jewelry. Greetings and many blessings.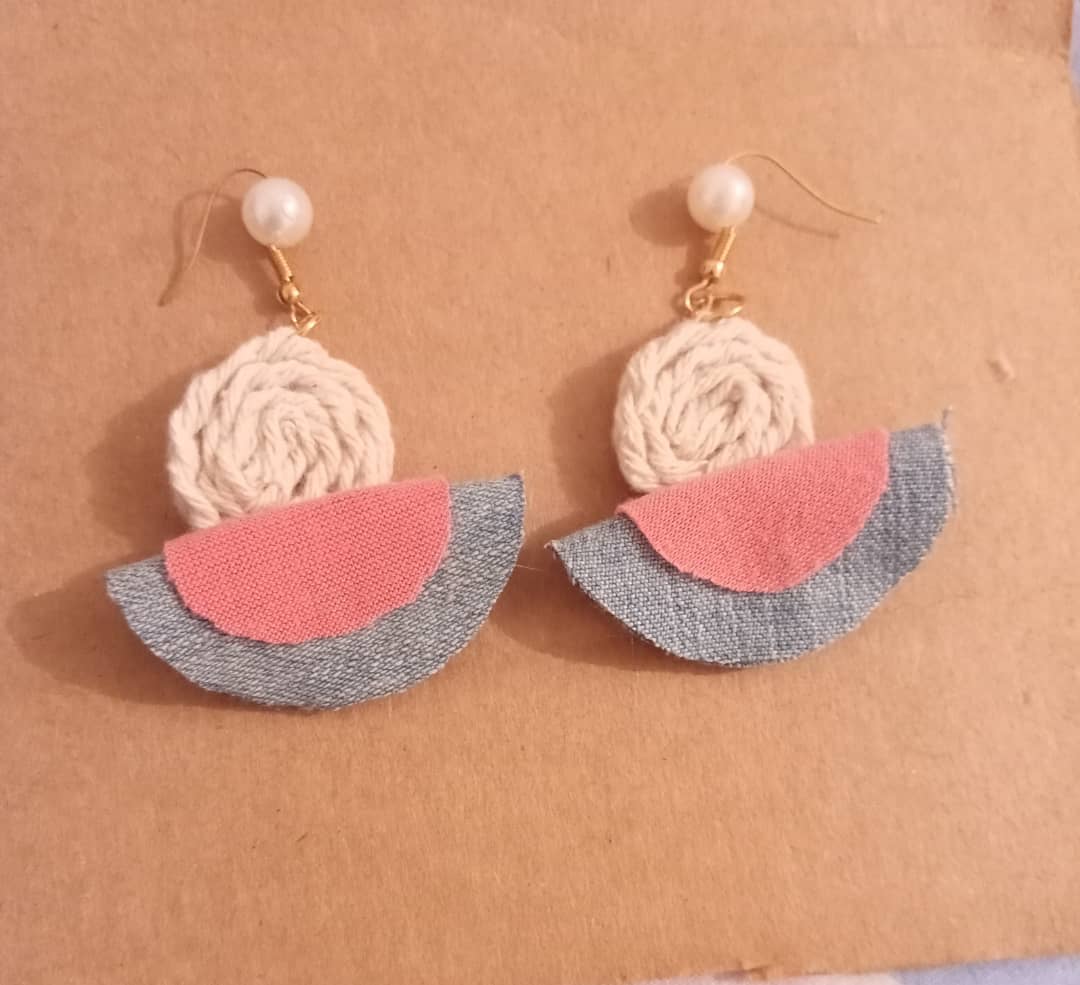 Muchas gracias por visitar mi Blog
Thank you very much for visiting my Blog.

---
---
---
---