A laborious process from fruit to EXTRA VIRGIN OLIVE OIL
This happened a month ago when I was picking some olives, a few details of how it is .. you could say hard and a little hard to get that wonderful olive oil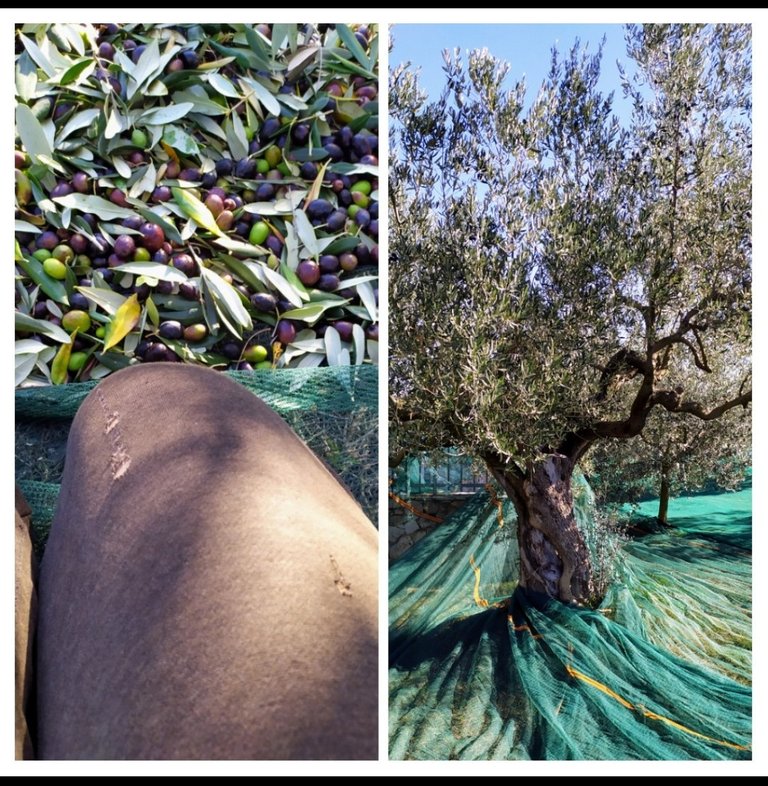 Before starting, the net should be well placed under the tree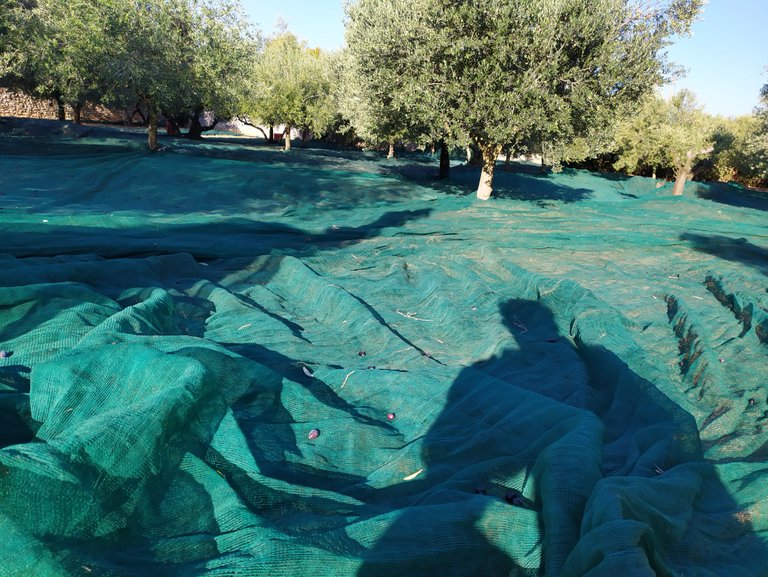 when work begins and this means that with a tool like a fork they shake, they shake the branches and separate the fruit from the tree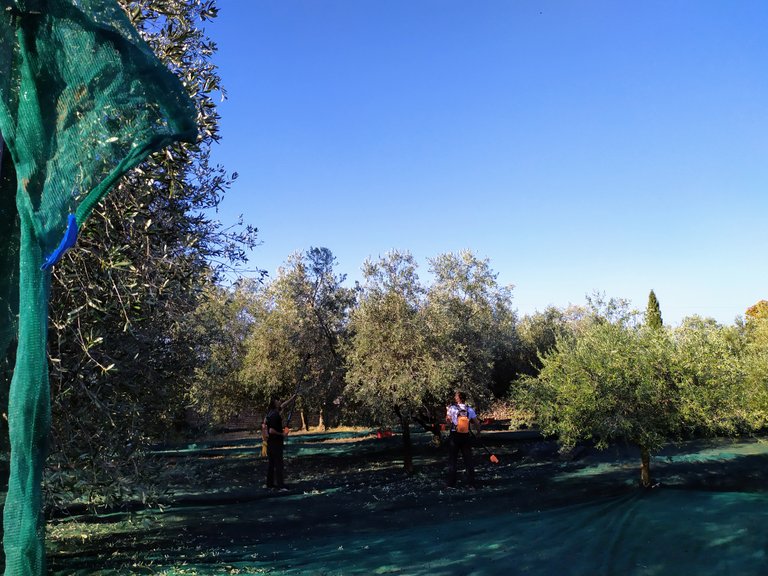 so they fall into the net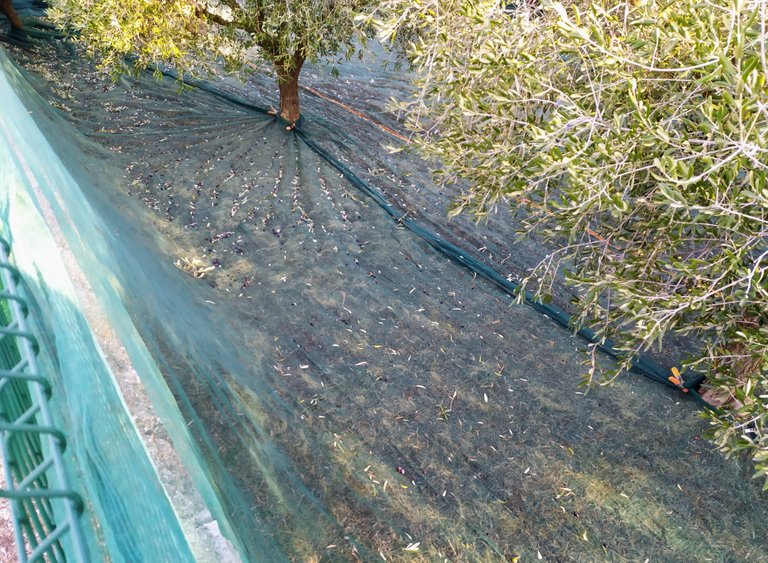 fast and fly from that tool shaker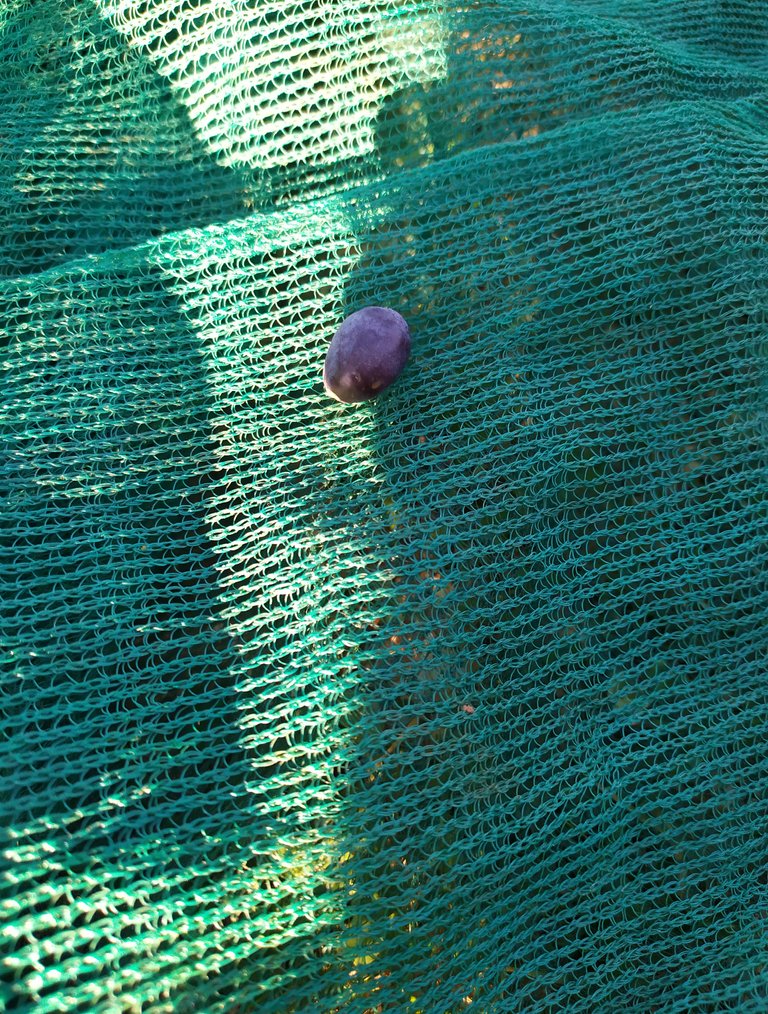 there are plenty of canopies and they are tall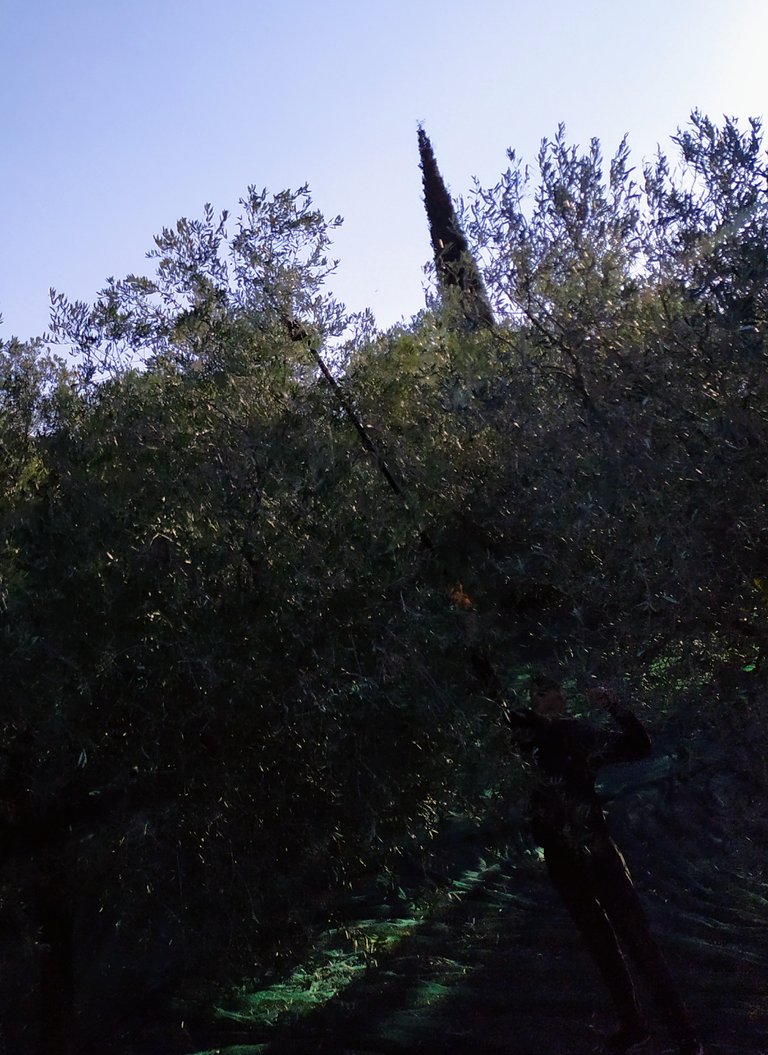 the net must be moved and emptied frequently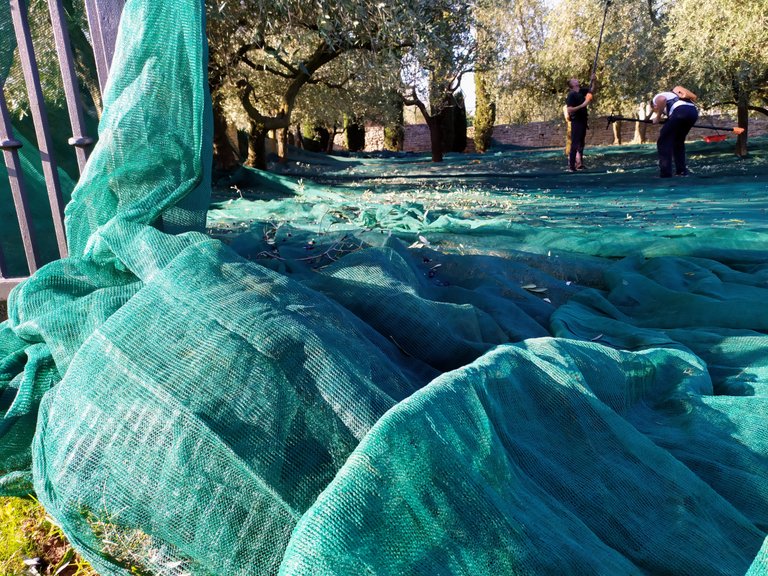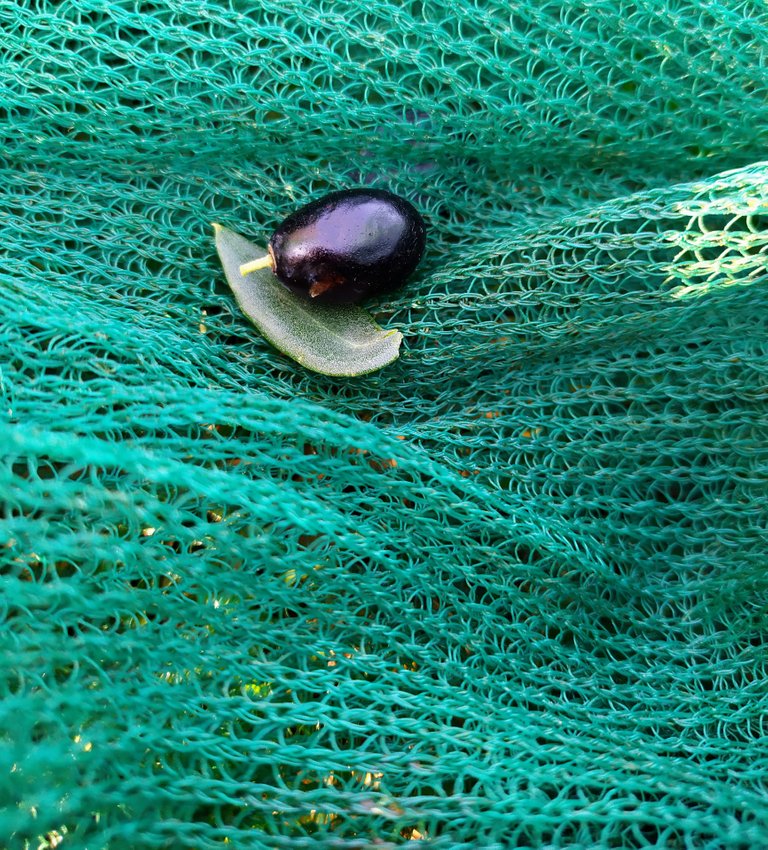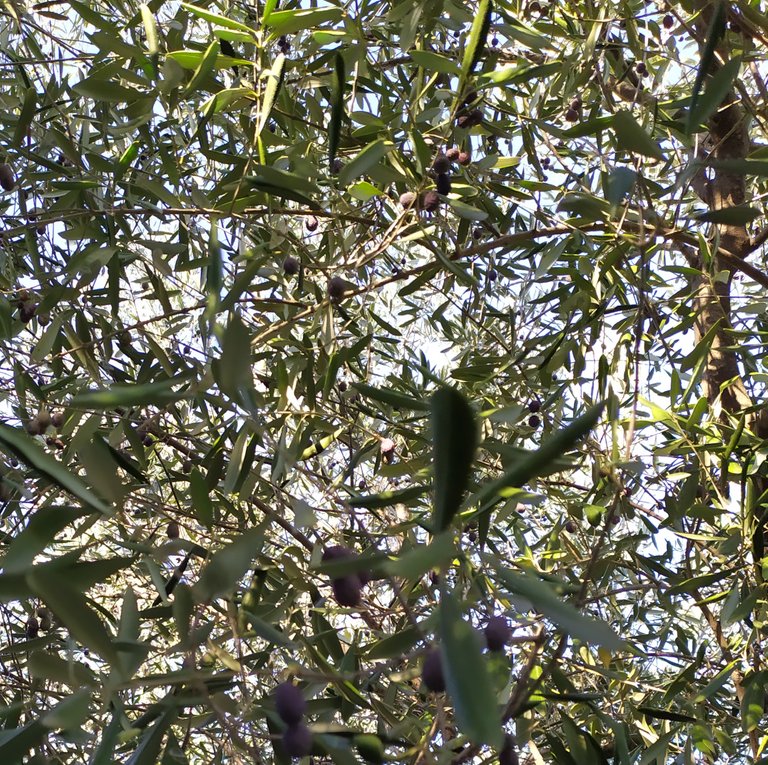 beautiful old trees 200-300 years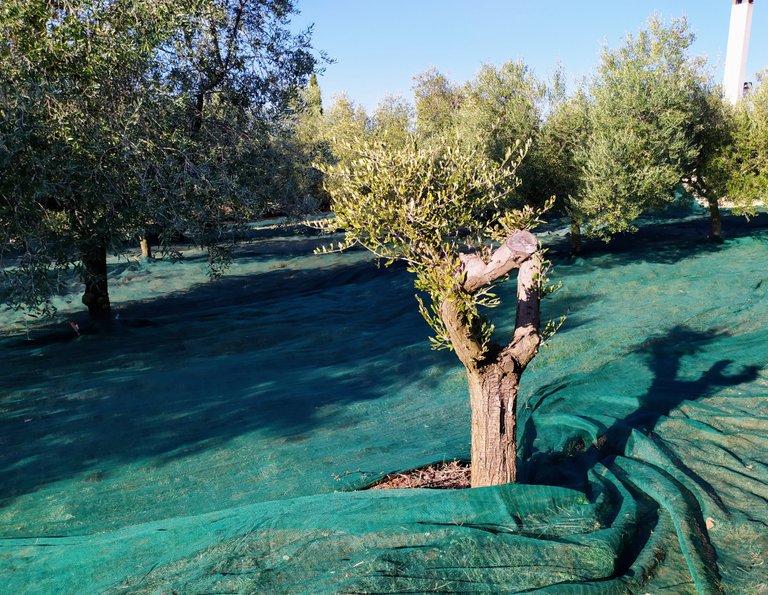 and its fruit is beautiful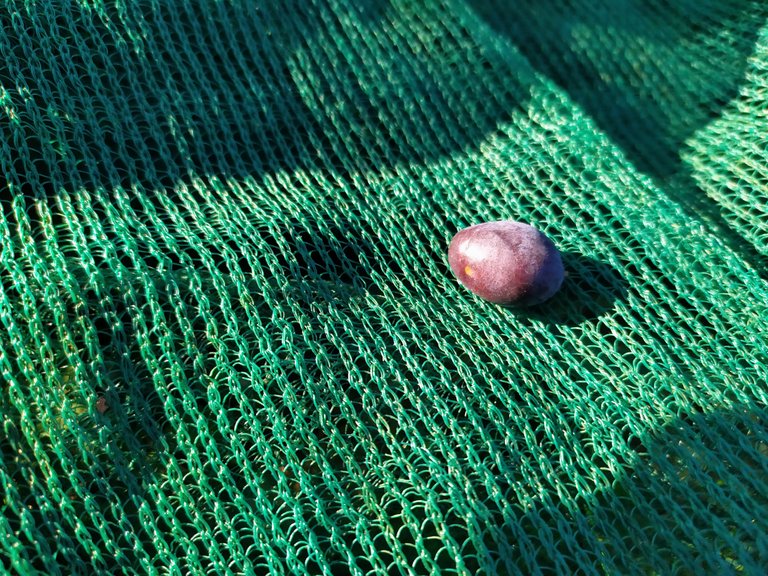 the collected fruits are placed on the group and the cleaning of the fruits is started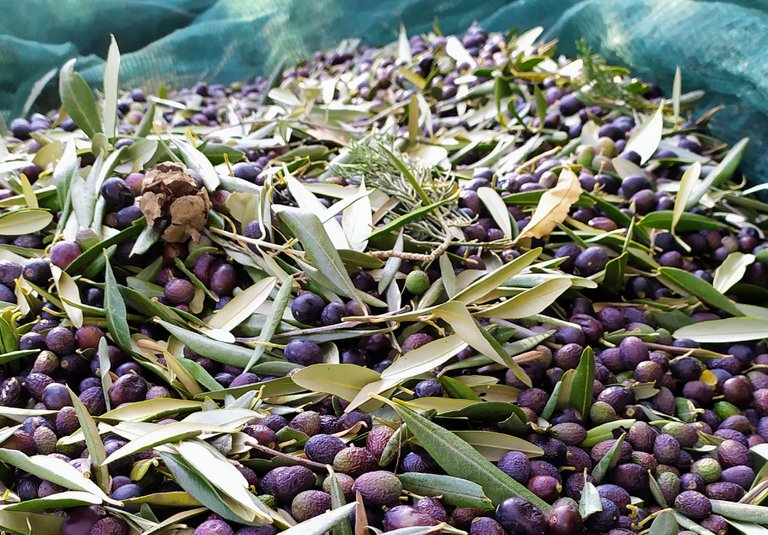 among the fruits there are branches, twigs and leaves that need to be removed from the fruit as much as possible to be cleaner in order to be of good quality later.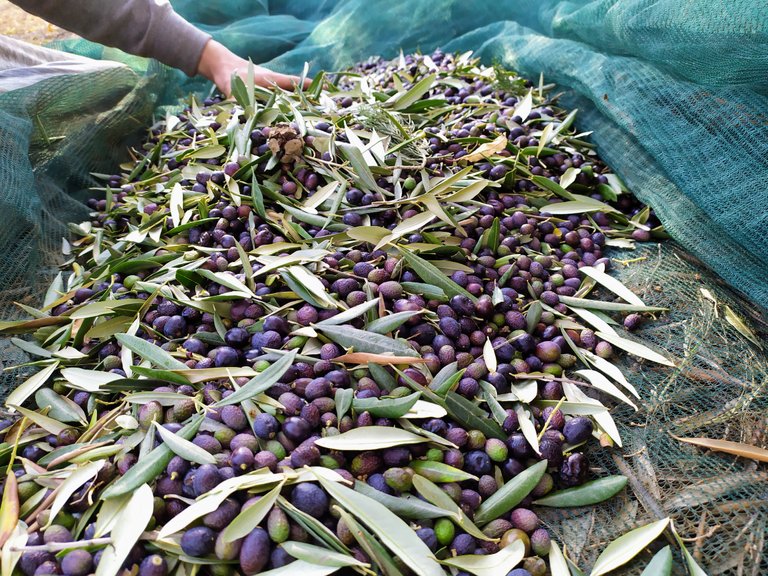 this is the amount of leaves and branches that are thrown out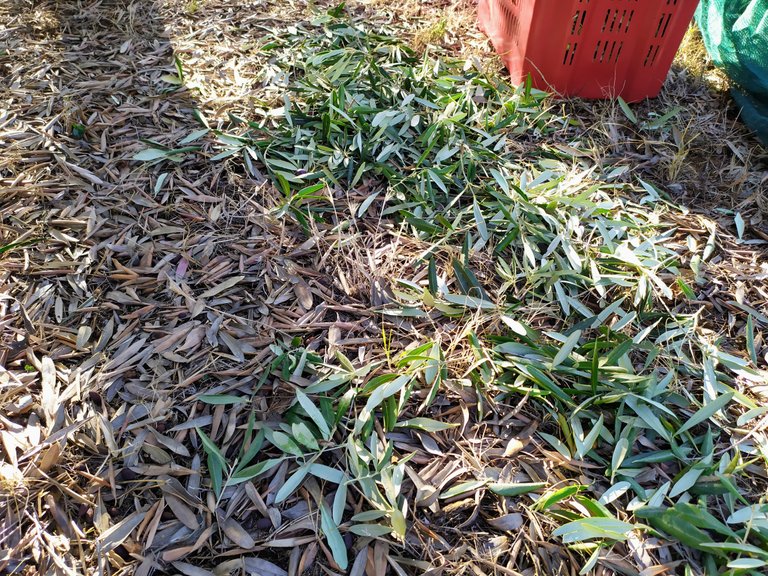 and puts in baskets fruits with few leaves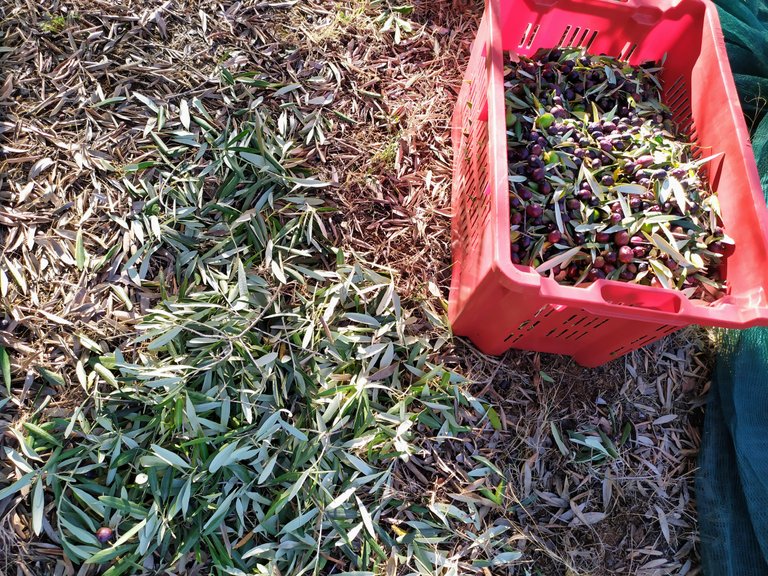 further the olives are collected in a group and cleaned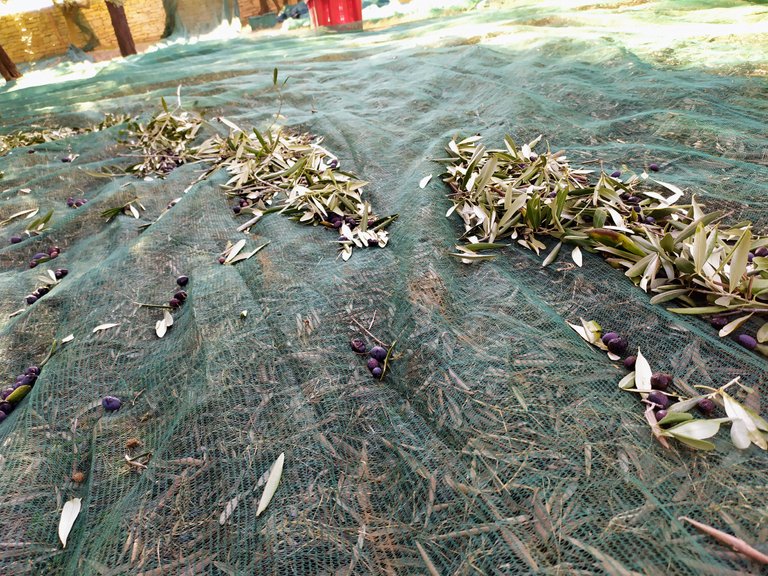 while cleaning, you will come across some mushrooms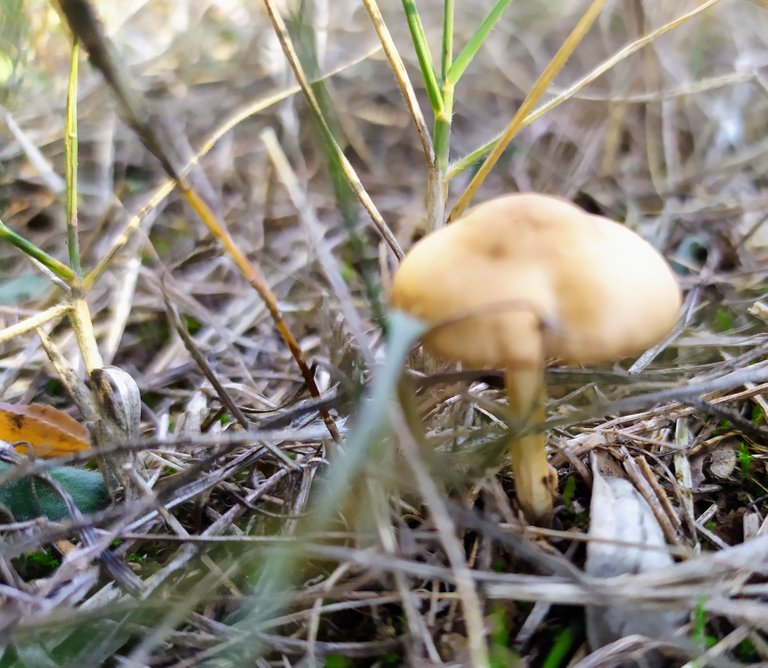 this is a beautiful sea view in Rovinj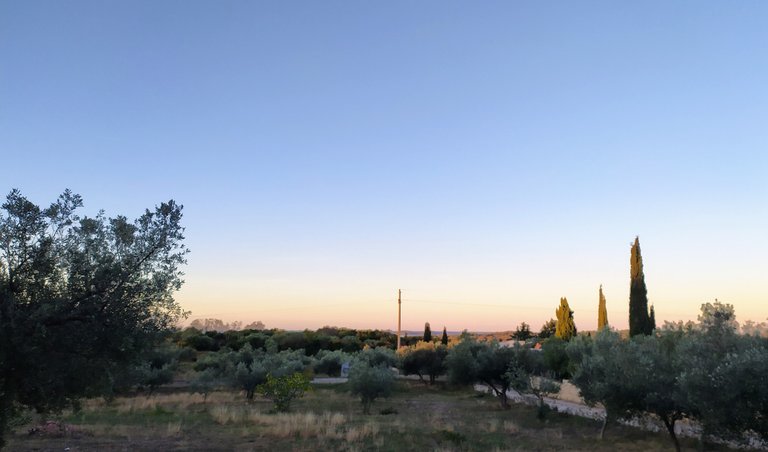 the moon looks nice very clear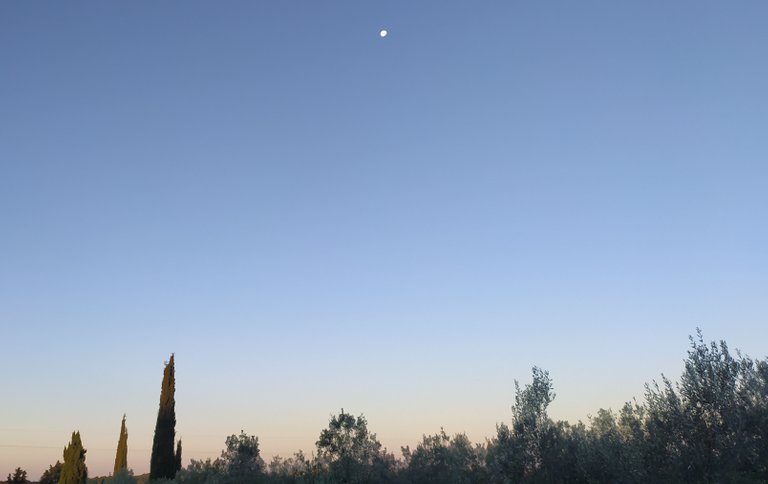 the view of the sea and the islands of Gemini to me look like two beautiful tits are just far away so they are barely visible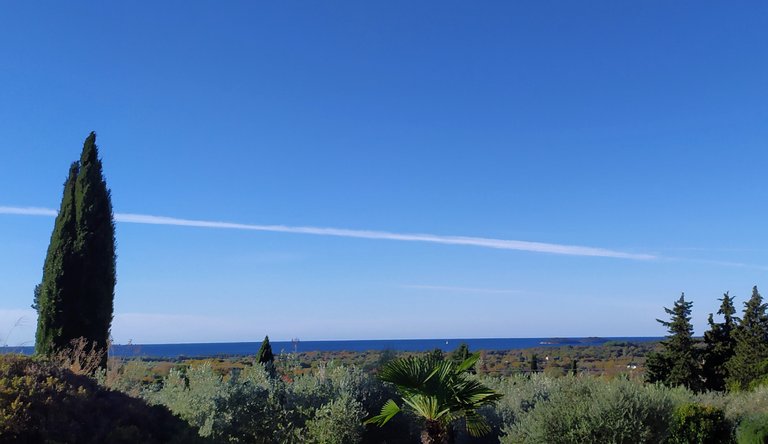 here next to the sun is X maybe id that's where the rainbow moves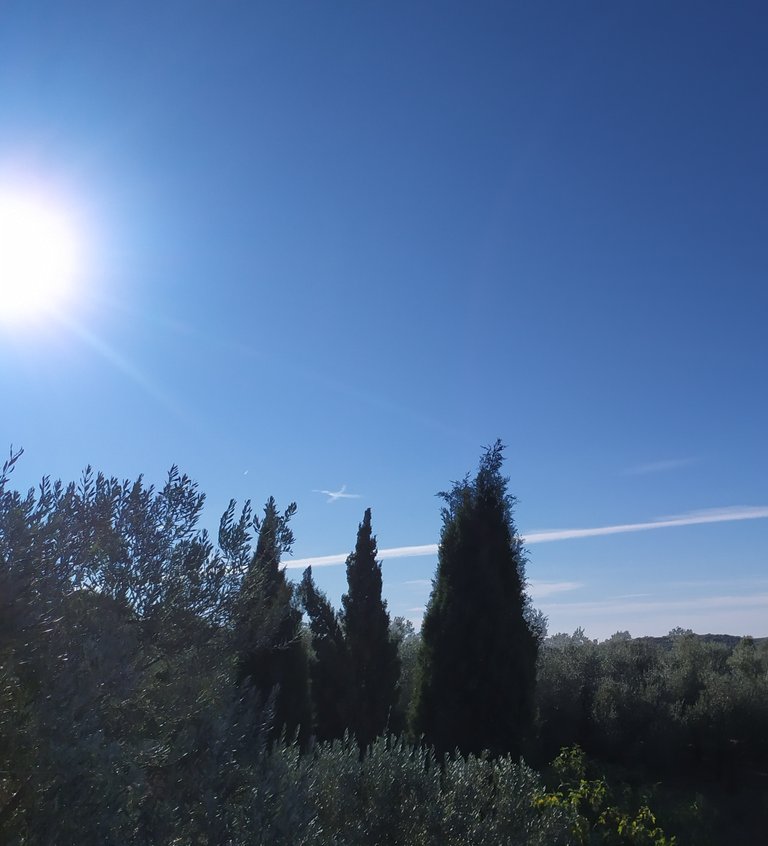 so the moon is premiered because it is already a little too late and it is still visible even if it is day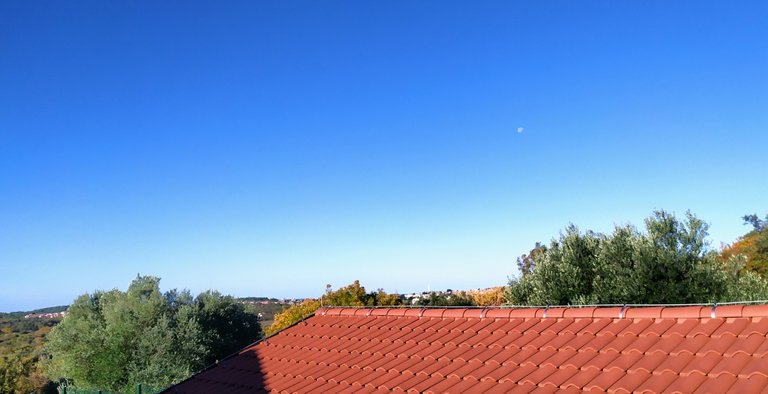 on one plot I came across old openings water tanks similar to indoor pools that had openings like this to store drinking water - rainwater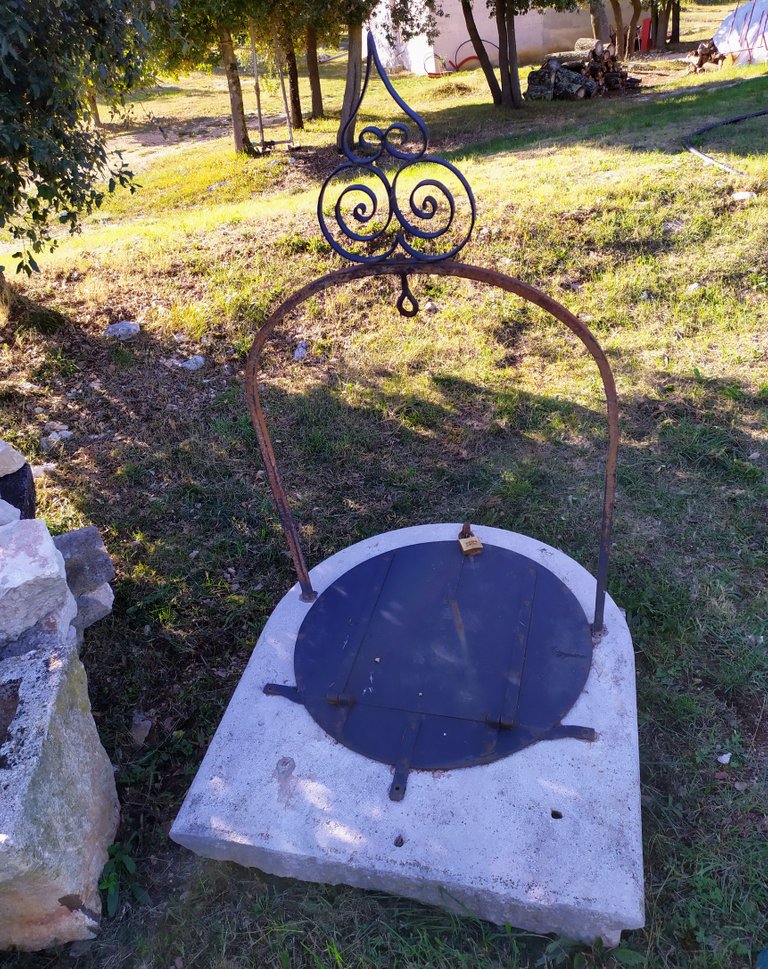 This is an old grinding wheel round stone grinding wheel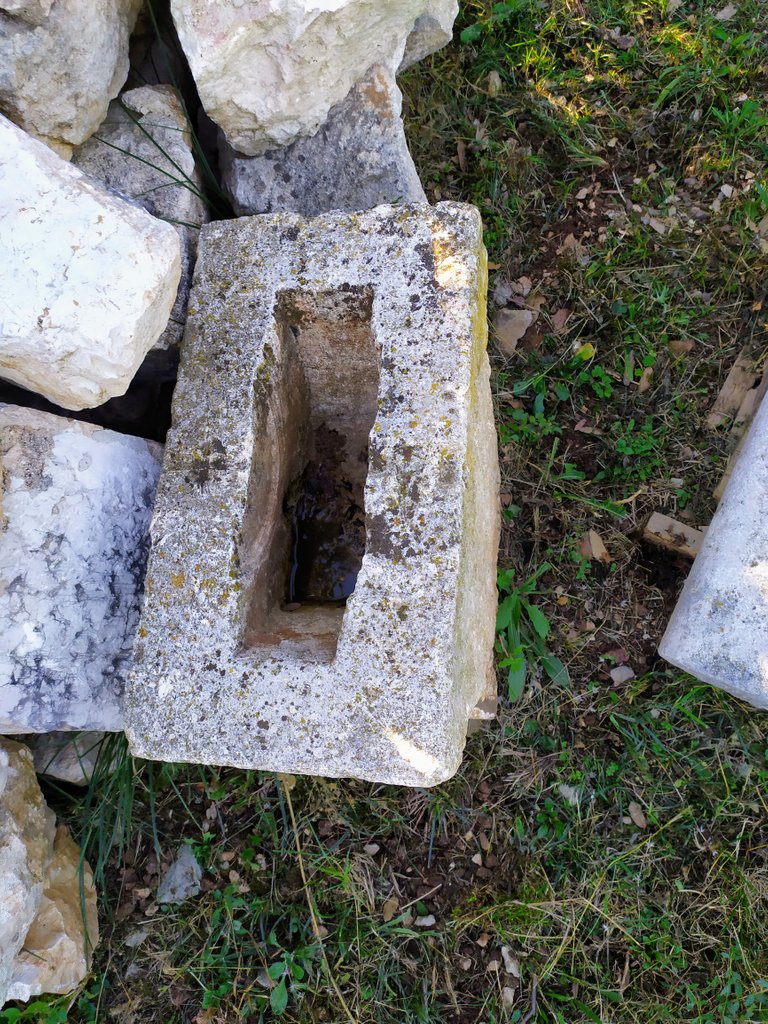 inside, water and a grinding wheel were placed, the stone was must, it used to be like this, the carrier was carved in stone, I don't know the age of this, but it's a couple of hundred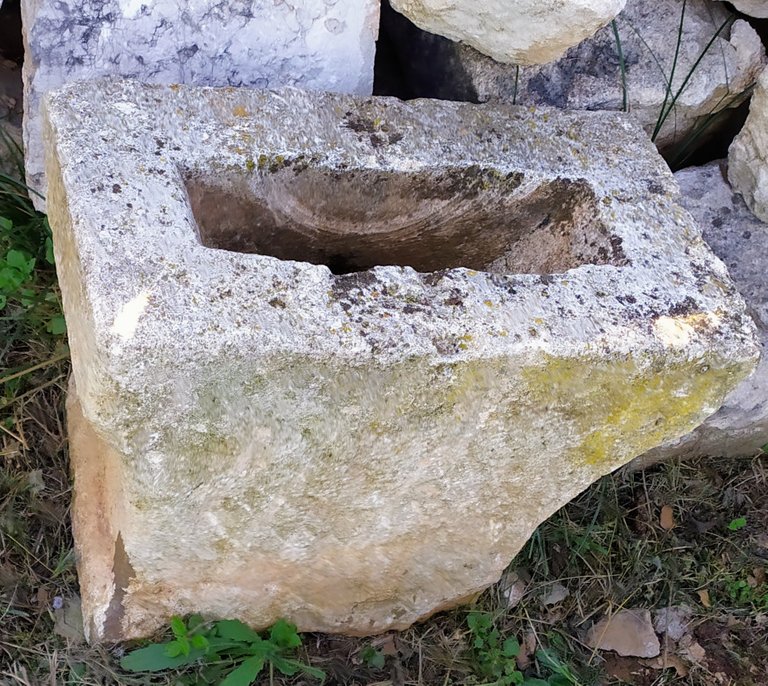 this is a stone erta which was perhaps a fence holder there used to be a metal construction and cast lead to fix it so that it would not fall out and it held well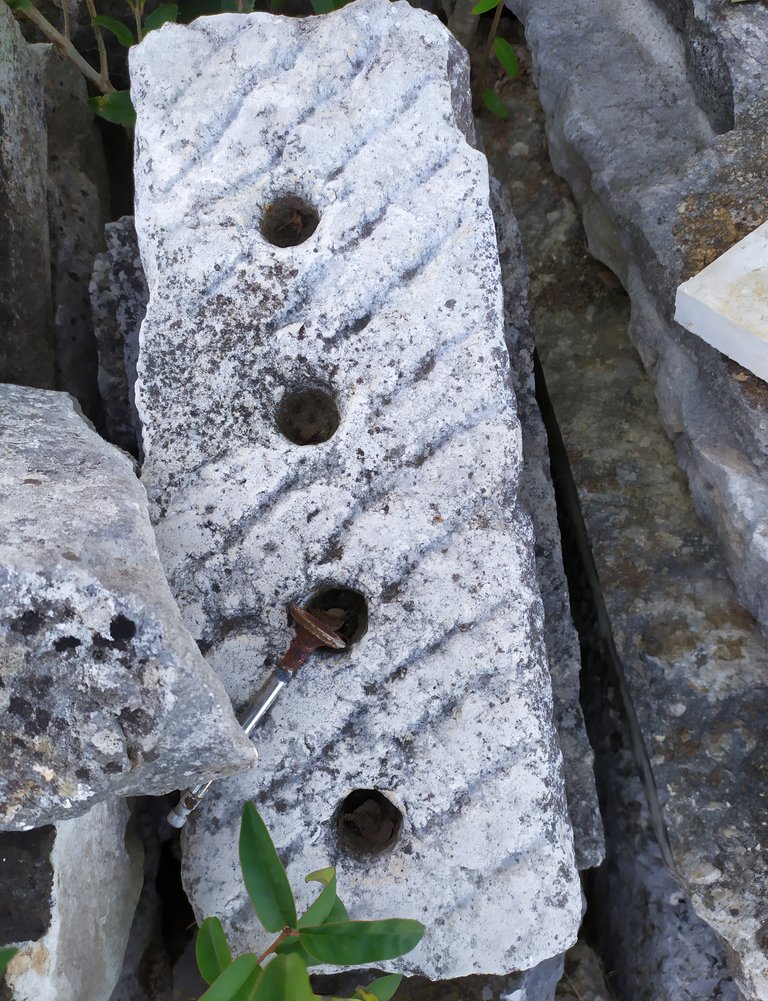 it all had to end up thrown in the trash but someone has the will and desire to collect and store such things so they can live on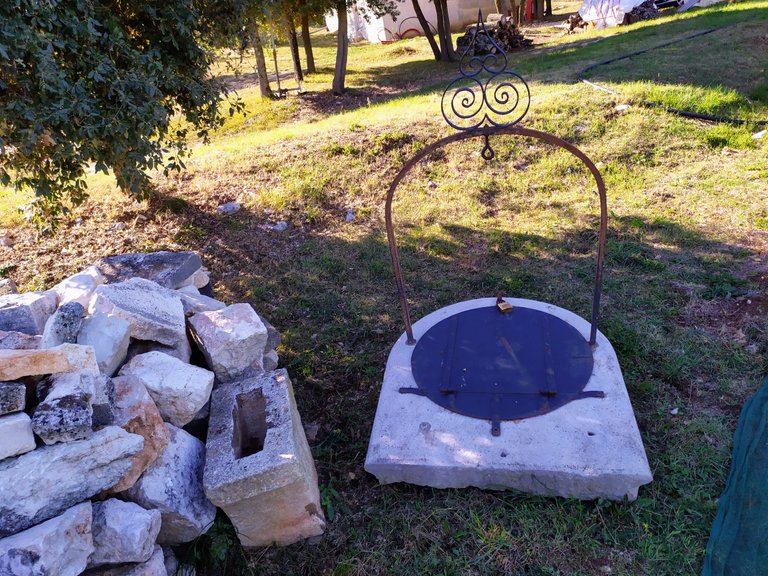 The environment is beautiful The nature is great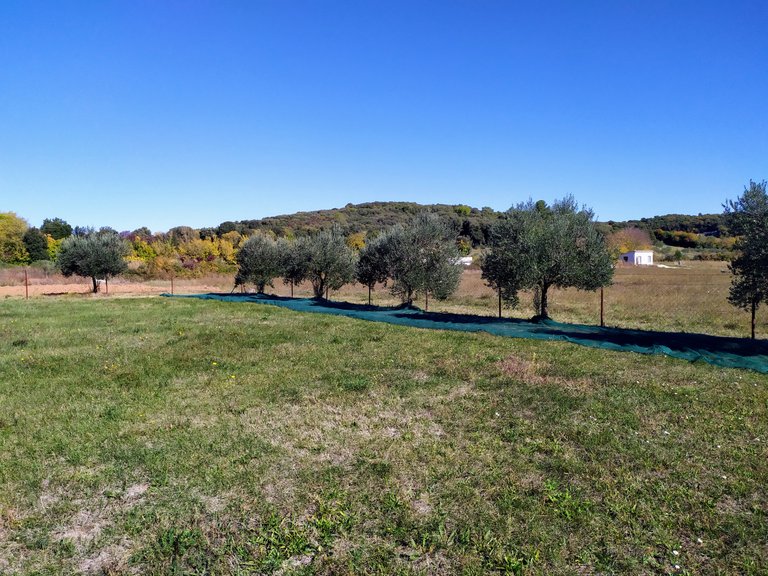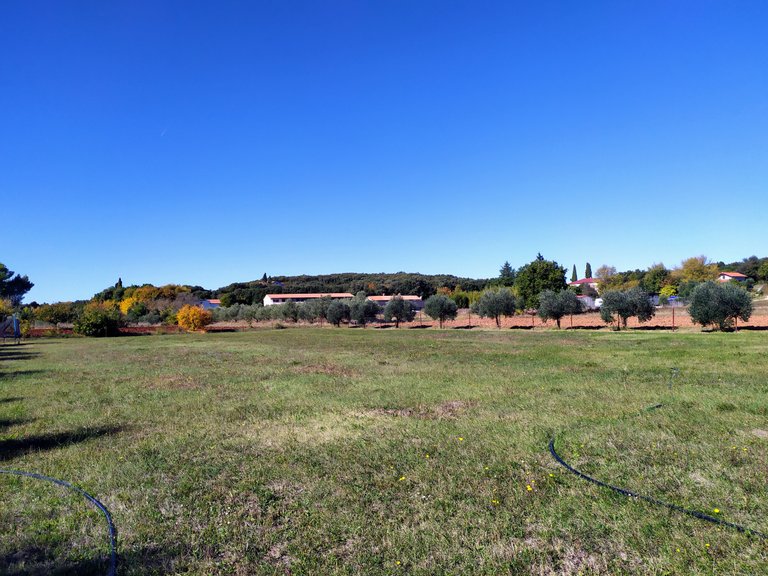 view from hill to hill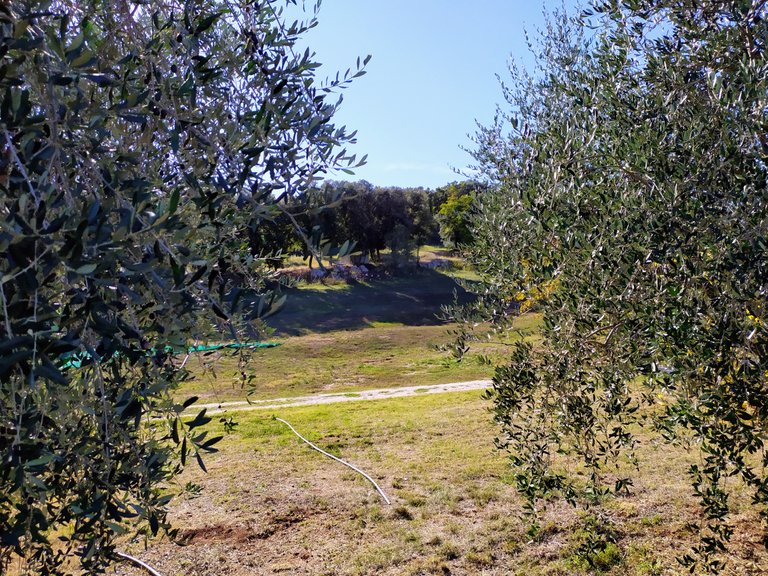 this one olive tree is quite old it could be 400 years old and it holds up well like a young man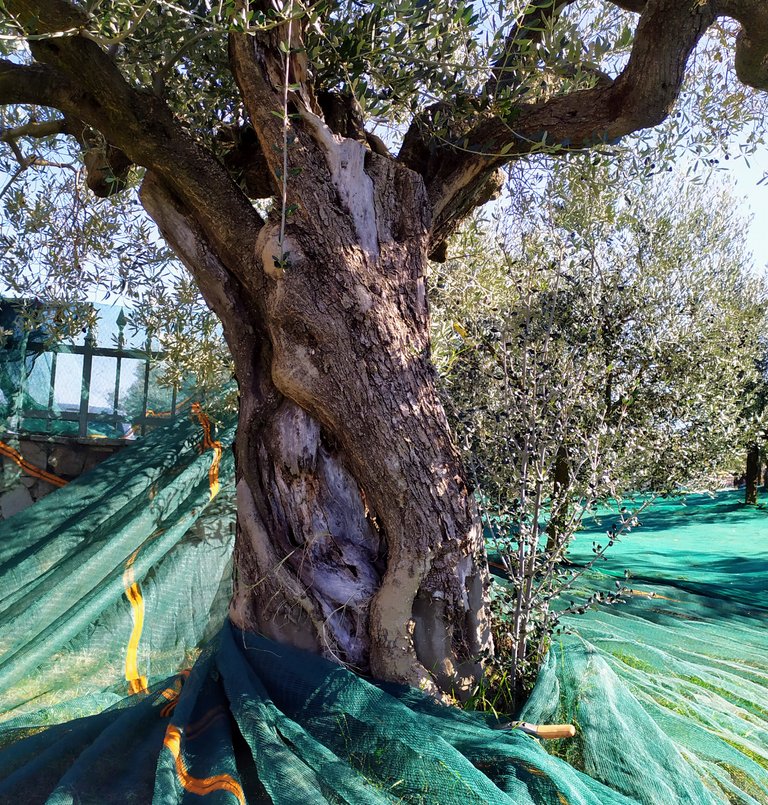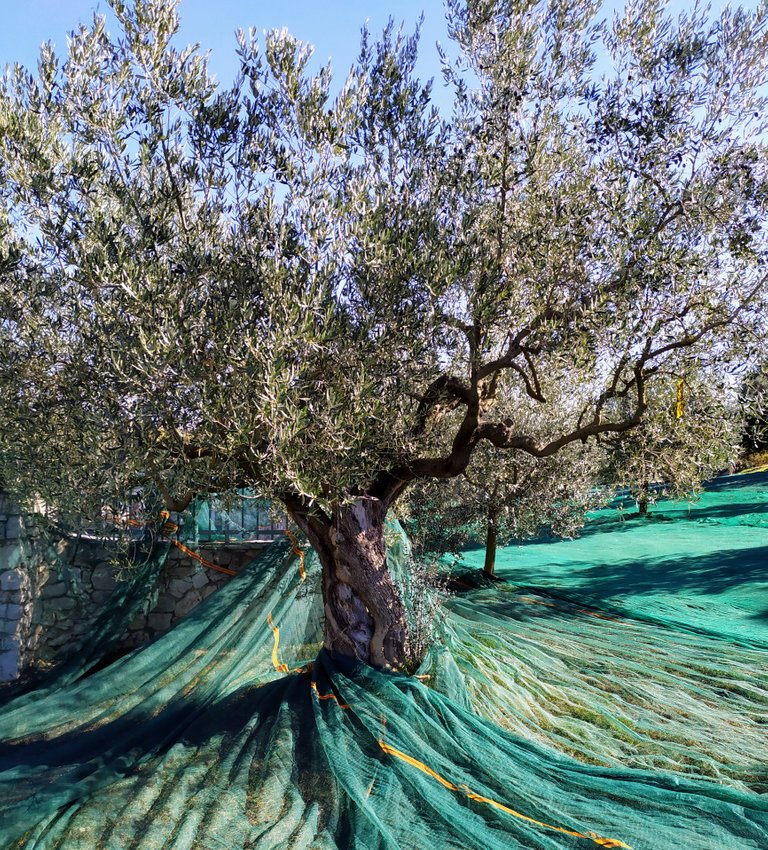 this fig with leaves that sorema fa leaves the branches with these colors for parachute and decoration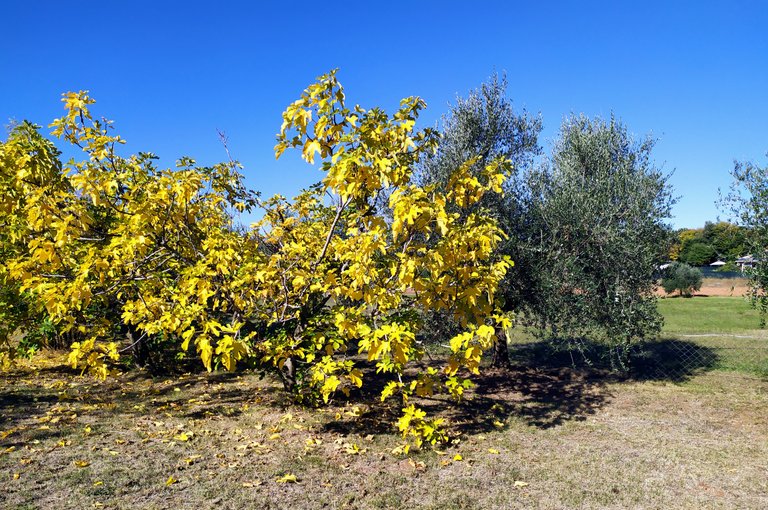 Gives a nice atmosphere in the shade of the canopy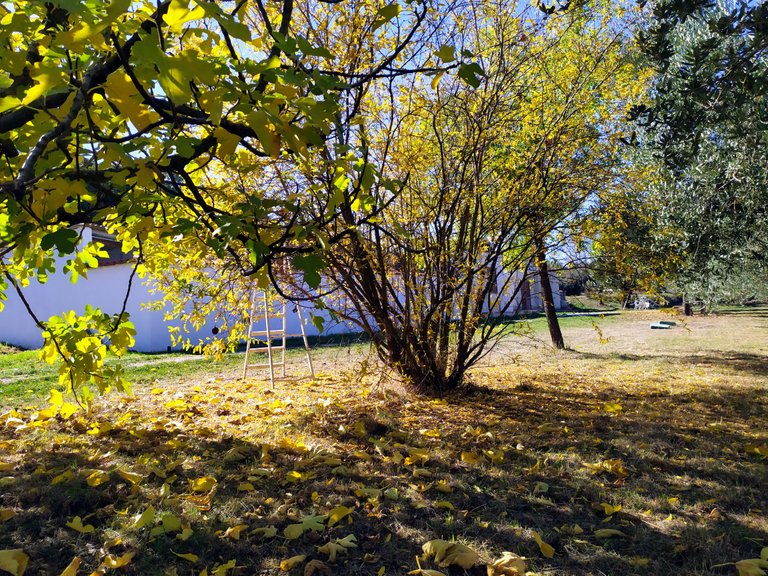 this is what hay looks like when it rests a little in the shade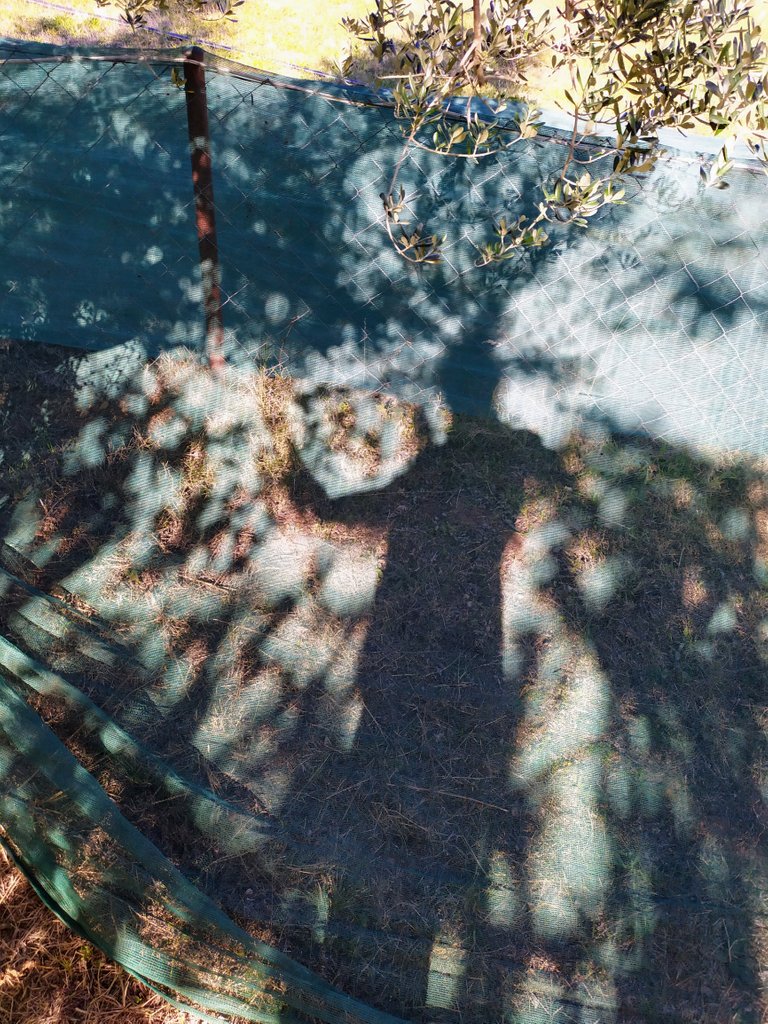 but when done one should throw oneself on one's knees and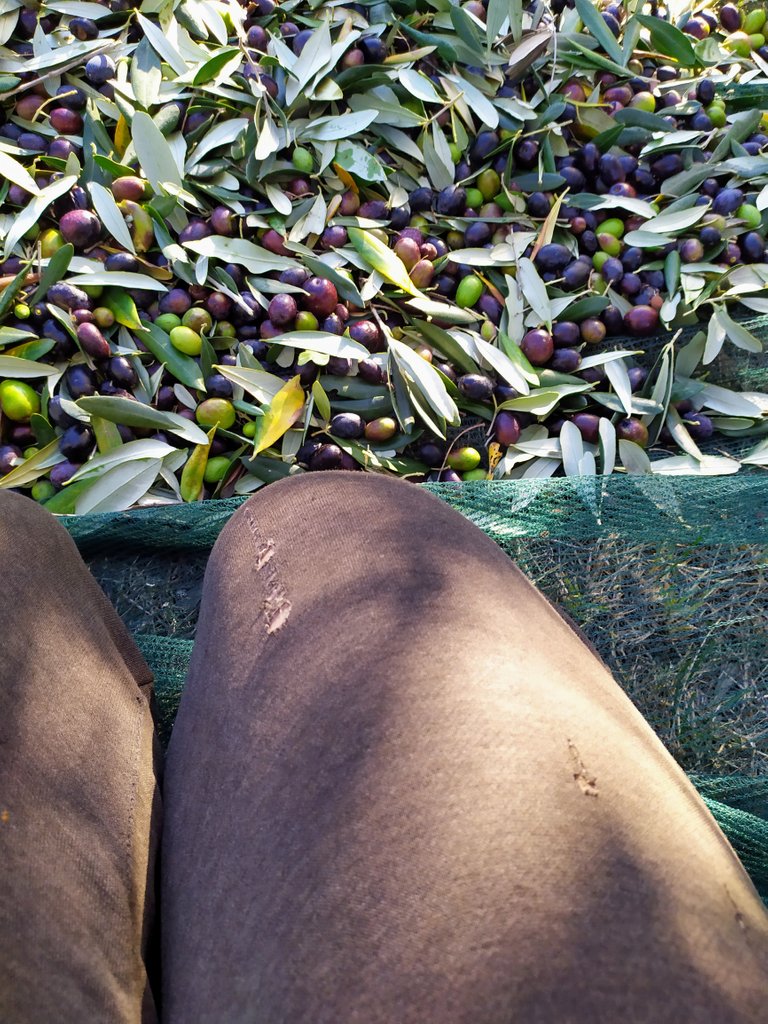 and separate those leaves from the fruit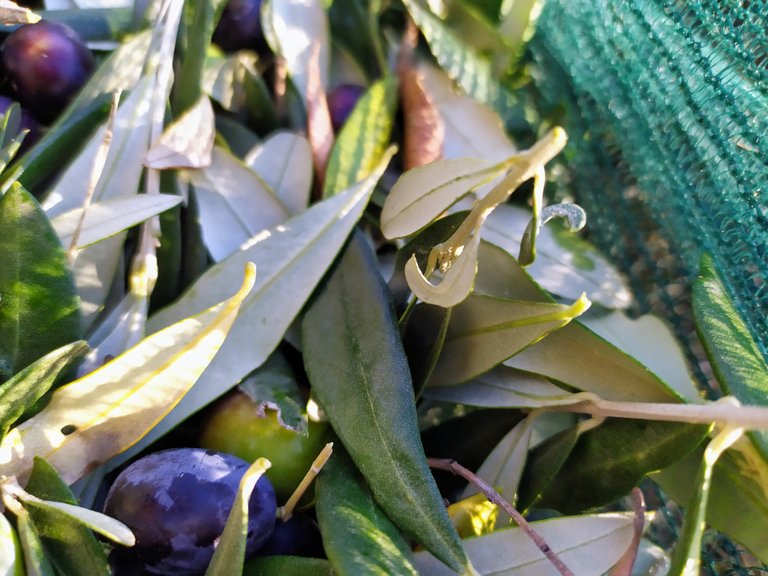 of course and rescue animals various spiders and like this grasshopper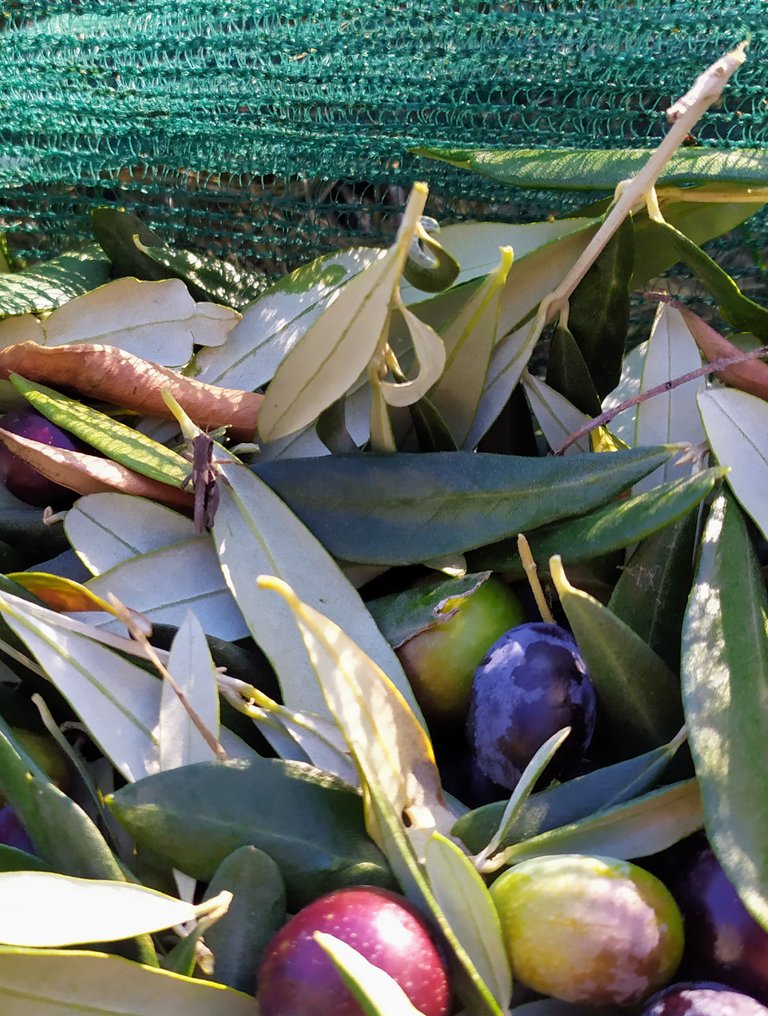 a small view from the hill to the olive grove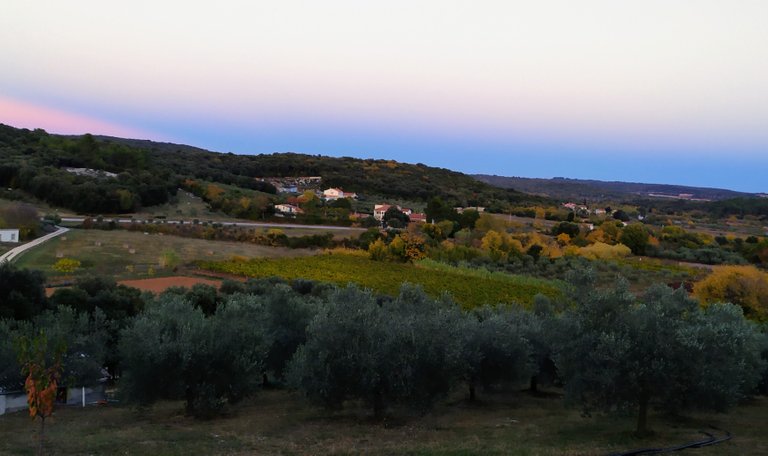 and the sky as it darkens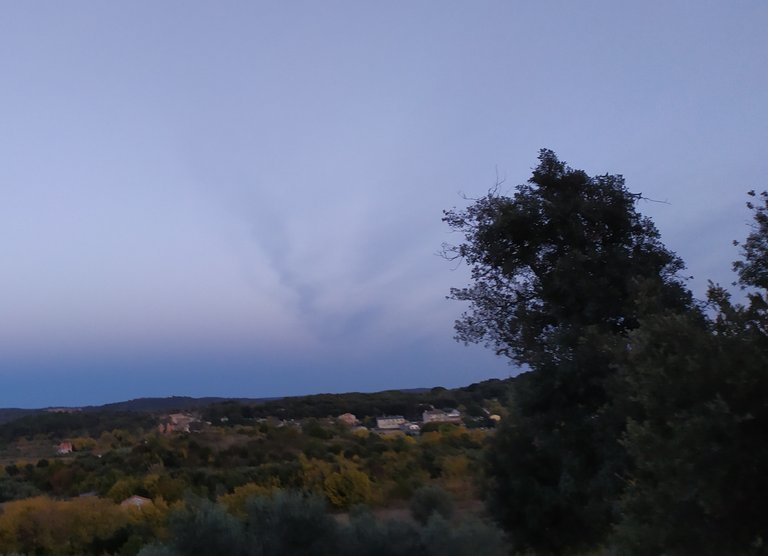 on this side in the west there is still sun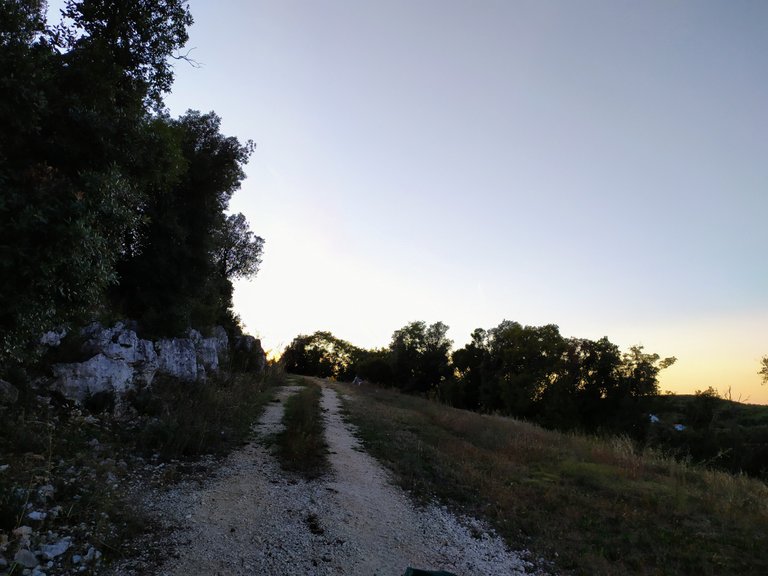 continued into the morning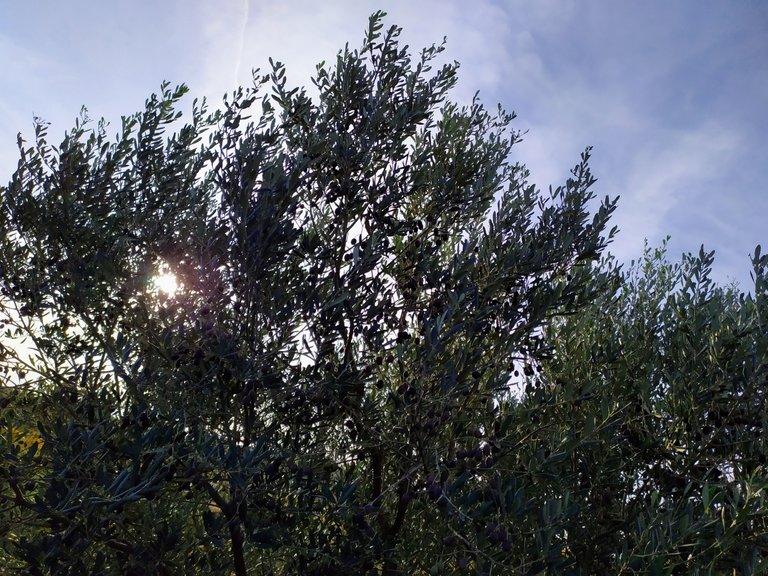 to make canopies with fruits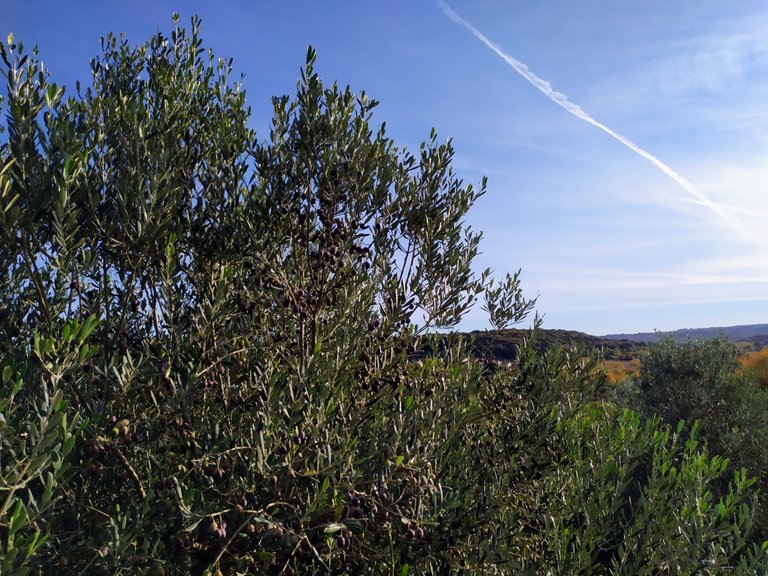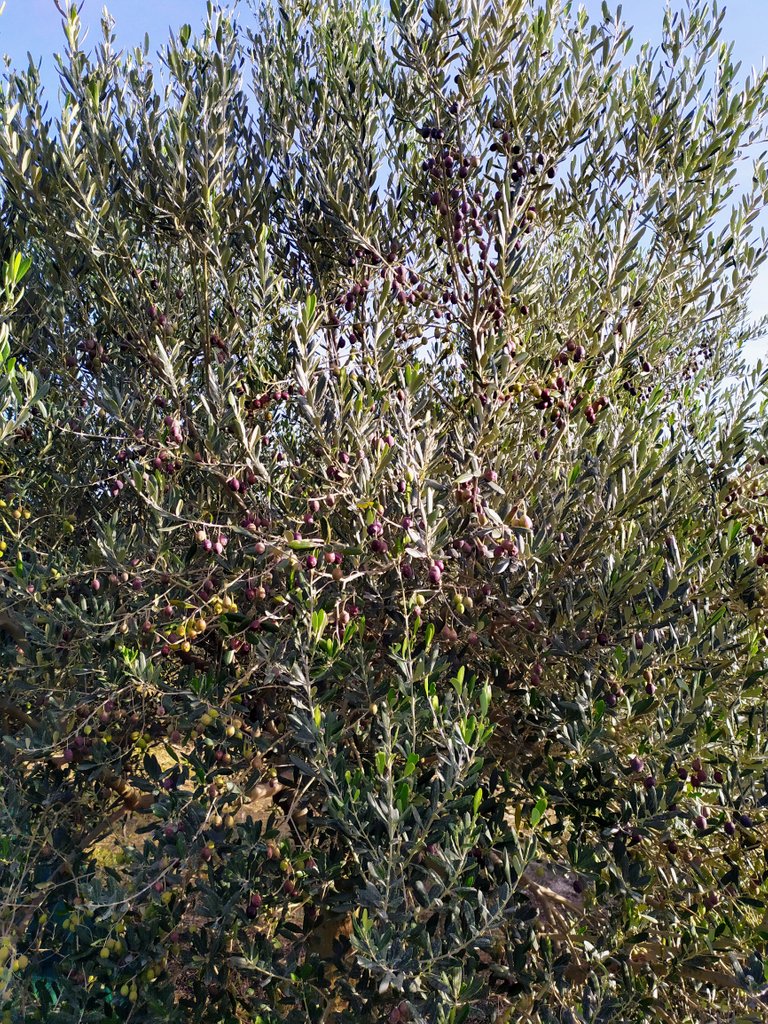 waiting to be shaken and picked up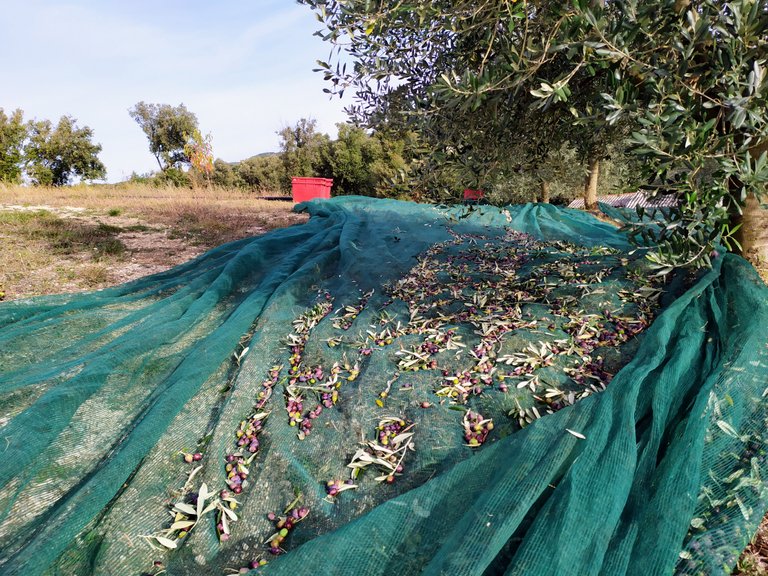 put in the net on the pile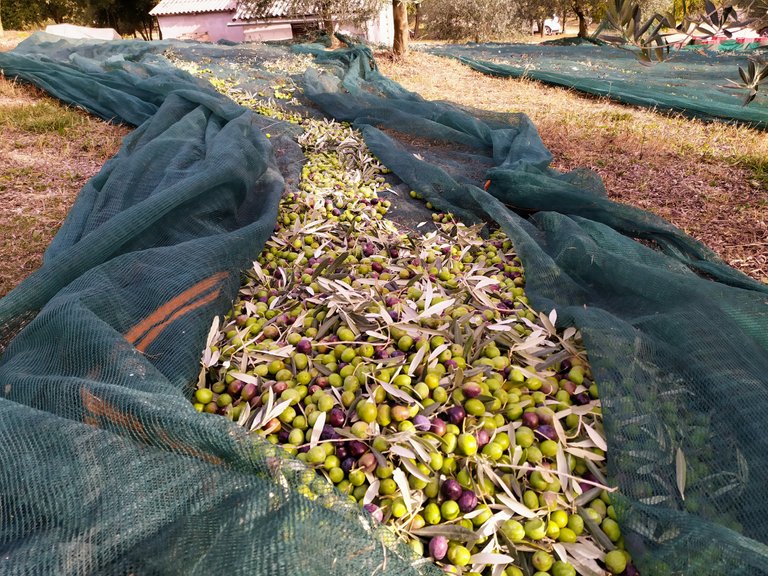 when the nets are released - cleaned of fruit, they should be moved to another place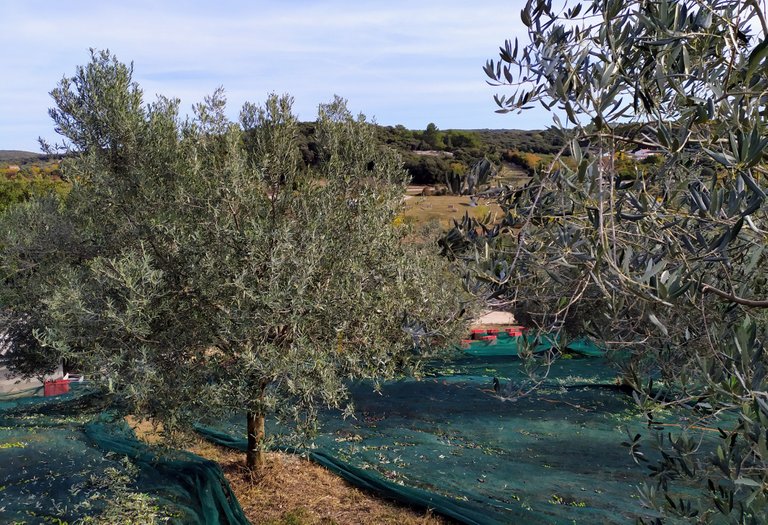 a small tiny transparent white snowflake came to my mind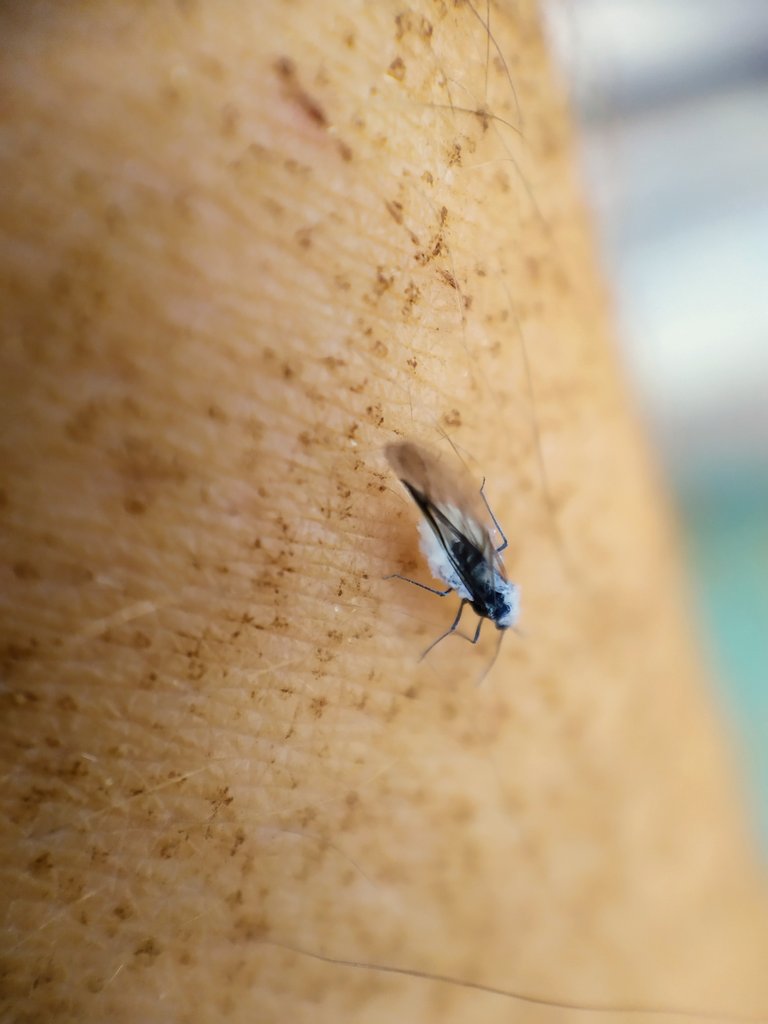 this is what I thought at first glance when it has two - three millimeters in size and when the dream looked better it also has transparent wings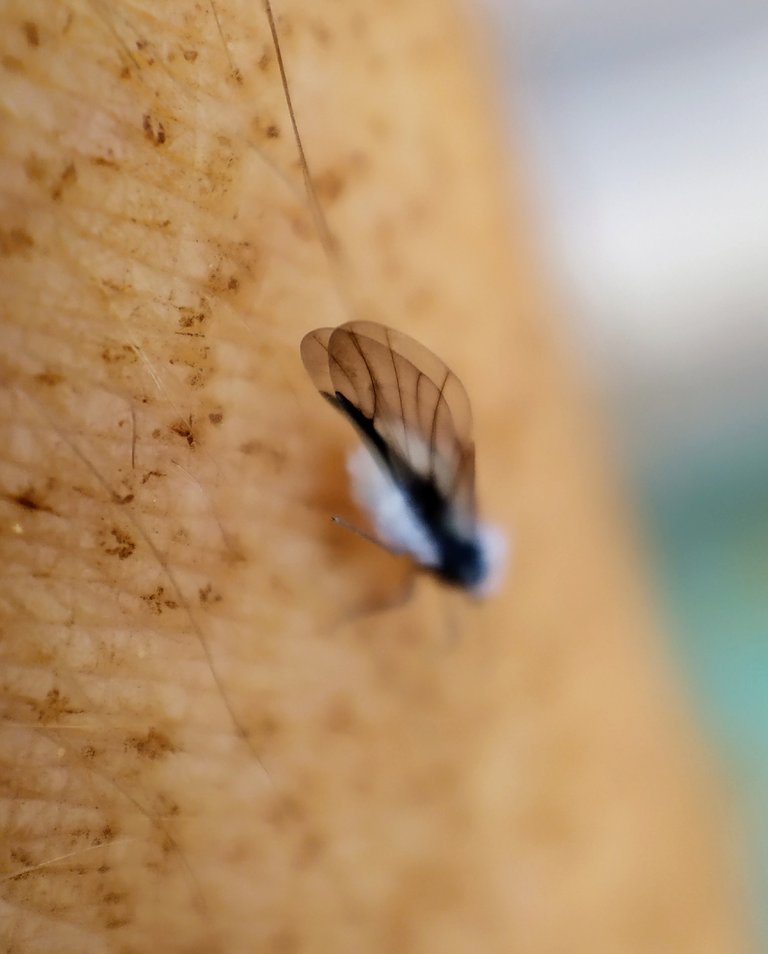 that little snowflake is a moth fly (Lat. Phyllaphis fagi)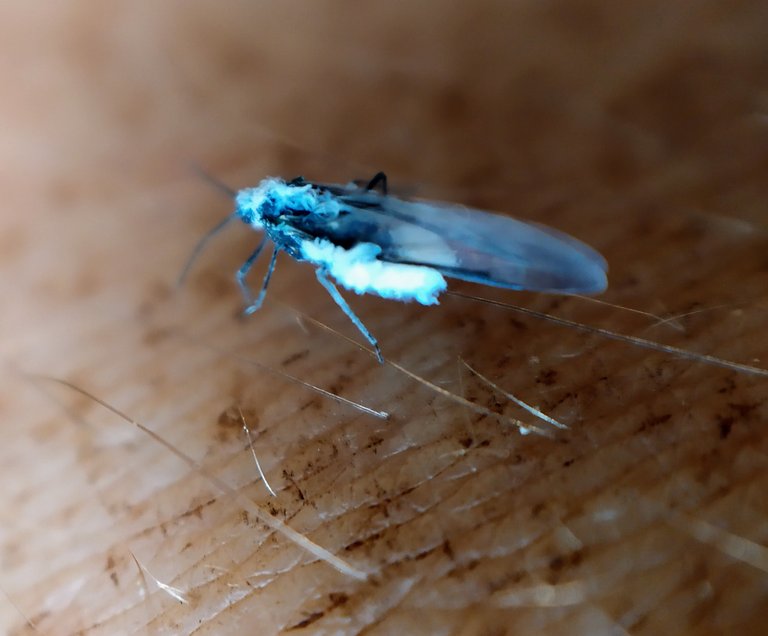 these brown spots on the skin of the hand are small dusts of earth and hair and its shadow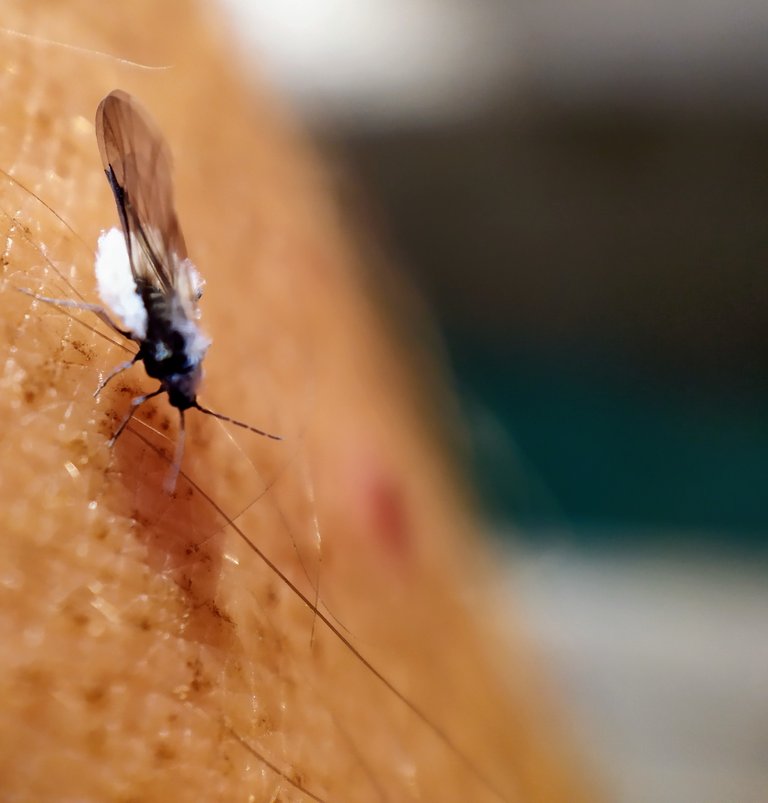 a little back hair can be seen here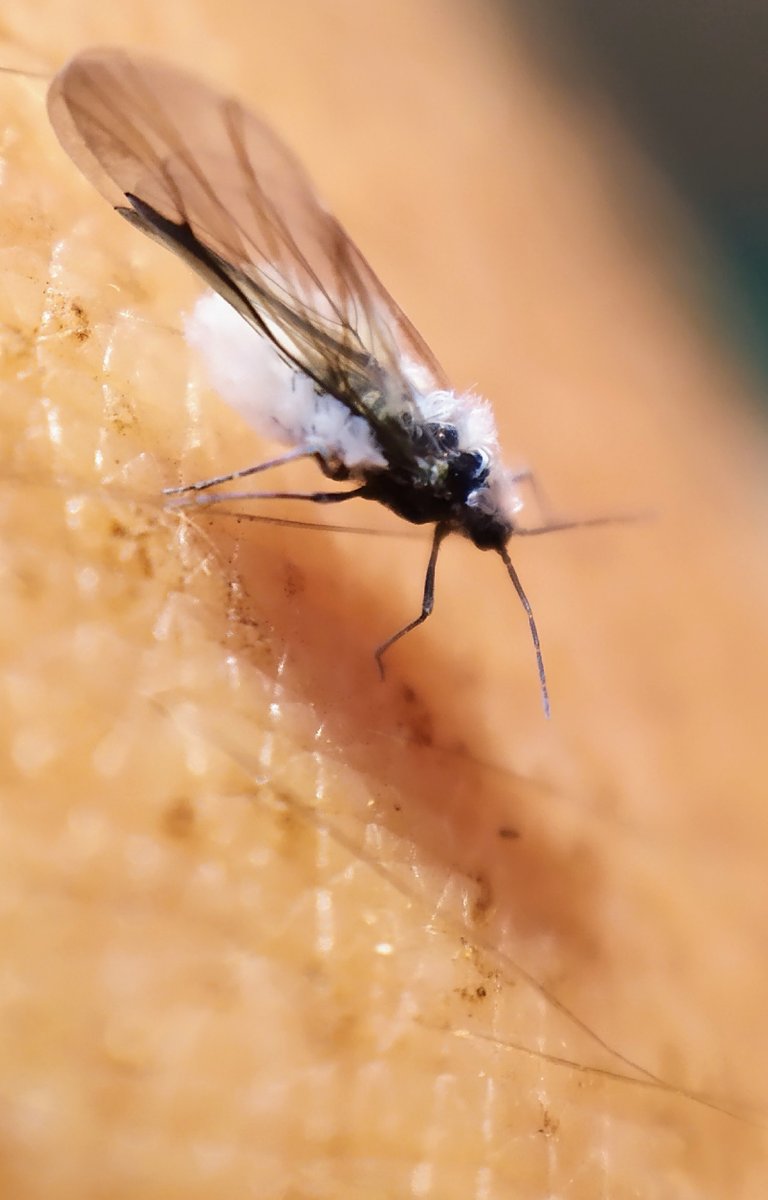 details of the tiny part of the chest and the little head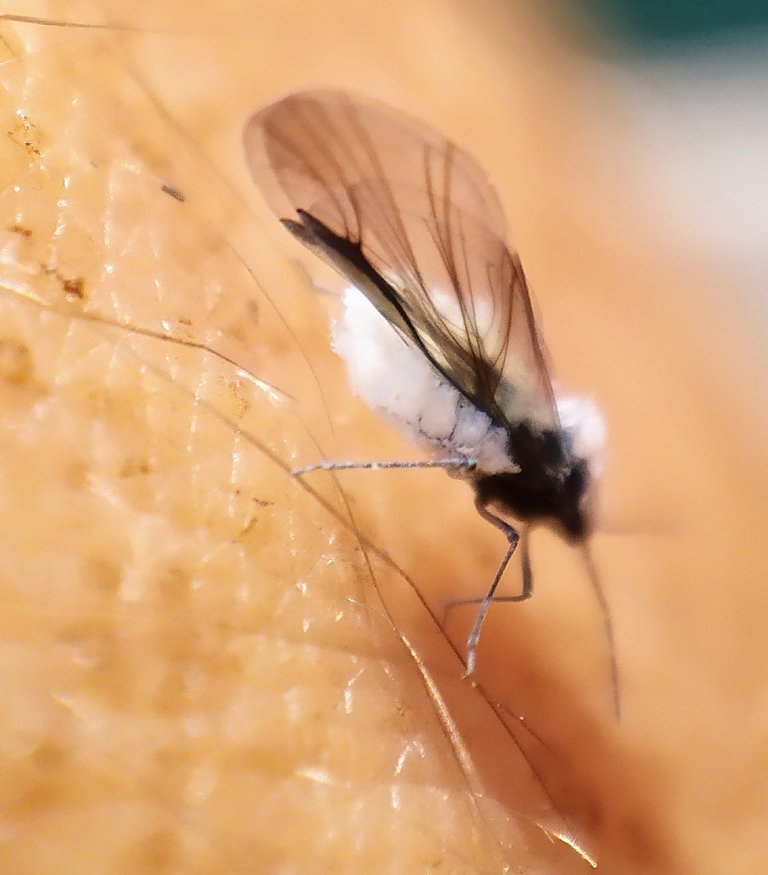 here a few foot details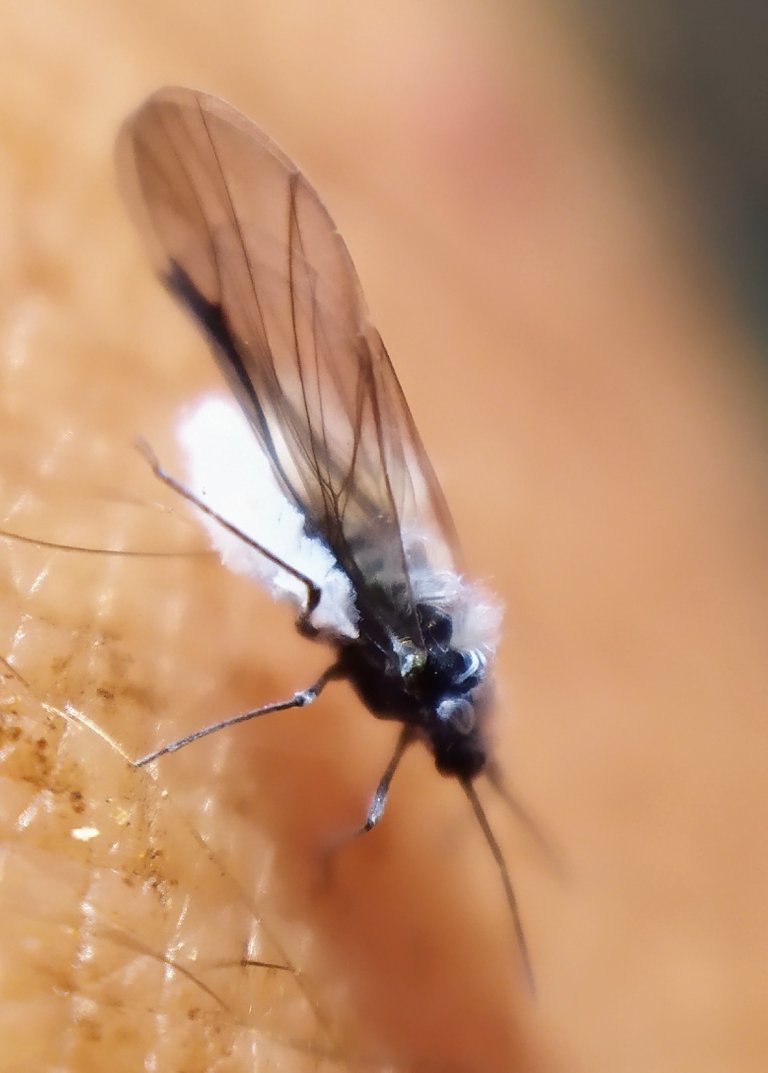 I see this flying insect for the first time and these are my only photos of it with details and this is the last and a little clearer of that miniature animal with hair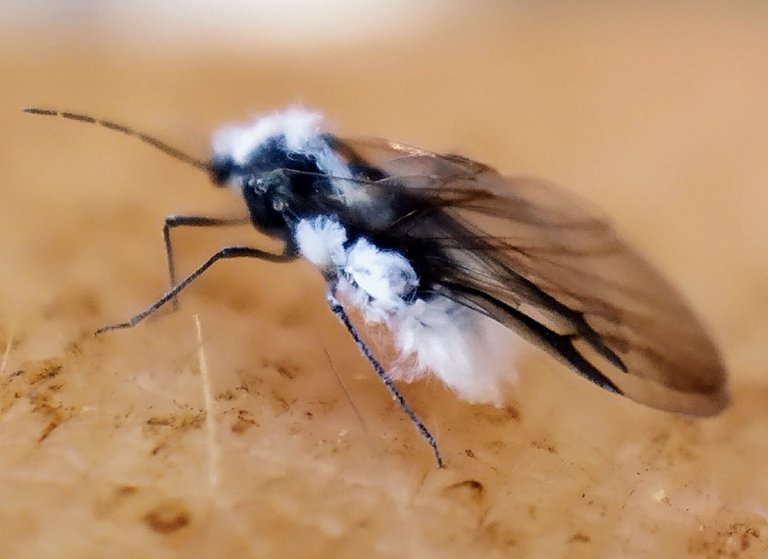 this insect is predominantly seen on agricultural land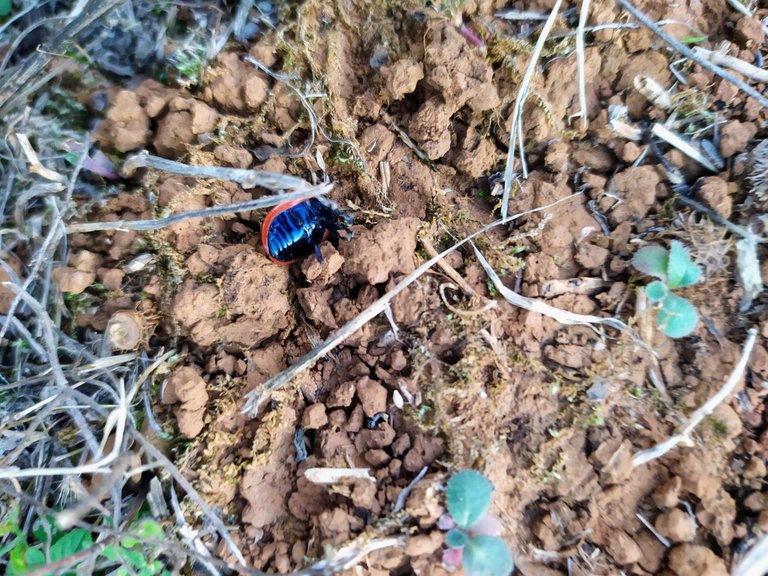 he's fast and the only one I've ever seen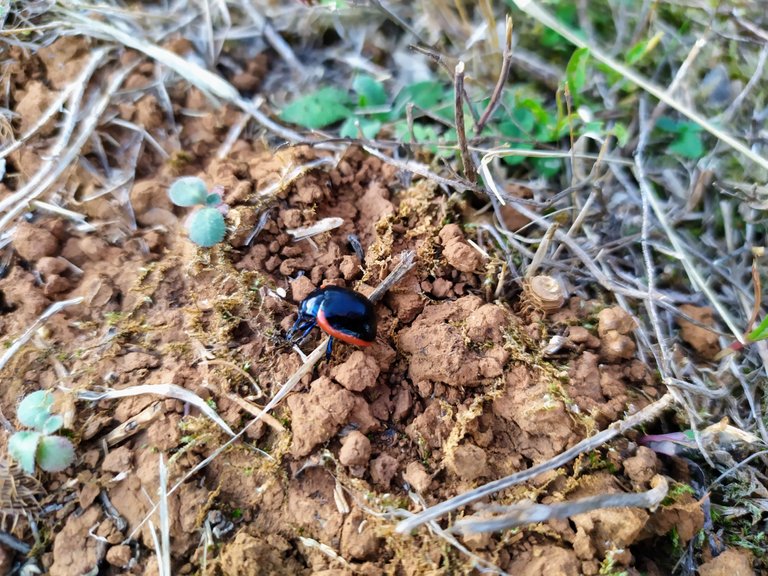 the hard wing also has these beautiful red lines on the side and is called (Lat. Chrysolina sanguinolenta )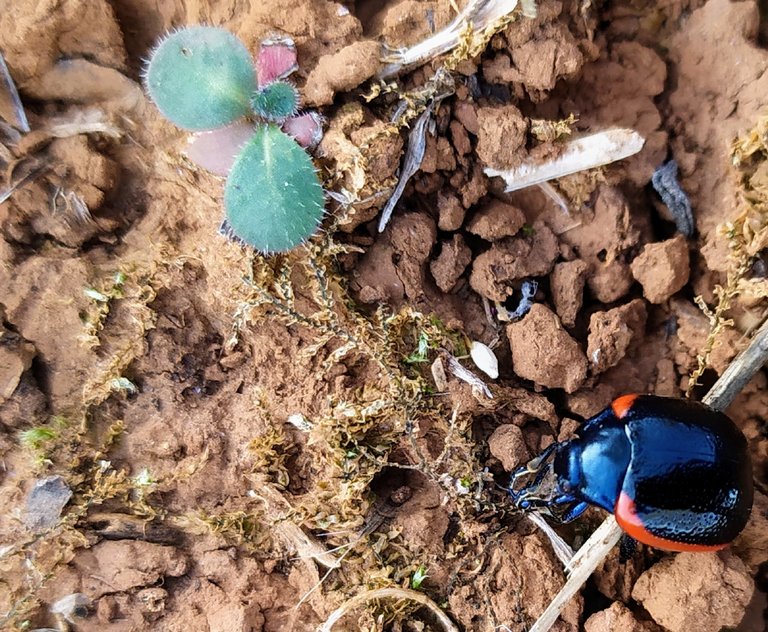 And it was time to go to the oil mill one in the town of Rovinj, a place di from the fruits of Olives create oil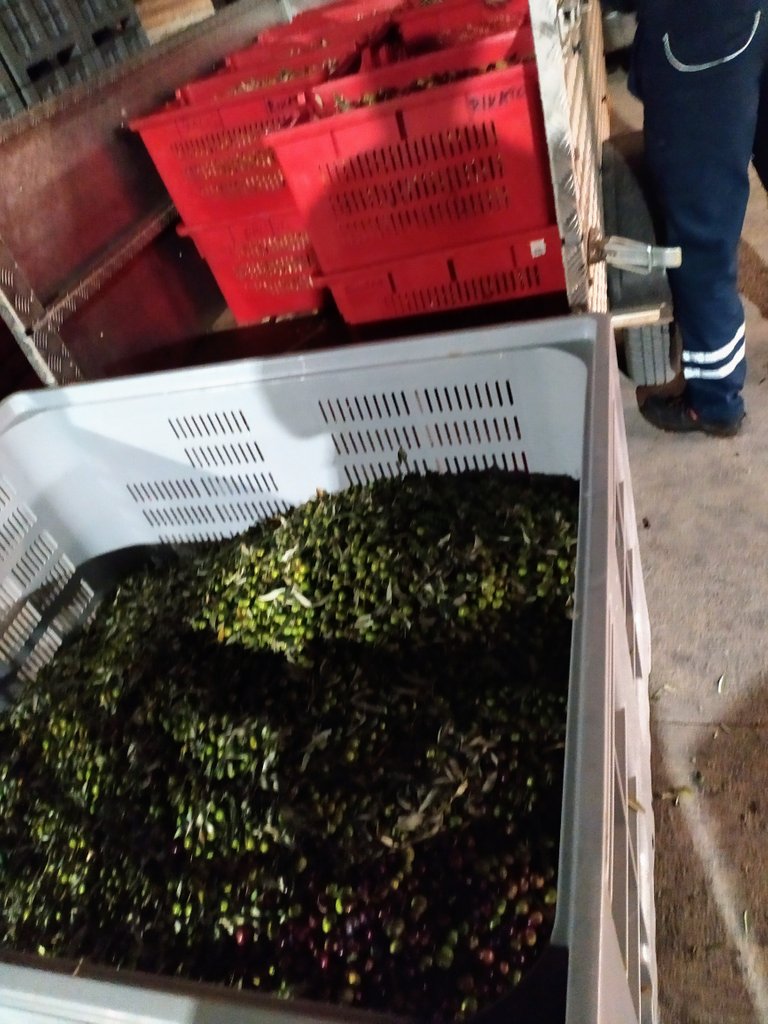 when a big basket is brought then it is weighing to know how much someone has brought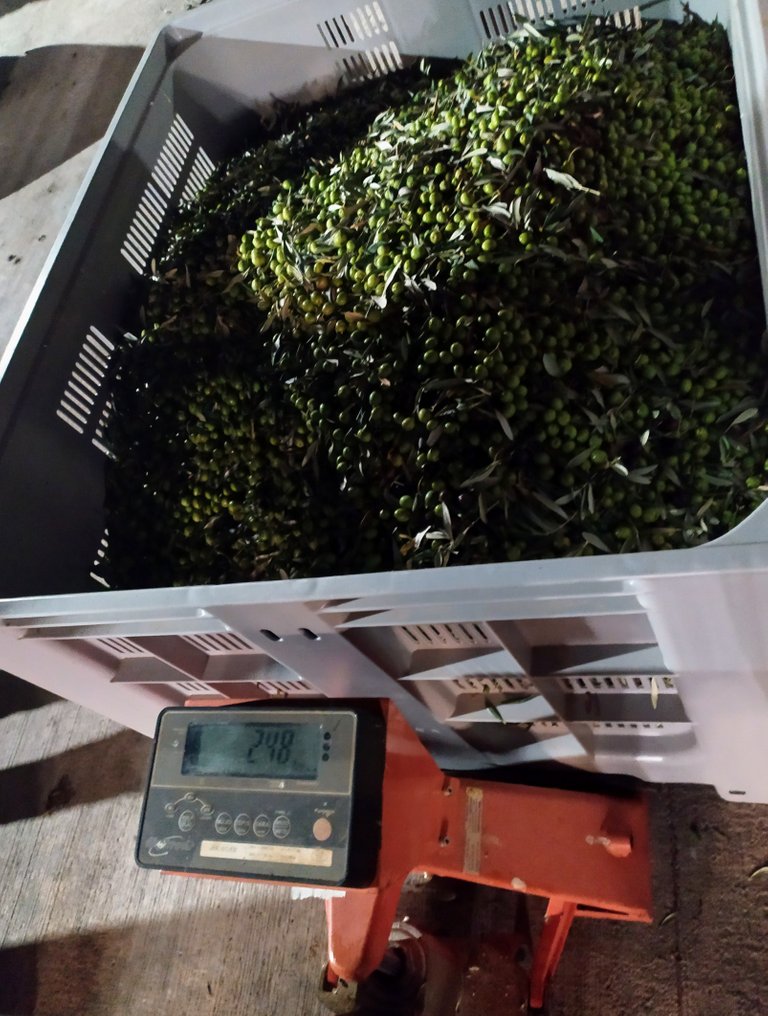 like these baskets coming from various surrounding places of olive groves that have been harvested and awaiting processing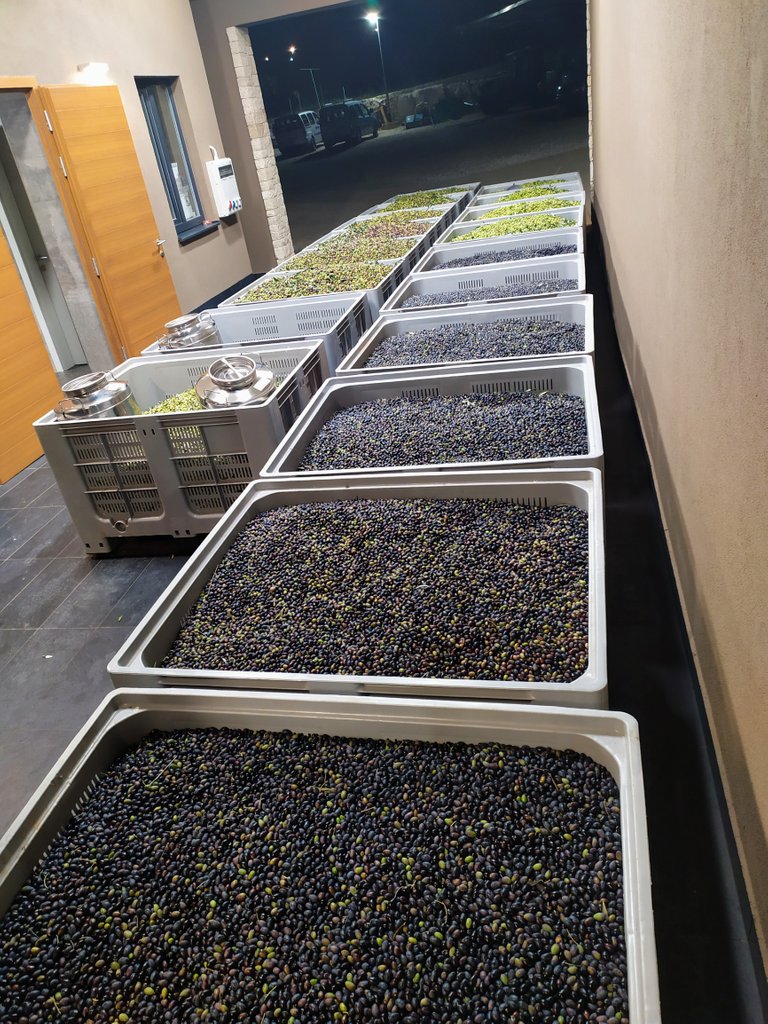 there is a forklift that lifts this basket and empties it into a hopper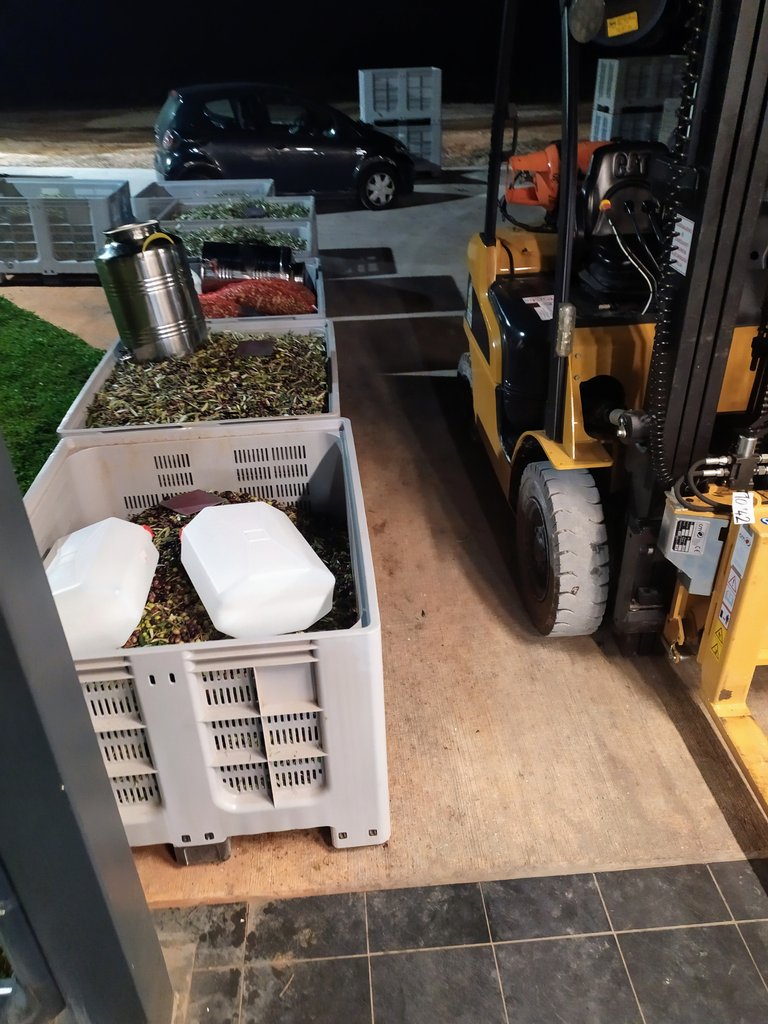 this is a funnel where you start cleaning the fruit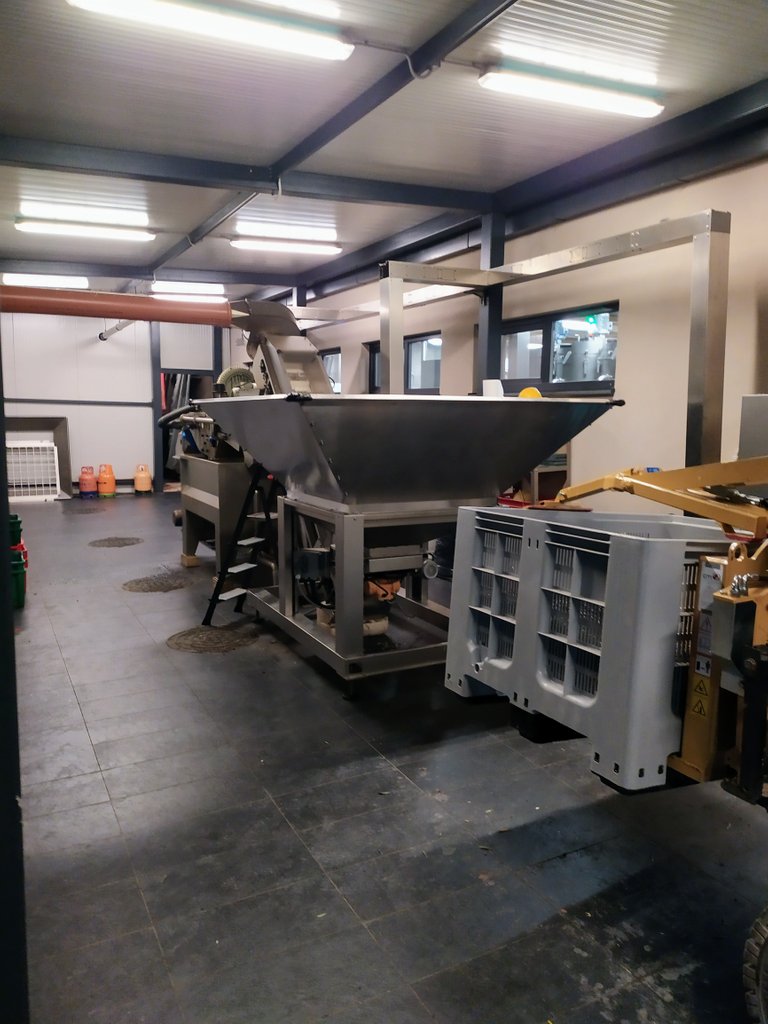 when he emptied everything inside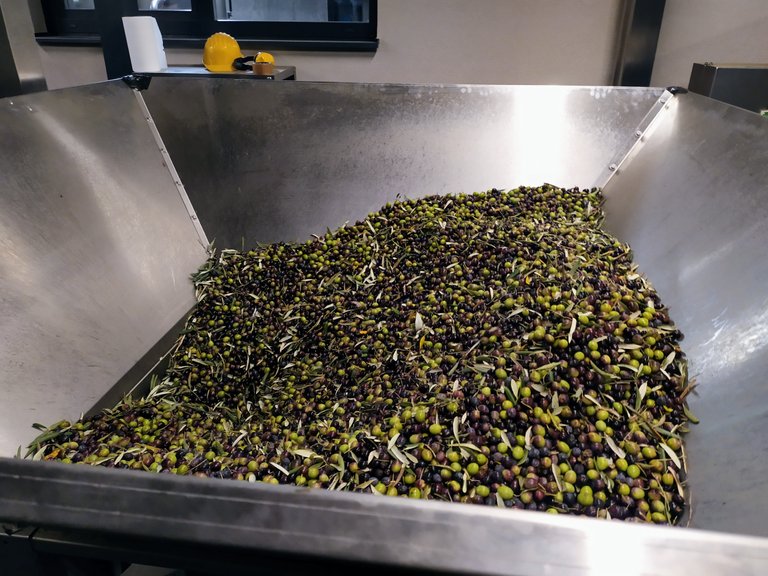 they begin to move moving along the conveyor belt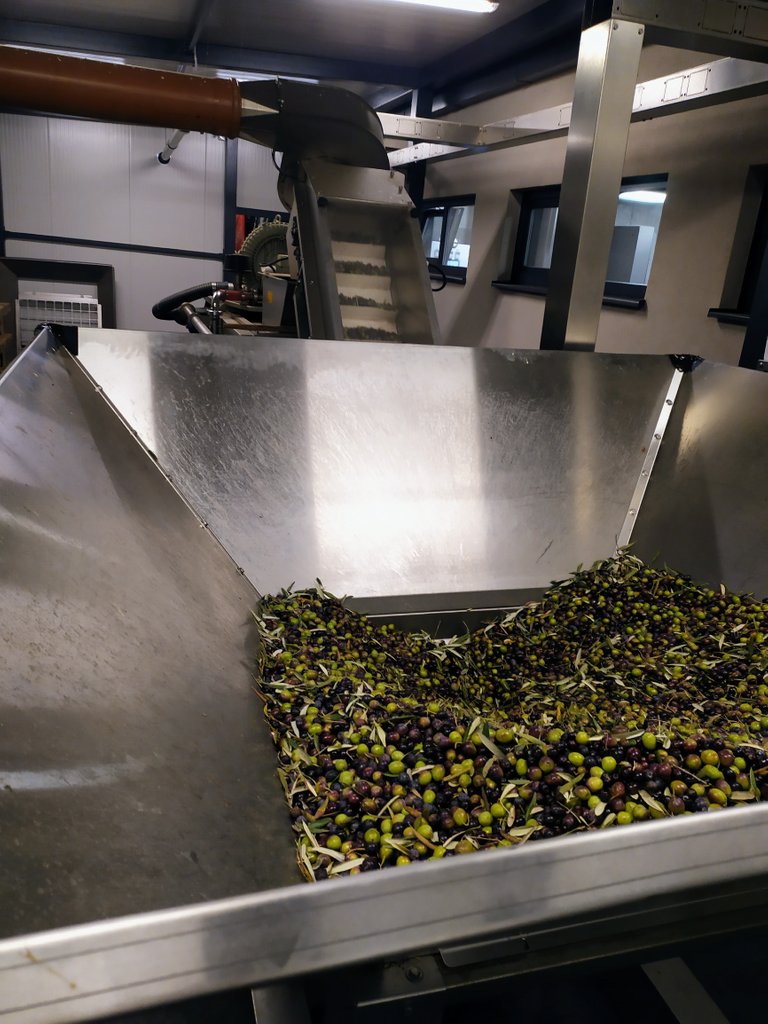 which grabs them and runs them on the fan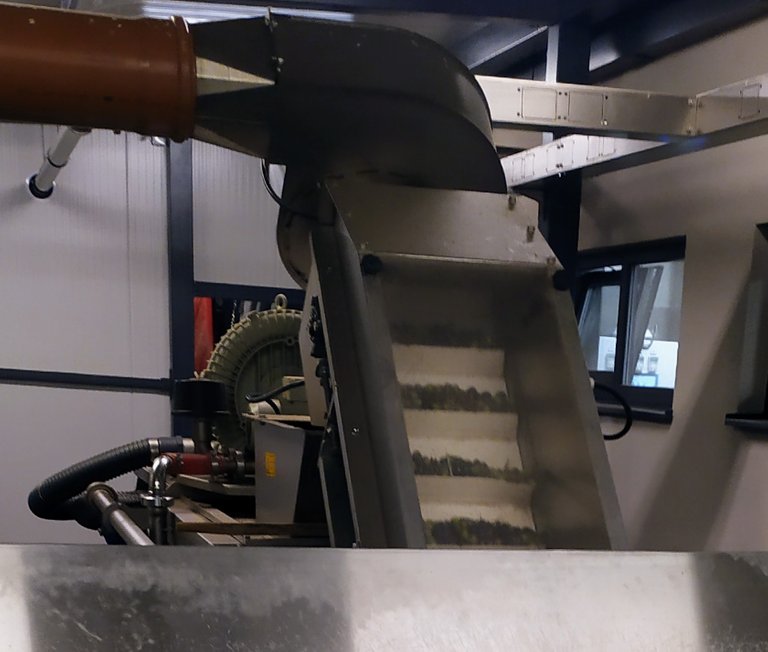 where it first separates the leaves and twigs by blowing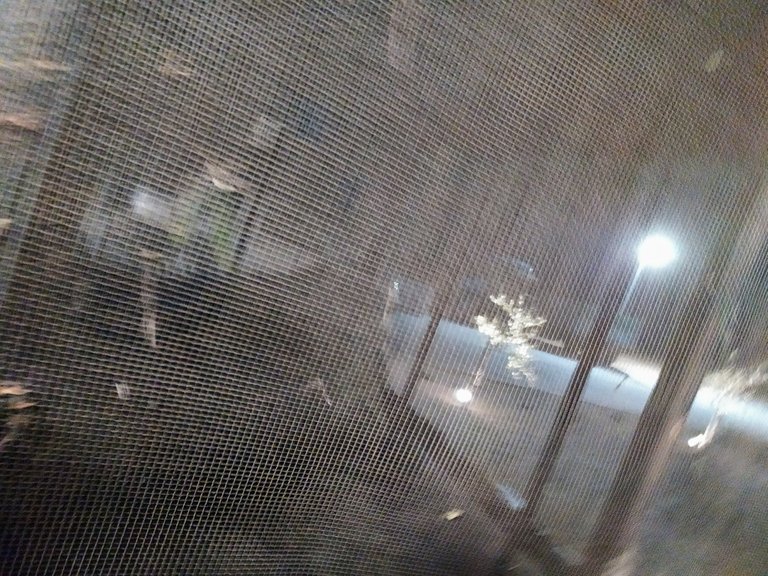 which is stored in this mesh space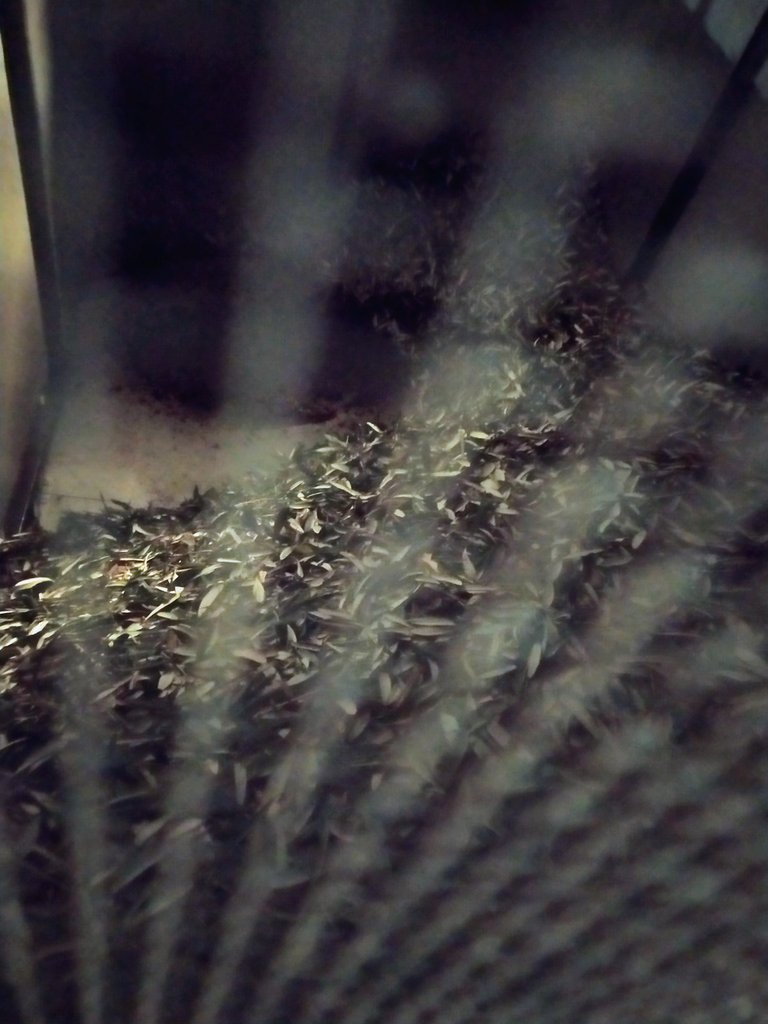 there are all the blown out leaves that do not need to be processed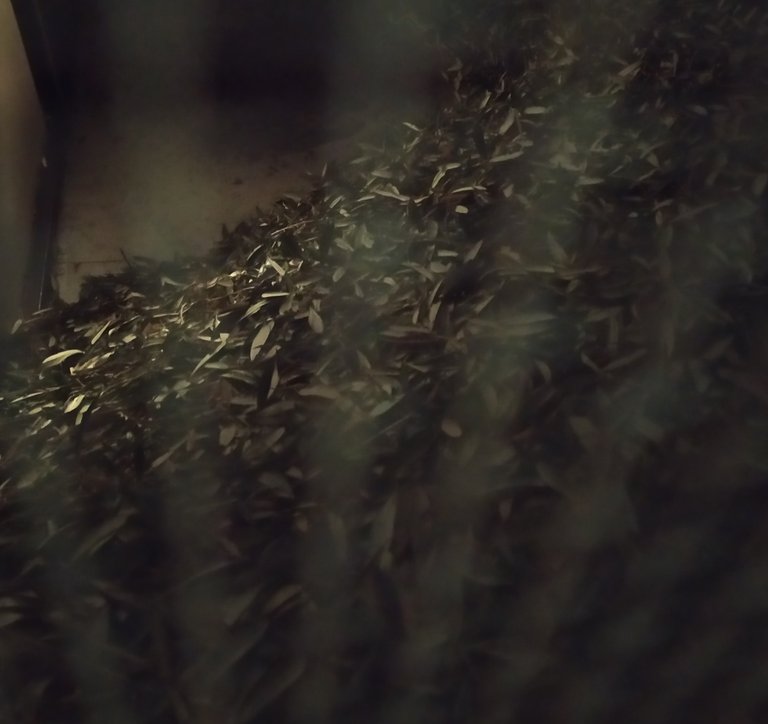 after blowing, the crushed and damaged fruits are washed and washed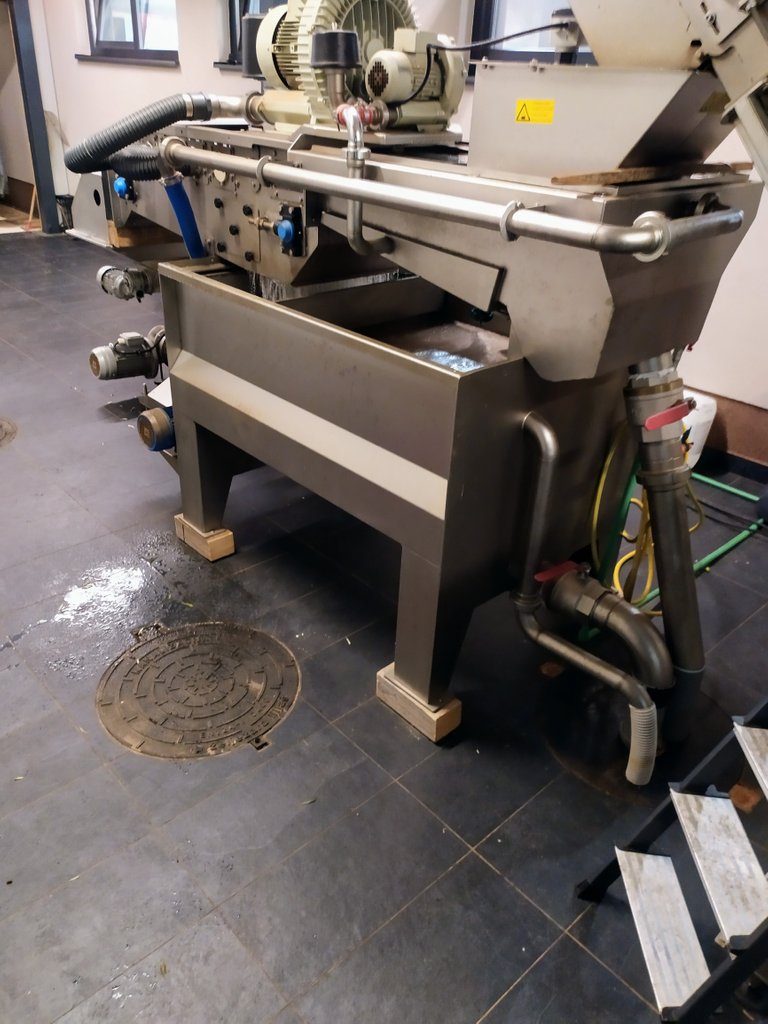 washed fruits are processed in this area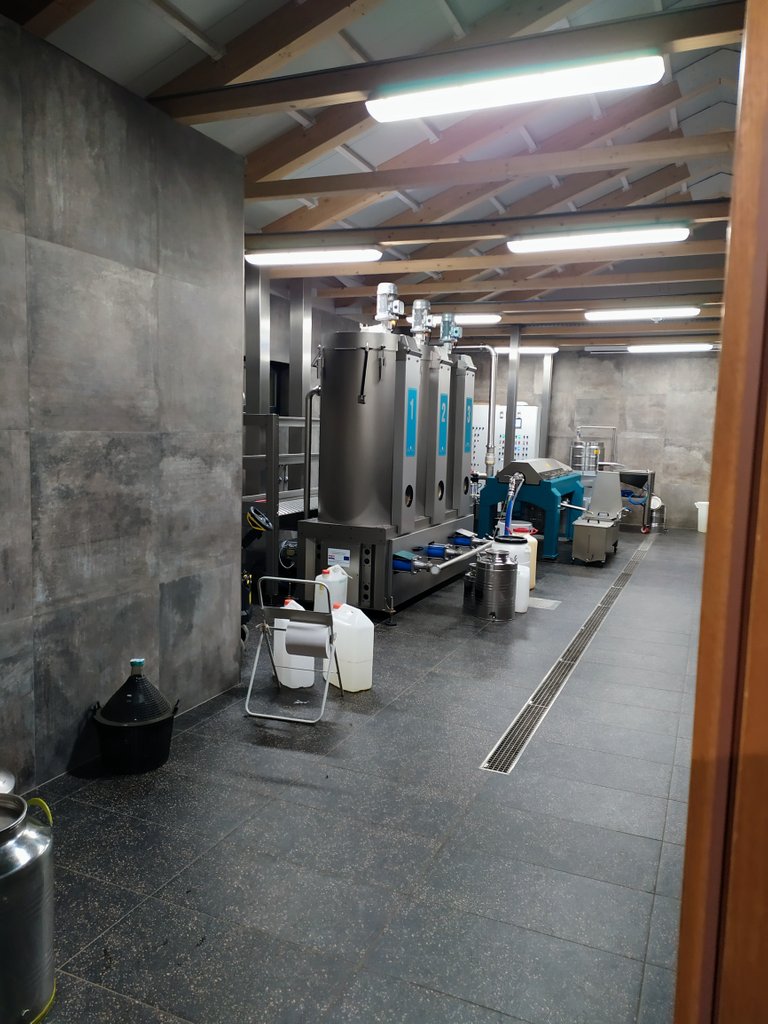 these barrels 1, 2, 3 there is a process. First the fruits are ground and the ground mixture goes in order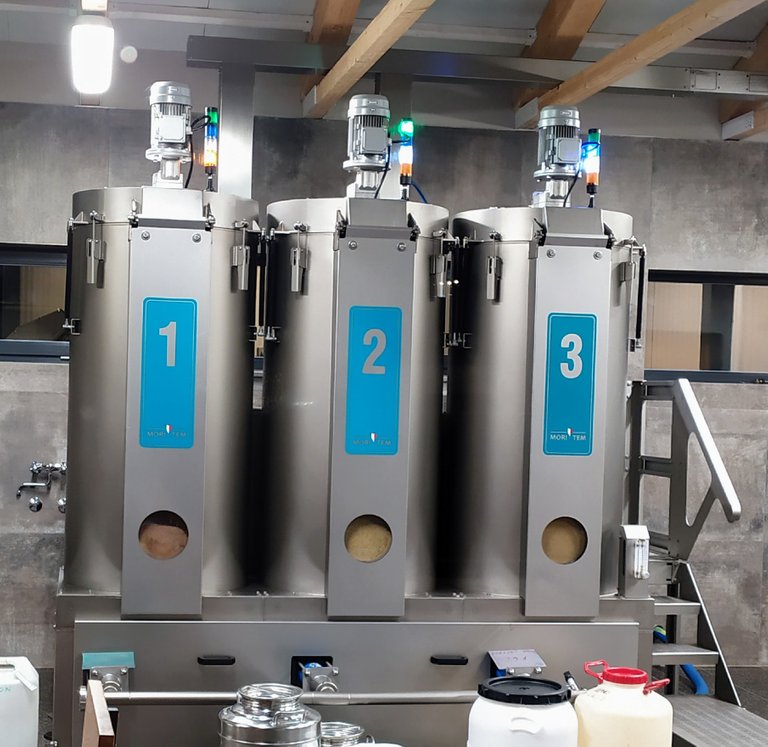 somehow it is cooked and processed inside while doing this we can sit a little on the bar stool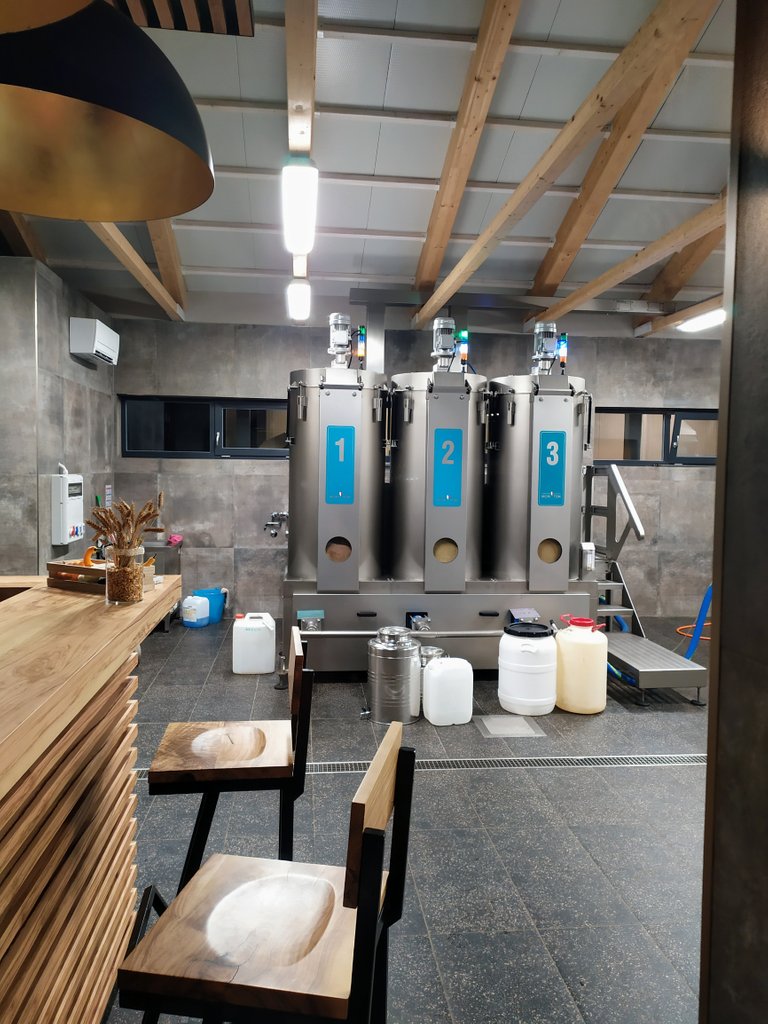 after coming out of these barrels it passes through this plant which somehow mixes and mashes the ground olive pate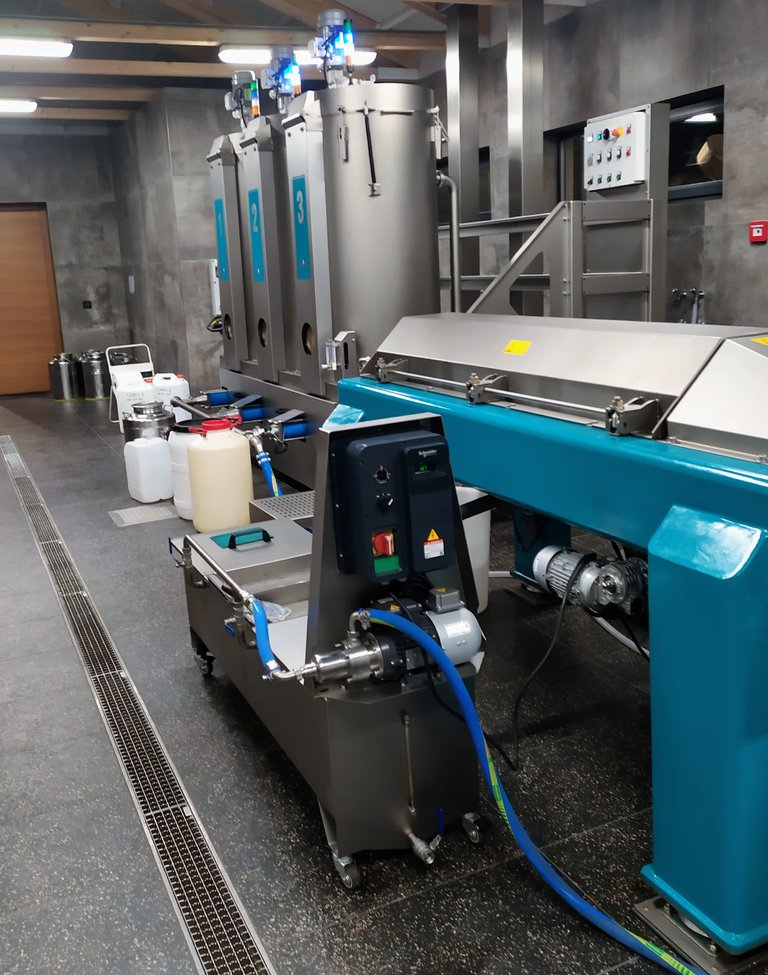 then the mixture is passed into this vessel where the solid oil is doubled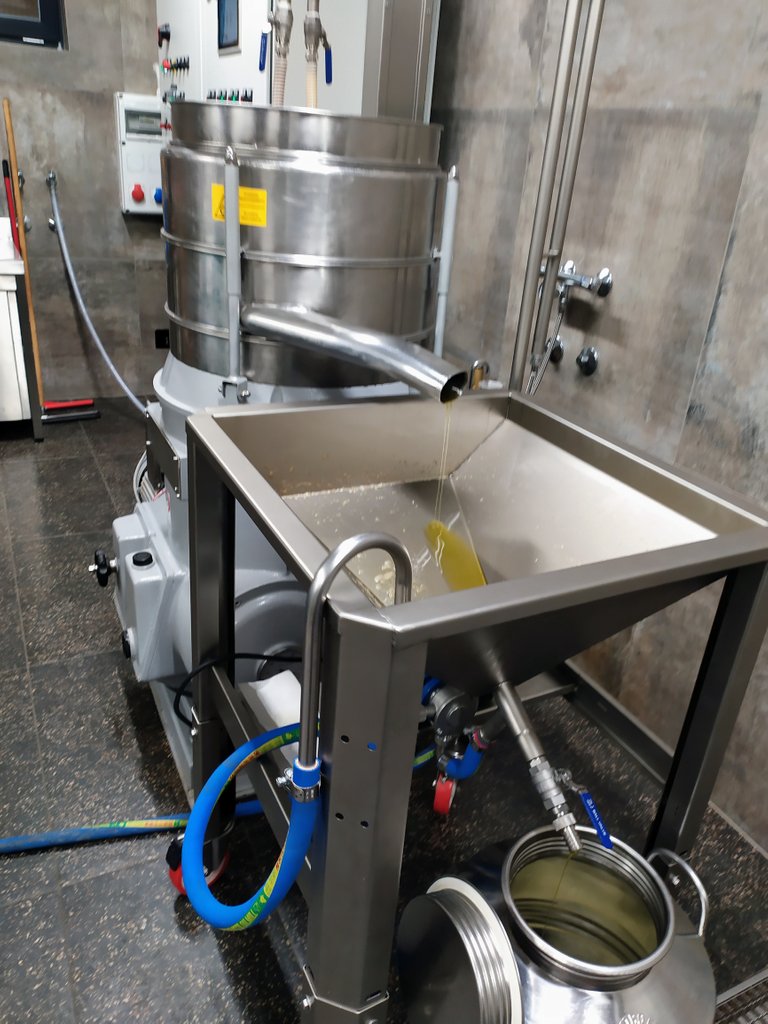 more and faster oil leaks from this tube, but now I've come to the end of squeezing, so it's nicely gently leaking and dripping into that funnel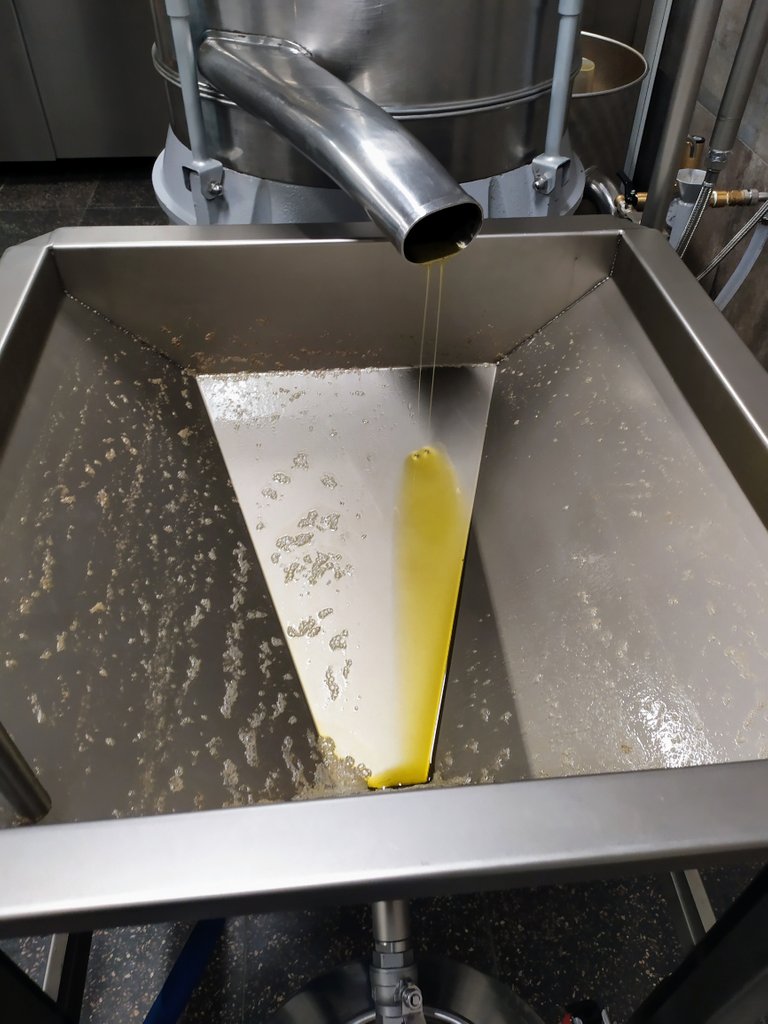 which has a discharge into the transfer container EXTRA VIRGIN OLIVE OIL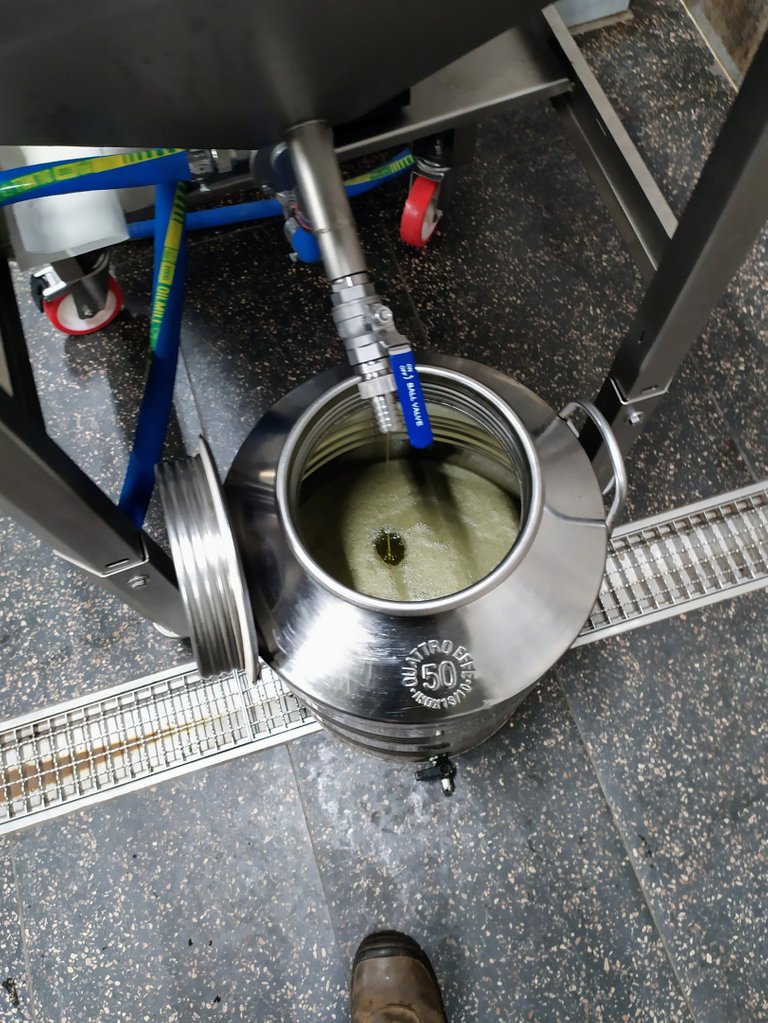 It's a process done so I went outside a bit and saw a nice decoration in front of the door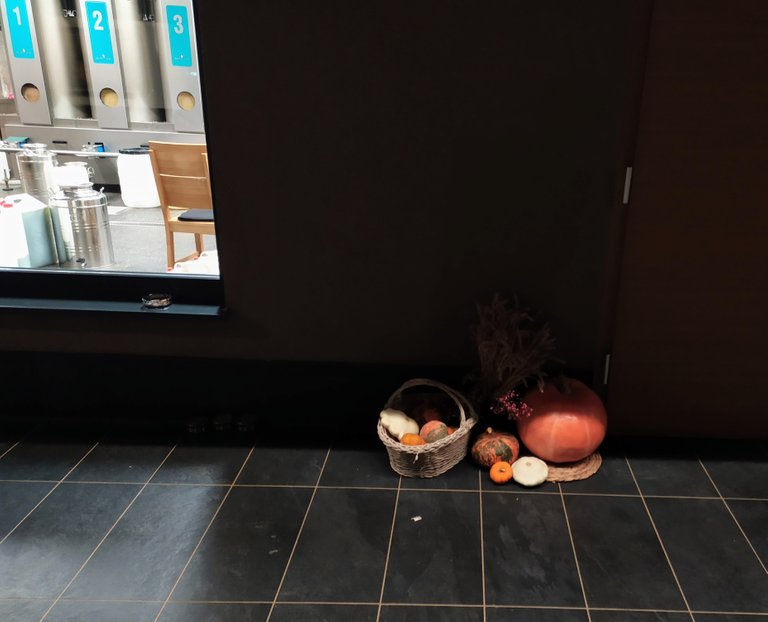 nice to see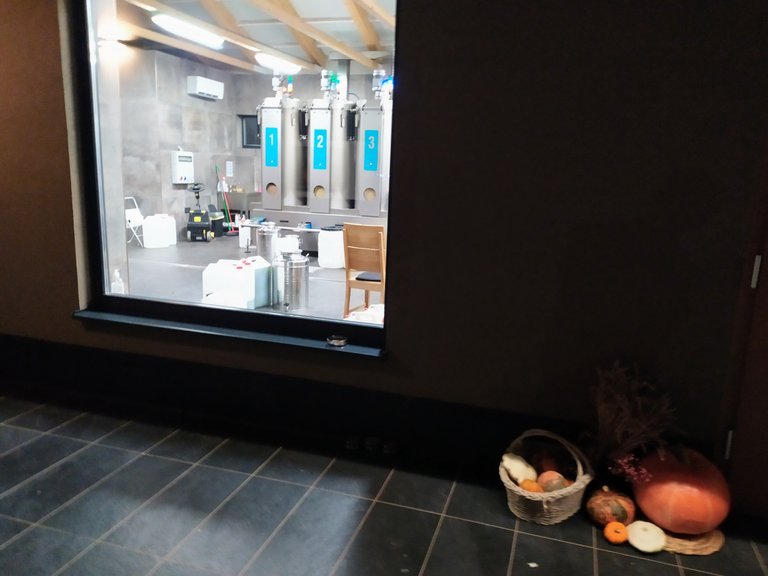 has a beautiful high stone wall in the old way made and lit.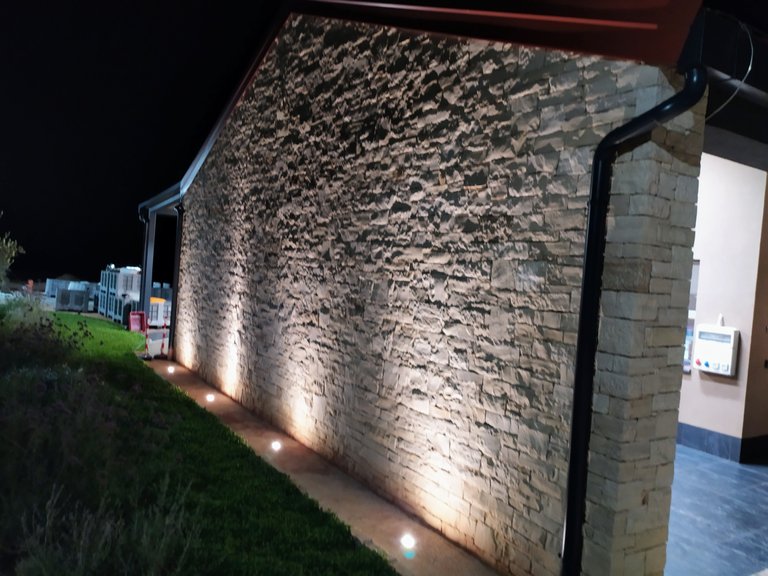 there is also a tractor in the yard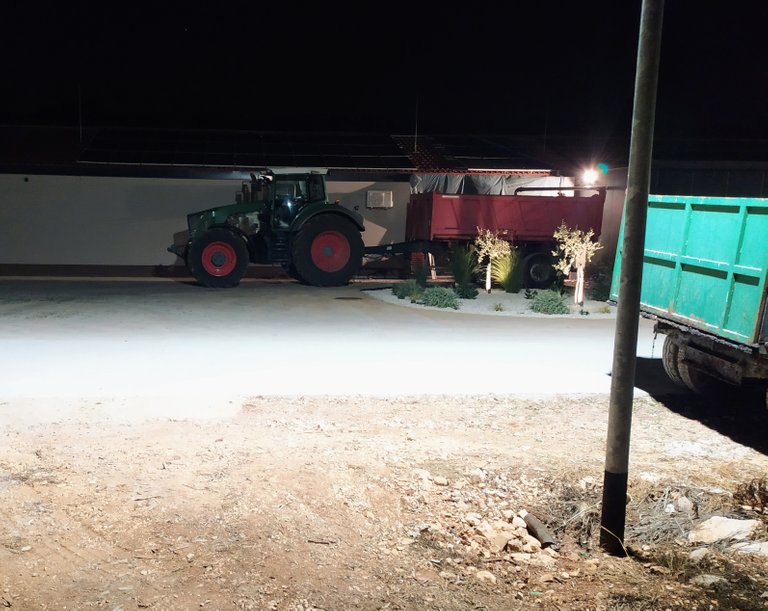 this looks to me like the rest of the ground olive hard mass that is now used to make compost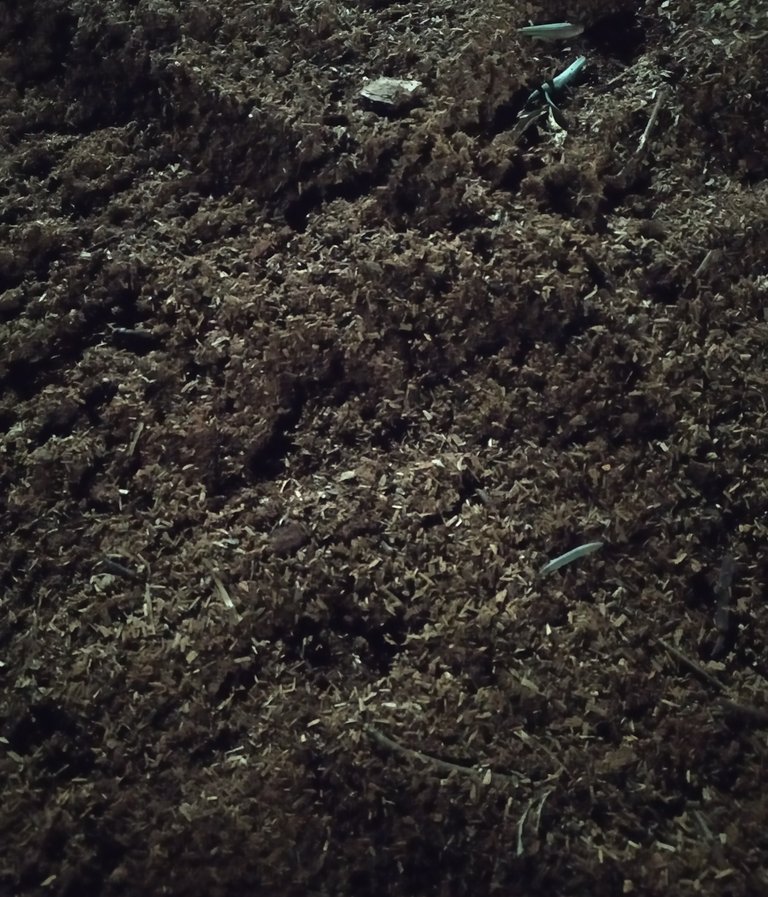 there is also my shadow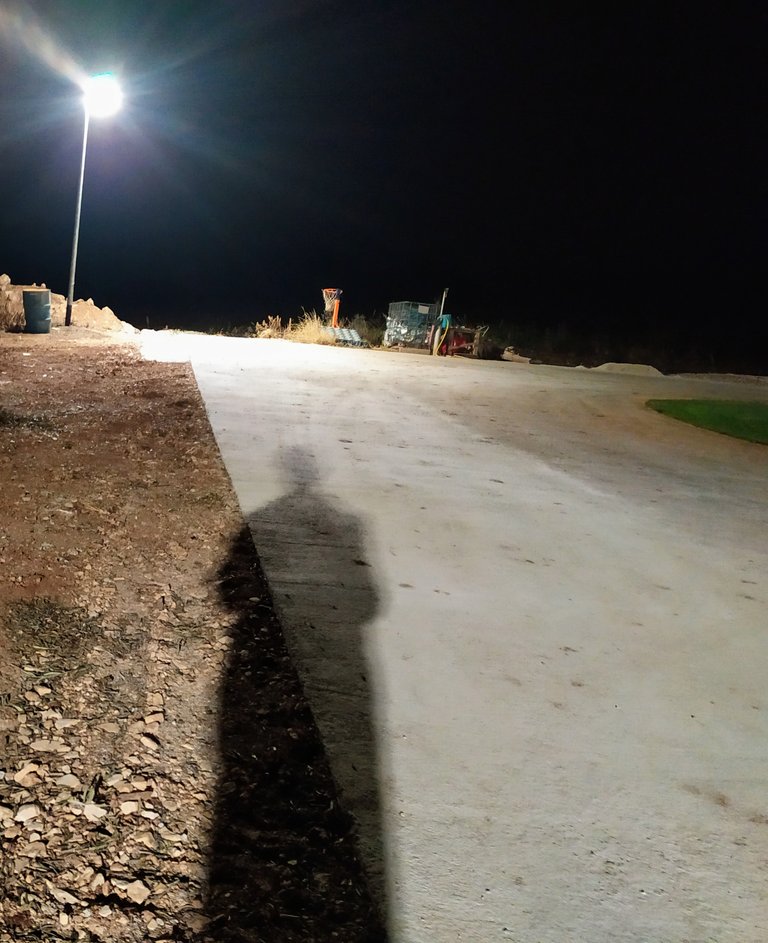 Slightly lighted dry olive pate .And ready to eat .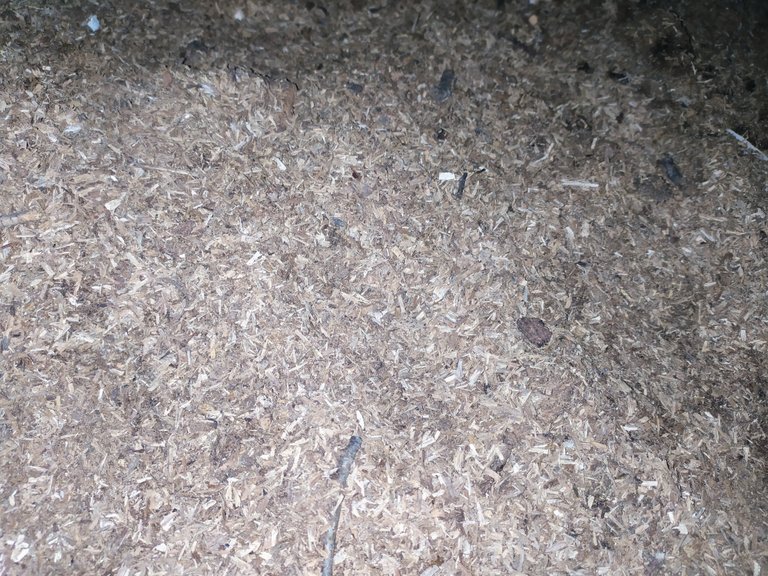 For now, this is the end of the first part in this area of ​​Rovinj, where I took a few photos in a short walk with work ,and typed a few words to you on HIVE to be presented to you both from harvesting Olives to
EXTRA OF VIRGIN OLIVE OIL
This is the end of this walk and of course there is more to come. For now, I wish you a pleasant day until the next post .
To be continued...
THE END
---
---