I spent the day with a famous novelist friend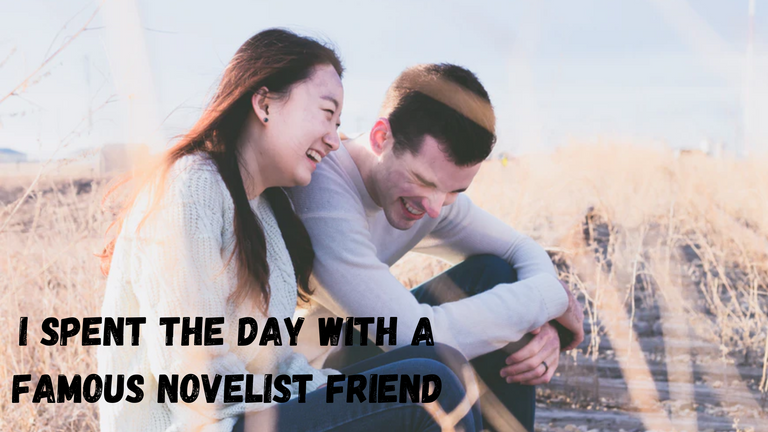 Image edited in Canva. Original Image from Unsplash by Priscilla Du Preez
I was very excited about today because I was going to write another prompt for the Weekend Experiences community, which was discovered by sir @galenkp. I look forward to his topics every week because they are both easy and difficult. The blog's outcome is determined by your interpretation and imagination. As a result of his promptness in the community, I always look forward to the weekend.
There are four topics with sub-questions for this week's weekend engagement prompt. In fact, these four topics are very different from one another, which makes the writer happy because they have a lot of options. However, I chose the third option on the list, dream stalker with a sub-question,
---
What if you had the ability to enter other people's dreams and alter or influence them? Is there a person whose dreams would you enter, how would you influence it and why?
---
Our minds are a gift from Above, capable of producing powerful thoughts, images, and dreams. How complex the brain functions on a daily basis as we study, learn, and grow. No wonder, dreaming is one of the most beautiful sensations we can imagine and feel while sleeping. The comfort it provides, the happiness it delivers, and the hope it shares with us. Mary Shelley, an English writer born in London, England, and the author of the famous novel "Frankenstein," is the person I chose to enter her dream.
As the vacation came to an end, Joshua and I had one last night at Grandma's house. Joshua, my cousin, was a charming, tall, and intelligent young man. He was the star of our basketball team, winning two consecutive division league MVP awards. In comparison, I was an academic scholar with numerous trophies and medals. He sought assistance most of the time when he was having difficulty with his subjects, particularly his activities and math.
"Bro! You have got to be kidding me! There's no way she'd follow you on Instagram," I exclaimed with delight. Joshua was followed by a famous sports personality, which is a good sign that someone is interested in getting him on a team. "Look, Denn! See what I mean, bro? "She followed me, a coach, the coach of Hawker's basketball team," Joshua said, pressing his phone screen against my face. We didn't realize how loud we were until Grandma woke up. When the door was about to open, we hid behind our blankets.
"Grandma's on her way! Josh, stop talking! "Ssh!!" I explained quietly. As I hid behind my blanket, my consciousness began to fade, and my waking world eventually shut down. I gasped deeply and looked perplexed because I knew I was asleep and my surroundings were unfamiliar. A completely different scene, with a massive golden black door beckoning me to open it. A chilly breeze pressed down on me, making it difficult to walk and preventing me from reaching the door.
I crawled slowly, gravity pinning me down, and I began taking one step at a time. "What's going on? What am I doing? This gravity is getting stronger as I move forward," I thought. When I finally reached the bottom of the door, I felt nothing. It wasn't too hot or too cold. I got to my feet, reached for the golden doorknob, and was astounded by what happened next. A memory of a woman who lived in the 1800s. She was stunning. She wore a round gown in parakeet color with an embroidered flower on the collar.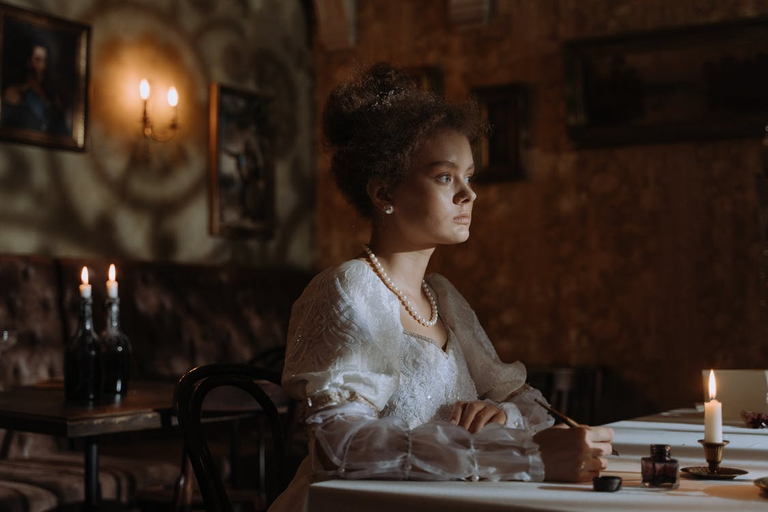 Image from Pexels by Cottonbro
She was staring at herself in the mirror, her face as long as a fiddle. I looked around her room with a discerning eye. Four abstract paintings hung on the wall, and silver cups, spoons, and golden vases were scattered across the table. When she got up from the chair, I was about to reach for the lamp to get a better look at the right side of the room. She screamed like a wild lion, roaring incessantly without regard for anyone who could hear her. A screamed that I knew what was about, a scream of releasing anger and pain.
"Incredible! Her novels are incredibly popular, selling out in various London bookstores. But here she is, succumbing to her own insanity. Testing various emotions, succumbing to pain alone, and no one offering a helping hand. Poor soul!" I said, my face concerned. Mary Shelley continued to write as a master, and her distinct writing style and unique storytelling enticed the wealthy to read her novels. She left hot, painful tears on the paper as she prepared to end Chapter Six of Frankenstein as a sign of how bad her condition was.
In my dream, days, weeks, and months had passed. Expeditious, flabbergasting scenery I never thought I would be able to see. Mary never left the house because her husband fed and served her. She would write from the moment she woke up, after the meal, for an entire night, and would sleep a minute before the clock struck midnight. I was busy reading the chapter she finished, and I expected she was slumberous. I felt a hand touching my back, rubbing my shoulders gently, and I was feeling good. "Wait, what? Someone was able to touch me here." I thought to myself. I turned my head slowly with a racing heart, and I was shocked when Mary had a smirking smile.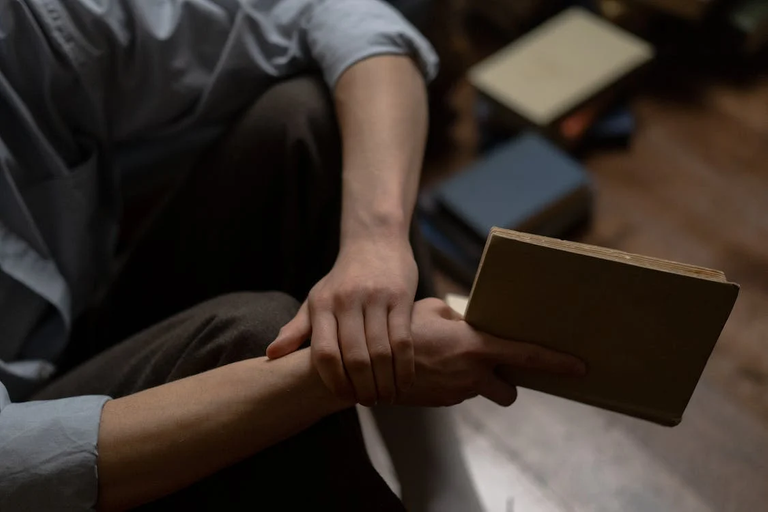 Image from Pexels by Cottonbro
"You thought I hadn't noticed you? "You poor boy, I acted exactly as you expected me to," she explained. I was speechless, staring at her face with no words flowing through my mind. "Did you see me? Do you think you can see me? No way! " I replied. "How can I have touched you, spoken to you, and you're responding to me?" she wondered. "Crap!" I murmured. She held me, hostage until she drained all of my knowledge from the twenty-first century. I told her that her unfinished novel, Frankenstein, would be a hit from her generation to mine.
She didn't believe what I said, so I bugged her mind until she believed what I said. After several months, she had completed the novel and had it published locally. She hugged me and said a warm thank you, much to her surprise. I'd never seen her smile so full of joy and enthusiasm. At midnight, a darkish blue portal appeared at her door. I didn't want to say goodbye in person, so I wrote a letter and left it on the table. I entered the portal, reappeared where I was before opening the golden door, and awoke with an animated smile.
Mary Shelley's Biography
---
---