BEING A PARENT...
Good evening My Hive Nigerians. How are y'all doing? It's another day, a stunning evening and a beautiful sunrise somewhere else.
Today, I am going to be talking on a topic that is perhaps not really agreeable with everyone: Parenting! Yay! Not.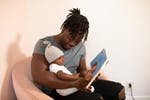 Source
A lot of us look forward to being parents while some dread it. Heck, we haven't even accepted the fact that we'd be tied down to one man/woman for the rest of our lives.
Whaaaaat?😳
So how do we deal with the fact that we are gonna be popping out lives (it's not popcorn by the way) and being responsible for them? If you're thinking,
"Oh shit! My future really does depend on me"
Wait till you're...
"Holy crackers! His/her future absolutely depends on me!!"
Nice huh?
This is the part I tell you it's a prompt by the awesome Hive Naija Community. You can totally drop your bits by clicking this link to see the rules that qualify you for participating. You can also just breeze in and hit the works of others... You know... Know what makes them tick?
A lot of people talk about not exposing their kids to the internet until they're teenagers, while others think exposure to the internet might not be so bad if it's properly monitored, what do you think? Do you think kids these days are wired differently or do you think we're overthinking their capabilities and not handling them with the kind of hard hand our parents handled us with?
First of all, let's get it out there that I'm no parent and while I could say, I'd do this, I'd do that truth is, I may be totally clueless when it comes to my kids.
One general fear is becoming a bad parent but why does no one fear being too good? They feel it's a good thing to be perfect. Well, I'll break it to you, there's no such thing as the perfect parent.
My mom made a lot of mistakes with me as a child and yet I turned out way better than most because of one simple detail, I was given choice.
Most would call it freedom and even see it as bad parenting not being able to monitor their kids and place them on curfew or whatnot.
Let me break it to you, Children who are put on a leash tend to rebel and know a lot more (mostly not good things) than kids who are not.
It's like having a donkey. When you tighten the reigns too hard, It'll fight and buck maybe even fly off the rail. But when you loosen the reigns a little...you get trust.
Yeah... I watched Alvin & the Chipmunks, thank you very much.
That quote there (by Simon Seville) is exactly what it's like to have kids.
My mom never spoilt me even with me being an only child. She'd spank me real good should I commit a moral blunder and let me tell you, In Nigeria, if your Mom hasn't hit you with literally anything within her grasp, she's not Nigerian.
That's the trend I saw on Twitter and while it resonates with my mom, I don't know for others.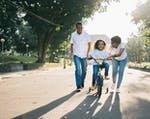 Source
I'm not saying that giving your children freedom will make them turn out okay (like I did), what I'm ultimately saying is your children are human beings and are also laden with the responsibility of choice.
I would do what I know is my responsibility and teach them good from bad, make sure they are rooted in God, be their number one fan, hold and support them through it all. I'll also never make the mistake of comparing them with anybody. That's one mistake my Mom never made. What I can't do is decide for them especially when they reach adolescence. That's the dangerous stage.
Sure, I can remind them who they are and the difference they could make, it doesn't mean they would listen to me. This is where I say, experience does the talking. Remember, everyone functions differently.
As for the internet, that's something I haven't yet figured out because while it's a great thing, it has a lot of defects.
We think we'd be able to control their access though? Think again! If there's anything I've learned from this generation it's that, children always find away out (or in).
Remember that small lie you told your parents? That concocted story your friend help come up with to help you escape their wrath? Prepare for the same especially now, when we're entering the technology infused generation. They will always find a way!
That's it folks. I hope I got you to see into my mind for a few minutes. What would you do as a parent? What would be different?
Come on and leave your beautiful comments because I'd love to get some yes, I agree or No, I think you're loco.
THANKS FOR READING, SAYONARA!
---
---