MAGIC COFFEE - STB CONTEST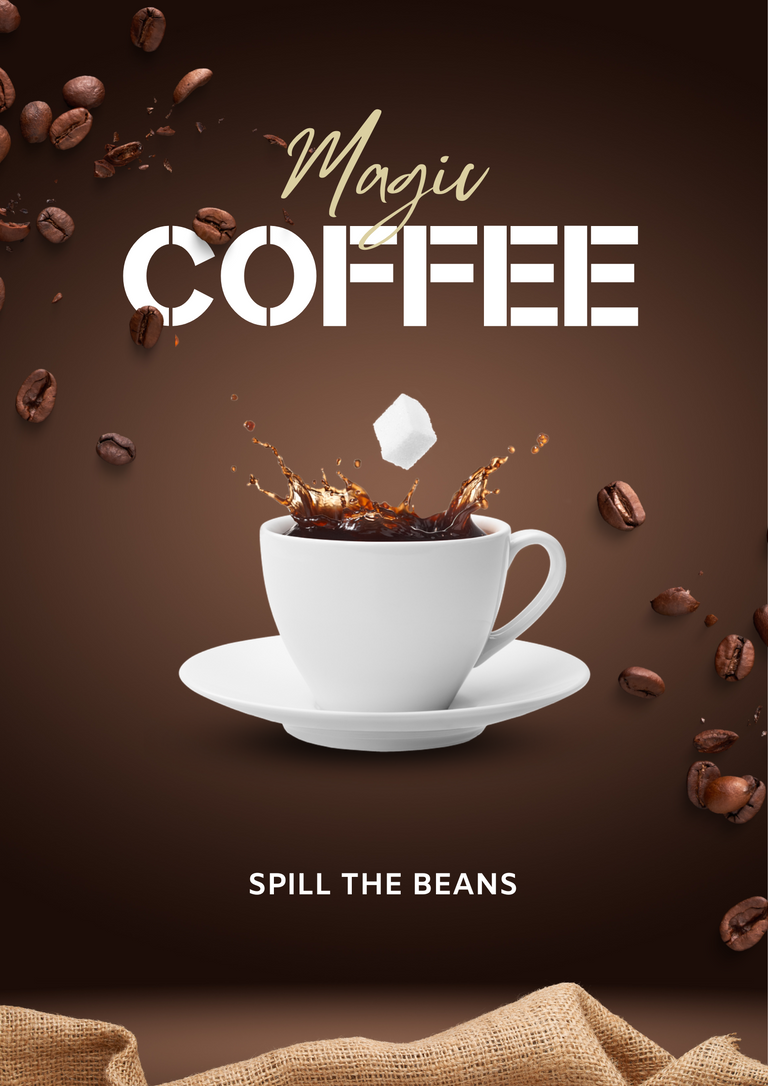 Image created and edited with Canva Pro
"Dixon!"
Maria called as she stomped towards the living room. Dixon, who was on the couch, lifted his head and pulled down his headphones when she came into view. The 9-year-old raised a brow in response.
"Where's my coffee?"
Dixon looked at her like she was crazy.
"How am I supposed to know?"
"Don't play games with me little boy. I've had enough of them. This one is the limit. You don't want to test my patience."
A scowl immediately shadowed Dixon's face.
"You're not my mom."
"Oh, I know. You've made that very clear even before I and your father got married. Look. Dixon. It's okay if you don't like me. But don't go touching my things."
Dixon stared at her for a moment before putting his headphones back on. Ignoring her.
Maria just shook her head and laughed. She knew it was Dixon who'd removed her custom Ginseng coffee. She'd gone on a trip to Busan in Korea, to conduct business when she met the old lady who'd prepared the coffee powder for her specially after she'd opened up to her about her low libido. The woman promised that it was going to work wonders and it did.
She and Mark, her husband, have been reaping the benefits of the coffee flavored aphrodisiac for a while. She never thought that Dixon would go this far in tormenting her. He'd made it clear that he would never accept her but she still tried to get through to him.
Despite the headphones, Maria knew that he was listening to her. He was tense, giving his guilt away.
"Dixon. Hope you're strong enough to see through what you've started."
With that, she sauntered off leaving the boy perplexed at what her cryptic message could mean. Surely, she wouldn't report him to his father. Would she? She never has. The last thing he needed was her making his father hate him. Dixon grew anxious.
---
Mark got home to find his son at the dining table. That never happened before. Before he could ask what was going on, he noticed Dixon was crying.
"What's the problem?" Mark inquired.
"Your wife." Dixon spat.
On cue, Maria walked in with a huge grin on her face accompanied by a steaming cup. Mark stood transfixed. He knew that smile.
"What happened?" He asked her.
Maria giggled and then shrugged. Mark's confusion only deepened as he waited for either of them to speak. Dixon broke the silence.
"Your wife showed up at my school today to pick me up. In a truck." Dixon said while looking at his father.
"Uuuhhh…" Mark trailed off not understanding the problem. Maria's grin only widened.
"The truck said 'World's best stepmom'". Dixon said through clenched teeth.
Maria busted out laughing and Mark had to purse his lips from doing the same. This action didn't go unnoticed by his son who stomped out of the kitchen.
"What did he do?" Mark asked Maria.
"He hid my coffee. I made him look uncool at school. 50-50".
Mark laughed loudly, "with a truck?" he asked in between laughs.
Maria nodded while clasping her cup with both hands, "he forgot to tell you of the huge neon sign that was attached on the bus. It said, 'Dixon can't get enough of me.'"
They both laughed.
"Damn." Mark said when their laughter died down. He looked at Maria who was now staring at him expectantly. Her pupils were a bit dilated and she looked relaxed. He smiled back in response.
"Is that magic coffee?" He said stalking towards her. Maria quickly set the cup on the marble top and began to walk backwards.
"Sure is." She taunted, biting her lip. And somehow, Mark's eyes grew darker with desire. The couple barely made it to the bedroom before they were all over each other.


---

---
---