ThreeTuneTuesday - IGBO Blood!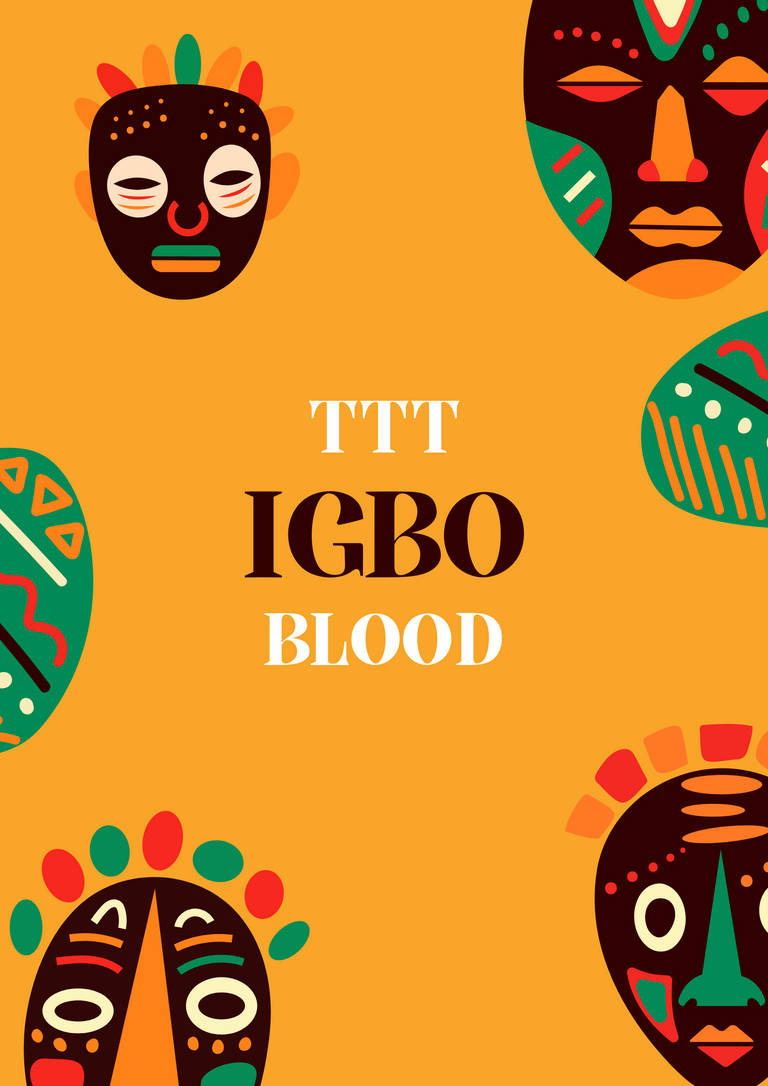 Image created & edited on Canva
Hello there. It was a nice day in Croc City (Kaduna state) Nigeria. I'm telling you, despite the humid weather and punishing sun, plus the scurry in the office, I had an overall classic Tuesday. I even went out. Hehe.
We all know it's Tuesday and we know what time it is… whoop whoop...
Three Tune Tuesday.
Holy cow!
Before I get to local business, let's get the jist (as my partner, @tengolotodo, calls it). Now, what is TTT?
I quote @ablaze,
Every Tuesday I'm going to share 3 songs which I like to listen to and I invite your feedback in the comments below. Better still, why not have a blast of your own Three Tune Tuesday and mention me in the post and I'll come and find the post and upvote it. If you could also use #ttt or #threetunetuesday tags that would be great. It'll be a sweet way for us all to discover new music. You'll also be in with a chance of winning the prize - more on that later.
Yep. So hop on this moving train and let me tell you about my hilarious/adventurous week with songs. This one was a humorous week honestly because thanks to Matilda, my colleague, I've been laughing my head off at some things!
First song…
Stanley Okorie - Billionaire
Yep. This song has been trending a lot on social media and women haven't wasted any opportunity to shine. Lol. I have seen so many videos that made me laugh so hard I nearly pissed myself. That's one thing about Nigeria. Na just cruise!
Check these out...
That second skit killed me🤣
Song even topped Spotify's top 15! What? Haha. This was a song used in a Nollywood movie, The Return of the Billionaires. Never seen the movie but I saw clips. I heard the phrase, "Money stops nonsense", from one of those clips.
Next up…
Flavour - Levels
This song is pure Igbo from beginning to end. In case you're wondering, I hail from the Eastern part of Nigeria, Anambra to be exact! I am pure Igbo through and through from both parents. But I don't speak it. I no sabi.
This song is pure Ginger. It has this upbeat rhythm despite the cultural glamour. And I love it. All the men in that video up there are just, Big Billionaires in their industries… haha. If you know what I mean (wink wink)!
Wait hold up, I can't forget this skit with a line in one of his songs titled 'Doings' and he was like,
"You cannot stop a moving train"
Nigerians being Nigerians decided to use that in a video with the Kaduna bandits latest feat🤣🤣🤣🤣. It was the cruise for me!
(I looked high and low for that video but couldn't find it so if you do, please drop it in the comments)
That is one thing about Nigeria. They turn everything to cruise. Even a life/death situation. Never a dull moment. I guess that's why they said, "if you can survive Nigeria, you can survive anywhere".
Someone said, "There's a way Nigerians would fill hell fire and they'd still be taking selfies while some would miraculously find ways to put out the fire. I'm so sorry for the Devil. He's about to lose his home."
That's a very hilarious statement that is so true (if we ignore reality)!!!! We Nigerians adapt and thrive. It's God's gift to us, maybe that's why we aren't really accepted by the world much because think of it, which race or tribe doesn't have bad people? But no! Nigerians are just the worst!
Oh! Come off it.
You're just biased. We do what most can't and that's it. When we come into a territory, we don't care who was there first, we own it and we own it good! 🚶
The final song…
Larry Gaaga - Egedege
Talk about Cultural Glam😍!
Like I said, the Igbo culture is spectacular. I haven't experienced much of it though because I lived most of my life in the Northern part of the country, but I see glimpses and while I'm not desperate to be among the happenings, I am proud to be Igbo and I'm more proud to be a Nigerian.
---
Disclaimer: All videos used in this blog aren't mine and are only used for entertainment purposes. Credits given to whom it is due with links to prove it.
---


---

---
---