TTT: PROUDLY AFRICAN!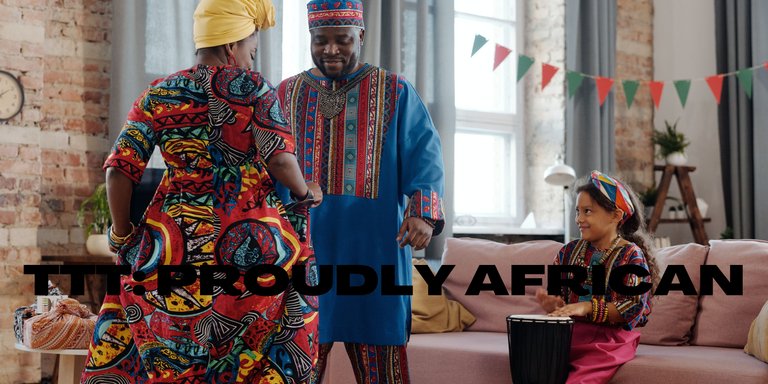 Good evening everyone. I got the inspiration to share these songs during the course of the meeting I was in last night (that entered into this morning) because it was such a wholesome sight seeing people coming together of their own accord for something that'll benefit a whole nation.
Before I go further, I'll just give a summary of what TTT (Three Tune Tuesday) is about in the words of @ablaze:
Every Tuesday I'm going to share 3 songs which I like to listen to and I invite your feedback in the comments below. Better still, why not have a blast of your own Three Tune Tuesday and mention me in the post and I'll come and find the post and upvote it. If you could also use #threetunetuesday tags that would be great, as that is what I use when sifting through all the entries every Wednesday. It'll be a sweet way for us all to discover new music. You'll also be in with a chance of winning the prize - more on that later.
So now that we understand what this is about, let me go ahead and show you the three songs that I had been listening to when returning from the meeting.
---
Vuli Ndlela by Brenda Fassie

I first heard this song about six years ago on the radio and thought, wow. The beat captured my heart and the rhythm just slew me. I got desperate for it and went on a long search for the song. I finally got my hands on it and it was what I listened to non-stop.
At first, I thought it was a song speaking of the African culture and goodness. So imagine my surprise when I found out it was speaking of a wedding. Apparently, it is like telling the world one's son is finally getting married after many believed he'd likely never, which is fitting given the song is a party song.
And that is a very common situation if I may add, especially with sons/daughters who are perceived to never go far in life. I also found out that she is South African and was a popular one. She is gone now, resting in peace.
Frankly, I think this generation of artists can learn one or two things from this woman. The South African rhythm I hear these days are just noise in my opinion. No passion or soul. Just my opinion...
Africa by Salif Keita

I think many Nigerians would recognize this song as the opening for a show on the channel, I think, A.I. T (Africa Independent Television), can't really remember.
I never thought it was a song until I viewed it on the status of someone on Whatsapp and was stunned. Literally, my mind kinda blanked because, what?!
I tried searching the translation of the song to understand what it is about but Google just kept taking me round and round. I really don't know if this is French but it does sound like it or maybe I'm just imagining it.
The upbeat rhythm is just something else and gives you the true African vibe. It is an amazing song and once again, this current generation can pick one or two and perhaps work on the noise they produce in the name of music.
Wombo Lombo by Angelique Kidjo

This song transports me back to my childhood when one of my cousin was with us. She and her mother (who is the youngest of my mother's siblings) lived with us during that period. This woman had an affinity for oldies hit. I got to catch that fire and found myself listening to more Lionel Richie and Tony Braxton. I also got to meet Spice Girls and Whitney Houston through her. Yanni too.
(Which reminds me. I've been trying to find that famous hit of his that sounded so Indian. It was mostly played on radios in Nigeria. If you please know the name...🙏)
As I was saying, before I digressed, it was the odd music on her phone and I with my cousin loved it dearly.
We would dress in cute mini-skirts and tie head ties then make paper chains in place of beads and put on our waists. We'd wear our mother's jewelry and proceed to put on a show for our Moms who'd tip over themselves laughing.
I guess what made it so funny was the head ties? Those were ridiculous. Overall, we had fun and family time. That was all that mattered. She did a remix with Nigerian Artist, Yemi Alade and I didn't really like it. I will always prefer this one!
That is my Three Tunes guys! I hope you liked them. I also hope you show me yours (you can tag me if you want, I really don't mind).
---


Lead Image by Askar Abayev edited with Canva


---

---
---