Keto Friendly Foods - Bacon Wrapped Jalapeno Poppers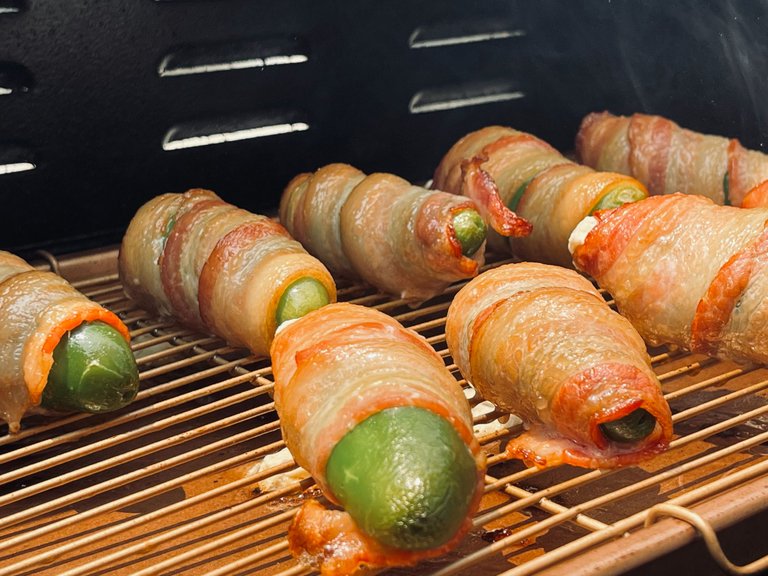 Can you say delicious???

My wife and I have been doing the Keto diet for almost two weeks now and I have been running out of food ideas. I am pretty lazy when it comes to eating and will tend to make stuff that is quick.
One thing I really like is flavorful food and I love me some jalapeno poppers, so I decided the time had come to make some of my famous poppers. Well, they aren't really famous. I actually just made up the recipe, but I think they will become famous if you try them.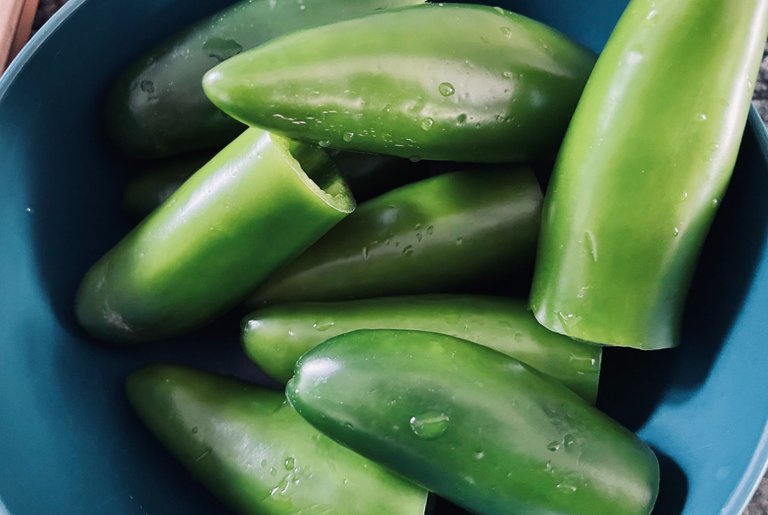 So I made up this whole recipe and didn't measure anything, so there will be no measurements at all, but I am sure it will still turn out amazing if you try it. First we get a bunch of jalapenos and then scoop out all the guts from them. I used to slice them lengthwise, but found that the jalapenos don't retain their crunch like that and the cheese spills out pretty easily. Plus you can't wrap them in bacon cutting them like that.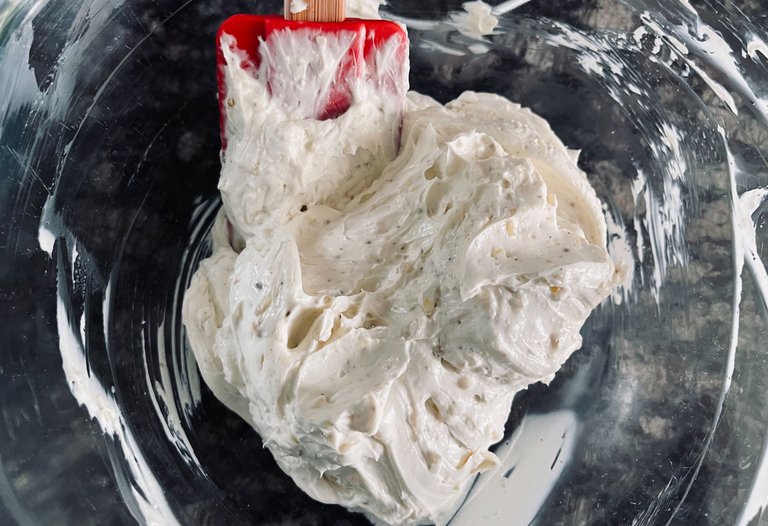 To make the cheese filling, I used about 16 ounces of cream cheese. Then I dumped some onion powder in there, added a scoop or two of minced garlic.
Then for some spices, I added some random hamburger seasoning I found in my cabinet. I don't remember ever buying this seasoning or using it on burgers, so I am sure it is a few years old, but it tasted fine before I added it in there. Then I dumped some black pepper in there and mixed it all together.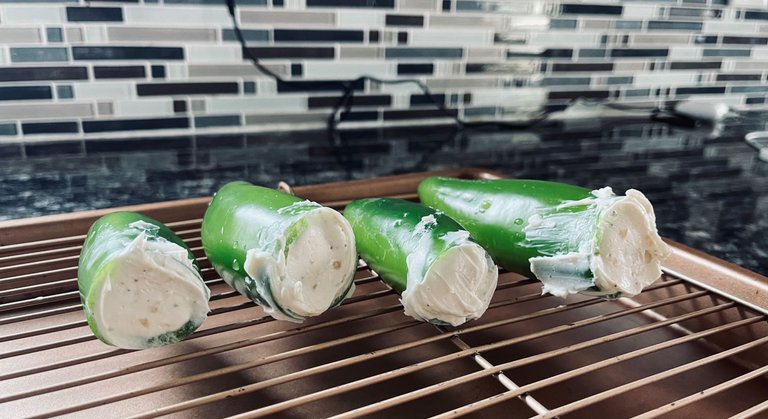 Then you just squish the cheese mixture into the jalapenos. Fill them up as much as you can. You can never have too much cheese in poppers.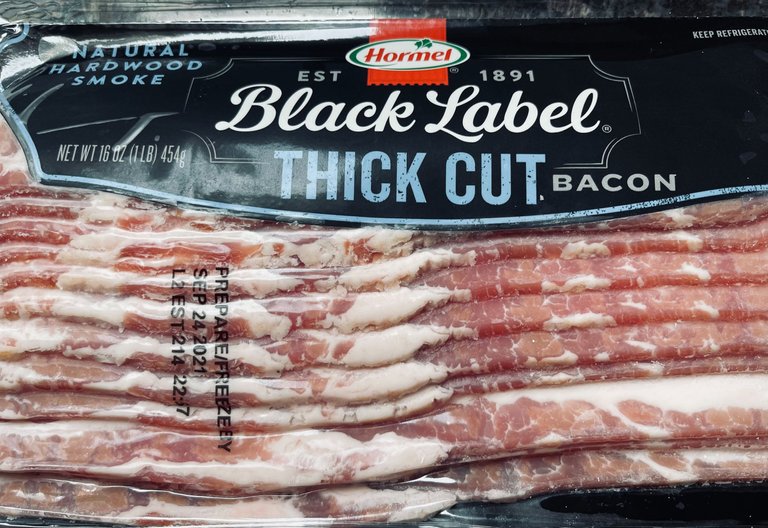 Then you take the bacon and wrap it around. I started at the top of the jalapenos and made a nice hat out of bacon for the jalapenos to keep the cheese from squirting out while it was cooking. I used thick cut bacon, but I should have used thin bacon for this so it will crisp up better. Oh well, next time.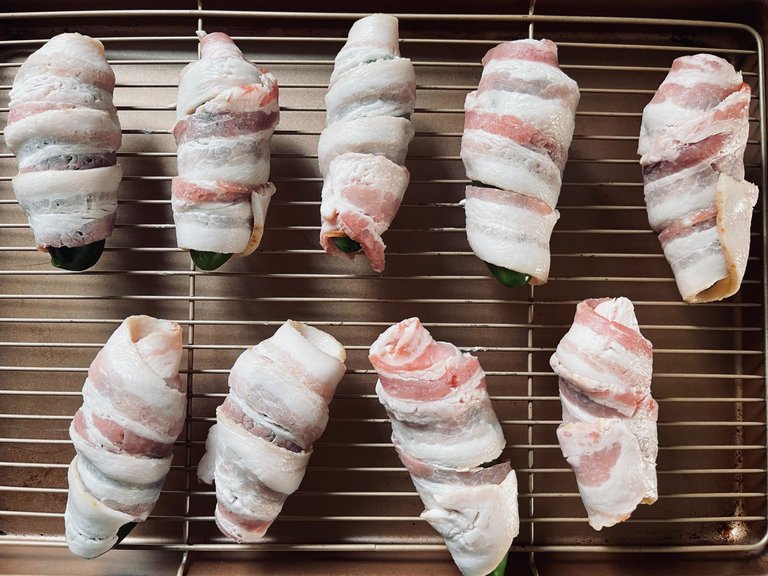 Once you get done wrapping them, they should look like this. I know yours won't end up looking quite as good as mine, but hey, at least you tried.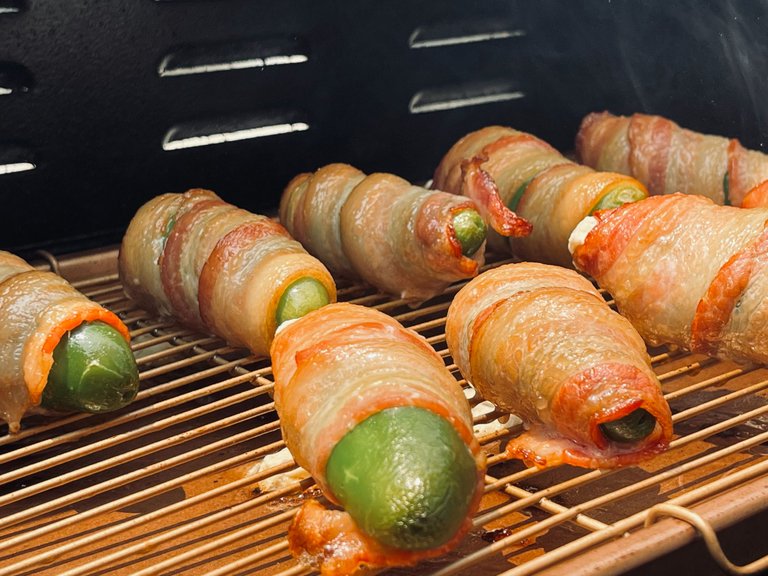 I put them in my smoker on hi smoke for about 15 minutes. It was just enough time for me to mow the front lawn. Then I set the smoker to 375 degrees for the remainder of the time. I cooked them until the bacon started to crisp up.
I would have liked to cook them a bit longer so the bacon could be crispier, but the cheese started coming out of them. I have made the mistake of overcooking poppers before and it makes them soggy and the cheese usually all falls out.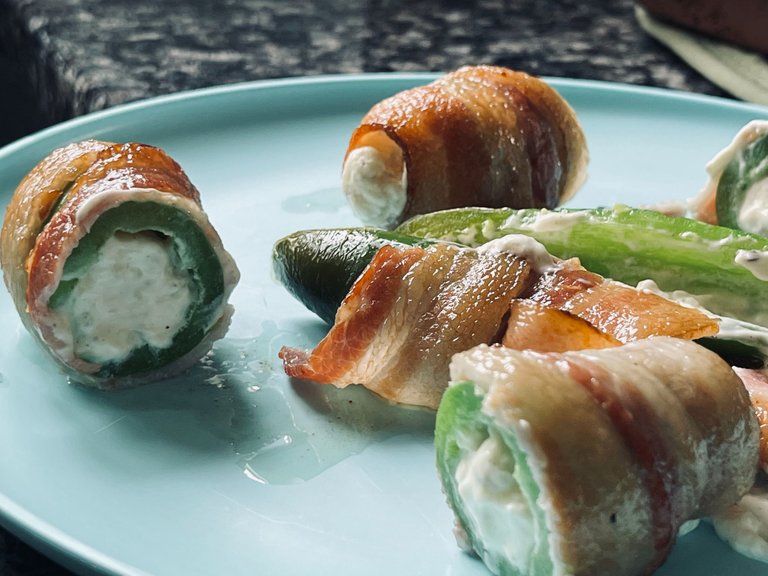 When you remove them, let them sit for a couple minutes so that the jalapenos cook a bit longer in the bacon juices. Then slice them in half and enjoy. I found that trying to slice them lengthwise is a dumb idea cause the bacon just falls off.
They tasted pretty awesome. They had the perfect amount of smoky flavor that was infused into the cheese filling. If you are on the Keto diet and need a nice fat and protein filled snack or meal, these really hit the spot.
---
---