My Terrible Encounter With A Scammer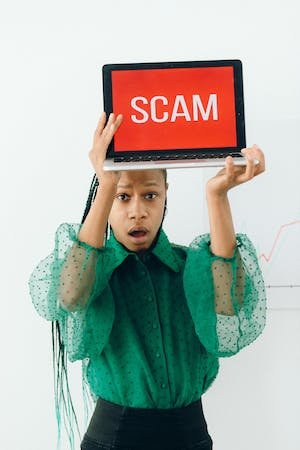 Source
After my youth service (N Y S C,) there was no enough capital to start my fish farming business, I decided to go for sells girl in order to add to the savings that was at hand.
So one faithful evening, a man walked to the shop I was thinking he wants to buy something and he greeted and I answer from there he started asking if I want to increase my business, because there are organisation that want to help business people, by hearing that I became interested hoping getting it will make my madam happy, I said I will surprise her when I get the money I said it within me.
Before I knew what was happening, he was asking me to bring 50 thousand naira, but all my sells for that day was not up to that, so I was able to raise 30,000 naira but the man asked me to go and borrow from my shop neighbour, which I did.
And I got additional 30,000 and I gave him, it seems like that was not a enough, he asked me to go and count all the Pole in the street, where the shop is located, that he will sit and wait for me till I finished counting.
Source
Hmmm, that was how I left him in the shop and went to start counting, my dear friends, come and see how I was sweating like Christmas goats, that was how I started the counting, I spent more than 2hours counting it, as I was counting along the line, as if a Vail was removed from my eyes, that was when it was done on me that something is happening to me.
From there I quickly rush to the shop to meet the man inorder to collect my money but it was too late, the man was no where to be found.
My life was miserable throughout that month, my madam couldn't believe all I told her all she needed was her money and see my neighbour in the shop that I borrowed from him.
The money that I saved thinking I will work to add up to start something reasonable, I have no choice than to touch my savings, and I paid all the debt, from there, I decided to stopped the sellers girl work.
That was how my life has turned from frying pan to fire.
Thanks for stopping by
---
---